Florival Tripel
| Brouwerij De Smedt / Brouwerij Affligem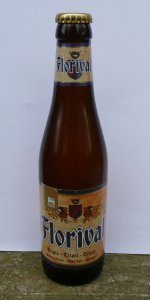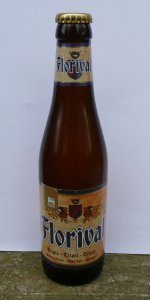 BEER INFO
Brewed by:
Brouwerij De Smedt / Brouwerij Affligem
Belgium
affligembeer.be
Style:
Tripel
Alcohol by volume (ABV):
8.50%
Availability:
Year-round
Notes / Commercial Description:
No notes at this time.
Added by Paddez on 03-15-2005
HISTOGRAM
Ratings: 14 | Reviews: 8
None found.
More User Reviews:

3.53
/5
rDev
-0.3%
look: 4 | smell: 3.5 | taste: 3.5 | feel: 3.5 | overall: 3.5
A 330ml bottle with a BB of April 2012. I bought this from a Delhaize supermarket on a trip to Belgium last year. I didn't realise it was a supermarket brand until I examined the label more closely upon my return.
Poured into a Stella chalice. A deep golden colour with good carbonation - a column of fine bubbles rises from the centre of the glass. Lots of yeasty bits floating around, although these eventually settle. Might be due to me moving the bottle around too much in the days prior to drinking it. Produces a huge white head that lingers for many minutes; this eventually subsides to leave a decent surface layer of foam. A strong aroma with fruity notes and esters; smells quite sweet. A considerable note of ethanol.
The initial flavour is light and sweet, a smooth maltiness with hints of fruit and esters. Alcohol is obvious on the palate - slightly warming but also unbalanced. Notes of ethanol upon swallowing, as well as a lingering sweetness. The remaining taste reminds me faintly of marzipan. Mouthfeel is smooth and syrupy, although quite astringent. Leaves a dry feeling in the mouth.
Overall, a pretty good tripel. The alcohol makes an excessive contribution to the flavour but it goes down nicely none the less. I can't remember what I paid but I think it was under 1.5 euros, which makes it pretty good value (like most beers purchased in Belgium). Not as good as some other tripels, but worth sampling if you happen to be in that part of the world.
1,477 characters
3.5
/5
rDev
-1.1%
look: 3.5 | smell: 3.5 | taste: 3.5 | feel: 3.5 | overall: 3.5
3.73
/5
rDev
+5.4%
look: 4 | smell: 3.5 | taste: 4 | feel: 3.5 | overall: 3.5
Pours a bright, clear gold with a medium white head. The head shrinks a bit, but ends up lasting for quite a while. Lots of bubbles. Little lacing.
Sweetness on the nose, with hints of banana. A bit of spiciness.
The first sip is unexpected; the sweetness and fruit give way to bitterness and spice almost immediately. Fairly malty. After a few sips, the sugar and banana-like esters come out again strongly. Slight phenols. Alcohol definitely present
Mouthfeel is very good. Smooth, creamy head; body is also a good consitency.
Overall a very drinkable beer that I wouldn't hesitate to buy again if I couldn't find my regular Tripels.
639 characters

4.17
/5
rDev
+17.8%
look: 4 | smell: 4.5 | taste: 4 | feel: 4.5 | overall: 4
First: Florival.They are abbey-style ales that are brewed by Affligem for the Delhaize Group, but despite them being supermarket beers, I always associate name Florival and the colourful labels of the brews with very decent beer. It has to be on of my favourite ranges of abbey-style beers. (Along with the obvious trappist brews and maybe St. Feuillien & Maredsous) I've had all the other beers of the Florival range so it's needless to say that I was very pleased when I saw this tripel standing in the Delhaize in Heverlee.
Appearance: Cloudy orange brew, with a healthy dense head that produces some nice lacing. Some yeast sediment on the bottom of the bottle.
Smell: Spices (nutmeg, ...), fruits, roasted malts and smokiness. Quite appetizing and complex.
Taste: Sweet malts and slightly tart fruits accompanied by yeasty & earthy flavours. A slightly dry, earthy finish.
Mouthfeel & Drinkability: The mouthfeel is crisp, the carbonation is gentle and the brew is appropriately medium-bodied. The drinkabillity is good, but the yeasty character makes the Florival Tripel a little tiring for a session brew.
Overall: As I've come to expect from the Florival beers; this was once again a very solid brew. Well balanced and tasty yet original. Definitely recommended!
1,285 characters
3.33
/5
rDev
-5.9%
look: 3.5 | smell: 3 | taste: 3.5 | feel: 3 | overall: 3.5
Third beer in one of my 'random beer' reviewing evenings. The 33cl brown bottle was a month out of date for this tasting.
Poured into a stemmed 'Hoegaarden Grand Cru' tulip it rushed out taking all the sediment with it. The body was therefore a matt old gold colour instead of a bright yellow, the head however was a lovely pure white foaming mountain.
Belgian yeasts in the nose, with some alcohol esters as well.
Typical tripel flavours, with alcohol up front more than most.
Not too bad at all, a long way from the best tripel out there, but worth trying.
562 characters
3.73
/5
rDev
+5.4%
look: 4.5 | smell: 4 | taste: 3.5 | feel: 4 | overall: 3.5
The nose is fruity and reminiscent of ripe banana. The first sip confirms this feeling soft and fruity but the body becomes warm quickly, and offers a powerful finish quite dry. Beer good round with a noticeable alcohol presence but under control and a yeast that leaves many impressions fruity. A style triple well balanced and pleasing to the taste, proving once again that Delhaize knows his subject.
403 characters
3.15
/5
rDev
-11%
look: 4 | smell: 4 | taste: 2.5 | feel: 3.5 | overall: 3
Pours a clear golden yellow with a big white airy foam that elaves a good deal of lacing as it receeds, leaving a pretty tight and thick lid on the liquid.
Smells stronger than expected, yeast, sweet green fruits in the malt, and the alcohol is a little bit stingy. The fruitiness in the malt is quite well rounded, but it doesn't really weigh up the alcohol, even though it feels like... a good attempt.
Taste is in line with the nose, strong and big up fron,t but it quickly dies out and gets watery! Disappointed, and in the end the alcohol comes through and there is a bready note to the small amount malt that I can still sense in the end, and it's almost reminiscent of a lager of export type.
A little bit stingy carbonation, sharp small bubbles, but not too overdone, and the liquid is pretty light and not very viscous.
831 characters
3.03
/5
rDev
-14.4%
look: 4 | smell: 3.5 | taste: 3 | feel: 2.5 | overall: 2.5
Purchased at Delhaize in Verviers, Belgium for less than 1 Euro.
Appearance: Poured from a 33 cl bottle into a 25 oz crystal sniffer glass. The beer is a golden to amber color with a fluffy white head and nice, sticky lacing.
Smell: Malty and floral with a light spicing. Not much volume to the aroma, but what is there smells quite nice.
Taste: Strong malty and spicy flavor up front. The spiciness seems a bit off and awkward. Mushroom, burnt grass, sage. There is a floral character and a light hop contribution near the end. Some fruitiness arrives in the finish with apple and pear juice flavors that receed to a wateriness.
Mouthfeel: Really sticky and too dry on the palate. It's like a tart geuze gone haywire.
Drinkability: This beer kind of misses the style. In fact, their blonde tastes more like a tripel than this does. It's ok and marginally drinkable, but it's certainly not great. My advice would be to stay away from this and bring back better beers from Belgium.
995 characters
3.83
/5
rDev
+8.2%
look: 4 | smell: 3.5 | taste: 4 | feel: 4 | overall: 3.75
3.18
/5
rDev
-10.2%
look: 4 | smell: 3.5 | taste: 3 | feel: 3 | overall: 3
Appearance - Cloudy golden color with a fluffy head that leaves a lot of lacing! A lot of carbonation in this one.
Smell - Sweet malts, spices and some fruits.
Taste - Sweet malts, spices, some hops in the finish as well as some fruitiness. Alcohol is not masked at all. Some phenols in the background.
Mouthfeel - A bit thin body, dry with lots of carbonation.
364 characters

3.68
/5
rDev
+4%
look: 4 | smell: 3.5 | taste: 3.75 | feel: 3.5 | overall: 3.75
Florival Tripel from Brouwerij De Smedt / Brouwerij Affligem
Beer rating:
3.54
out of
5
with
14
ratings