Wegmans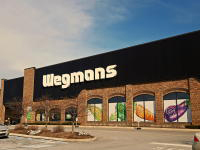 PLACE INFO
Type:
Eatery, Store
220 Highland Park Blvd
Wilkes-Barre
,
Pennsylvania
, 18702-6768
United States
(570) 825-4400 |
map
wegmans.com
Notes:
No notes at this time.
Added by ClockworkOrange on 03-27-2009
Reviews: 11 | Ratings: 19
3.51
/5
rDev
-2.8%
vibe: 3.5 | quality: 3.75 | service: 3.25 | selection: 3.5
I stopped in here on my way home from Binghamton. It has a typical supermarket feel, it is clean and well kept. Selection is pretty good, both in 6 packs, and singles. There is an aisle of imports, but nothing stood out. Everything is clearly priced and priced fairly, especially the $12 mix a six pack. I had no contact with staff until checking out. Overall a decent place to shop.
383 characters

3.93
/5
rDev
+8.9%
vibe: 4 | quality: 4 | service: 3.75 | selection: 4
Not as good a selection as some other Wegmans stores, but pretty damn good nonetheless. Large cooler section. Service is available, but doesn't seem particularly well informed. Wine selection is really nice, too. Weird thing is that this is technically a separate store, even though it's under the same roof, and you have to check out at a dedicated set of registers to buy alcohol (and they will ID you every single time, even if you look 80). Thank PA laws for that, but still it's nice they worked around the laws enough to finally get a beer section here. Used to be that grocery stores in PA just didn't/couldn't sell beer!
628 characters

3.11
/5
rDev
-13.9%
vibe: 3.25 | quality: 3 | service: 3 | selection: 3.25 | food: 3.25
So overall they have a decent selection of beers, but im kinda pissed that i bought a 4 pack of 2 hearted ale (where the date is on teh cans inside the box, not on the outside and they were like 4/5 months old
will not return
226 characters
4.5
/5
rDev
+24.7%
vibe: 5 | quality: 5 | service: 3.5 | selection: 5 | food: 3.75
This is the main place to buy beer in the WB area. The only problem is that people will clean stuff out as soon as it hits the floor, so arriving at the right time for rare brews is more important than anything. This was evident the day I lucked into some Hopslam and there was a guy buying two six packs at a time and running them to his car and returning. The staff isn't really knowledgeable about beer, which is good and bad for the obvious reasons. As an aside, the food is pretty good, but very expensive.
511 characters

4.64
/5
rDev
+28.5%
vibe: 4.5 | quality: 4.5 | service: 4.75 | selection: 4.75
I was amazed by the selection they had here. It took me a while to actually buy something because I was too busy looking at everything! I ended up going home with Atwater Vanilla Bean Java Porter. I wish there was a Wegman's closer to where I live- I think this place had a better variety than some of the major distributors I've been to!
338 characters

3.23
/5
rDev
-10.5%
vibe: 3 | quality: 3 | service: 2.5 | selection: 4 | food: 4
I just recently started going to the Wegmans as it is close to my work. Great beer selection. They keep expanding the beer area and it keeps getting better. I found a four pack of KBS here a couple weeks after it came out. Grab anything from singles to sampler 12 packs. This makes grocery shopping tolerable.
309 characters
3.76
/5
rDev
+4.2%
vibe: 3.75 | quality: 4 | service: 3.5 | selection: 3.75
Wegmans selection had grown and grown ever since they started stocking about three years ago. They have a few aisles of beer plus a full wall cooler. Then behind the register they have a whole set up full of belgian 750's and sixpacks from here and there. Now they're even starting to put beer outside of their beer zone. They had to move the poles that seperate the food court from the store so they could stock more beer inside of it.
The food there is always good and the staff is pretty nice, althought they don't really have peaople working in the beer area. The prices are standard for most of their stuff and some stuff is pretty cheap as well.
It's a good place to get some brews, especially if your shopping. It always lures me in.
742 characters
4.15
/5
rDev
+15%
this is one of my regular haunts for beer, it has an excellent selection with the bigger name imports and a great selection of craft beer which i never had a problem with stuff being out of date, a nice selection of single bottles some of which and pretty sought after, kudos alone for only having maybe two coolers full of BMC and the like, the staff is always helpful and one or two of them will even shoot the breeze with me about craft beer overall a great place two find good beer with offerings from most of the bigger name craft brews
541 characters
3.55
/5
rDev
-1.7%
Went there for the first time the other day and was really impressed with their selection. the area they have the beer in is not that big but they have a lot of diffrent kinds in there.I like the fact that you can get single bottles there that way i can try a beer with out having to buy a whole case. They also had a large glass cooler with many typs of beer in it.
As far as service goes your better off askin the guy buying beer next to you ut im ok with that.
Its prolly like a 50mile drive for me but theirs other stuff to do in that area so i will be going back soon.
575 characters
3.25
/5
rDev
-10%
I've bought beer at the Wilkes-Barre Wegmans numerous times now. It's easily become the most convenient place for me to buy beer, since I already shop there at least once a week. It's still not as convenient as buying beer in other states, because you have to pay for your beer separately, in the market cafe area, and you can only buy 144oz at a time. But that's PA's fault, not Wegmans'. Anyway...
The selection and quality is pretty solid, but don't expect to find anything out of the ordinary. They have a decent selection of 750s and 22oz - Rogue, some Southern Tier, a few Victory's, and then a handful of imports like St Bernardus and Delirium. The 6 pack selection is also pretty solid, with stuff from Troegs, Weyerbacher, DFH, Victory, Appalachian, Ithaca, Bell's, etc. Overall it's a decent selection, but not great. Generally speaking everything seems fresh, so that's a plus. I'd say about 1/2 of their selection is available cold, also a plus.
Don't expect to find service easy to come by, but that's no different than shopping at any Wegmans store. The buyer is probably about the only person who has a clue, so it's pretty much self serve. One other nice thing is that they've been doing beer and food pairing events every couple of months or so. All in all it's a welcome addition to the retail beer market.
1,327 characters

3.7
/5
rDev
+2.5%
They've been selling bombers, sixers and twelve packs (variety twelve packs also) for about a year here at the Wilkes-Barre Wegmans. The coolers and shelves of beer are located in the Market Cafe area of the store. All beer must also be paid for at the seperate registers located in the Cafe and each transaction is limited to 192 ounces. I found a few out of date items here - Sly Fox cans, Stone sixers and some older Dogfish beers. Check the dates here. Other brands I noticed were - Bells, Ithaca, Stoudts, Stegmaier, Victory, Saranac, Harpoon, Anchor, Weyerbacher, Appalachian, Unibroue, Troegs, Ommegang, Allagash, Chimay, Brooklyn, Blue Point, Great Divide, North Coast, Rogue, Sierra Nevada, Smuttynose, Southern Tier, Left Hand, Flying Dog, etc. You will find something you like here, no doubt. Service was virtually non existent except for the friendly cashiers. Prices were in line with bottle shops in NJ, MD and some of the more reasonable ones in PA (Abes, Beer Stop, Jessup). Worth a stop.
1,004 characters
Wegmans in Wilkes-Barre, PA
3.61
out of
5
based on
19
ratings.