Smoke Lager
| TAPS Brewery
BA SCORE
78
okay
13
Reviews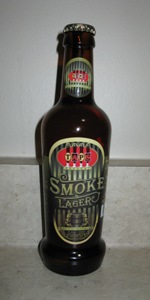 BEER INFO
Brewed by:
TAPS Brewery
Turkey
taps.com.tr
Style:
Rauchbier
Alcohol by volume (ABV):
4.50%
Availability:
Rotating
Notes / Commercial Description:
No notes at this time.
Added by BeerAdvocate on 08-13-2010
Reviews: 13 | Ratings: 15
1.56
/5
rDev
-50%
look: 3 | smell: 2 | taste: 1 | feel: 2 | overall: 1.5
A - Clear golden with a 1/2 inch chunky white head that dissipates quickly. No lacing.
S - Brie cheese coated with honey, doughy bread, sour cream, buttery diacetyl.
T - Follows the nose somewhat, soft cheese, sour cream, tangy pear, buttery diacetyl. Thick crystal and pale malt, maybe a little thin smokiness. An unpleasant bad fruit character. Has a sour processed meat type of flavor. Finishes malty and sweet.
M -Low carbonation, thick and slick.
Nasty diacetyl. Gross movie popcorn type of diacetyl. It takes over all flavors and the finish is thick and narsty. No smoke, I don't know what this is? This is close to undrinkable.
639 characters
2.06
/5
rDev
-34%
look: 3 | smell: 2 | taste: 2 | feel: 2 | overall: 2
A - clear straw color, decent head that fades over time
S - popcorn, slight smoke
T - light smoke flavor with buttery taste with slight hop finish
M - slick medium-light body, moderate carbonation
D - The diacetyl in this beer is way too much for being acceptable. That aside, this is just an average lager with a hint of smoke. I really wanted to like this beer too, as I'm partial to smoked beers, but this just doesn't fit the bill, recipe or brewing practice. Spend your money elsewhere, but not on a BMC. If you're interested in Turkish beer, check out Efes.
567 characters
2.33
/5
rDev
-25.3%
look: 2 | smell: 4 | taste: 2 | feel: 2.5 | overall: 1
A: 11.2 oz bottle. a soild 3 fingers worth of head. medium lacing, straw yellow in color.
S: heavy strong barbecue and smoke smell. Like when you are down wind of someone smoking a brisket.
T/M: served cold had medium body. tasted like potatoe skins or loaded baked potatoes, heavily carbonated.
D: Not a big fan of this one, i have no idea what you would serve or eat this with, hard to finish the bottle. This is very deceiving, smell great but thats about it.
466 characters
2.58
/5
rDev
-17.3%
look: 3.5 | smell: 3 | taste: 2.5 | feel: 2.5 | overall: 2
Serving glass: Poured from bottle into Pilsner glass.
Appearance: Pale golden yellow with thin stark white head and very little lacing.
Smell: Cherry, bread, grass, light spicy hops, and the tiniest suggestion of smoke.
Taste: Strangely sweet with a massive layer of gasoline. When I think Rauchbier, I think of campfires and chargrilling, not licking a fuel pump. Some cherry, grass and light hops are nice but the gasoline somewhat ruins it.
Feel: Moderate carbonation and light body. The finish is not nearly as crisp or dry as desired with too much residual sweetness (maybe that is why the abv is so low).
Drinkability: Despite being a wretched example of a Rauchbier, it is somewhat drinkable. Not quite a drain pour.
728 characters

2.68
/5
rDev
-14.1%
look: 3 | smell: 2.5 | taste: 3 | feel: 3 | overall: 2
Pours a light brown with average head. Smells very sweet with a hint of smoke aroma. But when you taste it - wow - overpowering smoke flavor. It almost has a flavor of burnt wood even. giving the impression of an old campfire. Mouthfeel is average, drinkability not really high, but it's excellent in cooking. Easily imparts a good smoked flavor to dishes that wouldn't normally be amenable to smoking. Maybe not great to drink, but a decent cooking beer.
455 characters
2.72
/5
rDev
-12.8%
look: 3 | smell: 3.5 | taste: 2.5 | feel: 2 | overall: 2.5
A: 12 oz bottle.2 finger head, dark yellow in color, medium lacing
S: very strong smoked bbq smell, after sitting a while it was less but stronger alcohol smell
T/M: taste like a loaded baked potato...
D: smelled like bbq, but taste like potato? very weird...not recommended, very strange brew
296 characters

2.95
/5
rDev
-5.4%
look: 3 | smell: 3 | taste: 3 | feel: 2.5 | overall: 3
This poured out as a copper colored beer with not a lot of head on it. The aroma was very mostly like any other lager other there with just a little bit of a smoked smell to it. The flavor of this beer is of malts and some hops nothing outstand really, the aftertaste gives off a little salty smokiness. The mouthfeel is pretty light and not very complex to sat the least. This brew overall isn't that great of a smoked beer. I suppose if you're new to the whole thing you can try it and see what you think.
507 characters
3.24
/5
rDev
+3.8%
look: 3 | smell: 4 | taste: 3 | feel: 3 | overall: 3
A: short lived foam, nothing particular in color
S: somewhere between german rauchbier and belgian ales, not intense but also not weak.
T: a little bit spicy and bitter, but there is some euro pale lager style emptiness to it which I did not like. the smokiness is present but gets overwhelmed by the unpleasant emptiness
M: slightly sour and empty feel, kind of like mass lagers. aftertaste has some smokiness mixed to it
D: an unsuccessful copy of german rauchbier. does not have the full body and taste of the real stuff. Not necessarily a bad beer, the quality is not below average, but even the abv 4.5% tells that this beer is too light to be a rauchbier.
661 characters
3.3
/5
rDev
+5.8%
look: 3 | smell: 3 | taste: 3.5 | feel: 3 | overall: 3.5
Came out a light copper with no head to speak of but a nice lively carbonation. Can't blame the server for not knowing to leave a head--this is Turkey! Smells like fruit and cedar smoke, but very sweet. I also find the taste quite sweet. Cherry, apricot, grass, burnt campfire smoke, uneven edges all over. Weird for a Rauchbier, but I'm kind of digging it? Kind of? I will say the aftertaste is artificial and the mouthfeel is bizarrely light.
Better than your average Turkish beer but I'd be really curious to see what they were thinking when they put this together.
570 characters
3.49
/5
rDev
+11.9%
look: 3 | smell: 4 | taste: 3 | feel: 4.5 | overall: 3.5
This brew pours with an immediate, three finger pillowy white head, which remains throughout with thick lacing. It appears a pale honey color that is somewhat cloudy and visibly carbonated. The otherwise malty aroma is masked by notes of a freshly smoked Christmas ham. It begins with a bitter, grassy taste, moving to a woody smoked flavoring throughout. We end on a drawn out sour note, leaving a curious, lingering aftertaste. Pleasantly creamy and coating, with an evenly medium bodied. Remains sippable with a lack of any strong warming sensation.
Overall, we thought this brew to encompass typical characteristics of any Rauchbier, and ultimately found it to be an interesting find. Our favorite part about it was the creamy slurpiness lent by the carbonation and the billowy head.
789 characters
3.59
/5
rDev
+15.1%
look: 3 | smell: 4 | taste: 3.5 | feel: 3.5 | overall: 3.5
Golden straw in color (hazy) with a white head that dissipated slowly. Aroma of wet smoky firewood (think campfire doused in water), and light bready malt. Flavor is very smoky and woody—maybe oak? Light bodied with a crisp mouth feel. It finishes with smoky malt, but doesn't leave a burnt or bitter aftertaste. I have to admit, the smoky flavor made the first few sips challenging. But towards the middle of the drink, it started to grow on me.
I usually don't pair beer with food, but since we're doing the smoked thing here, I think this would pair beautifully with smoked salmon. Add goat cheese and a crostini, and voila! Barbecue or other smoked meats would be great, as well.
687 characters
3.73
/5
rDev
+19.6%
look: 4.5 | smell: 4 | taste: 3.5 | feel: 4 | overall: 3.5
Impressive, bright white head. The liquid is mildly cloudy with a neutral golden color.
Reminds me of a gouda, it's not overly smoky, but it is there and quite appealing.
I imagine that this might be a decent rauchbier, but it doesn't appeal to me. I find the smoke on the tongue to be a tad too strong, particularly because of the lighter malts. No notable hop. Thin body, but appropriately so.
398 characters

4.75
/5
rDev
+52.2%
I had picked up this bottle and three of its brethren at Country Garden Six-Pack, but the Vienna Lager required an approved picture before I would open it. Approval went through the other day, so I am (briefly) back on The Great Bottle Purge of the Summer of 2014! Whee!
From the bottle: "Crafted Lager Beer"; "At TAPS, we make our craft beers using only the finest quality ingredients and traditional brewing methods. To ensure that our beers are satisfyingly full of flavor and aroma, they are allowed to mature naturally and no additives are used. With special malt and hop varieties, Smoke Lager offers a unique experience for you to enjoy. The Brewmaster [undersigned illegibly]".
I am so deflated with regard to this beer. I was really looking forward to it, but there is something not quite right with Taps Brewery's beers. If nothing else, it paves the way for some smoked beers this afternoon!
The cap popped off without any untoward events and I was sort of gentle on my pour. This still created three-plus fingers of rocky, bone-white head with moderate retention. Color was a Golden-Amber (SRM = > 5, < 7) with NE-quality clarity, calling forth my newly minted friends, Mammon, Midas and Croesus. They got a taste and pronounced it not to their liking and promptly disappeared. Nose smelled like smoked Gouda and if that does not sound appealing, then I do not know what to say. Mouthfeel was medium. Man, this was smoky and slightly cheesy and I loved it! Granted, a steady diet would not be the thing, but this just begged for hard pretzels, stone ground mustard and cheese, all of which I keep on hand. Finish was semi-dry with the smokiness actually lending a sweetness to the equation.
1,709 characters
Smoke Lager from TAPS Brewery
3.12
out of
5
based on
15
ratings.