Fischer Bière Speciale
| Brasserie Fischer / Fischer Biere d' Alsace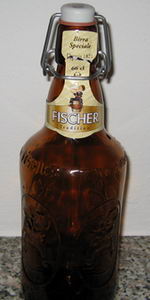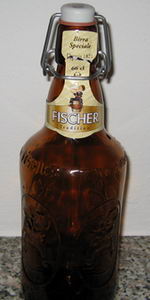 BEER INFO
Brewed by:
Brasserie Fischer / Fischer Biere d' Alsace
France
fischerbeverages.com
Style:
Euro Pale Lager
Alcohol by volume (ABV):
6.00%
Availability:
Year-round
Notes / Commercial Description:
No notes at this time.
Added by Suds on 07-16-2007
Ratings: 8 | Reviews: 5
Reviews by PapaEugene:

2.13
/5
rDev
-22%
look: 2.5 | smell: 2 | taste: 2 | feel: 3 | overall: 2
The last beer during the Greek holiday. I was attracted by the beautiful (most likely export) bottle.
A: Poored it into my IKEA glass. Light yellow color and a medium head that went down very fast.
S: Well, like a very light pills with no surprises at all.
T: Grains, hops and a little sweetness.
M: Watery, medium carbonated.
D: Not very... will do in Greek heat!!!
371 characters
More User Reviews:

1.89
/5
rDev
-30.8%
look: 3 | smell: 1.5 | taste: 2 | feel: 2.5 | overall: 1.5
330ml swing top bottle bought from GapWines, Belfast
Poured a light golden yellow colour... white head poured quite big and foamy the faded to thick ring around the edge... quite a lot of carbonation bubbles drift to the surface... some light wispy lacing..
Aroma - Quite a lot of sickly-sweet corn / rice notes, some peppery hops, spicy sweet fruits (apricots, lemons, apples), a horrible salty / sweet combination, wet decomposing grass, strong marzipan notes, light floral honey, burnt rubber... all very nasty !!
Taste - Pretty much as above but with a bit more peppery hop bitterness coming through... less sickly than i expected but not much.. some metallic notes.. watery fruits..
Feel - Pretty rich and cloying.. light body... too sickly sweet to be in any way drinkable...
Overall - Awful... i should have know better than to buy something from the makers of Desperados... avoid, avoid, avoid...
919 characters
3.05
/5
rDev
+11.7%
look: 3 | smell: 3 | taste: 3 | feel: 3.5 | overall: 3
The beer pours a dark golden color. It holds a frothy one finger head of big white bubbles. This shows decent retention, leaving bubbly lacing imprinted around the glass. Carbonation appears active, and no haze or sediment is noted. The grain in the nose is deep, with adjuncts and caramel malts. There are metallics and yeast, and a dirty, raw honey sweetness to cut the malts a bit. The nose is cooled with cold dairy creamer and the faint sting of ethanol. Our first impression is that the flavoring is rather flat, but picks up as the tasting progresses. As we sip, the first flavor to hit is the grain. It is drying and floury, but relatively wet and juicy. Black tea leaves and white sugar sweetness work their way in, helping to cut this a bit. The peak shows the bitter side of the grain, with adjuncts and astringent copper. Lactic sourness of warm milk comes in, adding an aged element to the flavoring. We finish with more grassy, more bittering adjuncty malts, with a continuation of the metallic and yeasty elements from the beginning. There is a lemony tea freshness at the very outset, and booze is the last flavor to leave the buds. The aftertaste breathes of dried grass, wheat, flour, barley, and alcohol. Very basic. The body is medium, and the carbonation is robust and prickly. There is nice froth and slurp to each sip. The mouth is initially coated with a wet foaminess, but quickly dries with an astringent twang. The abv is appropriate, and the beer drinks fine.
Overall, what we enjoyed most about this brew was the even flavoring. With a lot of these Euro lagers you can get caught up in the overly bitter qualities and adjuncty grain throughout the flavoring, but here the flavoring starts light, and enhances by the end, so you never really feel overwhelmed. Everything was just kind of average and standardly executed, making for a crisp, simplified beer.
1,886 characters

2.44
/5
rDev
-10.6%
look: 4 | smell: 2.5 | taste: 2 | feel: 3 | overall: 2.5
From a 66 cl bottle with a swing-top, this brew pours a very light and clear gold color. The aroma is notably sweet and perfume. There's a notable corn syrup like quality to the aroma. At once, the aroma is both pleasant and unsettling. Ultimately, it falls down to being a little to artificial. The aroma also has a concentrated ethanol aroma, which is surprising in a beer with this ABV. It's not well hidden. Light, and a little warming. Not much in the way of flavor in the taste, a bit of grain and a touch of malt. Moderate hop bitterness, but more hops in the aroma than the taste. This is a disappointingly mediocre beer. The adjuncts push the beer way off track.
671 characters

3.1
/5
rDev
+13.6%
look: 3 | smell: 3 | taste: 3 | feel: 3 | overall: 3.5
Had a few different Fischer beers while on vacation in Western Germany, France and Luxembourg. None of them were outstanding but none were offensive either. Just disappointing average beers when I was searching for European quality beer that can't be found at home.
The appearance was clear straw with little head or lacing. The aroma was grainy and the taste was that of an average euro-lager. Easy to drink and would be a good lawn mower beer here.
I won't be too disappointed that I can't get it here.
506 characters
Fischer Bière Speciale from Brasserie Fischer / Fischer Biere d' Alsace
Beer rating:
0
out of
100
with
8
ratings