Beach Front Liquor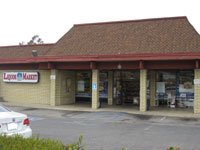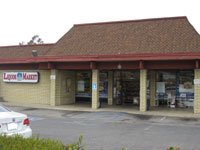 Store
2320 S El Camino Real
San Clemente
,
California
, 92672-3255
United States
(949) 492-6911 |
map
Notes:
Reviews by Beerandraiderfan:
Beerandraiderfan from Nevada
2.8
/5
rDev
-30.3%
vibe: 1 | quality: 4 | service: 1 | selection: 4
Normal liquor store exterior on Camino real. Go inside, pretty nice, all the beer is in coolers, well lit.
Good breweries represented here, Russian River, Bootleggers, Coronado, Stone etc. . . I'm pretty excited at this point, as I had just stopped because Pizza Port wasn't opened yet, and they had a sign saying large selection of micro beers outside. Then shit kinda hit the fan. Where are the fucking prices on the beers? No prices. Not the biggest deal here at this point, but definitely not a cool development.
Bring a 6er of Idiot IPA and a bomber of Bootlegger's chipotle stout or whatnot. Tallies the 2 purchases, and its around $20. . . then, he hits another button about 5 seconds later, and I see the price ring up and its about $27. I'm like wait, I just saw the total jump, did you charge me twice for something. . . and he's like, no. The bomber was $6, and the 6 pack was, uh, uh, uhm, $16.99!
Put some prices on the beer. Because when you pull this shit, in this way, it looks and is shady. Makes for a shit atmosphere and shit service. I won't be back until they put prices on their overpriced beer.
May 23, 2011
More User Reviews:



DZP from California
3.24
/5
rDev
-19.4%
vibe: 3 | quality: 3.75 | service: 2.75 | selection: 3.25
Decent selection for the area but WAY overpriced. Not to mention they don't put any prices on the beers, so you don't know the price until you're at the register with your card out. A six pack of Sculpin just ran us $18.57! I understand convenience stores typically mark up a buck or two, but this is $5 more than you'd pay at Whole Foods. Avoid if you can find any alternative.
Aug 05, 2013
iMac from California
4.94
/5
rDev
+22.9%
vibe: 4.5 | quality: 5 | service: 5 | selection: 5
I love this place, been coming here as long as I could pass for about 11 years now. When no one really cared about craft beer in most of So Cal, these guys were on it. They have a great selection of beers from around the world and an awesome dedication to American craft. I left San Clemente a little more than 12 years ago, but this where I go when I come home and they'll still order beer I request just so it's available on my next trip (fucking sweet).
The main beer buyer, John I think, is super cool. Last time I was in he saw me reach for some IPA (I can't remember what) and just kinda' started picking my brain to get feel for what I like and went in the back and pulled out all these bottles of stuff that he only got one or two cases of. That was amazing service if I've ever had it. I would complain about the prices, but I tend to drink expensive beer so I guess it's relative. I don't pay anymore at Beach Front for anything from Stone than I would in SF.
I'll be home in a few days for the big turkey holiday and I'll be stopping by to pick up some sweet nectar that should pair excellently with my gluttony.
Nov 16, 2012
Alfalfabeer11 from California
4.56
/5
rDev
+13.4%
vibe: 5 | quality: 4.5 | service: 5 | selection: 4
have been coming to Beach Front liquor for the past few years and it is by far the best liquor store in San Clemente. They have a great selection of micro brews, German, English, Belgium, Euro beers. Some of my favorites they have there are the Pliny the Elder, Idiot IPA, Old Rasputin, and Double bastard.
The prices are fair and sometimes better than other places I have gone to. The specialty beers are not priced because they are not part of the normal stock, that's what they told me. I don't mind asking for the prices though because the owners are super friendly and it gives me a chance to talk to owners daughter who absolutely gorgeous.
The store is clean and all the beer is refrigerated. I have never had any problems with buying stale beer. The owners are more than willingly to do special orders. They are very honest and depend on repeat customers to buy their craft beers.
So if you're in San Clemente, check this place out! It's clean, well organized, and the staff is great. Now let me go see if I can get a price check from the lovely daughter...
Oct 25, 2011

WOTO97 from California
4.35
/5
rDev
+8.2%
If you live in San Clemente, this is a great location to pick up some quality beer; really great spot to stop off before heading to State Beach for camping and such. The selection here is pretty top notch considering it is an off-the-beaten-path liquor store. I actually stopped by the other day and picked up a Beer Geek Breakfast and Pliny. Beach Front has five or six coolers if I remember correctly filled with very decent beers. Nonetheless, unless you live in San Clemente, Capo Beach, Dana Point, or Pendleton it is not necessarily worth the trip. Other stores in the south county area have similar selection at lower prices. I was a little put off simply because none of the beers have prices labeled, and when I got to the register it was steeper than I am used to paying. Still, a great place to stop in if you are in the area and looking for some great brews.
Jan 28, 2010
GRG1313 from California
4.5
/5
rDev
+11.9%
In the area and checked this place out. Walked in and didn't expect much. Wow. Very surprised. There is a much better than average selection of craft beer, Belgians, Germans and English beer. Lots of Stone, of course, based on it's location and lots of other local breweries. However, lots of stuff that really never leaves the San Diego area.
Owners daughter is not only very attractive but, while she admitedly doesn't really drink beer she is very knowledgable. And, she makes it clear that she's going out of her way to become a better and better place. She stressed at least three times that if I wanted something special she could, and would, try to get it.
I ended up with a case of beer to try, most of which I'd never seen. Very worthwhile.
Jun 10, 2009
DoubleJ from Wisconsin
3.75
/5
rDev
-6.7%
Here's a quaint mini market in San Clemente with a pretty good selection of beers. South El Camino Real seems saturated with these types of stores, but this is the one I stopped at. All the beer is refrigerated, which is a big plus, and the shelves are clean and well organized. Among breweries to choose from, there is Stone, Left Coast, Anderson Valley, Unibroue, Chimay, Affligem, Rogue, Eel River, Russian River (Pliny & Blind Pig), Paulaner, several varieties of Sierra Nevada and Sam Adams, Leffe, Bear Republic, and Port Brewing. There were three people at the front counter, which means I didn't have to wait in line for the guy in front of me. I came away with a Double Bastard, albeit for $7.70 w/tax...yikes. Please guys, put some price tags on the bottles (hence the lowish service score).
Is it the best beer store in San Clemente? I don't know, but it's the only good one I know about.
Apr 04, 2009
Beach Front Liquor in San Clemente, CA
Place rating:
4.02
out of
5
with
11
ratings