Barrel-Aged Imperial Porter
| Schooner Exact Brewing Company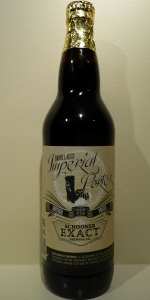 BEER INFO
Brewed by:
Schooner Exact Brewing Company
Washington
,
United States
schoonerexact.com
Style:
American Porter
Alcohol by volume (ABV):
8.40%
Availability:
Rotating
Notes / Commercial Description:
No notes at this time.
Added by KevSal on 03-11-2013
Reviews: 10 | Ratings: 38
3.66
/5
rDev
-4.2%
look: 4.25 | smell: 3.75 | taste: 3.5 | feel: 4 | overall: 3.5
Pours black with a big foamy head that retreats rather quickly, with inconsistent lacing. Smell is chocolate and vanilla with a splash of bourbon. Taste is dark fruit, oak and bourbon, with lots of cocoa. Mouthfeel is nice and creamy, but not heavy on the tongue, with bit more carbonation than you might expect due to its otherwise smooth demeanor.
349 characters

4.18
/5
rDev
+9.4%
look: 3.75 | smell: 4.5 | taste: 4 | feel: 4.25 | overall: 4.25
Very dark, near black in the Troubadour tulip. Some dark beige foam though shy on lacing. Pleasantly sudsy in the mouth. Inviting aroma of something like rum and dark grains.
The barrel flavor is dark and on the dry side. Nothing sweet and boozy about this one. Quite malty with a substantial body, while avoiding stickiness. That foamy mouthfeel gives it a deceptive lightness and refreshing quality. Flavors of bitter cocoa, roasted grain. There is quite an alcohol taste, though it's part of the fun in this case. Hoppy aromatics and that endless Bourbon nose. It still makes me think of Meyers dark rum.
A great barrel-aged brew that is more like a beer than a liqueur. From the 22 oz bottle purchased at the Schooner Exact brewery in south Seattle.
755 characters
3.71
/5
rDev
-2.9%
look: 4 | smell: 3.5 | taste: 3.75 | feel: 3.75 | overall: 3.75
22oz bottle at fridge temp (41 F) split between a pair of large snifters. No bottle dates that I can see, but the label says it's vintage 2014 (and cellar worthy).
Pours black (my first thought was, "This isn't a porter, it's a stout), with a decent sizes, dense brown head. Looks like plenty of carbonation. Smell is mild (probably needs to warm), a little boozy, slightly smokey, maybe a little coffee.
Taste is pretty nice. Chocolate, a little smoke, some dark plummy sweetness, alcohol is noticeable.
Mouthfeel is rich and creamy and mysteriously also gritty. Overall, I like it.
595 characters
3.3
/5
rDev
-13.6%
look: 4.25 | smell: 3.5 | taste: 3.25 | feel: 2.5 | overall: 3.25
650 mL bottle poured into a snifter. 2013 bottle.
Appearance - Black with a huge off white head. Laces nicely and retains surface foam for a long time.
Smell - Nice bourbon. Vanilla. Very oaky. Coffee malt. Dark roasted malt.
Taste - Oak is intense. Perhaps stronger than the bourbon, which is the second most dominant flavor. Chocolate more than coffee. Lingering liquor flavor.
Mouthfeel - Way overcarbonated. A little boozy. Medium body.
Overall - I like the flavors, but the carbonation throws it way off.
514 characters

3.8
/5
rDev
-0.5%
look: 3.5 | smell: 4 | taste: 3.75 | feel: 3.75 | overall: 3.75
22oz bottle into a snifter. Pours a deep dark brown w/ a fluffy loose tan head that settles to a soft film, some patchy lace.
Aroma is big on roasty and chocolate notes, some bourbon and vanilla as it warms.
Taste is sharply bitter up front, almost acrid. Strong roast, coffee, dry cocoa and chocolate.
Mouthfeel is a bit prickly at first as well, which may contribute to the bitter taste. Medium bodied and also bitter on the finish.
Overall a decent porter with a few noticeable flaws. Still enjoyable, but maybe not worth the money.
539 characters
3.52
/5
rDev
-7.9%
look: 3.75 | smell: 3.5 | taste: 3.5 | feel: 3.5 | overall: 3.5
pours great, super thick heads leaves lots of great, sticky looking lacing. dark molasses brown, then the smell hints at what is to come. tons of potential, but with the subtle chocolate malty notes is a solid smell of barrel aging - young, but good - and a really boozy, whisky smell that makes me think it needs to sit on a shelf for a year or more. tastes follows with more of the same. nice hints of a good, solid porter, but it's really odd to see an 8.5 abv come across as this strong. letting it warm in the glass for 15-20 seems to mellow it a bit, also brings out a bit of cocoa. will let the other one set for a bit.
626 characters

3.56
/5
rDev
-6.8%
look: 3 | smell: 3.75 | taste: 3.5 | feel: 3.75 | overall: 3.5
Pours a nearly black colour, with a big ol' beige head. Leaves a lot of spotty lacing. Aroma was bourbon, with some alcohol, chocolate and roast. Bourbony taste as well, chocolate, dark fruits, mild coffee. Medium to full body, was creamy, could have been fuller. Carbonation was mostly fine despite it's tangent on foaming up.
Might have liked the plain ol' Profanity Porter...pretty solid and straight to the point, where this is a bit messy and didn't click as a great BA porter...
486 characters

4.05
/5
rDev
+6%
look: 4 | smell: 4 | taste: 4.25 | feel: 3.5 | overall: 4
Poured into an Elysian snifter. Pours pitch black with a thin, light brown head with good retention and lacing. Nice aroma dominated by bourbon with toasted malt, light chocolate and vanilla. Flavor follows with lightly toasted and biscuit malt, chocolate, hints of dark dried fruit, chocolate, vanilla and oak. Finish a bit dry and thin after the nicely melded flavors in the start. Medium bodied. A very pleasant barrel aged porter that is well balanced and great to drink.
475 characters
4.03
/5
rDev
+5.5%
look: 3.75 | smell: 3.75 | taste: 4.25 | feel: 4 | overall: 4
Appearance. Pours a deep deep brown with a finger of tan head.
Smell. Sweet dark chocolate, vanilla and woody bourbon.
Taste. Bourbon and vanilla, dark semi-sweet chocolate, some bitter wood and dark malts. Pretty tasty stuff.
Mouthfeel. Medium+ body, medium-low carbonation.
Overall. A nice flavourful bourbon porter. Diggin' the chocolate flavours.
357 characters
4.41
/5
rDev
+15.4%
look: 4 | smell: 4.75 | taste: 4.25 | feel: 4.25 | overall: 4.5
Wow!
Extra from Jacob, your killing me man
Had to ad this beer after crackin it, Imperial porter
A- pours blackish brown, complete black in the glass with a finger of brown head
S- this guy smells amazing, tons of chocolate and bourbon melded together very well. Some malts and very slight roastiness. I've been smelling it for a half hour now.
T-chocolate and bourbon soaked porter, never overbearing. Nice bitterness in the back end. The bourbon notes are present without the huge alch character, very nice.
M-Hefty body but not too thick and not sticky.nice carbonation. Smooth
O- I love ba porters, this may be the best ba porter I've had to date. It is very reminiscent of central waters fifteen honestly. This one is a surprise knockout. Would surprise me if this one gets more attention. Says its cellarable, it's so tasty now it'll need some will power to age it.
Thanks again Jacob!
899 characters
Barrel-Aged Imperial Porter from Schooner Exact Brewing Company
3.82
out of
5
based on
38
ratings.