Kitty Kat Blues
| Black Raven Brewing Co.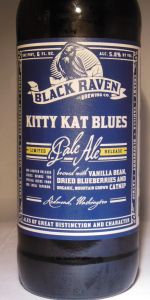 BEER INFO
Brewed by:
Black Raven Brewing Co.
Washington
,
United States
blackravenbrewing.com
Style:
Fruit / Vegetable Beer
Alcohol by volume (ABV):
5.90%
Availability:
Rotating
Notes / Commercial Description:
No notes at this time.
Added by HuskyinPDX on 12-22-2012
Reviews: 15 | Ratings: 51

2.98
/5
rDev
-22.4%
look: 3.5 | smell: 3 | taste: 3 | feel: 3.5 | overall: 2.5
Dark amber color with a modest head in the Affligem chalice. Distinct fruity aroma, though it's hard to tell what at the beginning. The vanilla shows up in the nose.
I"m not sure blueberries is what I would think of, tasting this stuff. The bitterish, herbal finish is different. Tangy and aromatic. Maybe they should have tossed the berries and kept the catnip. However, after some sipping the astringent bitterness seems to take over. And then there's that annoying vanilla note.
I don't get much sweetness or cloying sensation, but there's something icky about this. Well made, crisp, and clean, on the plus side. But not enough to make me want to finish the 22 oz bottle. Purchased at a market in Portland.
713 characters

3.99
/5
rDev
+3.9%
look: 4.25 | smell: 4 | taste: 4 | feel: 3.75 | overall: 4
Poured into a Black Raven pint glass. Pours a medium to dark coppery amber with a thin off-white head that slowly dissipates leaving light lacing. Aroma of blueberries and bready yeast, surprisingly like a blueberry muffin. Flavor starts with light sweet malt and fresh blueberries, then quickly develops a deeper biscuit malt flavor, then finishes with an almost astringent bitterness that left me searching my mind for the hop variety before I realized it must be the catnip kicking in. Finishes with lingering bitterness from the hops and catnip. Medium bodied with light creaminess. Very interesting flavor progression with very nice fresh blueberry flavor. The catnip bitterness is harder to get used to than the more familiar hops and any hop flavors seem to be dominated by the catnip. It reminded me of camomile in its earthy bitterness. One of the better blueberry ales I've had and novel to drink.
907 characters

3.92
/5
rDev
+2.1%
look: 4 | smell: 3.75 | taste: 4 | feel: 3.75 | overall: 4
I had this beer on-tap in a big tulip at Special Brews in Lynnwood, WA.
Appearance: Rich copper hue with a crystal clarity and a nice layer of ivory foam. Very attractive.
Smell: light berry and toast. An interesting melange.
Taste: very berry like right up front and throughout, atop a toasty base. Pretty good for a blueberry beer!
Mouthfeel: medium body with a good carbonation and decent creaminess.
Overall: a fascinating beer which I happen to really like.
475 characters
3.88
/5
rDev
+1%
look: 4.5 | smell: 4 | taste: 4 | feel: 3.5 | overall: 3.5
On Tao at the Brewery on 12-21-12
A - Served a beautiful nitro creamy orange with a silky smooth creamy colored head. Of course amazing retention due to the nitro tap.
S - Blueberries and some sweet bready toast.
T - Blueberry pancakes. Very tasty, but it seems to get a bit cloying after a while.
D - Great body and Nitro. Silky smooth.
O - If you want a sweet blueberry pancake dessert. This is it.
419 characters

2.74
/5
rDev
-28.6%
look: 3.5 | smell: 3.25 | taste: 2.25 | feel: 3 | overall: 2.75
Served On-Tap
A — Pours a pale light golden yellow color, this white head forms, minimal lacing.
S — Smells strongly of blueberries and vanilla, little bit of doughy malts, this literally smells like a blueberry mini muffin in a glass, bizarre.
T — Tastes more like the nose, huge sweet artificial blueberry tone here, lot of vanilla sweetness, and a little weird grassy note, catnip? Cloyingly sweet.
M — Almost thick, the vanilla makes this stick to your palate, tough taste to get out of your mouth.
O — Just strange, not sure who this appeals to, but if you want a big glass of blueberry, vanilla, catnip, soda, then this is for you! I enjoy most Black Raven stuff, but this one missed the mark for me.
723 characters

3.75
/5
rDev
-2.3%
look: 3.75 | smell: 3.75 | taste: 3.75 | feel: 3.75 | overall: 3.75
22oz (bottled 4/30/2015) into a tulip. Pours a clear coppery amber w/ a 1-finger head.
Aroma is floral and sweet, a touch grainy.
Taste is sweet, herbal, tea-like. Bready malt, berry sweetness. And there's an unusual bitterness here I can't put my finger on; catnip? Wouldn't know. Has almost a spicy bite to it, like cayenne. Not really getting much vanilla, maybe more the suggestion of vanilla in terms of a general softness.
Mouthfeel is balanced and medium-bodied, about right for a pale ale.
Overall a unique beer, not sure I would go for it again.
558 characters

3.89
/5
rDev
+1.3%
look: 3.75 | smell: 3.5 | taste: 4 | feel: 4.25 | overall: 4
Clear copper/amber. I honestly expected a little more reddishness but this is just a crisp clear deep amber. Minimal head, but still decent lacing.
First thing I noticed when I popped the cap was a quick whiff of dried blueberries. Not strong, but definitely present. That fades a bit as I pour and more traditional malts emerge. Bready and caramel and even a touch of biscuits. Some mild spicy hops in the background. I can see where folks get the blueberry muffin comparison. Interesting and pleasing aromas, but fairly faint. Grows as it warms.
Vanilla comes in first, but not the strong definite vanilla you see in vanilla stouts, more a round sweet indistinction. Gives way to a definite berry sweetness and the idea of packaged blueberry muffins continues. Interesting. Doesn't forget its roots ultimately finishing with a pleasing earthy bitterness. Bridge between the muffins and the hops is some sweeter malts.
Smoothe and drinkable I find myself appreciating this more the further into the glass I get. Definitely not for everyone though. I have no idea what catnip tastes/smells like, so I can't speak to what it might or might not offer in this glass, but if the description of the brew sounds compelling to you, Black Raven has a great reputation for a reason, and this is nuanced and well constructed.
1,319 characters
3.49
/5
rDev
-9.1%
look: 4 | smell: 3.75 | taste: 3.25 | feel: 3.5 | overall: 3.5
22oz bottle served in pint glass. Beer pours a lovely amber color, crystal clear, and forms a surprisingly large white pillowy head. Immediate rushing aroma of blueberries. Flavor... well, it tastes like a blueberry beer. Not a blueberry wheat (Sea Dog, Wachusett), nor a lager (Sam Adams). Just a straight ahead American amber ale with the classic blueberry ale flavor. There is a dryness in the finish which is kind of herbal -- and not in a good way. Maybe that's the catnip? Unfortunately I don't detect the vanilla bean at all. I'm not loving this, and I don't think I'd try it again. Then again I'm not a huge fan of blueberries in any form so what did I expect? Lovers of blueberry beers would probably get a lot more out of it than I.
754 characters
4.07
/5
rDev
+6%
look: 4 | smell: 4.5 | taste: 4 | feel: 3.5 | overall: 4
Look: Clear and bright amber body. Soft-white head.
Smell: Malty, blueberry-vanilla aroma.
Taste: Malt, blueberries, vanilla, and sweetness.
Feel: Crisp.
Overall - This is a refreshing summer drink. Laid back and easy to drink. Bright and summery.
257 characters
3.92
/5
rDev
+2.1%
look: 4.5 | smell: 4.25 | taste: 3.75 | feel: 3.75 | overall: 3.75
Poured great - dark amber with two fingers fluffy head. Aroma was a pleasant, light blueberry and flavor hit the mark and was perfectly subtle on the fruit. Dry finish with a stark bitternes I imagine comes from catnip. Interesting and good brew, but a novelty drink for me.
274 characters

3.85
/5
rDev
+0.3%
look: 3.75 | smell: 3.75 | taste: 4 | feel: 3.75 | overall: 3.75
There is a fine line with fruit beers when the fruit ceases to be welcome accentuation to an already well crafted brew, and becomes a cloyingly sweet, sugary backbone. Kitty Kat Blues is very much the former.
Crisp, hoppy, blueberry notes on the fringe…this was a refreshing pale. Great for a Summer afternoon.
Well done again, Black Raven!
348 characters
4.65
/5
rDev
+21.1%
look: 4.5 | smell: 4.5 | taste: 4.75 | feel: 4.5 | overall: 4.75
Really impressed by this pale ale. The vanilla and blueberry make this highly drinkable and it's perfect for a hot summer day. This would be one of my go to ales if it was available year round
192 characters
3.87
/5
rDev
+0.8%
look: 4.5 | smell: 3.75 | taste: 3.75 | feel: 4 | overall: 4
I'll try anything Black Raven. They do good work. Draft at Bindlestick in Snoqualmie.
This one is out there. Not really a fruit beer kind of guy unless it's sour with fruit but...
It's not quite amber, clear with a small white head that lasts and leaves some lacing.
Armoa is pretty malty with some fruit but not something I would pick out as blueberries if I didn't know already.
Taste is kind of strange too. It's fruity but still not, "This is Blueberry" with decen hop bitterness and herbs with a hint of vanilla. No one thing really stands out and it all blends pretty well. It just works in combo.
I like it. I would and will have another.
650 characters

4.59
/5
rDev
+19.5%
look: 4 | smell: 5 | taste: 4.5 | feel: 4.5 | overall: 4.5
On nitro into a plastic keg cut at Black Raven's 2013 Flock Party.
Appearance: Orange and very opaque. Thanks to the nitro, a very fluffy head of durable foam.
Aroma: This beer smells like blueberry pancakes in the best possible way. There are initial notes of berry, followed by grainy sweetness, with tropical hop character on the end.
Taste: Taste follows aroma but is a bit too sweet.
Mouthfeel: Nitro.
Overall: I loved this beer but I could see some finding it too sweet and I'm not sure I would want more than one. Certainly, this beer's scarcity, added to the experience for me.
594 characters
4.42
/5
rDev
+15.1%
look: 4 | smell: 4.5 | taste: 4.5 | feel: 4 | overall: 4.5
Claims to be a blueberry vanilla catnip beer. I can't say I know what catnip tastes like, but blueberry and vanilla are very strong. I haven't had this combo of flavors in any other beer, but they seem to work very well. I personally love the strong flavors, which makes this one of my favorite light beers.
307 characters
Kitty Kat Blues from Black Raven Brewing Co.
3.84
out of
5
based on
51
ratings.