Michael Symon's Roast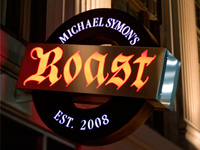 PLACE INFO
Type:
Bar, Eatery
1128 Washington Blvd
Detroit
,
Michigan
, 48226-1907
United States
(313) 961-2500 |
map
roastdetroit.com
Notes:
No notes at this time.
Added by triptens on 04-09-2009
Reviews: 11 | Ratings: 19

4.83
/5
rDev
+3.2%
vibe: 4.5 | quality: 5 | service: 4.5 | selection: 5 | food: 5
Great upscale steak and chop house with an unparalleled beer selection for this type of setting. Great tap offerings and even greater bottle selection. Bring your cash!
★
170 characters

4.53
/5
rDev
-3.2%
vibe: 4 | quality: 5 | service: 4.5 | selection: 4 | food: 5
Come for the happy hour, come for the happy hour! BEST happy hour in Detroit. Beer is slightly cheaper, wine is an amazing deal.
Happy hour menu is jaw-dropping. The huge roast burger and fries for $7 will fill you up with fine ingredients. Can't beat the price or quality.
★
274 characters

4.75
/5
rDev
+1.5%
vibe: 5 | quality: 5 | service: 5 | selection: 4 | food: 5
Have been here a few times for special occasions, including this evening. One of my favorite restaurants in the city.
A: Very upscale and modern feel. The chairs are chic and modern as is the bar. It's classy without feeling stuffy, and I would even call it very approachable. It's common to see men in ties and women in dresses mixed in with sports fans going to a game and younger people coming in for dinner before going out later. I like this aspect a lot.
Q: The quality is top notch all the way around. The best cuts of meat, finest ingredients, and finest beers are offered here.
S: Service is impeccable. Waitstaff is very knowledgeable about food and drink. Many members of the waitstaff can give pairing suggestions as well. To my knowledge, this is one of the few upscale restaurants that employs a beer sommelier as well as a wine sommelier.
S: There are very few taps, but there is usually something for everyone. For example, tonight featured Short's Cup A Joe, Jolly Pumpkin Bam Noire, Founders Centennial, Southern Tier Mokah, and St. Bernardus Christmas Ale. The bottle list is extensive and heavy on Belgian-style ales. They do have a beer cellar in which they age kegs and bottles, which is nice. There is usually a beer or two that can be easily paired with dessert. I had my first and only Kuhnhenn Raspberry Eisbock here a couple years ago.
F: The food is outstanding. I have never had a bad meal here. House-aged cuts of meat star here. The Roast Beast of the day is always good, where you can find meats such as pork, boar, goat, or others on any given day. Today, I tried something different and had the duck confit ragu. Wonderful. The fried brussels sprouts and spinach and feta au gratin should also not be missed.
V: I'm not going to lie and say this place is cheap. It is a higher end restaurant, and food and beer are priced accordingly. However, you get exactly what you pay for. In all honesty, I could not give a higher recommendation for a nice restaurant than I can for Roast.
★
2,018 characters

4.88
/5
rDev
+4.3%
vibe: 5 | quality: 5 | service: 5 | selection: 4.5 | food: 5
Came here for a romantic dinner with my girlfriend earlier this month.
Atmosphere: beautiful swanky interior, wine cellar towers over a large, well-lit bar, diverse cosmopolitan crowd minds their own. We enjoyed our cozy booth overlooking the dining room and kitchen. All of the tables are set up to provide maximum privacy and I love how the pit roast is clearly visible to patrons. A gorgeous restaurant.
Service: our waiter made excellent food and drink suggestions and everything arrived promptly. At one point he got caught up in a conversation with another table and I had to snag the floor manager to order another beer. Aside from this misstep, though, the service was impeccable, especially the treatment that we received from bartender Joe after our meal.
Selection: huge Sour list is the main event with several dinner bottles from Jolly Pumpkin, Drie Fonteinen, Fantome, and De Ranke. However, the small but well-selected draught lineup is equally impressive. I went for a Short's Hangin' Frank IPA, Great Lakes Christmas Ale, and Madrugada Obscura Stout (Joe's pick) on tap and a Big Sky Moose Drool Brown Ale out of the bottle. All four beers were fantastic, and the lady loved her champagne cocktails and sauvignon blanc.
Food: outrageously flavourful fare from one of America's most respected chefs. We ordered the Stuffed Peppers, Fried Brussels, Lemon Chicken, Alaskan Halibut, and Passion Fruit Sorbet. The entire meal was absolutely sumptuous and it easily ranks among the best we've ever had. Prices are fair as 5 courses and 6 drinks came to $125.
Overall: Roast is the model fine dining restaurant and bar. Unlike other upscale eateries, it offers a wide range of world class beers to pair with its bold cuisine. We had an amazing time here and I look forward to returning in the near future.
★
1,824 characters
4.55
/5
rDev
-2.8%
vibe: 4.5 | quality: 4.5 | service: 4.5 | selection: 4.5 | food: 5
My wife took me here on my 40th birthday (we were traveling through here on our way to Toronto).
This place is located in the heart of downtown Detroit. Our reservation was on a Wednesday night and we were able to find free parking about a block away.
This is a very nice/upscale restaurant that has outstanding food (Iron Chef!) and serves excellent beers in the manner that many places serve wine.
First of all, since its Mike Symon I will comment on the food. It was simply outstanding! My wife had a veal chop that was tender and to die for and I had a ribeye that must have weighed a pound and a half. Everything was delicious and perfectly cooked. Nearly every table had a view of the kitchen and seeing a glazed pig turning on a spit certainly got my juices flowing.
The beer list is quite heavy on bottles (somewhere around 4 dozen selections) but they also had a few beers on tap. Being a special night I stuck to Belgians and had a couple Orvals followed by a Rochefort 10. Everything on the list was good quality, with a slight lean toward Belgian styles and beers from the midwest (Great Lakes Brewing was featured heavily).
All in all a great place to eat that has a beer list that is super high quality. Be prepared to spend some money though because this is a high end, and highly priced place.
★
1,315 characters

4.5
/5
rDev
-3.8%
vibe: 4 | quality: 4.5 | service: 5 | selection: 4 | food: 5
A modern marble bar with an impressive wine display behind the bar and glass is the view from my bar stool late one Friday night. I've come to check out this place that has been so highly rated.
There are 5 beers on tap, 4 of them good quality stuff (Saison De Silly, Jolly Pumpkin LuLuciérnaga & 2 others that escape me), Pilsner Urquell was the 5th. The Pilsner is probably to appeal those that don't like big beers. A great bottle selection follows this up, heavy emphasis on Jolly Pumpkin.
The bartender was very knowledgeable on the beer as well as the food. His description of the beef cheek pierogies convinced me I had to try them, even though I was not particularly hungry. They were incredible, try them if you are there.
I appreciate what they are trying to do there with craft beer, make people think of it much like a fine wine, which I believe it is.
Overall, it's pricey, $7 for a draft, you can get good quality drafts in Detroit for a lot less. But it is definitely a place worth checking out if in downtown Detroit.
★
1,040 characters
5
/5
rDev
+6.8%
vibe: 5 | quality: 5 | service: 5 | selection: 5 | food: 5
I visited Roast for dinner three times while staying at the Book Cadillac Westin in October. Having read the reviews and viewed the beer list on the website, I walked up to the bar with high expectations. The draught list included Great Lakes Pale Ale, Jolly Pumpkin Bam and four other beers I can not remember but nothing to get overly excited about. While I enjoyed the Great Lakes pale ale a few nights later with some colleagues, I was drawn immediately to the bottle list and the multiple Jolly Pumpkin and Cantillon beers, the Kuhnhenn Raspberry Eisbock and many other sour/funky offerings. This was the first time for me seeing a high end restaurant with such a well thought out beer menu. The focus is clearly on offering best of class beers as well as supporting the local breweries such as Jolly Pumpkin.
The first night I ate at the bar by myself and had an exceptional roast chicken dish. I started with a bottle of Jolly Pumpkin Madrugada Obscura and then moved onto the slightly sour golden ale from Leelanau Brewing Co., "Good Harbor Golden Ale". This beer was incredible with the chicken and opened up as it warmed to room temperature. Roast has a ridiculous list of local Michigan brewed beers and the bartender recommended the Ann Arbor Saison, a saison with more complexity and depth than most American brewed saisons I have had. At this point of the night, the bar was emptying out and Joe, a very knowledgeable and enthusiastic waiter at Roast, came over to talk beer for another hour. I closed the night with the Kuhnhenn Raspberry Eisbock, while a bit pricey at $15 for a 6oz bottle, which was clearly the highlight. Joe and Brian are steering the beer selection at Roast and are hoping to develop a vintage Jolly Pumpkin inventory with potential beer dinners to come. I suggest seeking either of them out as they are incredibly knowledgeable and generous.
Once my colleagues arrived, I brought them back to Roast the following two nights. We received exceptional service even though we didn't arrive for dinner until 10pm and ended up closing the restaurant on a Tuesday. I ordered the Filet Mignon one night and then a boar entree the next night, both were delicious and cooked perfectly. I introduced a few people to the Jolly Pumpkin White Ale while I enjoyed a Cantillon Iris, Petrus Oud Bruin and a couple Great Lakes Pale Ales over the two nights. Again, Joe went out of his way to bring over a bottle of BrewDog's whiskey barrel aged IIPA for our table to share. He had just added this beer to the inventory and knew we were all anxious to try it.
The combination of knowledgeable and professional waiters and bartenders in addition to the well thought out beer list make Roast one of my favorite high end beer bars. The food was consistently excellent over the three nights and I would highly recommend visiting Roast if you are in Detroit.
★
2,877 characters
4.65
/5
rDev
-0.6%
vibe: 4 | quality: 5 | service: 4.5 | selection: 4.5 | food: 5
Any serious beer lover, or Certified Cicerone (TM), either living locally, or travelling into town should not miss out on the opportunity to visit Roast. If you're on a budget, arrive early and enjoy their cocktail hour food specials, and splurge on the beers instead. If you love Brettanomyces, or are a Shelton Brothers fan you will love this place. Joseph has done a wonderful job of laying out the beer menu according to flavour, rather than by brewery or region. And the beer serving glassware is optimal.
Don't quite believe me? Read this review on their recent "Belgium VS Michigan" beer dinner. Every beer listed is available there.
http://2cicerones.blogspot.com/2009/11/belgium-vs-michigan-beer-dinner-at.html
Oh, did I mention that the food is phenomenal?
★
766 characters

4.83
/5
rDev
+3.2%
vibe: 4.5 | quality: 5 | service: 5 | selection: 4.5 | food: 5
Michael Symon's Roast is chef Symon's first Detroit venture. It's located within the historic Cadillac Hotel which is currently managed by the Wyndham group. We came over from the MGM casino which is only a few blocks away. The entrance is through the hotel lobby.
The layout is very modern and chic. Wood, glass and steel surround the bar and the tables. We were seated in a comfortable, leather booth along the front windows.
Roast is an appropriate name for this restaurant. The menu is centered around "the beast of the day", which is a whole animal, spit roasted in the center of the restaurant. Basically, this is a carnivore's playground. It's menu has all those special bits that american culture doesn't eat unless disguised as something else. Suckling pig, baby goat, lamb, wild boar are among the beasts you may find here. We ordered multiple entrees and appetizers to share at the table. My favorite items included veal shortbreads, beef cheek pierogi, and the crispy brussels sprouts. (proof that bacon can transform any vegetable into a glorious food).
Roast doesn't have a huge tap selection, but the quality is great. The six taps included Jolly Pumpkin Bam and Founder's KY Breakfast Stout. Bottles are heavily slanted toward Belgium, both in origin and influence. I had a bottle of Petrus Olde Bruin with dinner, and it may have provided an epiphany to my bud light drinking friend. Prices ranged widely. The Bam was only $3.00 a pint, the Petrus was $9.00, and a Kuhnhenn Raspberry Ice Bock will set you back a little more.
This is a high end restaurant that treats beer with respect and dignity. The beverage manager / sommelier spent a lot of time with us telling us new beer arrivals and giving recommendations for our meals. All the staff was excellent, and I'm sure we weren't the easiest guests.
First and foremost, Michael Symon's Roast is a high end restaurant. It just happens to take beer as seriously as it does wine.
★
1,955 characters
4.88
/5
rDev
+4.3%
vibe: 5 | quality: 5 | service: 5 | selection: 4.5 | food: 5
I had dinner at Michael Symon's Roast last night. Roast is a must visit for you carnivores. The evening started with a glass of Jolly Pumpkin Bam. The tap list was only five beers which also included Great Lakes Conway's Irish, JP Madruga Obscura, Stella, and I don't remember the final option.
Appetizers at the table were the house made charcuterie selections and the roasted bone marrow. Bone marrow is a must try IMHO. My dining friend actually picked up the bone and started licking it to make sure all the marrow was consumed.
Entrees that we had were the rack of wild boar and the roast beast of the day. Everyday they roast a whole animal for this, some of the animals include goat, lamb, and suckling pig. Last night the beast was the suckling pig. We also had sides of crispy brussel sprouts and roasted asparagus.
Dessert, no normally I do not eat dessert but since I was taking home half of my entree to give to my brother for letting me sneak out of work half a day early, I decided what the hell why not. I had a Michigan cherry crisp and a bottle of Kuhnhenn Raspberry Eisbock 07.
All in all, the meal was wonderful and topped off with a great beer. I will be back. Hell maybe even this week.
★
1,211 characters
5
/5
rDev
+6.8%
vibe: 5 | quality: 5 | service: 5 | selection: 5 | food: 5
This restaurant is a must see. Michael Symon is the youngest, newest, Iron Chef with the best battle record so far. His new restaurant in Detroits Historically renovated Book Cadillac Hotel is stunning. They roast whole animals on a spit daily, they dry age their own steaks and cure their own meats for charcuterie. The quality of product here is unbelievable. They also have a sick wine list with over 300 labels to choose from all priced very aggressively. They have a smaller but equally eclectic beer list with barrel aged lambics, tons of artisinal michigan beers, and they are even starting to cellar beers for future releases. Also, the cocktail list is worth a mention. They feature some really unique recipes that are not just new twists on Cosmos. These drinks are fun and they are not just a bunch of fruity sweet martinis. If you like classic Manhattans they have the best damn Manhattan that I have ever had featuring whisky barrel aged bitter and premium sweet vermouth made by wine maker, Alexander Quady. This restaurant is serious about there products from front to back. Don't miss this place. I can't wait to see how the beer list progresses over time. If you check it out, make sure you say hi to the Sommelier, Joseph Allerton. He pulled out all the stops for us when we went there. Cheers.
★
1,312 characters
Michael Symon's Roast in Detroit, MI
4.68
out of
5
based on
19
ratings.