Dunedin House of Beer
BEER AVG
-
none
Awaiting 10 Ratings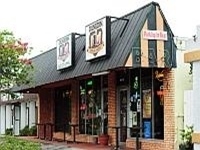 PLACE INFO
Type:
Brewery, Bar
927 Broadway
Ste A
Dunedin
,
Florida
, 34698-5781
United States
(727) 216-6318 |
map
dunedinhob.com
Notes:
No notes at this time.
Added by BeerAdvocate on 04-12-2009
Reviews: 15 | Ratings: 26
4.5
/5
rDev
+2.3%
Dunedin HoB is you local hangout offering 40 different revolving beers on tap consisting of micros, crafts, imports, and domestics.
They are usually pretty busy on the weekend but that is also due to the size of the venue. It is small and creates an intimate setting where you could sit at the bar, at one of the few tables, play human Jenga, throw darts or go outside and sit on the patio where there are several more tables and seats. DHoB is a great place overall!
469 characters

4.1
/5
rDev
-6.8%
vibe: 3.5 | quality: 4 | service: 4 | selection: 5 | food: 3
I was introduced to this place when I was sent to Clearwater, FL for my job last year - it's just a few minutes drive to Dunedin. The bar has a ton of bottled beer selections if you don't find one that you may enjoy on tap (I'm not sure how that is possible considering there is 40 craft beers on tap daily). Honestly - I checked out the bottle selection but never bought one because there were always several beer choices that I wanted to try on tap. The staff was great and after I had been in a few times they all knew me by name and always welcomed me and started conversation, this included the owners.
They always let you try beers before you buy them which is pretty awesome, and a couple of them can usually direct you to a great fit for your taste if you tell them what you usually drink. They also have wine available - and are opening (or have already opened) a wine bar in the same building.
It can get crowded around the bar quickly some nights - especially if there is a pre-season baseball game, pub crawl, or if a beer rep. is there with some new kegs to try and swag to hand out.
Overall - I really liked the place, tried some of the best beer in the country and world that isn't readily available at most beer stores, unless you're lucky enough to be from a craft beer haven like California or Vermont. Absolutely recommend it to anyone who loves beer.
Food - they don't have a kitchen there, but it's just steps from the main strip in Dunedin, which has several great places to eat - so just plan accordingly.
1,533 characters
3.9
/5
rDev
-11.4%
vibe: 4.5 | quality: 3.5 | service: 4 | selection: 4
Didn't actually spend all that much time inside the bar, as they had some real crunchy jams going on outside.
They have some what appear to be vintage arcade games inside on one side of the bar, and a small maybe 10-15 person bar with about 40 taps. Everything is listed on a chalk board about the bar...They have some bottles, but I'm not sure how many they have because they don't have a physical list...now why in the hell, if you call yourself a House of Beer, and have 70 bottles in your cooler, you wouldn't want to try and sell them by adding them to an easy to read and navigate list? My mind was blown.
Their tap selection was OK. They had alot of locals, including beers from Cigar City, 7th Sun, Tampa Bay Brewing, Swamp Head, etc...They had a good spread of craft brews from around the country, I was pleased with the selection.
The courtyard in the back is nice, I like all the outdoor seating down here. There was a good crowd listening to the music, and enjoying some craft beers. it's worth a stop, but as far as a beer destination goes, I wouldn't go that far.
1,078 characters

4.03
/5
rDev
-8.4%
vibe: 3.5 | quality: 4 | service: 4 | selection: 4.5 | food: 3.5
(Visited 06/2011): Dunedin House Of Beer is located in Dunedin just north of Clearwater on Broadway, very close to the ocean. There is a small lot in front of the plaza.
The interior is dark with the bar on the right side. A large board displaying the beers is directly facing the seats, as well as a couple TVs.
House Of Beer houses about 40 taps, including selections from many Florida breweries such as Cigar City, Swamp Head, Cold Storage and Dunedin. Other craft breweries like Southern Tier, Rogue and Dogfish Head are present too. Honestly not sure if they have anything in bottles.
Service on a weekday post-lunch afternoon was pretty good. The bartender did not seem like a beer expert but was knowledgeable enough about the available beers and was friendly. They also have a loyalty club.
There are not a lot of food options here but they do carry some snacks (seafood cracker dips are interesting) and microwaved pizza.
Overall this is a good little spot to get some good regional beers not too far from Tampa.
1,026 characters

4.14
/5
rDev
-5.9%
vibe: 4 | quality: 4 | service: 4.5 | selection: 4
After I've heard so much about this place I had to come here. A big open bar with alot of space in here but one thing is missing. Tables and chairs. There are bar stools surrounding the bar but other than that it is standing room only. A few games in the back part of the room and a couple of tv's on both ends of the bar.
The tap selection is very large offering 50 taps. Some of the same run of the mill stuff as you will see at most of the craft bars in the area. Old Rasputin,Bells amber ale,yeti. Nothing especially hard to find just so many and kind of overwhelming to sit back and really search the list for something special.
I think this bar and a few other's in the area overwhelm you with the large quantity on tap and not so much quality on tap. Still I am not saying this is a bad place because it isn't but to me I miss the bars that have 5 to 10 handles and all are pouring a different style.
910 characters
4.78
/5
rDev
+8.6%
vibe: 4.5 | quality: 4.5 | service: 5 | selection: 5
While visiting family in Dunedin earlier this year, I was lucky enough to been shown what is now one of my favorite bars ever. I believe I spent half the nights of my vacation at this bar and enjoyed them all.
The beer selection was outstanding, the staff was very friendly and knowledgeable, and between entertaining live musicians and a laid back atmosphere I instantly fell in love. As difficult as it was to leave both this bar and the town, I headed back to Cincinnati with a gallon growler of oatmeal raisin from cigar city brewing and am looking forward to coming back this december.
590 characters
4.78
/5
rDev
+8.6%
vibe: 4.5 | quality: 4.5 | service: 5 | selection: 5
Simply put, this place is paradise for any beer geek out there. With a vast variety of 40 beers on tap, the HOB is the perfect place to try different styles and flavors. Plus, they are always rotating and adding new beers.
Never had anything to eat there so I can't really comment on that. The atmosphere is pretty good, they have the bar and a bunch of high tables and chairs spread, along with an outside area. They have arcade machines and large sized Jenga blocks for added entertainment.
All in all, if you live near Dunedin and like beer, do yourself a favor and visit this gem of a place.
598 characters
4.94
/5
rDev
+12.3%
vibe: 4.5 | quality: 5 | service: 5 | selection: 5
For so long in Florida, we writhed in Beer Purgatory. Most of us that love great beer would homebrew, trade and travel to bring beer back. When we challenged and lobbied the bottle size laws and asked distributors for more choices ... THIS is what we had in mind.
The HOB is an amazing place. The selection of beers will Wow even the most experienced beer drinkers. The taps change almost daily and the owners have the courage to order things you won't find in other beer bars (Saisons, Flemish browns, Brettanomyces-fermented beers, super-strongs), knowing that their patrons will try it.
Why will they try it? Because the owners also have the good sense to have a loyalty/patronage program, called the "Rail Card". Finish the rail and you get a T-shirt with the bar's logo, the words "I finished the Rail" and anything else you want printed on it. Finish 2, get a polo. Finish 3 and you are a member of the keg club, and you get a punch card for 20 free beers.
But, that loyalty program would only work if the establishment was somewhere you would want to come back to time and again. This one, most definitely, is that kind of place. The patrons are generally good-natured, welcoming and fun. The staff is well-trained, beer-educated and care about their patrons' experience.
All in all, of the over 120 true beer bars that I have been in around the country, this is one of my favorite. That it is in my own backyard just makes it better. But, if the HOB were elsewhere, I would visit it EVERY time I traveled there.
Cheers.
1,532 characters
5
/5
rDev
+13.6%
vibe: 5 | quality: 5 | service: 5 | selection: 5
Dunedin House of Beer is an incredible place to geek out over beer. The 40 taps are never the same so each time you go, they will have something new to try.
They also encourage you to try new brews that maybe outside your comfort zone by having a "Rail Card". This unique card gets marked each time you drink a beer from the corresponding tap number. When completed, you get a personalized T-shirt that states "I drank the rail". This has proved so popular people have completed the card 3 separate times. Upon your third completion, they give you the best gift of all. 20 Free Beers (tap only).
The staff is so personable that it keeps you coming back for more.
665 characters
4.31
/5
rDev
-2%
vibe: 3 | quality: 4.5 | service: 4.5 | selection: 4.5
This unassuming little bar boasts a phenomenal selection, both on-tap, and in bottles of all sizes, styles, and origin.
I have been there on several occasions, but am by no means a regular.
There have been two different kinds of experiences I have had.
***
My first impression (which has been flipped 180 degrees):
The glassware is limited, I guess, because I got an attitude and mini-lecture when I declined to drink my Stone Imperial Russian Stout out of a pint glass, instead asking for a tulip, snifter or goblet.
I was served in a pathetic Shirley Temple cocktail glass after being 'informed' that no one has ever drank RIS out of anything except a pint glass, 'it just isn't done'. I wonder if he bothered to look at the label of the bottle which shows Stone's gargoyle drinking the brew out of a tulip or if he is is familiar with Stone's IRS official glass, which is quite similar to a Duvel tulip.
All that aside, perhaps some attitude is worth dealing with for the quality of selections.
***
And more importantly, my subsequent impression:
After learning of my dissatisfaction, the owner contacted me to apologize, and asked for a second chance at my patronage. Deal.
He didn't know that no amount of attitude could keep me out of a bar this good. So I've already been back many times.
The selection is invariably phenomenal, and constantly rotating, the service is very good when it gets crowded; it is a good spot. The atmosphere could use some work, but as long as the beer is good, I don't care...
1,524 characters
5
/5
rDev
+13.6%
vibe: 5 | quality: 5 | service: 5 | selection: 5
This has become one of my favorite bars in the Tampa bay area...they have great service...a constant rotation of taps (I always know that a new beer is only couple days away) and they do go to great pains to get some really unique beers
they recently took over the space next door and are planning to expand....this has also become a hangout for beer geeks and you are likely to end up talking about beer for most of your time there
if you are within 100 miles of Dunedin do yourself a favor and stop by house of beer
520 characters
4.78
/5
rDev
+8.6%
vibe: 4.5 | quality: 4.5 | service: 5 | selection: 5
Great place.
Had two flights totaling 8 5-oz beers here yesterday. Left with a couple growlers.
Tidy space, packed with beer. Friendly, knowledgeable service. Most of my beers were high ABV but the pours were big anyway. Almost too big! Serving temps were perfect.
Nice variety, with a nod to the local brewers and a nice mix of regional and national stuff filling out the lineup. No freshness issues, no off flavors or dirty tap lines. Wish I could have stayed.
The taps are a bit crowded but I didn't mind. A little larger beer board - leaving room for more description of the style (if necessary) - would be great, but having less beer would not be an acceptable compromise! I guess in a perfect world there'd be a cask selection, but you'll likely never run out of gems to drink here. I didn't even have to glance at the impressive amount of bottled beers available.
I'll be back any time I can.
904 characters
4.31
/5
rDev
-2%
vibe: 3 | quality: 4.5 | service: 4.5 | selection: 4.5
Finally made it to this spot last night. I was very impressed. I had heard a lot, but their selection was incredible. I had: BrewDog Punk, East Coast Dbl IPA, SN Celebration (hadn't seen it yet this year) and Stone Ruination. While I was there a few new kegs got tapped: He'brew Jewbilation 13, DF Olde Skool Barleywine, and Stone Double Bastard. Really stoked about a place that's balsy enough to have this many high ABV gems on a ]t one time. A great American Micro bar! As anywhere in Dunedin, very laid back, attentive friendly service, and a diverse crowd. Def be back soon!
579 characters
4.8
/5
rDev
+9.1%
vibe: 4.5 | quality: 5 | service: 5 | selection: 4.5
Great little place close to the Pinellas bike trail.
I've come here a couple times when I got sick of exercise and fresh air on the bike. It was slow so he let me bring my small dog inside. the bartenters introduce themselves and try to learn your name.
I wish he would have offered to let me try more beers; I was in the mood for something different but ended up with an old standby, Stone's IPA
he offered me three ciders and a fruit lambic, i guess i look like a nube.
Great atmosphere, friendly nice service.
515 characters

5
/5
rDev
+13.6%
vibe: 5 | quality: 5 | service: 5 | selection: 5
Yeah, I am giving all exceptional ratings here. What do you expect though? -- I went here after sipping two pints at the Dunedin Brewery, which is a couple of blocks away.
This place is an absolute gem IMHO. Their 40 taps pour a very diverse and excellent selection of beers. I could only spend one hour there during my first visit, but after the first beer (Youngs Double Chocolate), I wanted to sit for six hours. The wife wouldn't let me though :-(
The place consumes a small store front on the outside, but you cannot miss it due to the quaint sign, with table and chairs underneath. It is a galley-shaped space inside, nicely adorned with all things beer. It is not a large area, however the size makes for a wonderful atmosphere. I can only vouch for my one visit (Saturday afternoon), but it only took 5 minutes for my wife & I to get involved in a conversation with other patrons about---BEER.
Another thing I liked, and I never gave this any thought until now, is that the taps are arranged in two tight groups, close together. With the bartender's work space also being tight, you get a real intimate feeling with all those taps being so close. I actually felt like I was at the owner's house with his friends.
As far as the service goes, I caught it when it was top-notch -- the owner was pouring the pints! That's an unfair advantage for this reviewer, but I don't know what else to say. Surely they wouldn't hire any greenhorns to occupy that position, I'm thinking. Price? I cannot honestly say since I didn't really care. If I recall right though, the final bill did not seem unreasonable at all.
For a beer nut within a 100 mile radius (I am 116 miles away), the HOB is worthy of multiple field trips. I will certainly visit there again.
1,760 characters
Dunedin House of Beer in Dunedin, FL
3.38
out of
5
based on
4
ratings.