Amber Wave
| Tailgate Beer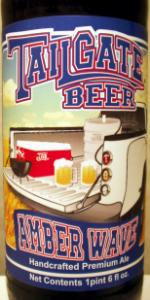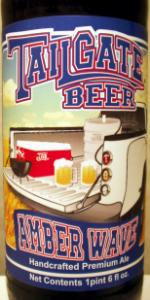 BEER INFO
Brewed by:
Tailgate Beer
California
,
United States
tailgatebeer.com
Style:
American Amber / Red Ale
Alcohol by volume (ABV):
6.20%
Availability:
Year-round
Notes / Commercial Description:
No notes at this time.
Added by seaoflament on 04-15-2009
This beer is retired; no longer brewed.
HISTOGRAM
Ratings: 5 | Reviews: 4
Reviews by scottoale:

2.89
/5
rDev
+10.7%
look: 4 | smell: 2.5 | taste: 3 | feel: 2.5 | overall: 3
22oz. brown bomber with no freshness mentioned. Poured into a DFH off-centered ale glass, a dark copper brown with a huge three-finger off-white frothy topper. The head eventually settled to 1/4", the carbonation was very evident in the mouthfeel and visually. Bubbles rising furiously for several minutes.
The nose was more than subtle with notes of dust, metallic air and faint caramel malt. This stuff hardly smells at all, even when it warmed up.
Faintly sweet malty intro that quickly gets overthrown by a twangy bitter lemon flavor. Very astringent and chalky bitterness at that. Almost has a hint of Brett spike to it. Not so sure what the brewers had in mind here...interesting flavor to say the least. Not complex and a bit watery in the overall mouthfeel. The carbonation attacks the tongue and leaves with that chalky bitter finish. Citrus lemon rind aftertaste.
No note of alcohol, so if you like the taste, you could probably drink this stuff all day long. Not what I was expecting for some reason, but worth a try.
1,031 characters
More User Reviews:

2.43
/5
rDev
-6.9%
look: 3.5 | smell: 3 | taste: 2 | feel: 2 | overall: 2.5
Nice beery smell. Looks like beer. Tastes sort of like beer.
Promising hint of musty roasted malt at initial sip. But it vanishes. Nothing offensive, head is OK, has modest carbonation. It's just so watery and plain. Hint of hops but that evaporates too, leaving a taste of water with something in it. Not a beer if you're seeking inspiration.
344 characters
2.02
/5
rDev
-22.6%
look: 2 | smell: 2.5 | taste: 2 | feel: 2 | overall: 1.5
Yeah!!! Tailgating beer!!! On to the beer:
It's light brown in color with reddish hues. Doesn't that describe a brown ale better than an amber ale? The head is weak, dropping to only a lace along the glass above the beer. There's some appeal in the nose, but it's still unbalanced. Lots of toffee in the nose (though not the best quality stuff), and a little fruitiness. It doesn't quite come together.
This is weak, especially considering it's 6.2% ABV. Watery flavors. I like this toffee flavor I'm getting, it rivals those of good brown ales that I've been lucky to taste. It's weak though. I'm liking the chocolate notes I'm getting. It's weak though. Thankfully, it doesn't have any off-flavors. If the brewers could ice-distill this low watage beer, it might taste like a "normal" beer. Needless to say, it feels watery.
I'm done tailgatin'...for now. I have the brown ale in queue.
893 characters

3.21
/5
rDev
+23%
look: 4 | smell: 3 | taste: 3 | feel: 3.5 | overall: 3.5
Thanks Joey for bringing this bottle to share tonight at La Bella (4/14/09). This seems to be the first bottled beer from this brewery, let's see how it does.
Poured a dark amber with about a half inch of foam.
Metallic notes at first but that was due to the beer being too cold. After it warmed up a bit I could smell the caramel malts, hints of cocoa in the back, and some toast. But, where are the hops? Couldn't really detect any in the aroma.
Very thin at first, both body and flavor. Later on I started to taste the caramel, toast, and a little chocolate malt just like in the aroma. Straight forward and simple like the aroma, not much complexity and again I don't taste any hops or any bitterness. I seem to feel a small amount of bitterness on the back of my tongue during the aftertaste but that quickly fades. Low carbonation and a bit thin upfront. Not really impressed, but maybe with a name like "Tailgate Beer" this is meant to be an easy drinking, inoffensive, beer.
991 characters
Amber Wave from Tailgate Beer
Beer rating:
2.61
out of
5
with
5
ratings