The Flying Barrel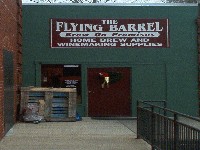 PLACE INFO
Type:
Homebrew Store
1781 N Market St
Frederick
,
Maryland
, 21701-4305
United States
(301) 663-4491 |
map
flyingbarrel.com
Notes:
No notes at this time.
Added by Todd
Reviews: 13 | Ratings: 17

4.44
/5
rDev
+1.4%
vibe: 4 | quality: 4.5 | service: 5 | selection: 4
Got an all grain brew day here for my Dad for Xmas. Did it on a Sunday, they went through the entire process with is in the back brewing room. Really awesome copper kettles to brew in and they clean and sanitize everything for you. Was my dad's first time seeing the whole process so definitely a success. Brian helped us out with the recipe and the whole brewing process. Really awesome. Store front has plenty of supplies. Grains are all in the back and you measure yourself. Great place to he's for your brewing needs and the brew there option is awesome for new brewers to see the whole thing done right.
608 characters

1.83
/5
rDev
-58.2%
vibe: 1.5 | quality: 2.5 | service: 1 | selection: 2
Had the day off, figured I'd go somewhere I'd never been before to check it out, as I wanted to get out of the city and only needed some stuff that could be bought at any HBS.
The storefront itself is awesome, probably some sort of old municipal building that the city sold off. Still, turn off the fountain and let me save a couple of bucks. Ample parking.
Went inside. There were two dudes working, and all I got was a "Hey". Wandered around for a bit in the areas that seemed like they were open to the public, all that was around were some extracts ($2 more per 3 pounds than I'm used to), a little bit of equipment, a scant wine-maker room, and a yeast and hops fridge. Yeasts seemed to be in good supply, hops seemed expensive to me (I buy in bulk, so I'm not too sure what an ounce of hops goes for nowadays), and not the most expansive selection. No grain in sight, maybe it's in the back and they get it for you? I don't know, no one asked if I was finding anything ok.
Picked up the DME I needed and headed to the register. Turns out, there was either a leak in the bag or in another bag in the bin that left DME all over mine. There's powder all over the counter. The one guy that's ringing me up is searching the bag for a hole. The other guy working there says that its probably just a bad seal on the bag and asks if I'll be using it soon. Nobody offers to get me a new bag. They ring me up, I pay and leave.
Now, I'll admit, it's my fault for letting them give me bad service. I should have said," forget it, it's not something I really need", and left. But I really want to brew tomorrow, and I don't have time for an all-grain batch. But I will never shop there again (not really hard, as it's almost an hour's drive and not really near anything else I'd check out [I'm aware of Flying Dog]). I definitely don't recommend this shop unless you live in the area and are in a pinch.
1,903 characters
5
/5
rDev
+14.2%
I've been homebrewing for years, and this is one of my favorite places. Aside from having a good selection and friendly staff, the Flying Barrel is a brew-on-premises with nice 15 gallon copper kettles. Since I live in a small apartment in the DC area, often it can be hard to manage all the brewing equipment at home so I prefer to brew at the Flying Barrel. Bob, the owner, is very nice and very honest. The prices are competitive with the online stores, and I've found grain to be of lower prices at the Flying Barrel than at other places. As for equipment and sanitation, I don't understand some of the negative reviews that I've read from others. The fermentation room is separate from the brewing room and grains, and it is temperature controlled and humidity is controlled. Of course, the fermentation room can't go below 60* so lagering is out of the question, but the quality of ales that can be made from this store is a compliment to their high degree of sanitation and fresh ingredients.
A note to brewing n00bs that you may not be told expressly by the flying barrel staff: 1) Don't leave your beer to ferment for longer than the recipe specifies. The plastic fermentation buckets breath a little so when your yeast is finished fermenting, you'll steadily loose co2 pressure and air will come in and slightly spoil your beer. Also, low co2 pressure can allow for microbes to sneak in through the fermentation airlock.
2) The number one rule is sanitation. The staff will emphasis this, but maybe not as sternly as they should (as a factor of politeness). Whether you brew at the store or do it at home, sanitize everything up until the second that your wort is cooling down in your primary bucket.
1,711 characters
4.55
/5
rDev
+3.9%
The only home brew shop I have ever actually been to. The selection is nice, though there are often shortages in certain hop variety. This is to be expected from time to time I guess. Although it is the only supply shop I have ever visited, the prices seem fairly competitive, based on internet searches. The service is good and the employees are always willing to offer help. I have been impressed with the quality of their products. There are beer kits with instructions as well as a variety of malts, yeast and hops that you can use to create your own unique beer. Some of the Belgian spices and adjuncts are a bit pricey, but there aren't many other options in the area.
674 characters
4.3
/5
rDev
-1.8%
Looks like they haven't been reviewed in quite awhile so I will add my 2 cents. The previous reviewer couldn't be more off base. Sure the owner is a little eclectic and disorganized, but he is probably one of the nicest guys in the business. Got my homebrewing start at their BOP, and while it's not the fanciest place, it is certainly not unsanitary. The 2 batches i brewed there came out wonderfully! They sell the full range of supplies and their prices are certainly competitive. It's nice to be able to run out and get some tubing or some caps without having to order it online and wait for it to be shipped. And everytime i go there he always has a sample of some homebrew to share. A genuinely good shop run by a genuinely nice guy, and he will continue to get my business as long as he's open.
801 characters

3
/5
rDev
-31.5%
Visited the place on our DC pub crawl.
Funny about homebrew shops, I have yet to fid one that is neat and organized, and this was no exception.
This is also a brew on premise.
Visited on a saturday morning, and the word i would use to describe it is chaotic. Their were people going every which way and help was kid of hard to find, It was hard to tell who was who.
Went to the back where they brew, and as far as organization, it was crazy. There were people in all the different stages of brewing, none that seemed to know what they were doing and people and equiptment was everywhere.
Cleanliness would be my immediate concern there, and we did notice someone opening their ale pale to what appeared to be a full blown infection.
decent homebrew shop, but I wouldnt want to make beer under those conditions.
811 characters
4.3
/5
rDev
-1.8%
I heard about the Flying Barrel after searching for home brew shops in the area. I had never heard of the place and all I needed at the time were beer caps, so I figured I'd try it out. When I got there it wasn't anything fancy as far as interior decor, but who cares...you're buying beer suplies. The selection was great and there are lots of chemicals/additives readily available that are hard to find elsewhere. The man who owns it is very nice and once he heard I was from out of town he offered me his card and said to call him if I needed anything and he'd Fed-Ex it to me free of charge, try finding somewhere else that does that. He gave me a tour and to my surprise the brew on premise there...so any amateur (or novice) can show up and be guided by a brewer and make their own beer there. A concept I had never heard of, but now a lot of my lesser beer knowledgeable friends are obsessed with. A great little spot for all your brewing needs!
951 characters
4.65
/5
rDev
+6.2%
I am relatively new to brewing so I made a best guess for the quality and selection numbers based upon my limited knowledge. I can say that owner Bob Frank provides exceptional service!
One of the unique things about the Flying Barrel is the opportunity to brew your beer right at the store (brew on premises). I am taking an eight week brewing class (April/May, 2006) at The Flying Barrel taught by Buck Reed who is a chef and member of the local brew club F.O.A.M. The class is excellent and the beers we brew are high quality using the partial mash and extract method. All the ingredients come from the store except for some more esoteric ingredients like jalapenos, ginger, etc. Every week (starting on week two or three) you bring home a case of beer you brewed. You can do the same if even if you don't want to take the class.
As other people have mentioned the prices are reasonable and the selection is excellent from ingredients to the gear. I'll buy from Bob unless he just doesn't carry an item I want and can't get it.
The Flying Barrel also offers wine seminars and carries wine making supplies as well.
1,125 characters
4.65
/5
rDev
+6.2%
If you are a homebrewer in MD, PA or anywhere within a hundred miles of this place, then you know there is nowhere else to get the homebrew supplies you need. The selection of grains, hop and yeast are outstanding. I CAN create a beer that uses something they don't have, but I would have to try hard. Bob is the man and everyone in the area who knows thier brew knows Bob too. The staff is very knowledgeable about beer and brewing. They have on-site brewing facilities, teach brewing classes... Hey Bob, can I live in the back room??
I recommend shopping here for homebrew supplies. I recommend joining FOAM, the Frederick Brew club that meets here once a month. It's the best beer resource in MD.
Sacfly, I didn't even look at your scores.
744 characters
4.65
/5
rDev
+6.2%
The Flying Barrel is THE homebrew shop in the Frederick area. It has just about all you could want as far as ingredients go, and if they don't have it they would be more than happy to get it for you. They have an assortment of kits, caned LME, barrels of fresh LME, DME, bulk grain, specialty grain, adjuncts, additives and so on. Very convenient in that you can measure exactly what you need in LME if you are an extract brewer. The grain can also be bought in any increment you need and can be milled right there. They have an assortment of loose hop pellets, air locked hop packets, bags of fresh whole hops, and even hop extract. They have just about any yeast available.
If you are new to brewing, there is always someone that is there that is willing and able to help you. And not just the staff- most days you will find friendly people in there hanging out and sharing homebrew and brewing stories. This is also a brew on premise, so if you want to take a test run without buying all the equipment you can formulate a recipe with a staff member or pick one for their book section and use all their equipment. You can choose from 5 to 15 gallon batches, and you can do ale, lager, even wine, mead, or soda. (Best of all, they clean up!) They also have wine and mead equipment and ingredients including an array of fresh local honey.
The FOAM brew club meets on the first Monday of each month and features news of upcoming events, competitions, and of course a sharing of homebrew. It is very close to local bars and restaurants including Brewer's Alley- a decent brewpub- within walking distance.
Very convenient and affordable. An A+ operation. Tell Bob I said hi!
1,685 characters
4.8
/5
rDev
+9.6%
Well this place is a homebrewers paradise. Everytime I have been in there some guys almost always different ones are sitting around sharing some home brew and are always will to share with you. Everytime I go there now I bring a bottle in case there a people there. It is a very informal atmosphere, you can go your own way or one of the staff will help you pick out what you need with helpful suggestions along the way.
They have lots of liquid and powered malt and they even have bulk malt extract that is much cheaper and is just as good as the canned stuff. They have bulk grain too most everything and enough specialty grain to keep a homebrewer busy. They have plenty of adjuncts and spices and all the supplies, even kegging, that you would need. The prices are great and in line with what you would see anywhere. The hours are odd but a weekend trip is always easy. They also host a homebrew club the first Monday of each month.
All around a great place to go if you want to homebrew.
998 characters
4.4
/5
rDev
+0.5%
This is arguably the best homebrew supply store I've been in. The selection is one of the best I've seen, and the atmosphere is very informal. You select the grains/adjuncts/ingredients you need, measure them yourself, grind them yourself, pay, and go. Also, they have an excellent supply of wine making supplies.
The drawback to having this kind of environment is that it can be daunting for first-timers. With such a selection, it could be very easy to get lost. For experienced brewers, the drawback is that it's very easy to just keep buying and buying. I've gone in a number of times to pick up 'just one little thing' and left with enough ingredients for two batches.
The service is good, but if business is brisk, you will most likely have to wait awhile to get advice or assistance. Fortunately, the turnaround time on most customers is pretty quick, so you'll rarely have to wait more than 5 minutes or so.
I haven't attended one of their brewing classes, so I can't really speak to that. I'm told they're very good.
The hours are a bit limited, but since it's a mom&pop place, that's to be expected.
Of the supply stores in the greater DC metro/Maryland/VA area, this one is by far the best.
1,217 characters
4.65
/5
rDev
+6.2%
I attended a homebrewing class at the Flying Barrell and was equally impressed with the knowledge of the staff as well as their courtesy. Kieth, our instructor, was enthusiastic about brewing and eager to infect the rest of us with his fervor.
Though a small space, they do have 6 kettles for brewing up to a keg in each. They have a large selection of malts as well as a small mill for grinding your own grain for full grain brews.
Best of all, every time I stop in, I'm offered a beer and a seat. If they had a bar, this would be the perfect place. As it is, the only thing that stops me from brewing more there is my desire to drink beer other people brew.
666 characters
The Flying Barrel in Frederick, MD
4.38
out of
5
based on
17
ratings.