Garden Ale
| Stone & Wood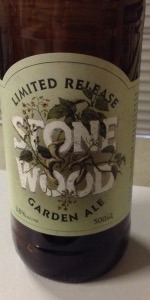 BEER INFO
Brewed by:
Stone & Wood
Australia
stoneandwood.com.au
Style:
English Bitter
Alcohol by volume (ABV):
3.80%
Availability:
Rotating
Notes / Commercial Description:
No notes at this time.
Added by MrKennedy on 11-24-2012
Ratings: 14 | Reviews: 8
Reviews by dgilks:
3.42
/5
rDev
-2.8%
look: 3 | smell: 3.5 | taste: 3.5 | feel: 3 | overall: 3.5
A mildly hazy amber colour with a tiny and short lasted offwhite head. Okay.
A little earthy and quite plain. Some fruity character. Maybe there is some woodiness from the juniper.
Light and fresh. A little malty. Some nice hop fruitiness. A touch earthy. Not bad.
Medium-light body with moderately-high carbonation. A touch empty and thin.
Not a bad beer but not an exciting one. I can see why they made it but I think it falls a little flat.
447 characters
More User Reviews:



3.6
/5
rDev
+2.3%
look: 4 | smell: 4 | taste: 3.5 | feel: 3 | overall: 3.5
10oz pour at the East Village Hotel, Balmain East.
Darker golden look about it, white foam on top and laced impressively well.
Smell had some citrus and a nice bit of honey dew melon. Not really getting the Juniper berries that were used, as I thought could be prominent.
Decently hoppy, citrus and melon are the key things here. At times gets a touch watery. Other times it seems to work out pretty well.
Decently bitter, but not aggressive. At times the lack of abv and body works against it making it a touch harsher than you'd expect from a beer made for drinking in the garden.
Solid beer. If you are after a mid strength, but still flavoursome ale, this does the trick. Though it does make me wish the Byron Bay climate was more conducive to bigger abv beers.
781 characters
3.4
/5
rDev
-3.4%
look: 3 | smell: 3 | taste: 3.5 | feel: 4 | overall: 3.5
Pours dark amber with a large, lasting head.
Nose shows some nutty and toasty malt along with light spicy herbal notes from the juniper. A little faint.
Similar spicy characters show as flavours along with nutty notes. Extremely quaffable. Gets a bit sweet later though.
270 characters

3.42
/5
rDev
-2.8%
look: 3 | smell: 3.5 | taste: 3.5 | feel: 3 | overall: 3.5
Burnished amber colour, with off-white head. Decent density at first but then settles to a disappointing thin crown of small bubbles. OK but nothing great.
Smells kind of beery, but a nice fresh fruitiness probably berry-related underneaht. Hint of apple, decent juniper character and a touch of lemongrass. Seems not good at first impression, but that fruity pepper really freshens it up a lot.
Taste is quite spicy and piquant for most part. Little bit malty upfront, soft and caramelly with a touch of toast. Gets more juniper tang and peppery spice on the back. Bit sour and astringent, maybe should be served colder but I like the flavours to speak for themselves and it's a little bitter on the back. Quite a nice twist on a traditional bitter-fresh brew.
A bit sharp carbonation-wise, dries up quite a lot. Bit more body wouldn't go astray, or if the bitterness on the palate were softened just a bit.
Interesting drop, could be quite refreshing but is a little robust at times. Would certainly support any campaign to have this replace the midstrength arse juice at most sport stadiums.
1,102 characters

3.5
/5
rDev
-0.6%
look: 3.5 | smell: 3.5 | taste: 3.5 | feel: 3.5 | overall: 3.5
500ml bottle given to me blind by @LaitueGonflable.
Pours a pale, hazed golden colour, with an excessively frothy large-bubbled, off-white head. Minimal lacing, suggesting the body is thin as well. Looks a little bit flat.
Nose has a pleasant leafy hop fragrance to it: I'd suggest English hops, but it has an underlying sweetness to it that suggests Galaxy to me. Some mild nutty malt as well. Smells pleasant enough, but a little weak.
Taste is similar, although it has a smoothness from the very light carbonation, which helps. Light fruity hops, more forming fragrant sweetness than real bitterness. Some clean leafy notes on the back however, when the body has dropped out somewhat—it makes the back rather dry, but it's clean and pleasant nonetheless.
It's not spectacular, but it's very pleasant and drinkable. Solid, without being exceptional, or particularly exciting.
883 characters

3.53
/5
rDev
+0.3%
look: 3.25 | smell: 3.25 | taste: 3.75 | feel: 3.5 | overall: 3.5

3.23
/5
rDev
-8.2%
look: 3.5 | smell: 3 | taste: 3.5 | feel: 3 | overall: 3
From Leura. BB Aug 13.
Pours a hazy amber. Half a finger cream head. Little lace.
Aromas are earthy, and not too dissimilar to Pacific Ale....
Taste is same vein, quite clearly Stone and Wood. Maybe use of hops... Hmm... Not quite English bitter, as it is a little harsh on back palate. There are some berry flavours in the mix. It's quite zesty and also quite earthy... Not an easy match....
Mouthfeel also just like Pacific.... Well carbonated and light. Could be described as watery but really just light. Too carbonated tho, I am burping well...
All in all a bit of a let down, somewhat harsh flavours. Not quite smooth enough to be an English bitter.
660 characters
3.75
/5
rDev
+6.5%
look: 3.75 | smell: 3.75 | taste: 3.75 | feel: 3.75 | overall: 3.75
this is a good one, and a new one by me, in a lot of ways. first beer from stone and wood, and my first beer (that i can recall), dry hopped with ella, also known as stella, hops. a very light pale ale type, under 4% abv, and faded copper colored under a frothy white head several inches high and lacing up the glass as i drink. a nose quite vegetal, green, plant-like, not just from the hops i don't think, hard to describe, its leafy and fleshy and summery. grain is real light in nose and taste, but has both color ad body to it, a delicate balancing act. the hops at first seem unexciting, buttering mostly, without anything different about them. as the beer warms up though, it really comes alive. the hops take on a navel orange aromatic and a zesty more well rounded citrus flavor, especially in the finish, but they never get the least bit oily or any more bitter than they started. well done i think on the hops here, and i would like to see more beers use them so i can get a better feel for it, but my first impression is a good one. great bubbles lift up a fuller body for a session beer, and i can't help but like this, despite it being fairly simple and familiar already. the australian brewing revolution is fully underway.
1,238 characters


3.83
/5
rDev
+8.8%
look: 4 | smell: 4 | taste: 3.75 | feel: 3.75 | overall: 3.75
Dark Amber pour. Large and lasting foam head. Very herbal and floral with plenty of grass and citric zest. Nice stuff for a low ABV. Must try if you can get it.
160 characters
Garden Ale from Stone & Wood
3.52
out of
5
based on
14
ratings.