Dismiss Notice
Special Herbs (Sole Composition Series)
| Upright Brewing Company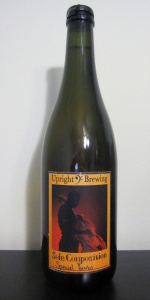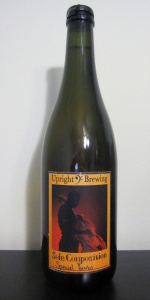 BEER INFO
Brewed by:
Upright Brewing Company
Oregon
,
United States
uprightbrewing.com
Style:
Scottish Gruit / Ancient Herbed Ale
Alcohol by volume (ABV):
6.00%
Availability:
Limited (brewed once)
Notes / Commercial Description:
Reggae Junkie Gruit, aged in Ransom Old Tom gin barrels.
Added by msubulldog25 on 02-28-2011
This beer is retired; no longer brewed.
HISTOGRAM
Ratings: 31 | Reviews: 18

3.7
/5
rDev
-16.7%
look: 4 | smell: 4 | taste: 3.5 | feel: 4 | overall: 3.5
6/24/2011
Thanks a lot, Jason!
Poured into a sniffer. A gin barrel aged Gruit? Right up my alley.
A: Looks like white wine, like a Chardonnay. Small bubbly white head. Good clarity.
S: Lactic peaches with a moderate sour quality with accompanying juniper. The gin is pronounced. Slight musty quality. 
T: Moderate lactic sourness with notes of peach and apricot. Citric acidity is at a lower moderate level. Very dry. Less gin than I detected in the flavor. A little juniper.
M: Sticky and dry. Light in body. Upper low carbonation. A little thin.
Overall: An interesting beer with unique attributes. Pretty damn good for a Gruit.
638 characters

4.39
/5
rDev
-1.1%
look: 3 | smell: 4 | taste: 4.5 | feel: 4.5 | overall: 5
750ml bottle into tulip pint.
bottle number 69 of 166.
Pours a clear golden yellow with a thin, bubbly white head that dissipates fairly quickly.
The aroma is of faint gin upfront, which gives way to a nice lactic tartness mixed with herbs.
I am getting light herbs/spice upfront though these become less apparent as it warms. These quickly give way to wonderful tart apple notes and faint grape-skin tannins in a nice dry finish.
As mentioned in other reviews, it is more full bodied than I would have guessed from the appearance. The carbonation, while not overly bubbly, is enough that it keeps it quite refreshing though.
This was an interesting and incredibly well done beer. I really wish I had picked up more bottles of this, and will keep my eyes open for it again. I would go as far as to say this is my favorite beer I have tried from Upright so far.
865 characters
4.92
/5
rDev
+10.8%
look: 4.5 | smell: 5 | taste: 5 | feel: 4.5 | overall: 5
One of the most fantastically surprising beers that I have had in a long time. Went into this beer with a lot of hesitation and came out craving more. This bottle was split several ways at the Jackie O's sour release. Pours a light golden color with a sparse thin white head(might have been the glassware). Aroma is AMAZING. Herbal, citrusy, definitely picking up the gin barrel. I want the Special Herbs air freshener. Taste is much the same, very bright, herbal, citrusy flavors. The beer is so amazingly refreshing becuase of it's lightness on the palate coupled with a terrific gently tart and sour finish. I am jealous of any person that had the opportunity to stock up on this beer.
688 characters

4.5
/5
rDev
+1.4%
look: 4 | smell: 4 | taste: 5 | feel: 4 | overall: 4.5
Appears very light gold in color with a light and fluffy pure white head.
I get a strong fruity apple like sourness to the beer. I also get a bit of a sour pear like sourness. The smell is very dry, sour and fruity.
It tastes of soured fruit. I get a mild apple, strawberry and even some green plum sourness to the beer. The beer is very acidic and strongly sour yet there is it is very smooth. I do not get a strong herbal flavor yet the herbal flavor might have been blended in with the smooth grassy gin like finish of the beer. There is a mild Brett like flavor that adds a mild funkiness that helps brings all the flavors of the beer together.
There is a crisp and light mouth feel to the beer.
An amazing sour beer from Upright. Upright is always good but they out did themselves with this sour.
807 characters
4.67
/5
rDev
+5.2%
look: 4 | smell: 4.5 | taste: 5 | feel: 4.5 | overall: 4.5
I've had this beer a few times on tap at both the Upright Tasting Room and Grain and Gristle, and will enjoy another every time I might be fortunate enough to see it available again. I also picked up a bunch for my cellar!
Appearance: light amber gold, nice head, minimal lacing.
Smell: sour, dry, and fruity.
Taste: Follows the nose. I'm just going to have to follow the lead of the first review here, it's spot on: Green apple skin, under-ripe green strawberries, grape skin tannins. A little bit of funky brett in the finish. Not much left as far as herbs go at this point - although there are lingering complexities from the base beer (or is that the gin barrel?!) that still add a lot of depth to the experience. Perfect.
Mouthfeel is really nice. Light, but not too light. Refreshing, yet still lightly viscous.
Overall, probably one of the best sour beers made in Portland, the whole west coast, or anywhere else in the country. I tried not to hoard this one. I only bought two when they first came out, and I gave everyone else a few weeks to buy what they wanted before I returned for more. You snooze, you lose!
1,127 characters

4.29
/5
rDev
-3.4%
look: 3 | smell: 4 | taste: 4.5 | feel: 4.5 | overall: 4.5
I really like this beer err... gruit. I order it whenever I see it on tap. Sampled this time at the Upright tasting room with TulipSnifter, MADhombrewer, and Witchsbrew.
A: Clear pale yellow with a half finger of white foam. No lacing pops up at all. This could be Miller Lite at first look. 3/5
S: The Miller Lite connection is so gone now. Bountiful clean light lactic greets the nose. I'm expecting some nice dry sour fruits now! 4/5
T: The promise of the aroma was not broken in the taste. Green apple skin, under-ripe green strawberries, and the stereotypical grape skin tannins are oh-so refreshing. A little bit of funky brett keep this dry. Not much left as far as herbs go at this point. Probably the best of Uprights sours in this aspect. 4.5/5
M: Surprisingly fuller than I would expect from such a dry beer. Slightly sticky on the finish but not bad. Scrubbing bubbles keeps the palate fresh. I need some Thai food because this would pair awesome! 4.5/5
O: Great beer. This is my third time having it on draft and I have a few bottles. Needless to say, this is one of my favorite sours in Portland! 4.5/5
Edit: I opened a bottle last night (5-19-11) and it was pretty dead on with all of what I wrote about the on-tap version except for one key component. A nice herbal quality was appreciated in the background that I'll compare to rosemary. It was not there on-tap. Rather than write a whole new review, I thought it best to merely mention it here. It didn't increase or decrease the point score at all for me but only added a nice nuance.
1,560 characters
Special Herbs (Sole Composition Series) from Upright Brewing Company
Beer rating:
4.44
out of
5
with
31
ratings