Cuvee Lactovasilios (Sole Composition Series)
| Upright Brewing Company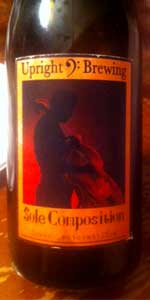 BEER INFO
Brewed by:
Upright Brewing Company
Oregon
,
United States
uprightbrewing.com
Style:
Berliner Weissbier
Alcohol by volume (ABV):
3.80%
Availability:
Limited (brewed once)
Notes / Commercial Description:
Cuvee Lactovasilios is a two cask blend made from a Berliner weisse style wort. The brew was fermented directly in several barrels, but this small batch version was done in the ones that previously held the Fantasia, our annual lambic-esque peach beer, and later a round of Five. The fruit originally in the barrel stayed the entire time, becoming a habitat for different yeasts and bacteria, some pitched by us and others coming from the orchard. The fruit also retained some of the Five, which lends this Cuvee a very slight bitterness and hint of saison character. Coupled with the mixed yeast and bacteria barrel fermentation, the finished beer even takes on some Geuze-like qualities and while ready now will certainly mature well for several years.
Added by MasterSki on 10-15-2012
This beer is retired; no longer brewed.
Reviews: 9 | Ratings: 39
3.92
/5
rDev
-1%
look: 3 | smell: 3.5 | taste: 4 | feel: 4 | overall: 4.5
750 mL bottle poured into a snifter. Bottle #18/151. Reviewed from notes.
Appearance - Clear golden yellow body that doesn't support much of a head. Just a couple of chunks on one side of the collar.
Smell - Light lemon acidity. Lightly fruity. Grainy malts. More of a saison aroma than berliner.
Taste - Much more tart. Lactic sourness. Grainy malt. Lemon and other citrus. Some pale malt flavor gives it a bit of sweetness in the finish.
Mouthfeel - Nicely tart. Low carbonation. Very light body.
Overall - Maybe not very exciting, but I found myself enjoying it quite a bit.
582 characters
4.17
/5
rDev
+5.3%
look: 3.75 | smell: 4.25 | taste: 4.25 | feel: 4.25 | overall: 4
#57/176, 750ml bottle, split
Hopleaf tulip - pale straw body. Aromas of cat piss and dirty socks. Funky and derivative from the style in typical Upright fashion - peach, lemon, interesting yeast strains. Another nice sole comp - everything from Upright is worth trying
269 characters

3.77
/5
rDev
-4.8%
look: 4 | smell: 3.75 | taste: 3.75 | feel: 3.75 | overall: 3.75
Bottle shared by GT.
The beer is golden hued with almost no head. The aroma offers some funk, tart fruit, citrus, a touch of wheat. The flavor is decent. Earthy with a touch of lemon. A hint of sweetness with a smooth and easy finish. Light and refreshing. Overall, this was pretty good.
288 characters

3.87
/5
rDev
-2.3%
look: 3 | smell: 4 | taste: 3.75 | feel: 4.25 | overall: 4
750mL bottle. Number 75 of 151.
A: Placid orange with some turbulence throughout. Bubbles congregate at the bottom.
N: Solid oak, lactic acid, lemon zest, grapefruit juice, some brown sugar, pine bark, lavender. An appreciable nose with a lot of bright quality. White wine grape.
T: Bright sourness with a poised malt base. Some slight salt from the wood. I get a lot of the lemony citrus. There is a bit of sulfuric acid.
M: Light body with a zesty carbonation. Eminently drinkable.
O: more good stuff from Upright. Wish it didn't have the slight burn, but definitely not a let down.
589 characters
4.03
/5
rDev
+1.8%
look: 3.5 | smell: 4.25 | taste: 4 | feel: 4 | overall: 4
Thanks to mrbubbler for sharing this one during the Churchill's weekend festivities.
Bottle # 21/131.
Pours a hazy light orange with a foamy off-white head that settles to wisps of film on top of the beer. Small dots of lace form around the glass on the drink down. Smell is sour and tart with some grain and fruity aromas. Taste is much the same with a grainyh flavor on the finish. There is a mild amount of acidity on the palate with each sip. This beer has a good level of carbonation with a crisp mouthfeel. Overall, this is a good beer that is tasty and light.
569 characters
4
/5
rDev
+1%
look: 3.75 | smell: 3.75 | taste: 4.25 | feel: 3.75 | overall: 4
Bottle opened on 2.19.13
Bottle 10/151
Thanks Seth!
A - Pours a clear light orange with a fizzy 1 and 1/2 inch white soapy head that fades fast.
S - Sour corn, nutty, sweet wheat.
T - Odd dry floral and wheat. Hard to place, but I like it.
D - Good carbonation with a ligth body. Sweet, dry finish.
O - Dry, light and very unique. Not sure how I feel about it, but I drank it all.
385 characters

4.11
/5
rDev
+3.8%
look: 4 | smell: 4.25 | taste: 4 | feel: 4 | overall: 4.25
Bottle shared with a friend poured into two snifters.
A: Pale yellow color with tiny white head. Very clear.
S: A bit funky. Some tropical fruitiness. Peaches. Sour lemons.
T: Wheat, lemons, peaches. Light sourness.
M: Light body that's easy to drink. Medium carbonation. Very nice crisp and clean finish.
O: I really enjoyed this beer I would happily drink it again if I had the chance.
393 characters

3.84
/5
rDev
-3%
look: 4 | smell: 3.75 | taste: 3.75 | feel: 4 | overall: 4
A: Mild gusher, yet only raises 1/2" of head in my tulip with little retention. Pale yellow and crystal clear. No lacing.
S: Lemon and honey. Mild earthy funk notes. Some hints of fruit, if I didn't know this had seen the inside of the Fantasia barrels, I probably wouldn't identify it as peach, but more of a generic "tropical" aroma.
T: bracingly tart and astringent, with mild fruitiness. Once you adjust to the tartness, also displaces the malt nicely (but subtly, after all this is only a 3.8% beer).
M: medium carbonation, a little on the low side for the style. Nice, easy-drinking light body, but still lingers for quite a long time.
O: Maybe not the best choice for drinking on a cold winter day, but this would be really refreshing in the summer. This is a style that I'm quite happy to see more breweries trying, and this is a good addition to the lineup, even if it falls a touch short of excellence.
916 characters

3.75
/5
rDev
-5.3%
look: 4 | smell: 4 | taste: 3.5 | feel: 3.5 | overall: 4
Bottle shared by Kan. Bottle #7 of 171. Served in a Russian River tulip.
A - White foam settles to some wisps and a thick collar, leaving behind minimal lace. Transparent pale golden body.
S - Lots of sweet stone fruits, pie crust, mild white wine, some lactic sourness, a touch of oaky vanilla. Muskier than you'd expect for a Berliner; guessing there may be some brett in here as well.
T - Again, quite lactic, with notes of wheat and grain, pale malts, stone fruits, and a lightly sour finish. Not quite as complex as the aroma.
M - Medium body, pleasant carbonation albeit a tad watery. Dry and grainy texture, and a very crisp and clean finish.
D - Solid stuff, but very odd for a Berliner. When I finally read the description of what this beer was, it made a lot more sense. I was getting the fruit and funk from the residual Fantasia element. Not overly sour right now, but might get there in time. Really easy to drink at 3.8%.
940 characters
Cuvee Lactovasilios (Sole Composition Series) from Upright Brewing Company
3.96
out of
5
based on
39
ratings.