Pink Drank
| Ale Industries
BA SCORE
84
good
10
Reviews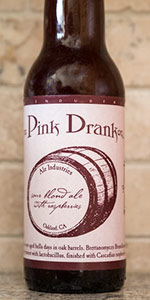 BEER INFO
Brewed by:
Ale Industries
California
,
United States
aleindustries.com
Style:
American Wild Ale
Alcohol by volume (ABV):
6.00%
Availability:
Limited (brewed once)
Notes / Commercial Description:
No notes at this time.
Added by OBeerMeGreatOne on 06-08-2013
This beer is retired; no longer brewed.
Reviews: 10 | Ratings: 45
3.55
/5
rDev
-3.5%
look: 3.5 | smell: 3.5 | taste: 3.75 | feel: 3 | overall: 3.5
Appearance: Pours a slightly hazy burnt sienna color, with a soapy film that fades quickly; a few dots of lacing hang around
Smell: Cheese, sweaty socks and raspberry; heavy on the funk and light on the fruit
Taste: Fruit and funk forward, with raspberry and an underlying shortbread sweetness; the acidity blossoms, after the swallow, and burns the esophagus on the way down but that underlying sweetness is still there through the finish
Mouthfeel: Medium body with almost no carbonation
Overall: Can't say this is the most deftly handled sour I have ever tasted
573 characters
3.08
/5
rDev
-16.3%
look: 3 | smell: 3 | taste: 3 | feel: 3.75 | overall: 3
Pours a murky orange-red with a foamy beige head that fades to nothing. No lacing on the drink down. Tiny particles of sediment are seen suspended in the beer after the pour. Smell is sour with unripe raspberry, earth, wood, acidic, and nail polish remover aromas. Taste is much the same with nail polish remover, unripe raspberry, acidic, funk, and wood flavors on the finish. There is a medium amount of acidity on the palate with each sip. This beer has a lower level of carbonation with a slightly crisp and dry mouthfeel. Overall, this is an average beer with definite raspberry aspects, but the nail polish remover qualities and high sourness on this one make it hard to drink much of.
Serving type: bottle.
715 characters
4.29
/5
rDev
+16.6%
look: 4.5 | smell: 4.25 | taste: 4.25 | feel: 4.5 | overall: 4.25
Serving Type: Bottle
Consumed: 2.6.16
A: 4.5 Pours a slightly hazy, pinkish-orange with a one-inch, white head.
S: 4.25 Tons of lactic tartness one the nose first followed by fresh raspberries, damp oak, mild vanilla, and vanilla. A bit of stewed raspberry or cranberry sauce comes through as the beer warms.
T: 4.25 Not quite a sour as the nose suggested, but still quite tart. A touch of oaky, vanilla sweetness balances out the sour raspberry flavor. Orange peel and spice show up next before some mild funk on the finish.
M: 4.5 Body is nice. The carbonation is on point though; it's fairly low but small bubbles are everywhere making the beer feel light and lively.
O: 4.25 First Ale Industries sour for me and it did not disappoint. Bright, clean flavors and strong fruit presence. Reminds me a lot of some Rare Barrel beers in this way. I'll be looking for more sours from them.
895 characters

3.46
/5
rDev
-6%
look: 4.25 | smell: 3.25 | taste: 3.5 | feel: 3.25 | overall: 3.5
Cool pink appearance. Light pink, impressive. Aroma was mildly sour, raspberries in the background.
Taste didn't drop a ton of brett in the mouthfeel, chardonnay barrel wasn't too noticeable. Sour aspect far from complex, develops a weird scent down the pour. Good not great stuff. Could use some ratcheting with the recipe or bugs.
344 characters
2.99
/5
rDev
-18.8%
look: 2.5 | smell: 3.5 | taste: 3 | feel: 3 | overall: 2.5
12 oz. bottle poured into a snifter.
Appearance - Pours close to pink. Deep red, maybe. Clear. No head, no life.
Smell - Sour raspberry. Straightforward. Slight malt aroma.
Taste - Really sour. Less prominently raspberry flavored, though. Sourness covers up anything else. Grain in the back and a vinegary kick at the very end.
Mouthfeel - Really sour. Medium low carbonation.
Overall - Eh, I don't love how sour it is, especially at the very end. Not a complex sour.
474 characters

4.35
/5
rDev
+18.2%
look: 4 | smell: 4.5 | taste: 4.5 | feel: 4.25 | overall: 4
A - Well it's definitely pink... Spending some time with this brew, the color of the rosewater peach / mellon body really grew on me, and the complete lack of head didn't seem to detract from the overall appearance.
S - Wow, great nose. Tons of sour cantaloupe supported by fruit punch, lemon, and sour apple.
T - Now that is tasty. Sour apple warheads, watermelon, tart raspberries, plum, lemon, and a really interesting tangy greek yogurt finish.
M - Paradoxically smooth with a bright carbonation, sharp acidity, and crisp finish.
O - A surprising find. A really nice American Wild with a unique flavor profile.
620 characters

4
/5
rDev
+8.7%
look: 4 | smell: 4 | taste: 4 | feel: 4 | overall: 4
A: pours pink with a small off white colored head that fades fairly quickly to a collar around the glass in a Duvel Tulip
S: smells of raspberries, lactic acid sourness and a bit of funk
T: tastes of tart raspberries, some lactic acid, and a nice slightly bready and wheaty maltyness with a bit more lactic sourness and funk. swallow is more rasberry and that same maltyness
M: lighter side of medium with nice and slightly vigorous carbonation. refreshing finish with a bit of pucker and slightly drying at times
O: definitely not the sourest or the most flavorful but what it does it does well. I liked it enough on tap that I bought a bottle of it.
651 characters

3.7
/5
rDev
+0.5%
look: 4 | smell: 4 | taste: 3.5 | feel: 4 | overall: 3.5
Bottle poured into a tulip glass. Beer pours a dark hazy red color with a finger of loose pink foam head. Head dissipates quickly with no lacing. Plenty of fine carbonation floating up from the bottom of the glass.
Nose is plenty of fresh sweet raspberries, a little malt sweetness. Not much other than a red berry tartness, not much wild character in the aroma.
Taste leads with a nice hit of raspberries, sweet and tart, a little bit of oak, sweet biscuit malt. Finish is light tart raspberry, but a strong buttery flavor (I guess it would be diacetyl) that takes away from the taste.
Light body with a lively refreshing carbonation. The heavy buttery flavor takes away the emphasis from the raspberries though.
718 characters

3.14
/5
rDev
-14.7%
look: 3.25 | smell: 3.5 | taste: 3 | feel: 3.5 | overall: 2.75
Pours a brownish pink color. Somewhat cloudy. The head is off-white and small, and it fades away after a few minutes. The aroma is dominated by a big raspberry flavor, which is quite pleasant. The fruit smells tart, bright and fresh. There's also a touch of oak. When the beer was cold, I couldn't pick it up on it, but as it warmed, a buttery diacetyl note came out more and more. The taste starts out with a big tart raspberry flavor. Some oak enters the fray afterwards and dry things out with a nice tannic note. Some mild buttered popcorn kicks in around the middle and then increases significantly in the finish. The finish and aftertaste are a blend of buttered popcorn and sour raspberries. It's not as bad as Unity as in Edward, but it hurts things quite a bit for me. That lingering buttery flavor is just unpleasant. Mouthfeel is prickly. Medium to medium strong pucker. I would really like AI to figure out their diacetyl issues because they have good prices and are going in a fun direction.
1,004 characters
3.88
/5
rDev
+5.4%
look: 3.5 | smell: 4.25 | taste: 3.75 | feel: 4 | overall: 3.75
Pours out a raspberry red (very unsurprising) with a fifth inch of head, no lace.
The smell is fresh raspberries, oak, pale malts and an odd nut smell. Still, I'm intrigued.
Pale malts and slightly unripe (sour) raspberry start this off. Lactic sour notes add a slight spoiled milk note near the middle. Not the best description of taste, but its what I got.
Could use either a bit of tweaking or a bit of age. It wasn't stupid expensive, so I'll try to age one .
473 characters
Pink Drank from Ale Industries
3.68
out of
5
based on
45
ratings.