Broad Axe Tavern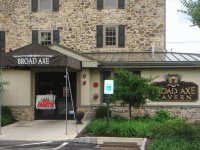 PLACE INFO
Type:
Bar, Eatery
901 W Butler Pike
Ambler
,
Pennsylvania
, 19002-5132
United States
(215) 643-6300 |
map
broadaxetavern.com
Notes:
No notes at this time.
Added by ErinMc on 04-27-2009
Ratings: 13 | Reviews: 7
Reviews by slander:
4.1
/5
rDev
+3.3%
vibe: 4 | quality: 4.5 | service: 3.5 | selection: 4.5 | food: 3.5
We will meet halfway in between for dinner. Heading down 73 forever from where I'm working, a lot further farther than it looked on the map. Finally found on the corner of not where I thought it was and backtracked, this large stoneish and not type building. Got in okay, getting out on the other hand…
Entered past a bottle showcase lobbyside; a man pimping his wares there to those less in the know. Proceeded around into the side room to be seated, but she knows I need eyes on the bar, and so we relo and set up at some seating space just off the bar. And a good thing, too, 'cause now there's a guy setting up playing tunes and I wouldn't have been happy there.
Seating in the rooms to the left & right, and a room in between holding a small straight wood bar with a slat wood base and a tiled foot box, running the rear from wall to wall. Seating for 7 on sturdy wood chairs, and a good piece more of it continuing into the next room and around the bend seating another dozen or so. Barback is a mirror paneled wall with shelved booze running the length and flatscreens in both corners, naturally. A stainless steel bar tower on the counter center holds 16 taps, with glassware stacked behind it and more booze slightly tiered to both sides. Coolers below housing bottled selections 'cause where else would they be? Slight bar counter along the far end of the bar with a few display wine bottles.
Tile floors at the bar, wood slat floorings otherwise with that cool design like the one she's got in her living room. Walls of beige over wood lowers, framed slat wood with trim and stone wall sections, and sills I could walk through to the next room, holding large vased flowery things. Light & heavy framed work here. Local art, mostly bright colorful stuff. 3 pair of 2 seat hightops away from the bar on one side, and 2 more sitting solo across from them along a stairway to somewhere. Baby spots throughout and something making some of the booze glow light up.
And side rooms this way and that. The far room seems to be an add on, as the inner wall is stone. Beige outer wall with black trim & borders, and wall mounted twin lamps over framed prints between the blinded windows. Tile floors, slat wood with black panel angled ceilings, and sunken spot from framings overhead. 9 pair of 2 seaters together, that piece of bar bend I mentioned 3 paragraphs back, and a dartboard to the rear for drunken pointy thing throwing over a corner piano I hope no one plays while I'm here. The near room is done like the bar room; beige painted walls over wood lowers, and wood slat floorings. Less than a dozen booths & tables, a fireplace fronting the room with broad axes displayed over it, and a kitchen peek-a-boo.
16 taps, some of which are regular non-rotating. More than half of them are fair to middlin' imports with an emphasis on the Belgians (Chimay White, Tripel Karmeliet, Blanche De Bruxelles, Kasteel Rouge, Palm, Lindemans Framboise, Weihenstephaner Hefe, Mikkeller Beer Geek Breakfast Stout, Guinness, Harp), but the stronger suit may be the craft (Yards Belgian Saison & Jefferson Tavern Ale, Sixpoint Sweet Action, Founders Centennial IPA, Lagunitas Lucky 13 Alt), and then there's the token macro (Coors Light). You can get a flight of (4) 4oz glasses for $6 with a premium for select drafts, like specifically the ones you would reasonably want. I drank the Mikkeller Beer Geek Breakfast Stout and the Founders Centennial IPA because I'm a reasonable man.
And 140+ bottles, damn, there were only half that when I was here a few months back. Or maybe it was a few months before that. Nearly 1/3 of them are American craft beer offerings, the remainder are a mix of some 3 dozen Belgians (including lovely Orval for a mere $7.75), another 3 dozen or so beer of the world imports (everything from Evil Twin to Modelo Negra), and a dozen or two collective crap macros and miscellaneous (gluten free, cider & N/A) selections.
Started with the duck potstickers, served with a crunchy Asian slaw, sweet soy sauce & chopped cashews. And then moved to the French dip served with fries, which was just okay, not a wowser. She had the veggie burger, rated 7.5 on a scale of 1 to 10, noting, "If they could improve the texture, it would be a 10". That's quite the jump if you ask me. And now revisited, the spicy black bean soup with tortilla strips and sour cream (tasty), and the sesame seared tuna with Wasabi mashed potatoes and Asian slaw. Both were good. She had the Blackened Tilapia, served with white rice and salsa. It was offensively salty.
Cool place and there is some crazy history here; claims of being the 2nd oldest tavern in the US, circa 1681, complete with its own ghost, Rachel. Service was okay, a little odd, a little off, but none the worse for wear. They were playin' good tunes before the bandplay. I got a single speaker effect on Radiohead "Reckoner' which was very cool. Food has been okay to good, depending, but the beer is the star here.
5,018 characters
More User Reviews:

4.35
/5
rDev
+9.6%
vibe: 3 | quality: 4.5 | service: 5 | selection: 4 | food: 4.5
4
/5
rDev
+0.8%
vibe: 4 | quality: 4 | service: 4 | selection: 4
3.73
/5
rDev
-6%
vibe: 4 | quality: 3.75 | service: 3.75 | selection: 3.75 | food: 3.25

3.44
/5
rDev
-13.4%
vibe: 3.75 | quality: 3 | service: 4.25 | selection: 4 | food: 1
Was looking for a place to have a nice beer or two while in a hotel nearby. We sat at the bar and the bartender Sean was lovely and engaging. Tap selection was thoughtful--they covered a lot of area with their 15-20 handles. Husband had Dale's Pale, I had a Sixpoint Resin and (was very excited about) Haandbryggeriet Norwegian Wood. Prices were a touch high ($6 for a pint of Dales and a goblet of Resin, $9.50 for a goblet of Haandbryggeriet).
The food was just awful. It was near closing on July 3rd, so maybe the regular chef was off, but both dinners were nearly inedible. Husband's French Dip was a plate of beige--the meat looked anemic and poached. I paid $19 for Hoisin Salmon that was over-cooked and fishy. All the components (mashed potatoes, cabbage, and salmon) were doused in salt.
I would absolutely stop back in to try some beers at the bar, but would never spend another penny on any food there!
916 characters

4.05
/5
rDev
+2%
vibe: 4 | quality: 4 | service: 4.5 | selection: 3.5 | food: 4.5
I love the Broad Axe. During a certain time I went here every Saturday. Their tap selection is decent and their bottle selection is very good. Food is amazing and there is a wide variety of different dishes. Atmosphere is generally nice unless it's "game day" and then, at times, the douchebaggery can be a bit high. Generally though, it's not too crowded and the vibe is very nice. Service is always great...all of the bartenders are knowledgeable and friendly.
There are places in the area with larger selections but in terms of quality, service, food and selection...the Broad Axe is just really well-rounded. They also have a very decent wine and liquor selection for those who have friends that prefer wine/liquor to beer. Recommended!
741 characters
4.18
/5
rDev
+5.3%
vibe: 4 | quality: 4 | service: 4.5 | selection: 4 | food: 4.5
Seems highly unlikely, almost impossible, that I never reviewed this place, but oh well.
The summer of 2010 was great, because I had an excuse to visit the Broad Axe almost every Saturday afternoon, and I quite looked forward to it each time. Set in a rustic building, with a contemporary American twist on an old world pub, the Broad Axe provides a very enjoyable drinking and dining atmosphere. The bar is mid-sized--two sections that seat about 10 people each--which I like, during slow hours anyway. Plenty of table room for dining. Servers and bartenders have always been on the ball. Beer selection is decent with about 10 moderately rotating taps, with popular micros, and a good choice in bottles (and cans), and appropriate glassware for serving. It's not unusual to see an Oskar Blues on tap, or a Chimay, or even an Evil Twin. Menu isn't overly extensive, but the food is excellent. The ribs are among the best you'll have anywhere. Prices border on the high end of reasonable, with a daily $2.50 special on a select draught micro/craft as a bonus. Specialty cocktails for the non-beer-drinking.
I love this place. It's a little out of the way, but if you're in the Philly area, and you feel like a little road trip that involves ribs and good beer to boot, then it's definitely worth it. And you can stop at Forest & Main Brewing Co. while you're in town...it's only a mile or two away.
1,400 characters
4.75
/5
rDev
+19.6%
vibe: 5 | quality: 5 | service: 5 | selection: 4 | food: 5
The prices and selection have improved drastically. $2.50 daily craft drafts which change daily.
Not many taverns in the area (Philly Burbs) that provide the selection the broad axe has, with the prices. They have over 130 bottles & craft drafts are for the most part $5 or less. They rotate almost daily, so you never really see the same beer each visit. Less than $8 for most belgian bottles too & no drafts over $8
Staff is for the most part intellectual & educated about the beers they provide. Also, a nice place to go to dinner and watch sports. On Monday's apps are half priced which is a nice deal. One of the best philly pulled pork sandwiches I've had.
664 characters
3.89
/5
rDev
-2%
vibe: 3.5 | quality: 4 | service: 4 | selection: 3.75 | food: 4
We've had dinner here a few times now since the renovation and re-opening of the Broad Axe Tavern so I've had a chance to look the place over more than once. Given the history of this place (There has been an Inn and/or Tavern operating out of this building for over 300 years.) it is well worth a visit to look around.
The physical appearance of the Broad Axe is actually quite nice with the stone walls and furnishings giving a sense of openness and newness. (All the furnishings, floors, etc. are new.) What dropped the atmosphere score a bit in my view was the noise level. On at least one occasion the TV Set and the other diners and folks in the bar area near where we were seated were loud enough it was hard to chat over dinner.
The food was well prepared and tasty, made with fresh ingredients, and the choices are interesting enough you could eat here several times without having to repeat.
The service was fine every time and the servers were pleasant and attentive.
The beer selection was better than many places but could be larger. There is a core menu of beers that seem to be on draft every visit but they do rotate in 5 or 6 beers that change from time to time. The bottle list is short but respectable.
1,225 characters
3.8
/5
rDev
-4.3%
vibe: 4 | quality: 4 | service: 3 | selection: 4 | food: 4.5
Visited the Broad Axe Tavern last Saturday and it was, as expected, jammed with customers as they had opened to the public only a couple days prior.
Solid beer list as I had Arrogant Bastard on tap and some Allagash bottles. The beer list has types for all folks. Looking forward to have RR Damnation next time.
The menu is good, albeit a bit random. I had the miso soup which was very good and the bison sliders which were awesome. They must have spent a small fortune in the fit-out. Really nice job with the wood work. The bar was really neat. Nice to Have the Broad Axe back!
581 characters
Broad Axe Tavern in Ambler, PA
3.97
out of
5
based on
13
ratings.