Bourbon Barrel Dark Ale (Winter Migration) 2010-2011
| Evolution Craft Brewing Company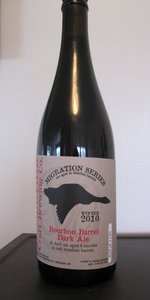 BEER INFO
Brewed by:
Evolution Craft Brewing Company
Maryland
,
United States
evolutioncraftbrewing.com
Style:
American Strong Ale
Alcohol by volume (ABV):
10.50%
Availability:
Limited (brewed once)
Notes / Commercial Description:
No notes at this time.
Added by lackenhauser on 01-30-2011
This beer is retired; no longer brewed.
Reviews: 39 | Ratings: 62
2.73
/5
rDev
-30.4%
look: 3.5 | smell: 3 | taste: 3 | feel: 2 | overall: 2
A friend shared a bottle with me and some other BA's.
A: Pours a dark brown, nearly black. An inky, viscous appearance. A one finger tan head forms, and recedes in a second. Not much lace is left.
S: Big boozy notes right off the bat. Charred wood, smoke. Some vanilla. Very harsh alcohol burns the nose.
T: Follows the nose. Basically just some barrel flavors. Lots of alcohol, burnt wood, charcoal, light smoke. Some vanilla sweetness. Burning alcohol all the way.
M/D: This has a lighter body than I would like. The base beer is way to thin and under carbonated for the bourbon barrel. Very hard to sip on. Burning alcohol that did not go down easy at all.
This is way to unbalanced. To much alcohol and to much barrel. I am not sure if a few years would help to mellow this out considering the thin body of the base beer. Not something I would recommend.
860 characters
3.96
/5
rDev
+1%
look: 4 | smell: 3 | taste: 4.5 | feel: 4 | overall: 4
Received from a trade with brian 12812000, appreciate it! Was bottle number in the 300's of the 1100 bottled. Might be off a bit on the mark.
Poured a dark brown/amber hue with a nice off white head forming. The head stuck around for a bit which was enjoyable. The aroma was a bit soft and pushed the sweet malt and bourbon through. The taste of this brew was very interesting for me to say the least. The bourbon was strong there is not doubt about it, but the ale was great. Now this is were it becomes a bit weird as even though the bourbon was strong the ale was still evident and tasted great! Usually a lot of BA brews I have had you can hardly taste the brew, but this one was very evident. I am happy I was able to pick up a few bottles to cellar, as this could get even crazier.
Body carried a bit over a medium carbonation which fit the brew perfect, the body it self was not to think nor thin and added to the great brew. Glad I was able to try and grab a few extras.
980 characters
4.17
/5
rDev
+6.4%
look: 3.5 | smell: 4 | taste: 4.5 | feel: 4 | overall: 4
750ml bottle poured into cervoise. Bottle 512 of 1150. Thanks to slvrmon82 for the trade.
A - Pours an inky purplish, brown and black. Let's just say dark. A whisper of head formation and slippery lacing (very little though)
S - Nice, high quality bourbon. Strong oak with charred smoke. Dark fruits and pepper.
T - Bourbon is the star here and I enjoyed the flavour of the bourbon. A nice strong presence of strong cherries, raisins and currents to counteract the bourbon. No spice from the pepper I picked up in the nose.
M - Heavy, slight heat from the alcohol, the high ABV is noticeable but not overwhelming. Fairly flat
O - A definite sipper. This one is quite tasty and it is a huge beer. It still tasted fairly 'young' and some time in the cellar would help to mellow the alcohol/bourbon flavour. Really liked this one.
833 characters

3.6
/5
rDev
-8.2%
look: 4 | smell: 4 | taste: 3.5 | feel: 3 | overall: 3.5
From 03/27/11 notes. Brought to a local DC RB tasting. Bottle 958 of 1150.
a - Pours a dark brown color with two inches of light tan head and moderate carbonation evident.
s - Smells of bourbon, vanilla, oak, roasted malts, toasted malts, chocolate.
t - Tastes of bourbon, oak, vanilla, hot alcohol, roasted malts. A bit hot, but still pretty good.
m - Medium body and moderate carbonation, but a bit hot and harsh.
d - Overall this is a good beer, but it is still way too hot. I have another bottle of this one and I'm looking forward to opening it up in a few years. If I only had one bottle of this, I would recommend holding onto it for a bit longer.
659 characters

4.26
/5
rDev
+8.7%
look: 3 | smell: 4.5 | taste: 4.5 | feel: 4 | overall: 4
Review from notes 2/11/11.
A: Pours dark black with not head whatsoever. A small ring of bubbles formed around the outer edge.
S: Heavy bourbon! There is some nice vanilla, oak, and a little molasses. The alcohol is a bit present as well.
T: The bourbon is in the forefront. There are a lot of nice underlying flavors though. There was some oak, vanilla, and a little coffee. There was a little bit of tobacco too. The beer really opens up as it warms. The alcohol is present and burns a little, but in a good way.
M/D: Medium to heavy bodied with low carbonation. Pretty good drinkability considering the abv and style. I think that this beer will benefit from a little age, a nice bottle to split with a friend or two and sip on for a while.
749 characters
4
/5
rDev
+2%
look: 4 | smell: 4 | taste: 4 | feel: 4 | overall: 4
Reviewed from notes:
Appearance: Dark brown black, with a lacing of head
Smell: Boubon, vanilla, oak, molasses
Taste: bourbon, vanilla,
mouthfeel: no carbonation almost flat, smooth
Drinkability: If you like bourbon this would be right up your alley. After talking to some of the brewers at EVO they said give it another year and it should be at it's peak.
Cheers,
The CPJ
378 characters

2.88
/5
rDev
-26.5%
look: 4 | smell: 3.5 | taste: 2.5 | feel: 3 | overall: 2.5
Break out your shot glasses!
If bourbon aged in beer barrels in your thing, you might dig this brew. If you prefer your beer to taste like beer, don't even bother. First fail from Evolution I've run across, and this from my most anticipated Evo release. This beer is straight up bourbon. In the smell, in the taste, and in the burn. In fact, I wouldn't be surprised if I could do my first flaming shot of beer with this bourbony mess.
There is a silver lining: it's hard to find 750mL of quaff-able bourbon for under 15 bucks. Alas, Evolution to the rescue! PLUS, it would make a great gift for the alcoholic in your family who likes to disguise their liquor. Because beer can't be so bad for your liver, now can it?
719 characters

3.62
/5
rDev
-7.7%
look: 3.5 | smell: 4 | taste: 3.5 | feel: 3.5 | overall: 3.5
Thanks for sharing this, Bobby.
A: Pours a very, very dark brown color that is nearing black. There is very minimal carbonation and no head to speak of.
S: Smells almost completely like bourbon and barrels. Lots of bourbon and vanilla, quite a bit of alcohol, but there are some good dark fruit notes hiding. I get a nice cherry and prune thing going on.
T: As barrel heavy as the nose was, I think the flavor is even more so. Bourbon, alcohol/heat, wood, and vanilla. A decent enough roasted malt flavor and a noticeable astringency.
M: The body is medium with a very low level of carbonation.
D: Not bad by any means, but completely overwhelmed by the barrel.
666 characters
4.12
/5
rDev
+5.1%
look: 4 | smell: 4.5 | taste: 4 | feel: 4 | overall: 4
A 750 ml capped bottle, cool label Poured into snifter with little to no head as expected. Little to no bubbles. Dark, thin, looking.
S Bourbon, dark malts, dark fruits, maybe a little hot?
T Delicious, bourbon, oak, nice!
M Somewhat thin, but good
D Good, Hope you can find a bottle around. I will pick up at least one more for the cellar.
340 characters

3.9
/5
rDev
-0.5%
look: 4 | smell: 4 | taste: 4 | feel: 4 | overall: 3.5
A: poured a very dark brown almost black in color with brown highlights and had a very thin head leaving barely any lacing sticking to the glass.
S: lots of bourbon and booze were definitely showing their face on the nose with vanilla, roasty, and mild cocoa notes. It did have some toffee and slight coffee.
T: the bourbon booze character dominated the palate alongside toffee, caramel, vanilla, cocoa accents but had some slight roastiness and a touch of brown sugar.
M: the brew was medium in body with a very low amount of carbonation which had a sweet, bourbon boozy, mild oaky and silky finish.
D: definitely was a sipper but was tastier than expected. Good lookin out torino for crackin open this brew.
713 characters
4.24
/5
rDev
+8.2%
look: 3 | smell: 4 | taste: 4.5 | feel: 4 | overall: 4.5
A: very dark almost black with little to no head
S: bourbon with a hint of vanilla (if blind folded would assume was an actual bourbon not beer)
T: vanilla leads and is followed by BOURBON and then finishes with a bite of vanilla.
M: heavy flavor, minimum and pleasent burn
D: A sipper. for a fan of bourbon this beer is sublime, enjoyed it slowly and noticed with time and warmth flavors increase. Love this beerbourbon
425 characters

4.09
/5
rDev
+4.3%
look: 3.5 | smell: 4.5 | taste: 4 | feel: 4 | overall: 4
Bottle number 452
A - Completely black, with no head. Somewhat boring. Some bubbles form around the edge.
S - Alcohol and bourbon. Some vanilla, raisins and oak. Some chocolate as it warms, but the bourbon is plentiful. Whole lot going on here that I can't put into place.
T - Vanilla and oak forward. Boozy on the pallet, and a strong bite on the bottom of the tongue. Vanilla in the finish, with a nice burn, but not harsh. Can't get over the bourbon, simply awesome amount of flavor. Edit: 5/13/11 - Still lots of woody and barrel-y flavors. Alcohol has not gone down one bit in 3 months.
M - Lightly carbed, medium to heavy body. Almost oily, it stays in your mouth for a while, with a heavy finishing flavor. Edit: 5/13/11 - Alcohol bite is still very prevalent. Can't subdue this beast.
D - Very happy I got to try this beer. Definitely will benefit from some time, but very good in this form as well. A sipper for sure. Reasonably priced for a high quality brew at 12 a bottle.
991 characters

3.77
/5
rDev
-3.8%
look: 3.5 | smell: 4 | taste: 3.5 | feel: 4 | overall: 4
Thanks to Amyliz4 for picking this up at Rick's last week. Served in a tulip.
Pours dark brown with a slight tan head that fades very quickly without leaving any lacing behind. Slight, slight collar, though that's about it. The nose brings forward quite a bit of booze (in a pleasant way) plus strong bourbon. Sweet malt, chocolate, and some vanilla come through as well. The flavor isn't quite as complex, landing mostly bourbon and some roasted malt. Touch of coffee as well. Feel is nice and heavy with a good amount of carbonation. Moderate booze, though not too much considering the ABV. Drinks pretty well. I continue to be fairly impressed by Evolution.
661 characters
4.39
/5
rDev
+12%
look: 3 | smell: 4 | taste: 4.5 | feel: 4.5 | overall: 5
The first in Evolution's Migration series. Limited to 1150 bottles. Somewhat muddy at first pour. Very, very dark-ok I will call it black. Low caronation head wise but seems lively enough. Big bourbon nose right upfront. Boozy, oakey. Big bourbon flavor to begin with. Mild smokey and almost a charcoal flavor. Faint vanilla against a definate oak presence. Definately enough alcohol to be recognized. Mild roasted coffee. Some sweetness in the finish. Great mouthfeel. The booziness adds a nice, subtle burn. A great beer overall. The whole package really falls into place for me. I hate to be biased as they are my local but man this one is hit right out of the park. Great, GREAT stuff!
689 characters
Bourbon Barrel Dark Ale (Winter Migration) 2010-2011 from Evolution Craft Brewing Company
3.92
out of
5
based on
62
ratings.