Menagerie #5
| Evolution Craft Brewing Company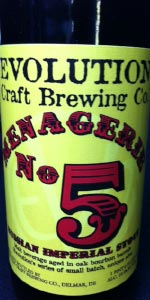 BEER INFO
Brewed by:
Evolution Craft Brewing Company
Maryland
,
United States
evolutioncraftbrewing.com
Style:
Russian Imperial Stout
Alcohol by volume (ABV):
10.50%
Availability:
Limited (brewed once)
Notes / Commercial Description:
No notes at this time.
Added by yourefragile on 05-11-2011
This beer is retired; no longer brewed.
Reviews: 32 | Ratings: 53
4.42
/5
rDev
+4.7%
look: 4 | smell: 4.5 | taste: 4.5 | feel: 4 | overall: 4.5
Jet black pour with maybe the faintest suggestion of red in just the right light. 1-finger of dark mocha head, faint retention, and thin wisps of lace.
Strong oak and bourbon nose. Mocha, espresso, and woody roasted malt back that alcohol up. Touch of vanilla and light pine. Well done and nicely complex.
Big notes of bourbon and alcohol dominate the tongue. Lots of rich chocolate, dark roast coffee, and even more oaky bourbon as the glass warms. Hides the abv pretty well, but still a definite boozy hit here. Light vanilla cream in the finish, up against the bitter chocolate malt.
Medium body, perhaps just a bit too thin for the robust flavors.
Overall, I'd easily get this again. The bourbon is not too over the top for my tastes, but does get in your face a bit.
★
776 characters
4.47
/5
rDev
+5.9%
look: 4 | smell: 4.5 | taste: 4.5 | feel: 4.5 | overall: 4.5
Frankly, I wasn't sure I'd ever get to try this beer at all. However, Matt (slatetank) had a bottle for his stout tasting, and so got to try it in that format as well.
The beer pours a blackish brown color with good head retention and lacing. The nose is impressive, and shows the effects of considerable barrel aging. In this case I get dark chocolate, bourbon, milk duds, vanilla, cherry and light coffee. The flavor profile tends to repl9cate the nose pretty closely, though I thought the dark chocolate and vanilla dominated in this moderately sweet stout. Mouthfeel is full, soft, creamy and long in this delicious stout. Alcohol is well integrated into the flavor profile... I can tell the abv. is up there, but this beer is not at all heavy, tiring or hot on the palate.
Just an altogether outstanding effort from this impressive, local (relatively speaking) brewery. I thought the bottled version had a bit more depth of flavor, but either way (bottle or draft), this is a delicious beer.
★
998 characters

4.47
/5
rDev
+5.9%
look: 4 | smell: 4.5 | taste: 4.5 | feel: 4.5 | overall: 4.5
Thanks to BZero007 for popping this one open!
Poured a solid black with brown head that faded fairly quickly.
The smell was intense bourbon and oak with a coffee roast as well.
The taste was oaky on the front, with a slight vanilla on the mid, and a coffee and bourbon on the back that lingers for a bit.
This beer was silky smooth and a little heavy on the mouthfeel.
It was spot on for a barrel aged Stout and hangs in there with the best of them for sure. They also didn't skimp on the barrel aging and is the forefront of this beer while remaining balanced.
★
567 characters

4.5
/5
rDev
+6.6%
look: 4.5 | smell: 4.5 | taste: 4.5 | feel: 4.5 | overall: 4.5
Thanks to a great BA for this one.
22oz. from Evolution. Latest in their Menagerie Series.
Pours a lovely black w/ a full two fingers of cocoa-colored head. Most of which lingers for 20 minutes and creates some nice lacing...looking forward to this one.
Very pleasant in the nose. Vanilla, dark chocolate, and a hint of licorice.
Taste is a wonderful blend of dark chocolate, vanilla and oak. Less of the licorice in the flavor, but the mild bourbon decides to show up and is just enough to complement the style.
Medium bodied, with a good amount of carbonation. Alcohol is hidden nicely. Very easy to enjoy a bomber of this gem by my lonesome, but even the better half is enjoying this offering from Geoff and Co.
★
716 characters

4.52
/5
rDev
+7.1%
look: 4 | smell: 4.5 | taste: 4.5 | feel: 5 | overall: 4.5
Opened one of these the other night with a few friends. Beer was all black with a nice tan head. Smell was Coffee, molasses and vanilla. Taste has really improved over the last year. Alcohol has dropped off tremendously and the vanilla and chocolate flavors are very prominent. In the mouth, this is thick and smooth. Alcohol is only found in the finish. Mildly carbonated.
Overall, this beer has done great with a year on it. Barrel flavor has settled down a bit and is very drinkable. Can't image it will get much better at this point, so I think I'll start to revisit this one about once a month.
★
600 characters
4.54
/5
rDev
+7.6%
look: 4 | smell: 5 | taste: 4.5 | feel: 4 | overall: 4.5
Lots of beer karma sent to BeerThursdays for this one. Very generous BA, thanks Jay! Poured into snifter.
A- Pours very dark, almost jet black, other than the dark brown around the edges from the light. Nice khaki head that stays around the edge.
S- Very nice earthy aroma. Nice roasty smell mixed with vanilla and some chocolate. Bourbon aroma comes through nicely to support the other smells. Very enjoyable nose.
T- Starts out nicely with some sweet vanilla flavors. Subtle chocolate hints behind the vanilla. Nice roasted, oak flavors throughout that balance nicely with the sweetness. Bourbon gets detected more at the end and tie everything together nicely. Very smooth, gets a little hot as it warms. Oak, bourbon flavors tend to dominate as you keep drinking a bit.
M- Right at a full body, maybe medium. Low carbonation. A little dry in the mouth but not bad. Some slight bitterness lingers.
O- Very nicely done BA RIS. Very nice flavors, balanced very well with the bourbon. Isn't to over the top with the flavors which makes for a very nice and smooth drink. Enjoyed this one very much. Big thanks to Jay for sending me this bottle for no reason other than spreading beer goodness.
★
1,198 characters
4.62
/5
rDev
+9.5%
look: 4 | smell: 4.5 | taste: 5 | feel: 4 | overall: 4.5
A: Chocolately brown color with surprisingly little head. Swashing around the beer almost reminds me of what used motor oil might look like in a beer mug.
S: So malty you almost feel like your standing next to the brewer as the hot licquor is transfered back to the kettle for boiling.
T: The first note is carmel and it lasts very briefly before the slick aftertaste of chocolate takes over.
M: Obviously a very heavy beer at 10.5 and you can taste the heavyness in each sip. But this is to be expected and works really well with the color and smell.
O: One of my favorite beers, and perhaps the best RIS I've ever had.
★
624 characters
Menagerie #5 from Evolution Craft Brewing Company
4.22
out of
5
based on
53
ratings.