Brother Levonian Saison
| Ballast Point Brewing Company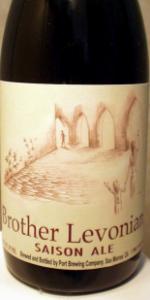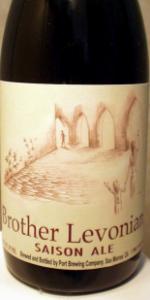 BEER INFO
Brewed by:
Ballast Point Brewing Company
California
,
United States
ballastpoint.com
Style:
Saison / Farmhouse Ale
Alcohol by volume (ABV):
5.50%
Availability:
Rotating
Notes / Commercial Description:
This version wasn't bottled. For the Port Brewing version: http://beeradvocate.com/beer/profile/5318/49726
Added by BeerAdvocate on 05-11-2008
HISTOGRAM
Ratings: 90 | Reviews: 24


3.4
/5
rDev
-5.6%
look: 3.5 | smell: 3.5 | taste: 3.5 | feel: 3.5 | overall: 3
9/2/2011
On tap at Home Brew Mart. This is a fresh batch that was put on today while I was enjoying Longfin. I haven't had this for a couple years.
A: Hazy yellow gold with a finger of white froth.
S: Strong spicy pepper phenols with notes of pear and ripe golden apple. Coriander is evident. Malt is grainy with a little sweetness.
T: Pepper-like spiciness up front with pronounced fruity esters reminding me of pear and apple. Malt is bready and slightly sweet. Bitterness is low and herbal. The finish marks an increase in pepper-like spiciness with coriander and accompanying grainy malt.
M: Medium body with lower high carbonation.
Overall: A solid Saison, but the pepper spiciness was a little too strong.
717 characters

4
/5
rDev
+11.1%
look: 4 | smell: 4 | taste: 4 | feel: 4 | overall: 4
Pours a hazy yellow to orange-ish color with a white head. In the aroma, lemon zest and a sweet earthiness. In the taste, just like the aroma, lemon zest and a small tart earthiness. A small bite and medium to light bodied mouthfeel, with a dry earthiness in the aftertaste. Really nice flavor and quite easy to drink.
318 characters
3.45
/5
rDev
-4.2%
look: 3.5 | smell: 3.5 | taste: 3.5 | feel: 3 | overall: 3.5
Poured from the tap a dark golden color, with an impressively rocky off-white head. Aromas of Belgian yeast, coriander, brown spices and lemon zest. On the palate, I got bready malt, more lemon and a little grapefruit. Refreshing on a hot summer day.
250 characters
3.32
/5
rDev
-7.8%
look: 3 | smell: 3.5 | taste: 3 | feel: 4 | overall: 3.5
Draught at the brewery. Clear gold with a small head. Aroma of some spices, lemon and oranges. The flavor is dry and bready with some spicy pepper and other spice. I'm getting quite a few things, but they seem to muddle and cancel each-other out. Light on body with lots of carbonation. I'd love to have this out of a bottle; I think that the conditioning could add some nice nuance, on-tap this was a bit messy.
412 characters

3.58
/5
rDev
-0.6%
look: 4 | smell: 3.5 | taste: 3.5 | feel: 4 | overall: 3.5
A: A clear orange-golden color with a cm tall white cap. Moderate retention and very light lacing. Inviting color.
S: A floral/grassy tone highlights a delicate fruit and honey center. Not getting any of the yeasty/funky/tart notes that I'd like to smell, at the very least, in the background.
T: Good clean flavor profile... the notes aren't muddled... definitely a floral-honey-pear? presence. Like the nose, a lot of typical saison flavoring is missing... while not always a bad thing, its presence would up the complexity here
M: As noted, clean presentation on the palate.. smooth.. somewhat refreshing.. good carbonation.. could use a more pronounced finish
D: A good saison, worth a try, it might do the trick for you.
729 characters
4.1
/5
rDev
+13.9%
look: 4 | smell: 4 | taste: 4 | feel: 4 | overall: 4.5
Had on-tap at Beachwood BBQ in Seal Beach, CA.
Pours a light golden color with a one-finger white head. The head recedes into a wispy layer on top leaving decent lacing.
Smells of herbal hops and light fruits with a good amount of grassiness.
Tastes very good. A light malt backbone is overtaken quickly by herbal hops with very light fruit undertones. The ending is neither sweet nor bitter, it's just there.
Mouthfeel is good. It has a nice thickness with solid carbonation.
Drinkability is very good. I didn't have a problem finishing my glass and could certainly have a few more.
Overall this is a solid low ABV saison. Nothing stands out as exceptional but this is a very easy-drinking saison and one I would certainly have again. Worth a shot.
755 characters
3.8
/5
rDev
+5.6%
look: 4 | smell: 4 | taste: 3.5 | feel: 4 | overall: 4
Tap @ O'Brien's. Poured hazy yellow-gold with a puffy white head that shrank but lingered on top. Earthy, fruity nose, but not funky. Light, grain and fruit flavors. Orange, lemon, and honey are prominent, with a backing of spice and pepper. The yeast washes everything with a sweet coating. Kind of a bitter finish, but dry. Nice.
331 characters

3.53
/5
rDev
-1.9%
look: 4 | smell: 3.5 | taste: 3.5 | feel: 3.5 | overall: 3.5
On tap at Stone. Deep golden orange color with a finger of solid white head. Aroma is grainy and malty with floral and clove notes. Flavor is honeyed malt with some lemon zest, clove, bananas, and yeast. Sweeter than your standard Belgian saison but still pretty tasty. Medium body, semidry finish, decent drinkability.
319 characters
4.02
/5
rDev
+11.7%
look: 4 | smell: 4.5 | taste: 3.5 | feel: 4 | overall: 4.5
On-tap at Beachwood BBQ,
A: Pours a cloudy yellow-orange, with a soft white head.
S: Fragrant nose of stone fruit, peppery herbs and grass.
T: A peppery, coriander dry taste overall. Mild fruit, I get a little Anjou pear, nectarine and golden delicious apple, similar to Saison de Lente in a lot of ways.
M: Light/medium body, off-dry, smooth.
D: Another winner from BP. Not the best saison ever, but a solid example and it's for a great cause. Drink up.
459 characters
5
/5
rDev
+38.9%
look: 5 | smell: 5 | taste: 5 | feel: 5 | overall: 5
Best Saison I've ever had. After hearing the touching story about the man who came up with the recipe it just added to the greatness this beer is. Stunning complexity and elegance. Saisons can being very strait and narrow, this one wonders but you always have a feel like it's on course. It's worth seaking out if you can find it on tap.
337 characters
4.27
/5
rDev
+18.6%
look: 4 | smell: 4.5 | taste: 4 | feel: 4.5 | overall: 4.5
Poured on tap at Pizza Port C-Bad into a pint glass. Poured golden clear color with a finger thick white head little lacing. Smell is a mixture of spice, yeast, a little green orchaid fruit, a semi sweet malt aroma. Taste is sligth green apple, honey, pepper, fruit ester profile with a little green sourness. Mouthfeel is smooth light body with a really mellow but active carbonation level. This is really an easy drinking beer( finished my first in under 2 minutes and had several more) would be perfect for a nice sunny day. A wonderful tribute beer RIP Brother.
565 characters

4.38
/5
rDev
+21.7%
look: 4.5 | smell: 4 | taste: 4.5 | feel: 4.5 | overall: 4.5
On tap at Stone for the San Diego Storm. Pours a really clear golden with a small light fizzy head. The smell is real earthy, yeasty. The taste was grainy, bready, belgian-like. Overall it was a very light beer, easily drinkable, yet interesting and tasty at the same time.
273 characters

4.34
/5
rDev
+20.6%
look: 4 | smell: 5 | taste: 4 | feel: 4 | overall: 4.5
On draft at Hamilton's
Appearance is a murky bright orange hue, fair amount of white foam dissipates to a ring, watery lacing
Smell is a delicious range of fruits and spices, honeysuckle, orange blossom, light malts, honey, cotton candy, hints of cinnamon, pepper, light fruits, and hops
Taste is an initial push of sweet malts and fruits and spice, opens up to sweet honey and vanilla, finishes thick and sweet
Medium-bodied, fairly thick texture, lively carbonation a touch on the high side
Drinkability is high, this is one flavorful saison bursting with taste and amazing aromas, great example of the style
615 characters
Brother Levonian Saison from Ballast Point Brewing Company
Beer rating:
3.6
out of
5
with
90
ratings