Victory At Sea Coffee Vanilla Imperial Porter
| Ballast Point Brewing Company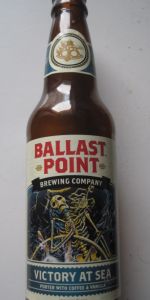 BEER INFO
Brewed by:
Ballast Point Brewing Company
California
,
United States
ballastpoint.com
Style:
American Porter
Alcohol by volume (ABV):
10.00%
Availability:
Rotating
Notes / Commercial Description:
Our Victory at Sea Imperial Porter is a bold, smooth brew with just the right amount of sweetness. We infused this robust porter with whole vanilla beans and San Diego's own Caffe Calabria coffee beans. The subtle roasted notes and minimal acidity of the cold brewed coffee, balances perfectly with the sweet caramel undertones of the malt, creating a winning combination for your palate.
Added by radshoesbro on 03-17-2009
Reviews: 1,386 | Ratings: 6,738
3.93
/5
rDev
-9.7%
look: 4.5 | smell: 4 | taste: 4 | feel: 4 | overall: 3.5
First off, what's with the proliferation of names for this brew? Are they really different styles? In any event, this is a bottle that reads the exact name listed above, so I hope this is the right listing.
Thanks to Hophead 84 for grabbing a few of these for me.
Pours a dark black with a dark tan head. Two or three inches, surprisingly big for the ABV. Smells like coffee. Not roasted malt, not vanilla, just coffee. Okay, maybe a whiff of vanilla.
Taste is, thankfully, more balanced. Still, this beer is shockingly coffee-esque. Not a big coffee fan myself, it is a bit offputting, but I can appreciate what they accomplished here. The flavor does add in some chocolate and vanilla notes. Still, it's bracingly dark, cold coffee.
Nice creamy mouthfeel. One 22 oz'er will be enough for a while. I am going to let this age for a year ... or two ... and let the coffee mellow a bit.
889 characters

4.55
/5
rDev
+4.6%
look: 4 | smell: 4 | taste: 5 | feel: 4.5 | overall: 4.5
first and foremost, it is very important that i mention that this beer needs to open up to really get the full flavor. don't be fooled into thinking this is just average, cause the further into the bottle you get, the bigger the grin on your face will be!
it pours the typical charred black with the medium tan head and some pretty good lace. there was a good deal of carbonation after pouring, which was a bit surprising.
smells of creamy malts and some coffee. there's a slight fudge smell to it.
initial taste, i'm thinking i've had better, and the normal victory at sea is better (especially on tap). the more i'm drinking it it's just getting really good. i'm patting myself on the back for buying two bottles!
i seriously could drink this all night, it goes down uber smooth! this is really a fantastic beer! i keep having to remind myself this is a porter too, i keep expecting that big stout finish, but i'm very happy with this!
951 characters
4.43
/5
rDev
+1.8%
look: 4.5 | smell: 4 | taste: 5 | feel: 4 | overall: 4
Had this at Toronado in North Park.
A - DARK! Lighting wasn't the best but it looked pretty close to black.
S - Smelled of coffee to me.
T - Had a bit of a chocolate / coffee taste.
M - Your typical porter. Had a smooth but thick feel to it.
D - I could drink this all night assuming I had a nice meal before. Not something you want to do on an empty stomach.
364 characters

4
/5
rDev
-8%
look: 4 | smell: 4 | taste: 4 | feel: 4 | overall: 4
Big thanks to Scott for the opportunity. Label on the cap of the growler states 10% abv. Pours black with a nice large creamy tan head that slowly recedes. Aroma is a nice roastiness, very earthy and slightly nutty, a bit of chocolate sweetness, and a tangy porter acidity. Taste follows with a nice coffee and cream flavor, earthy roasted malts, some cola and root beer like sweetness and a touch of vanilla, just a hint of alcohol in the drying hoppy finish as well. Mouthfeel improves greatly as the beer warms, becomes much more creamy which suits the flavor well. Body is medium in weight, some pepperiness and a drying finish. A very good beer, really hard to believe the 10 or 12% as it is very well hidden/balanced. The flavor and mouthfeel were also considerably better nearer to room temp. Earthiness was nice and any sweetness was subtle which helped the drinkability. Thanks Scott!
893 characters
4.62
/5
rDev
+6.2%
look: 4.5 | smell: 5 | taste: 5 | feel: 4.5 | overall: 3.5
On tap at at Downtown Johnny Browns on 02/15/09
http://beeradvocate.com/beer/profile/13600/?view=beerfly
Appearance: Very black, can't see through it, but with a brown tint and a good brown/tan fluffy head.
Smell: Huge nose of toasted malt and toasted sesame
Taste: Similar to nose. Huge over the top complex flavors of creamy coffee/expresso and toasted malts with hints of toffee. A little faint syrupy sugar. Alcohol is well hidden in this one. Doesn't taste like 12% at all.
Mouthfeel: Great carbonation and mouthfeel. It's a perfect balance. Not too thin, not to heavy and not overly carbonated
Drinkability: Due to the high ABV, and the over the top expresso and toasty flavors. One pint would plenty.
Overall: This one of the best coffee porters I've ever had. I would compare this porter to abyss is a stout.
823 characters
4.03
/5
rDev
-7.4%
look: 4.5 | smell: 4 | taste: 4 | feel: 4 | overall: 4
Pours black with brown edges, and a short, bubbly tan head. Spotty lacing. Fresh-brewed strong coffee aroma with roasted (and slightly burnt) chocolate malt. Some vanilla and cream as well. Big coffee taste. Strong and black, wtih the malt taking just a little off the edge. Creamy middle, with the vanilla and some caramel poking through, giving it a melted milkshake taste. Reverts to a bitter coffee finish. The mouthfeel is deceiving. Its appropriate for the style, but the taste makes you want something a little thicker.
526 characters

4.31
/5
rDev
-0.9%
look: 5 | smell: 4 | taste: 4.5 | feel: 4.5 | overall: 4
On tap at the brewery during RBSG 08. Darkest brown with a creamy cocoa head that leaves a bunch of lacing. Nice roasty nose with milk chocolate and vanilla. Intense iced coffee with a roasty bitterness, some earthy herbal hops, chocolate sweetness. Excellent beer.
265 characters
4.01
/5
rDev
-7.8%
look: 5 | smell: 4 | taste: 4.5 | feel: 3.5 | overall: 3
Glass at O'Briens in San Diego a few weeks back, also tasted at the Alesmith release courtesy of Dr. Bill and once before at the Stone Bistro, so this is the third time I have tasted this brew on tap, reviewed from notes on two occasions
A-Black as it can possibly be, cannot see through it a bit, 3/4 inch mocha colored head that stuck around for two to three minutes, decent retention, nice lacing
S-Coffee and I mean tons of it, probably the strongest espresso aroma I have smelled in a beer, roasted malt, dark chocolate, some vanilla, caramel, toffee, and burned accents
T-Starts off with a big dry coffe taste, then some vanilla and chewy roasted malt in the middle, finish is very dry and slightly sweet from some chocolate accents, later on this one started to taste like a White Russian with milk, sweet cream, and a big Kahlua flavor like some of the other reviews mentioned, it was not overly sweeet but rather toasty, very well balanced and even though the coffee was strong, it did not seem overpowering, chocolate and caramel came out more in the flavor towards the end, very enjoyable from start to finish
M-Dry and roasted mouthfeel, good level of carbonation, maybe too much carbonation, taste lingered for quite some time, coffee provides unparalleled dry and crisp sensation
D-Could not drink much more than a pint of this stuff, its ABV is high and the alcohol is not fully hidden, smooth for the most part but strong, not too heavy on the stomach but coffee can be tiresome
Did not like it as much as the syrah barrel version I tasted at the anniversary party but it was still very good, one of the better coffee porters out there mainly because of its balance in flavor, would definitely drink more in the future, certainly recommended
1,763 characters
4.89
/5
rDev
+12.4%
look: 4 | smell: 5 | taste: 5 | feel: 4.5 | overall: 5
This one was a gift from my wife on Valentine's day....quite a pleasant surprise!
A- Pitch freaking black. There is absolutely no light getting through this guy. Created a healthy tan head. Looks like a black and tan almost, or like a cafe au lait. Foam eventually fades creating a beautiful sticky lacing along the sides of the glass.
S- A super rich oily coffee, dark chocolate with a barely detectable bitter tartness.
T- Mmmm, an obvious black coffee flavor, coffee bite/bitterness up front. Followed by the rich bittersweet chocolate.
M- Thick, chewy, oily
D- I imagine this warming up the soul by a fireplace, while it snowing outside. Luckily I live in San Diego, so I can drink this one on a 70 degree "winter" day. I love this beer. My favorite coffee porter by far.
780 characters
3.72
/5
rDev
-14.5%
look: 4.5 | smell: 5 | taste: 3.5 | feel: 3.5 | overall: 2.5
Enjoyed in a 5 oz. taster at Stone Bistro.
A: Very dark brown with 1/2 finger of head.
S: Kahlua! Reminiscent of walking down the coffee aisle at the supermarket.
T: Bitter from coffee flavor maybe more than hops. Alcohol, and a bit of Kahlua.
M: Heat definitely
D: Meh. Delicious, but not too much due to the strength of the alcohol.
334 characters

4.5
/5
rDev
+3.4%
look: 5 | smell: 5 | taste: 4.5 | feel: 4 | overall: 4
On tap at Stone Bistro, served in an 8oz snifter. Poured a pitch black with a thick tan sticky head. The aroma was the most coffee I've ever smelled in a beer and that is compared to Kona Pipeline Porter and Founders Breakfast Stout. It's just a pure roasted coffee aroma. The taste is the same, cold rich coffee and a dark malt backing which is overshadowed by the coffee.
373 characters
Victory At Sea Coffee Vanilla Imperial Porter from Ballast Point Brewing Company
4.35
out of
5
based on
6,738
ratings.