Pale Horse Export Stout
| Pale Horse Brewing Company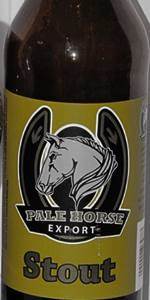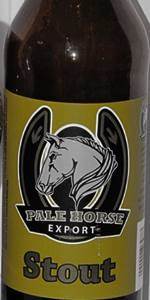 BEER INFO
Brewed by:
Pale Horse Brewing Company
Oregon
,
United States
palehorsebrewing.com
Style:
Foreign / Export Stout
Alcohol by volume (ABV):
6.00%
Availability:
Year-round
Notes / Commercial Description:
No notes at this time.
Added by Reidrover on 08-08-2011
This beer is retired; no longer brewed.
Ratings: 13 | Reviews: 9
Reviews by ommegangpbr:
3.74
/5
rDev
+2.5%
look: 4.5 | smell: 3 | taste: 4 | feel: 3.5 | overall: 4
Righteous, rich brown head with sturdy retention. Opaque black body. A good start to a new relationship.
Not much in the nose. Nothing bad just not a lot of communication... not a good sign for a burgeoning relationship.
"Tastes like a cigarette, in a good way."
Very smokey on impact. Light body on the palate. Bitterness is pretty much surface level. Light and dry with a small tide of sweetness that recedes back into the ocean of beer. Maybe a bit more porter than stout? Not really a big deal there.
All in all an enjoyable experience. I'd be willing to have this again and am now interested in other offerings from this brewery.
635 characters
More User Reviews:
3.92
/5
rDev
+7.4%
look: 3.5 | smell: 4 | taste: 4 | feel: 3.5 | overall: 4
Pours pitch black with 1/4" of brown head that quickly fades to a lacing. The nose is roasted malts and faint licorice. The taste is roasted malt, licorice, mild dark fruit, and a faint note of chocolate in the finish. The mouthfeel is a little heavily carbonated but smooth and full bodied.
This is a well balanced, easily drinkable beer that's just slightly too carbonated. I'd have it again.
395 characters
3.65
/5
rDev 0%
look: 3.5 | smell: 3.5 | taste: 3.5 | feel: 4 | overall: 4
Suitably dark black color with just over one finger of head that quickly settled to a thick cap. Surprising lack of lacing is left behind.
The aroma is mostly chocolate malt. Not unappealing but I was expecting a more roasted malt quality.
The taste takes another turn. A nice level of smoke to go along with chocolate malt. Very low level of roasted malt. Bitterness is on the low side as well. Not really an export stout in my book, but still nicely flavored.
Medium bodied with nice carbonation. Smooth texture.
A nice, mellow stout. Was expecting a more assertive beer, but I am not disappointed.
604 characters
4.1
/5
rDev
+12.3%
look: 4.25 | smell: 4.25 | taste: 4.25 | feel: 3.25 | overall: 4
Bomber on the discount table, $3.99. Date stamp of "05.10.12," so over 18 months old.
Pours a midnight black with a generous, dark-tan head of an inch and a half. Lots of carbonation and fizzing when I poured this one. Very sweet-smelling: chocolate, honey, coffee liqueur, some anise. The flavors are all over the place, but in a good way. At first, sweet vanilla and chocolate; then, a fairly intense smoky flavor, like burnt coffee. Next, some minerals. And finally, hot chocolate from a powdered mix, more vanilla, more smoke. The head eventually went down to a 1/4", and the lacing was outstanding. It's a thin beer, not syrupy, a bit creamy, and given all of the flavors, that, for me, is a good thing. The carbonation was a bit too heavy for my liking. I'd be interested to try more from this brewery, as this was a very good offering.
844 characters

4.15
/5
rDev
+13.7%
look: 4 | smell: 4 | taste: 4 | feel: 4.5 | overall: 4.5
22 oz bottle from Roth's Sunnyside store,S.Salem. $3.99 I saw this the other day and thought it was the same stout from this brewer as before then i noticed the "Export" on the label and its 6% alc instead of 4.4 Typical black stout with a gorgeous tan head.thick and bubbly, it doesnt last too long but there is still an attractive foam ring. Very nice intense dark fruit,tasty,burnt oat aromas.Lots of dark chocolate and coffee aromas.Very nice Taste is the same as the aroma..but with a delicious creamy maltiness all through..ends fruity/bitter. Good Great mouthfeel..smooth yet complex..you wont be bored. Excellent stout..very tasty and filling in a good way. Get some.
677 characters

3.79
/5
rDev
+3.8%
look: 3.75 | smell: 4 | taste: 3.75 | feel: 3.5 | overall: 3.75
Bottle generously gifted to me by a friend. Note that it appears to be about a year past the date on the label. Friend said he asked the shop owner to recommend a stout and this was suggested; I wonder if the owner was trying to get rid of an old bottle. In any case, I can't detect any flaws from the age.
Appearance is pretty good -- black; aggressive pour yields a nice tan head, but the head dissipates quickly. This brew is rather carbonated for a stout...a bit on the fizzy side.
The smell is nice. Lots of roast and chocolate. Taste starts with quite a bit of chocolate. Also plenty of bitterness. The bitterness has more staying power as one works ones way down the glass. The "Export Stout" categorization means I have to compare this to Guinness FES. This does not have the strength of flavor or staying power of FES. On the other hand, the ABV is lower. So this is sort of halfway between a dry stout and FES -- a session export stout, if you will. And indeed, I easily drank a whole 22oz bottle and enjoyed it.
1,024 characters

3.83
/5
rDev
+4.9%
look: 4 | smell: 3.5 | taste: 4 | feel: 3.5 | overall: 4
Appearance: pours a black color with a 1" tan colored head that lasts a while. Some mild lace paints the glass.
Smell: roasted tones with a soft chocolate aroma is all you can detect.
Taste: roasted malt, dark chocolate, prunes, and a soft bitterness.
Mouthfeel: medium bodied. Crisp to start less crisp at the finish. Aftertaste is short.
Overall: a decent export stout, but it seemed a little too crisp and a bit thin for my liking. Easy to drink.
454 characters


1.86
/5
rDev
-49%
look: 2.5 | smell: 2 | taste: 1.5 | feel: 2.25 | overall: 2
Shared a bomber of this with my dog Beandip, i think he liked it more than I did. No head retention at all. Tasted like the labeling on the bottle, cheap. Got the feeling i was drinking out of an ashtray. Overall this beer is garbage and should be erased from history.
268 characters
3.18
/5
rDev
-12.9%
look: 3.5 | smell: 3 | taste: 3.25 | feel: 3 | overall: 3.25
I bought a bottle of Pale Horse Export Stout in a bottle shop. Poured in to a pint glass.
Pours an opaque black walnut color, with a thin but frothy tan head.
Smell is faint, perhaps some charcoal and coffee notes.
Taste is a dry charcoal flavor up front, with some sweet chocolate and coffee on the finish, with a dry bitter aftertaste.
Moutfeel is fairly light for the style, dry and not cloying.
Over a decent but dry and somewhat unremarkable stout. I would have it again, but I wouldn't go out of my way to do so.
523 characters

Pale Horse Export Stout from Pale Horse Brewing Company
Beer rating:
53.8%
out of
100
with
13
ratings