Dismiss Notice
Whig Street Blonde Ale
| Penobscot Bay Brewery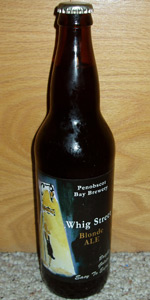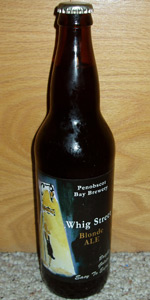 BEER INFO
Brewed by:
Penobscot Bay Brewery
Maine
,
United States
winterportwinery.com
Style:
American Blonde Ale
Alcohol by volume (ABV):
4.20%
Availability:
Year-round
Notes / Commercial Description:
Whig Street blonde ale is soft and delicate with balanced flavors and aromas. The taste is uncomplicated and clean. It is made from pale malt, a handful of malted wheat and finished with Perle hops for bittering and Cascade for aroma.
It's an easy drinking, comfortable ale for those lazy days and laid-back nights.
Added by Yeastcakes on 06-23-2009
HISTOGRAM
Ratings: 12 | Reviews: 9
Reviews by Duhast500:
3
/5
rDev
-12.8%
look: 3 | smell: 3 | taste: 3 | feel: 3 | overall: 3
Poured from a 1 pint 6oz. bottle into a Goose Island pint glass.
The color is medium shape of copper with a small finger of off-white head and little lacing.
The smell is a little boozy at first with a little marmalade like aroma in the nose which was a bit of a surprise.
The taste is big malts with a big biscuit flavor that is making me think of Thanksgiving dinner and maybe buttering this beer. There is a slight hop flavor this is bounced about in the flavor of this beer but is then grabbed and tossed back into the far background by a mean malt bully of a flavor. In later sips there seems to be a bit of a slight spice flavor that comes and goes giving out a spice drop like flavor.
The feel of this beer is medium bodied and is drinkable but has a hanging aftertaste that is a little bit of a turnoff.
815 characters
More User Reviews:
3.3
/5
rDev
-4.1%
look: 3.5 | smell: 3.5 | taste: 3 | feel: 4.5 | overall: 3
22oz brown bomber with no freshness date.
LOOK: Faintly hazed amber, good froth ... darker than expected
SMELL: Dusty yeast, dried peaches, dried grass, peppery, vegtal
TASTE: Grassy, caramel, bread crust, broth, vegtal, yeast, modest hopping, dry finish
Not much of a blonde ale here, more of a amber from the looks and taste. Decent at best.
347 characters

3.82
/5
rDev
+11%
look: 3.5 | smell: 4 | taste: 3.5 | feel: 3.5 | overall: 4.5
Pours a light amber/golden color, a shade bit dark for a blonde ale, very small head that doesn't lacing whatsoever.
Smell at first has a nice hoppy aroma thanks to the Cascade, but it quickly fades and the malt takes over.
Taste is as it is described right on the bottle, uncomplicated and clean, the carbonation though lacking in appearance is present enough and creates a soft mouthfeel, there is a slight hop bitterness in the aftertaste but the malt is at the forefront, seems slightly watery at times but it's a very easy beer to drink.
An easily sessionable beer that I'd drink for a lawnmower beer if it weren't for the price.
637 characters

3.73
/5
rDev
+8.4%
look: 3.5 | smell: 3 | taste: 4 | feel: 4 | overall: 4
A: pours a slightly-amber, very clear with a good inch of light-tan head, well supported by carbonation
S: (congested/broken smeller, can't really comment)
T: nice, light-bodied, easy-going malt, not excessively sweet or bitter. "uncomplicated and clean", as the bottle says.
M: good. slightly lingering bitterness. perhaps a bit too light on the body, but it is a blonde ale.
D: high. this is a simple, balanced blonde, to the brewer's credit.
448 characters

3.38
/5
rDev
-1.7%
look: 3.5 | smell: 3 | taste: 3.5 | feel: 3.5 | overall: 3.5
Explodes with a five+ finger cream head that fades slowly, leaving some lace. Almost clear deep amber color, some yeast left in bottle. Strong carbonation and medium bodied. Light malty nose and flavor is malty bread with the hops close by. $6.70 for a 22oz bottle from Tully's Beer & Wine Wells, Me.
300 characters
3.61
/5
rDev
+4.9%
look: 4 | smell: 3 | taste: 4 | feel: 3.5 | overall: 3.5
Poured on-tap and served in a tumbler pint, the beer is a bright, vibrant, honey-gold coloring with a tall, foamy, frothy, off-white head with a ton of cling. Biscuits and butter in a subtle nose. Flavors are light and sweet, with a floral highlight over the butter and caramel body, and a hop spicing at the end. The aftertaste is spiced and tangy, with a clean, smooth finish. Very tasty.
390 characters

2.93
/5
rDev
-14.8%
look: 3 | smell: 2.5 | taste: 3 | feel: 3.5 | overall: 3
Bomber, split two ways.
A: more orange than I'd expect of a blonde. Translucent with hardly any head.
S: Doesn't have that nice rich flavor in the malts, it's very vague. A little honey sweetness.
T: Huge amounts of honey overwhelm the palate at first. The honey flavor itself is rich and sweet and wonderful. The malts, not so much-- very weak.
M: Low carbonation, small bubbles. Maybe it's the honey flavor tricking me, but it feels thick.
O: I really dig the honey flavor, but it's almost like a macro with honey flavor added. No real body of flavor.
558 characters
4.22
/5
rDev
+22.7%
look: 3.5 | smell: 4 | taste: 4.5 | feel: 3.5 | overall: 4.5
Serving notes - Imperial pint glass, cellar temp
A - grassy lemony hops
A - half inch of head, medium bubbles. Head quickly diminishes. Nice clarity. Light amber in color.
M - medium head, light carbonation.
T - Nice maltiness, same citrus from aroma. Light and subtle malty sweetness that is very well balanced by hops. Very clean finish.
D - This is a great session beer. I could easily drink a liter of this.
411 characters
4.07
/5
rDev
+18.3%
look: 3.5 | smell: 4 | taste: 4 | feel: 4 | overall: 4.5
22oz bomber purchased at The Lighthouse in Manchester, Maine. Pours a crystal-clear amber body with a good half inch of khaki head. Hops definitely comprise a good portion of the aroma, with citrus and slight pine notes. Just a tinge of malt backbone there too. Citrus (lemon, grapefruit, and orange especially) play a strong role in the flavor too, with a strong pulpy component. A light malt note also is there, but it's definitely a hop-forward blonde. Light bodied with a fair bit of carbonation. A pleasant citrussy American Blonde, super drinkable. Well done.
565 characters

Whig Street Blonde Ale from Penobscot Bay Brewery
Beer rating:
3.44
out of
5
with
12
ratings