Half Moon Stout
| Penobscot Bay Brewery
BA SCORE
81
good
15
Reviews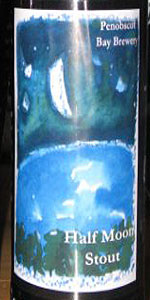 BEER INFO
Brewed by:
Penobscot Bay Brewery
Maine
,
United States
winterportwinery.com
Style:
English Stout
Alcohol by volume (ABV):
5.50%
Availability:
Year-round
Notes / Commercial Description:
In 1609 Henry Hudson entered Penobscot Bay in the vessel the "Half Moon". Four hundred years later the Half Moon is back in Penobscot Bay! Based on an old porter recipe described as brave, proud, or "Stout". A one hour mash of pale, crystal, chocolate and wheat malts, and a large portion of roasted barley yield this dark, full-bodied stout with a heavy aroma of fresh roasted coffee. The mild Fuggles hops balances the bitterness.
Added by Casey10 on 01-21-2010
Reviews: 15 | Ratings: 28
3.3
/5
rDev
-4.3%
look: 4 | smell: 3.25 | taste: 3.25 | feel: 3.25 | overall: 3.25
From the 650 ml. bottle. Sampled on March 16, 2014.
It pours a very dark brown to just about black color with a lingering tan head. It looks like a stout should.
The aroma is overly sweet and sugary with less in the way of dark malts. Some milk chocolate,. But there is something off putting about it.
The body is light to medium but reasonably smooth.
The taste has this same sort of buttery, oily, dark malt and chocolate mix that I cannot describe in any other way. It really doesn't propel itself into anything special and tends to be too sweet.
553 characters

3.23
/5
rDev
-6.4%
look: 4 | smell: 3.5 | taste: 3 | feel: 3.5 | overall: 3
A: Pours black with three fingers of light tan head that fades into a thin cap with decent lacing.
S: Roasted malts with sweet cocoa at first with notes of tart and sour fruits toward the finish.
T: Roasted malts here as well with tart cherry flavors coming through more than in the nose. There are subtler notes of char and chocolate.
M: Medium-thick body with mid-high carbonation, this beer has more carbonation than normal for the style, but not too much.
O: An alright stout overall, though I suspect an infection based on the high carbonation and tart fruit presence.
577 characters
3.7
/5
rDev
+7.2%
look: 4 | smell: 4 | taste: 3.5 | feel: 4 | overall: 3.5
Competent stout, brought back from very recent Maine trip. Pours black and is lacey. A good roast nose. Above average mouthfeel. Dry Irish style finish. Grows on me to make it nicely drinkable.Chocolate, coffee. A tad acidic. Some decent hop bitterness.
253 characters
3.27
/5
rDev
-5.2%
look: 3 | smell: 3.5 | taste: 3.5 | feel: 2.5 | overall: 3
Poured from a bottle into a tumbler pint, the beer is a dark ruby-red coloring leading into black, with no head. Slick and wet looking on the pour. The nose is sweet, with chocolate and toffee notes, as well as some cookie tones. Flavors are light and dry, with rich hazelnut and chocolate notes on a roasty backbone. The aftertaste is rich and roasted, with a darkly sweet, smooth, and dry finish. The body was lacking throughout in order to support the flavor profile this stout brings to the table. Just seemed unbalanced throughout.
536 characters
3.38
/5
rDev
-2%
look: 4 | smell: 3.5 | taste: 3 | feel: 4 | overall: 3.5
From BeerAdvocate magazine Issue #58 (November 2011):
LOOK: Lights out
SMELL: Roasty, slightly acrid, yeast, charcoal, woody
TASTE: Roasty grain, burnt sugar, woody hops, coffee, charcoal, ripe fruit, dried grass, earthy, overly roasty
Old school or to style, whatever your take is. Sipping it for what it is, the roasted twang gets the better of this brew. Lively and rustic, but the roasted flavors seem to take over the palate. If the roasted flavors were tamed a bit more, we'd have a clear winner. Worth a try at the very least.
537 characters

3.48
/5
rDev
+0.9%
look: 4 | smell: 3.5 | taste: 3.5 | feel: 3 | overall: 3.5
From notes. Received in the Secret Santa BIF, consumed in January at a RB tasting. 22 oz. bottle into a tulip.
a - Pours a pitch black color with one finger of dark tan head and low to moderate carbonation evident. Looks pretty good.
s - Smells of dark fruits, roasted malts, light chocolate, and light coffee. Nice but fruit forward.
t - Taste of dark fruits, roasted malts, chocolate, coffee, and light vanilla. Pretty nice, not overly strong anywhere though.
m - Light to medium body and low carbonation. A bit thin and undercarbonated.
o - Overall a pretty decent stout, though fruit forward. The mouthfeel was a bit thin but worth checking out.
654 characters

3
/5
rDev
-13%
look: 3 | smell: 3 | taste: 3 | feel: 3 | overall: 3
Pours a one finger light brown head that fades quickly to a ring, leaving some lace. Black color, no highlights. Light-medium carbonation and light-medium bodied. Light chocolate nose and flavor is light chocolate, not very beefy for a stout. Light cardboard finish. $6.70 for a 22oz bottle from Tully's Beer & Wine Wells, Me.
326 characters

3.88
/5
rDev
+12.5%
look: 4 | smell: 3.5 | taste: 4 | feel: 4 | overall: 4
Poured a deep black hue with a three finger foamy tan head. There was good retention and lacing.
The smell featured roasted malts, charcoal and burnt sugar.
The taste consisted of a clean, sharp roasted malt with a lingering charcoal smokiness. Some caramel detected as well.
The mouthfeel was typical of the style.
Overall a tasty stout. Not to sweet and not to dry.
375 characters

3.34
/5
rDev
-3.2%
look: 4.5 | smell: 3 | taste: 3.5 | feel: 3.5 | overall: 3
Black with brown around the edges, big 3 finger fluffy light chocolate colored head adorns.
Roasted malts, a bit of chocolate, sweetness, and a little bitterness.
A little bit of cocoa, lots of malts, a hint of sweetness with a combating bitterness.
Medium in body, and creamy. not carbonation.
Middle of the road drinkability. Nice stout overall.
353 characters
3.52
/5
rDev
+2%
look: 3 | smell: 3.5 | taste: 3.5 | feel: 3 | overall: 4
Had not heard of the brewery before, even though it resides less than an hour from where I originally hail, figured I would give it a shot.
It must be noted that I have been spoiled of late with the stouts that I have been drinking, which may have skewed this a bit down. Poured into large snifter. Dark brown to black in color with a very light bodied conistency. Not a bad level of head upon pouring, which dissipated pretty quickly. Reasonable amount of roast with very little complexity or richness of flavor. Mouthfeel was thin.
Happy to have tried it, though it is unlikely I will have it again.
603 characters

3.03
/5
rDev
-12.2%
look: 3.5 | smell: 3 | taste: 3 | feel: 3 | overall: 3
Pours a dark brown with about a finger of head, fades fast and fizzy like a cola, no lacing.
Smell is pretty much all roasted malt with a bit of a metallic tinge.
Taste is a one-note show of roasted malt, slight burnt bitterness in the aftertaste, carbonation is quite assertive, seems more like a porter than a stout (on the bottle it does say it's based on an old porter recipe), lacking in the chocolate malt department to really bring the chocolate/coffee presence to the forefront.
As much as I want to like them, this turns out to be another disappointment from Penobscot Bay.
585 characters

4
/5
rDev
+15.9%
look: 4 | smell: 4 | taste: 4 | feel: 4 | overall: 4
Some beers from this brewery have trickled down to southern Maine. This one was a pretty nice stout. It poured a black color with just a hint of red to it. A medium-sized tan head with a bit of lacing. Mostly roasted malt aroma, some chocolate, a tiny bit of cinnamon. Chocolate and coffee taste. A nice, robust stout.
318 characters

3.8
/5
rDev
+10.1%
look: 4 | smell: 4 | taste: 3.5 | feel: 4 | overall: 4
The beer pours a dark brown/black color with a with frothy tan head that slowly fades to lacing. The aroma is good. It has a dry, roasted scent that boasts of roasted barley. It's balanced with hints of chocolate and caramel. The taste is decent. It has a very bitter black malt flavor. It hits you up front and gives way to flavors of chocolate and roasted malts. It's quite earthy and coffee like. The mouthfeel is good. It is a full bodied beer with adequate carbonation. This is a solid stout; full flavored, dry, and overflowing with roasted goodness. Thanks to Andrewinski1 for this wonderful beer.
604 characters

3.43
/5
rDev
-0.6%
look: 4 | smell: 3.5 | taste: 3 | feel: 3.5 | overall: 4
Good aroma and appearance of a dark creamy head, easy to drink (label states it uses Wheat malts) making this a easy finish and allows you to go back for more. This beer may have faired better if I wasn't sampling it with a stout home brew and Brooklyn's Chocolate Stout. That said it is still oddly easy to drink imagine a wheat beer with some roasted barley it is unique but nothing outstanding
396 characters
4.13
/5
rDev
+19.7%
look: 4.5 | smell: 4 | taste: 4 | feel: 4 | overall: 4.5
Picked this up yesterday hadn't seen it listed so am adding this one. Reminds me some a a Caddilac Mtn Stout and perhaps thats sort of what they were going for here but not a bad thing.
A - Dark body no light is getting through this along with a wispy mocha head some bubbles.
S - Light cocoa nibs with coffee notes.
T - Light very refreshing but for the syle it is really nice.
M - more of the coffee and cocoa crisp feel.
D - Low abv crisp pleasant taste you will have to try to see what I mean really comes across nice without being heavy like some stouts great for the style.
594 characters
Half Moon Stout from Penobscot Bay Brewery
3.45
out of
5
based on
28
ratings.