Niagara Tradition Home Brew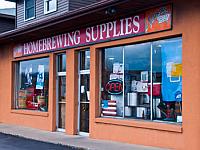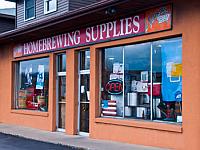 Homebrew
1296 Sheridan Dr
Buffalo
,
New York
, 14217-1208
United States
(716) 877-8767 |
map
nthomebrew.com
Notes:

4.86
/5
rDev
+9%
vibe: 5 | quality: 5 | service: 5 | selection: 4.5
Even though this is the only homebrew store for many miles, it never disappoints. This place is definitely world class and the staff is extremely knowledgable. Ask for Burt!
173 characters
5
/5
rDev
+12.1%
vibe: 5 | quality: 5 | service: 5 | selection: 5
I've always had great experiences here. Everyone who works there is friendly and experienced. I've gone in there with what I thought were some off-the-wall questions and have always come out with the technique or materials I needed.
232 characters
4.78
/5
rDev
+7.2%
vibe: 5 | quality: 4.75 | service: 4.75 | selection: 4.75
This is the only real homebrew store you need to visit in the Buffalo area. No matter what you want to brew they have it. Beer, wine, mead, pop (soda for you weirdos), haven't seen cider but have heard advice given. If Burt can't help you there is no helping you. Overly friendly staff, even if some aren't the most knowlegable there's always someone there that knows their stuff. Prices seem reasonable but there isn't a local option that comes even close to competing with stock so... shoulder shrug.
Online ordering available, special orders available.
Wide array of hops and yeast all refridgerated.
Wide array of base malts and specialties, extract liquid and dry. Again if they don't have it it must be some odd ball thing.
731 characters
4.28
/5
rDev
-4%
vibe: 4 | quality: 4 | service: 4.5 | selection: 4.5
Western Ontario is a tricky place to get your malt/hop fix for craft brewing - ordering from the states or making do with the few stores around seems to be the only option. Case in point, last time I made an APA, the store was out of Cascade hops. Madness. But since I was in Buffalo anyways, I decided to scout around for homebrew shops - the good folks at Consumer Beverages in Williamsville pointed me in Niagara Tradition's direction, claiming that this was the spot that they got their best supplies.
Easy to find on the corner of Military and Sheridan. A humble looking store, which looks a great deal like the homebrewer's equivalent of a model/hobby shop. Attractive displays you will not find here; instead, youll find every square inch of floor space occupied with malt, extracts, carboys and valves - pretty much everything you'd need to either get started or keep rolling. A good bit of wine supplies as well, and a nice selection of liquid and dry yeast (though they prefer if you call ahead for liquid).
Great selection of malts (including some gluten-free options), good prices, and they happily offered to crush or grind my choices (Maris, Chocolate, Vienna). The staff knew their stuff, very helpful bunch, offering advice on proper storage. For example, I implied that I was Canadian and was going to be driving a long way home, and so they offered a (free) ice bag to keep my stuff cool in the car until I could get it home. Very helpful indeed.
Good selection, good prices - a great place for homebrewers to pick up everything they need for their next batch of beer. Canadians take note -probably the best, closest place to grab supplies, so make a pit stop here the next time you hit up Buffalo to shop.
1,727 characters
4.64
/5
rDev
+4%
vibe: 4.5 | quality: 4.5 | service: 5 | selection: 4.5
Huge variety of malt, hops, yeast, adjuncts, equipment, and advice. An extremely well stocked store that has a good turnover so all the ingredients I've ever purchased has been extremely fresh and high quality. I've never been in the shop without being asked if I need help or if I have a question. They offer classes for beginning and intermediate brewers, and tastings from time to time. They offer ingredients and support for any level brewer. What sets this store apart is their passion for brewing and outstanding customer service.
536 characters
4.65
/5
rDev
+4.3%
I had just gotten into home brewing and was told to go to Niagara Traditions. This place is awesome! Has absolutely everything one may need to get started. With an extremely knowledgeable staff to boot. They helped me along the whole process as far as what basic supplies are needed to do my first batch. Just talking to these guys you can tell that they really enjoy what they do and are glad to help you out as much as they can. Picked up some Hop Rhizomes from them as well and they gave me a fantastic deal. I would highly suggest NT to anybody in the Western New York region who is looking into brewing. Cheers!
616 characters

4.5
/5
rDev
+0.9%
this is prolly the best homebrew shop in western new york. they have almost everything you need to do some serious brewing. a huge selection of speciality grains, liquid yeasts, and hops, depending on the season. they also have all your necessary supplies such as kettles, carboys, and bottling equipment. very helpful staff, they are very knowledgable. all there prices are pretty average. whats also nice is most of the items they have for sale are available to see on there website.
this place is in very close proximity too premier gourmet, one of the best bottle shops around.
582 characters
4.35
/5
rDev
-2.5%
We get down to NT every once in a while when we need some supplies. Well stocked shop, a nice assortment of specialty malts and yeast. Prices on malts are decent, convenient 1 lb bags and some real interesting varieties. Hops are still more expensive than most I've seen even with the shortage. Service is great, really friendly employees and very helpful if you have a question. Very eager to help and seem like they all are really into brewing. It's also in a great location for us, right in the part of town we're in beer shopping.
534 characters

4.15
/5
rDev
-7%
visited this shop for the first time yesterday, may 10/08, though i've had friends pick up things for me there in the past. fairly small space, but well stocked with a good selection of grain, yeast, and equipment. the hop selection was slightly limited, but that seems to be happening all over right now so i'll give them the benefit of the doubt there. prices were much higher than last season, but on par with what i've seen elsewhere this year. the staff have been very helpful in the past, setting orders aside for others to pick up, and were equally helpful in person. i'll happily shop here whenever i'm in the buffalo area.
631 characters
3.95
/5
rDev
-11.4%
This place was reccomended to me by a fellow homebrewer. They are friendly, and knowledgeable. The selection was great, especially thier liquid yeast selection.
They have anything a homebrewer might need. They've got books on Beer styles, yeasts, hops, malts, equipment.
The web site makes it very easy to plan ahead.
I hate shopping, so knowing what they have in advance from the web-site is very nice... I'm in and out.
They also have other stuff for making cheese, and wine. Other biotechnological hobby stuff I guess. If you are looking for an additional hobby it wouldn't be too bad, as long as that other stuff doesn't get in the way of your homebrewing.
672 characters
Niagara Tradition Home Brew in Buffalo, NY
Place rating:
4.46
out of
5
with
15
ratings