Wachusett Ryde
| Wachusett Brewing Company
BA SCORE
79
okay
40
Reviews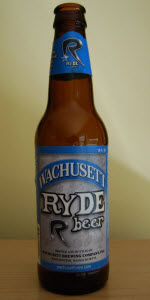 BEER INFO
Brewed by:
Wachusett Brewing Company
Massachusetts
,
United States
wachusettbrew.com
Style:
Rye Beer
Alcohol by volume (ABV):
5.00%
Availability:
Year-round
Notes / Commercial Description:
No notes at this time.
Added by Reagan1984 on 08-28-2008
This beer is retired; no longer brewed.
Reviews: 40 | Ratings: 55
3.72
/5
rDev
+9.7%
look: 3.5 | smell: 4 | taste: 3.5 | feel: 3.5 | overall: 4
Pours a cloudy light amber. Typical head that lasts throughout the drinking. Leaves a moderate amount of lace.
Pleasant blend of hop and slightly grainy malt to the nose.
Generously hopped with a soft, dry taste. Neutral body with an above average level of carbonation. A touch of grapefruit and pine to the hop bitterness. Modest aftertaste of cream and bitterness. An easy-to-drink beer without any specialness to it.
421 characters

2.87
/5
rDev
-15.3%
look: 2.5 | smell: 3 | taste: 3 | feel: 3 | overall: 2.5
poured a clear light amber color with a very small head that settles into no lacing. smell is of toasted malt-- some rye, but not very much. taste is a slightly malty rye flavor with more hops than expected. watery body. dry finish.
just not that great of a beer. i can think of 5 rye beers that are better.
the packaging sucks too. very cheesy.
348 characters
3.4
/5
rDev
+0.3%
look: 3.5 | smell: 3.5 | taste: 3 | feel: 3.5 | overall: 4
A drinkable but not remarkable beer. Mostly clear golden color with a white head that sticks around. Slight, pleasant aroma of rye, almost wheaty. Needs more rye flavor to be a really good beer. Mouthfeel is solid and consistent. Label makes the beer look cheaper than most Wachusett varieties.
294 characters
3.15
/5
rDev
-7.1%
look: 3.5 | smell: 3.5 | taste: 3 | feel: 3 | overall: 3
Appearance: golden, one inch head, clear, high carbonation
Smell: hops, malts, grains, and pineapple
Taste: hops and caramel--almost like a pale ale, there is a slight slight taste of rye
Mouthfeel: smooth, moderately bitter throughout, medium high carbonation
Drinkability: The rye here is very subtle and at time barely noticable. While it would be perfectly passable for a pale ale I would have liked to see more rye. This is one of my least favorite beers from the brewery so far.
489 characters

3.5
/5
rDev
+3.2%
look: 3.5 | smell: 3.5 | taste: 3.5 | feel: 3.5 | overall: 3.5
12oz. bottle served in a standard pint. For Freshest Taste Enjoy By NOV 2010/2011 notched on the label. Poured a translucent orange-gold with a half-inch, dense, bright white head that eventually settles into a quarter inch, consistent cap. Some delicate bands of lacing formed on the tilt side of the glass during the session. Nose is citrus and sweet - very subdued. Not much happening in the flavor department - some citrus astringency in the background, but predominantly grain, with the merest suggestion of hops bittering at the finish. Mouthfeel is fairly light in body with a background carbonation that approaches prickly, but finishes fairly crisp and dry. Easy drinking brew - not much in the overall flavor department; however, the parts taken together are greater than the whole. A slightly different animal on tap.
828 characters
3.47
/5
rDev
+2.4%
look: 3 | smell: 3.5 | taste: 3.5 | feel: 3.5 | overall: 3.5
Came across a bottle courtesy of the reliable Rubby of Thomaston fame. It shows a slightly hazy golden amber color with a modest white cover and just some subtle signs of lacing. The aroma is a fruity sort of grass rye with some nutty nuances. The flavor does capture a sweet rye with grassy hop dryness. It's on the lighter side, tingly refreshing and drinkable if you like the style. Kind of peppery. There's a little caramel noted as you work through it. Not bad but not anything I would hunt down in the future. I generally crave rye based beers but this had some uncomplimentary side effects that didn't marry well with what rye notes I detected. It'll do but was not a thriller.
684 characters

3.1
/5
rDev
-8.6%
look: 3 | smell: 3 | taste: 2.5 | feel: 3 | overall: 4.5
Part of the Wachusett mixed 12 pack. Rye beers aren't the most extravagant style and can be a tad boring.. and this one is really no different. Pours a nice golden color, small head to it, not much lacing. Smells/tastes a lot like a pilsener, some decent body to it.. some rye notes can be detected in the taste only. Very drinkable, then again not much for flavor here... almost like a macro with some body to it and a bit cleaner finish. Good drinker, but not something I'd seek out.
485 characters

3.53
/5
rDev
+4.1%
look: 4 | smell: 3.5 | taste: 3.5 | feel: 3.5 | overall: 3.5
Three bottles of Ryde come in the new Wachusett mix 12 pack. Poured into a stemmed crystal lager glass. Very clear yellow color, with a large white head. A clean looking beer. Smell was earthy. Taste was intriguing. As I don't drink a lot a beers made with rye, I had trouble deciding if I liked this beer or not. Had an interesting roasted wheat-like flavor to it. The taste and mouthfeel were both very dry. Crisp, but dry at the same time. While it was easy to drink, I could find myself getting bored with this beer. One was nice to have, but that was plenty for me.
570 characters

3.8
/5
rDev
+12.1%
look: 3.5 | smell: 3.5 | taste: 4 | feel: 3.5 | overall: 4
This was an odd one. Saw it on the shelf at Yankee Spirits in Sturbridge. It was a single bottle, all alone, three shelves down and to the right of the Wachusett six-packs. The bottle said Wachusett Breing Company, but there were no six-packs of this, and no more to be found anywhere. Fate? I got it, guessing that it would be a rye beer. It's not on their web site, and a Yahoo! search found that it was called a "California-style IPA" at a craft beer fest in early January 2009.
Produced a three finger head on the pour, that subsided to a half finger of rocky foam. Over the course of consuming it, lacing was left on the glass. The body is deep yellow and clear.
Aroma is of rye malt, pineapple hops, and is definitely sweet.
Taste is interesting. It starts out with some rye spiciness and a little bit of black pepper. As it warmed, a nice caramel and malt flavor started coming through, with a nice lightly hoppy aftertaste.
Mouthfeel is smooth and slightly oily. It coated my tongue a little. A trifle thin.
Drinkability is pretty good. I liked it, and it's one I would revisit readily.
1,102 characters

2.4
/5
rDev
-29.2%
look: 3 | smell: 3 | taste: 2 | feel: 3 | overall: 2
Odd looking label: doesn't look like a Wachusett. Says "dry hopped for dangerous drinkability." Ambered colored beer with a white head that leaves minimal lace and retention.
Smells like pineapple hops.
Tastes of very mild tropical fruit hop. Mild rye snap with swallow but that's all the rye I could find. Mouthfeel is crisp, aftertaste has an Anbesol ick. Tastes uneventful.
Though it may be dry hopped, contrary to the label Ryde does not have "dangerous drinkability." So far I think this is only available as an egg in mixed packs; I"m not sure what Wachusett is going for here.
587 characters
4.3
/5
rDev
+26.8%
look: 4 | smell: 4 | taste: 4.5 | feel: 4 | overall: 4.5
On-tap 4/9/09 at Doherty's East Ave Irish Pub in Pawtucket, RI, served in a US tumbler pint glass.
A: The beer is a deep gold color, with a short off-white head that fades slowly and leaves a thick lace on the glass.
S: The aroma is of rye malts, caramel, citrus and a good amount of hops.
T: The taste is malty up front with sweet flavors of caramel & citrus. Then there's a strong hops bitterness that comes in. The malt character is hearty and creates a good balance. The after-taste is slightly hoppy and slightly sweet.
M: Smooth and very crisp, medium body, medium carbonation, finish is slightly sticky.
D: Very tasty, goes down quite easily, not too filling, mild kick, very good representation of style, this is a nice beer with a lot of substance and flavor that is worth drinking for a whole evening.
817 characters
3.66
/5
rDev
+8%
look: 4 | smell: 3 | taste: 3.5 | feel: 4 | overall: 4.5
On tap, poured into a shaker glass.
Murky chesnut body. Small bubbly head follows along.
Aroma is peppery and malty. Not sure what to expect.
Taste is pretty subtle; a balanced artisan bread flavor dominates until the rye malt eventually interrupts with a spicy zing.
Very different from other Rye Beers. Could definitely be hoppier, but overall I think this is a solid session beer.
387 characters

3.02
/5
rDev
-10.9%
look: 3 | smell: 3.5 | taste: 2.5 | feel: 4 | overall: 3
(A) Hazey. Bronze in color. Nice thin sustaining head.
(S) Rye / Sorghum scent with sweet apple tones.
(T) Creamy with a slight bitterness. Nice malty sweetness with mild rye notes.
(M) Light to medium body with a creamy feel.
(D) Good. Not a standout but a decent beer.
270 characters
4.17
/5
rDev
+23%
look: 3.5 | smell: 4 | taste: 4.5 | feel: 3 | overall: 4.5
This is a fantastic beer. It makes a point of difference from their core brands. A cross between their Country Ale and their IPA which marries well. I hope to see this in a bottle package sooner then later. I recall the success of the blueberry (hate it or love it), and the feed back was amazing. We could not keep the product in stock.
337 characters
2.85
/5
rDev
-15.9%
look: 3 | smell: 3 | taste: 3 | feel: 2.5 | overall: 2.5
I'm a big fan or Rye beers so I was excited to see this listed on the Horseshoe Pub's draft list. I wish I was just as excited after I tasted the beer.
This is a new offering from Wachusett Brewing and I called the brewery to learn a little more about it. I was told it is a new addition to their everyday line-up and not a one time offering. Also confirmed the 5.0% ABV. They said it would eventually be available in bottles but for now only on draft.
I personally hope they tweak the recipe a little bit and add some more hop bitterness and a touch more sweetness. One man's opinion.
Pint came with a thin one finger head on it that faded back into the beer very quickly.
Brownish/Gold in color which is a very interesting color indeed. No reddish, orange highlights. There was some visible carbonation and also a good amount of lacing.
The aroma was very Grain like with a very subtle sweetness. Really did not detect any hop aroma or fruit notes.
Taste is very dry & crisp with an even stronger dry finish. Grainy taste and very strong rye characteristics. Bordering on astringent and bit out of balance and lacking hops. Almost no bitterness and no sweetness.
Mouth feel is just too dry and grain like. I'm not a "sweet" beer fan, but this needs a little more sweetness and hop bitterness.
Drinkability is ok.
I did not order a second pint. I wanted to be a big fan.
I was a bit disappointed.
1,425 characters
Wachusett Ryde from Wachusett Brewing Company
3.39
out of
5
based on
55
ratings.