Wachusett Ryde
| Wachusett Brewing Company
BA SCORE
79
okay
40
Reviews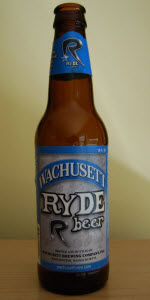 BEER INFO
Brewed by:
Wachusett Brewing Company
Massachusetts
,
United States
wachusettbrew.com
Style:
Rye Beer
Alcohol by volume (ABV):
5.00%
Availability:
Year-round
Notes / Commercial Description:
No notes at this time.
Added by Reagan1984 on 08-28-2008
This beer is retired; no longer brewed.
Reviews: 40 | Ratings: 55
3.47
/5
rDev
+2.4%
look: 3 | smell: 3.5 | taste: 3.5 | feel: 3.5 | overall: 3.5
Came across a bottle courtesy of the reliable Rubby of Thomaston fame. It shows a slightly hazy golden amber color with a modest white cover and just some subtle signs of lacing. The aroma is a fruity sort of grass rye with some nutty nuances. The flavor does capture a sweet rye with grassy hop dryness. It's on the lighter side, tingly refreshing and drinkable if you like the style. Kind of peppery. There's a little caramel noted as you work through it. Not bad but not anything I would hunt down in the future. I generally crave rye based beers but this had some uncomplimentary side effects that didn't marry well with what rye notes I detected. It'll do but was not a thriller.
684 characters

3.45
/5
rDev
+1.8%
look: 3.5 | smell: 3.5 | taste: 3.5 | feel: 3 | overall: 3.5
Poured from a 12-ounce bottle into a Cavalry Brewing pint glass.
A: Poured a pale, golden yellow color with a one-finger thick head of wispy white foam which settled to a fine carbonation slick with no real retention.
S: Smells grainy, slightly floral sweet and fruity, with hints of buttered cracker and citrus.
T: Flavor is a sharp, snappy blend of dry, semisweet rye malt and dry, mild bitter Tettnang hops. There's a fairly good balance of sweet and bitterness, and the rye malt lends a nice, light and dry malt flavor to the brew. That said, it's not overly impressive or flavorful, but simply alright.
M: Mouthfeel is light-medium bodied with a little hop stickiness, but mostly dry and crisp overall.
D: A decent, light blended rye brew with some rye characteristics, but not really enough to make me think its anything more than a German-styled American blonde or very pale ale brewed with Tettnang. Sessionable at 5% ABV, but not impressive enough for me to pick up again.
986 characters

3.42
/5
rDev
+0.9%
look: 3 | smell: 3.5 | taste: 3.5 | feel: 3 | overall: 3.5
Had this on tap at the Beachcomber in Wellfleet. Served in a clear plastic cup.
A-old gold body and a thin white head
S-grainy somewhat pumpernickel
T-slightly astringent, sweet grain and a faint floral finish
M-light, high carbonation
D-okay, I am not too familiar with the style. It was a pleasant drinking brew that I would have again.
343 characters
3.4
/5
rDev
+0.3%
look: 3.5 | smell: 3.5 | taste: 3 | feel: 3.5 | overall: 4
A drinkable but not remarkable beer. Mostly clear golden color with a white head that sticks around. Slight, pleasant aroma of rye, almost wheaty. Needs more rye flavor to be a really good beer. Mouthfeel is solid and consistent. Label makes the beer look cheaper than most Wachusett varieties.
294 characters
3.15
/5
rDev
-7.1%
look: 3.5 | smell: 3.5 | taste: 3 | feel: 3 | overall: 3
Appearance: golden, one inch head, clear, high carbonation
Smell: hops, malts, grains, and pineapple
Taste: hops and caramel--almost like a pale ale, there is a slight slight taste of rye
Mouthfeel: smooth, moderately bitter throughout, medium high carbonation
Drinkability: The rye here is very subtle and at time barely noticable. While it would be perfectly passable for a pale ale I would have liked to see more rye. This is one of my least favorite beers from the brewery so far.
489 characters

3.1
/5
rDev
-8.6%
look: 3 | smell: 3 | taste: 2.5 | feel: 3 | overall: 4.5
Part of the Wachusett mixed 12 pack. Rye beers aren't the most extravagant style and can be a tad boring.. and this one is really no different. Pours a nice golden color, small head to it, not much lacing. Smells/tastes a lot like a pilsener, some decent body to it.. some rye notes can be detected in the taste only. Very drinkable, then again not much for flavor here... almost like a macro with some body to it and a bit cleaner finish. Good drinker, but not something I'd seek out.
485 characters

3.02
/5
rDev
-10.9%
look: 3 | smell: 3.5 | taste: 2.5 | feel: 4 | overall: 3
(A) Hazey. Bronze in color. Nice thin sustaining head.
(S) Rye / Sorghum scent with sweet apple tones.
(T) Creamy with a slight bitterness. Nice malty sweetness with mild rye notes.
(M) Light to medium body with a creamy feel.
(D) Good. Not a standout but a decent beer.
270 characters

2.91
/5
rDev
-14.2%
look: 4 | smell: 3 | taste: 2.5 | feel: 3.5 | overall: 3
Thanks to connecticutpoet for sending me this one!
A: Pours a clear orange color with a one finger, extremely white head. Quick dissipation to a small layer of foam on top. Chunky lacing down the sides.
S: A little bit of spice and rye to go with a little bit of hops, the nose seems kind of closed for me.
T: Just not much going on for me. A little bit of caramel, some floral hops, and a hint of spice.
M: Medium bodied, smooth and crisp, with a dry finish.
O: The first beer from Wachusett I have not enjoyed. There wasn't a bad quality to this beer, but I just didn't get anything. The nose was weak and the flavor profile seemed to be lacking.
656 characters

2.9
/5
rDev
-14.5%
look: 3.5 | smell: 3.5 | taste: 3 | feel: 2.5 | overall: 2
I'm new to rye beer, but enjoyed my first taste of a Philly rye IPA on tap at the airport, and noticed a blurb proclaiming Ryde a new beer, dry hopped, and I usually love dry hopping, and especially love beer with a good bike ride, so came home with this in a mixed 12-pack, hoping it would be the right drink to plan around my next bike ride up Mount Wachusett, one of my favorite hill climb rides.
Pours pretty in a pint glass, yellow amber, nice head, slight haze. Smells like rye bread and hops. Tastes a bit sweeter than I'd like, with more hops than rye. Maybe rye needed a tiny bit more roasting? Mouthfeel too watery. If I needed thirst quenching, I'd drink water, which this beer is too close to. This is only my second try with rye beer, but it has to be better than this to make me try another.
805 characters

2.87
/5
rDev
-15.3%
look: 2.5 | smell: 3 | taste: 3 | feel: 3 | overall: 2.5
poured a clear light amber color with a very small head that settles into no lacing. smell is of toasted malt-- some rye, but not very much. taste is a slightly malty rye flavor with more hops than expected. watery body. dry finish.
just not that great of a beer. i can think of 5 rye beers that are better.
the packaging sucks too. very cheesy.
348 characters
2.85
/5
rDev
-15.9%
look: 3 | smell: 3 | taste: 3 | feel: 2.5 | overall: 2.5
I'm a big fan or Rye beers so I was excited to see this listed on the Horseshoe Pub's draft list. I wish I was just as excited after I tasted the beer.
This is a new offering from Wachusett Brewing and I called the brewery to learn a little more about it. I was told it is a new addition to their everyday line-up and not a one time offering. Also confirmed the 5.0% ABV. They said it would eventually be available in bottles but for now only on draft.
I personally hope they tweak the recipe a little bit and add some more hop bitterness and a touch more sweetness. One man's opinion.
Pint came with a thin one finger head on it that faded back into the beer very quickly.
Brownish/Gold in color which is a very interesting color indeed. No reddish, orange highlights. There was some visible carbonation and also a good amount of lacing.
The aroma was very Grain like with a very subtle sweetness. Really did not detect any hop aroma or fruit notes.
Taste is very dry & crisp with an even stronger dry finish. Grainy taste and very strong rye characteristics. Bordering on astringent and bit out of balance and lacking hops. Almost no bitterness and no sweetness.
Mouth feel is just too dry and grain like. I'm not a "sweet" beer fan, but this needs a little more sweetness and hop bitterness.
Drinkability is ok.
I did not order a second pint. I wanted to be a big fan.
I was a bit disappointed.
1,425 characters

2.81
/5
rDev
-17.1%
look: 4 | smell: 3 | taste: 2.5 | feel: 3.5 | overall: 2.5
Pours a five finger white head that fades slowly to a thin layer leaving a good lace. Medium carbonation and medium bodied. Crystal clear amber color. Nose is hoppy. Flavor is hoppy with some caramel. $1.85 for a 12oz bottle from Colonial Spirits, Acton, MA.
258 characters
2.69
/5
rDev
-20.6%
look: 4.5 | smell: 3 | taste: 2 | feel: 3 | overall: 3
Freshest by August 2010...
A: Golden honey color with a thick 1 inch white head that fades at a decent rate. Very good.
S: Bready rye malt upfront with hints of raisin in the middle and hidden hops on the backend. Not much special here. Ok.
T: Kind of leaves a watery tea taste on the palate with a hint of rye. Almost like a seltzer water. Not impressed at all.
M: Does not leave anything special on the palate. Ok.
D: Goes down a little hard from the watery tea / dishwater taste. Ok.
All in all, no, this is not a soecial brew by any stretch of the word. Don't bother trying, even if you have access. It's not worth your time.
635 characters

2.52
/5
rDev
-25.7%
look: 2 | smell: 2.5 | taste: 2.5 | feel: 3 | overall: 2.5
I got this bottle from TheManiacalOne, thank you for getting me this bottle. Poured into a pint glass at 37 degrees.
Appearance: A one finger foamy and bubbly white head with poor retention. This style of beer needs to have a lasting head. The color of the beer is an amber color with copper orange hues. There is some effervescence in the beer. The clarity of the beer is clear to brilliant.
Nose: A mild rye note with some barley. There is notes of floral, wood, yeast, caramel, bread crust and a light malty sweetness.
Taste: A light grain and rye flavor. There is a light malty sweetness, slightly floral hoppiness with some spice. There are notes of bread crust and yeast.
The mouth feel is carbonated, dry, and slightly astringent.
Overall: The body of the beer is light and the finish is medium light. This rye beer has a light rye note, thus giving a poor flavor. I was hoping for more. This is an average brewery and this beer is below average.
962 characters

2.4
/5
rDev
-29.2%
look: 3 | smell: 3 | taste: 2 | feel: 3 | overall: 2
Odd looking label: doesn't look like a Wachusett. Says "dry hopped for dangerous drinkability." Ambered colored beer with a white head that leaves minimal lace and retention.
Smells like pineapple hops.
Tastes of very mild tropical fruit hop. Mild rye snap with swallow but that's all the rye I could find. Mouthfeel is crisp, aftertaste has an Anbesol ick. Tastes uneventful.
Though it may be dry hopped, contrary to the label Ryde does not have "dangerous drinkability." So far I think this is only available as an egg in mixed packs; I"m not sure what Wachusett is going for here.
587 characters
Wachusett Ryde from Wachusett Brewing Company
3.39
out of
5
based on
55
ratings.