Wachusett Ryde
| Wachusett Brewing Company
BA SCORE
79
okay
40
Reviews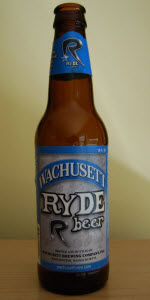 BEER INFO
Brewed by:
Wachusett Brewing Company
Massachusetts
,
United States
wachusettbrew.com
Style:
Rye Beer
Alcohol by volume (ABV):
5.00%
Availability:
Year-round
Notes / Commercial Description:
No notes at this time.
Added by Reagan1984 on 08-28-2008
This beer is retired; no longer brewed.
Reviews: 40 | Ratings: 55
3.62
/5
rDev
+6.8%
look: 3.5 | smell: 4 | taste: 3.5 | feel: 3.5 | overall: 3.5
off white head that rose to about two fingers high and left a thick coating of lacing all around the glass. a rich thick lacing ensued throughout the glass.
aroma is thick hoppy goodness, a rich aroma with a hint of spice comes through on the nose right away. really nice blended notes of pine resin, warm malts, a nice touch of buttery middle and a touch of rye. really well done and this carries over to the flavor perfectly. smooth, effortless feel on this one delivers a light hoppy goodness with hints f spiced rye and buttery malts. nice clean finish with a light dryness
★
578 characters
3.65
/5
rDev
+7.7%
look: 4 | smell: 4 | taste: 3.5 | feel: 3.5 | overall: 3.5
This beer certainly has a nice aroma, but there isn't much going on within. It pours a nice slightly orangy amber color with a nice white creamy head that retains well and laces a bit. The nose is delightful piney hops and really nice bready malts. I would have pegged this for an IPA from the nose. The beer pours pretty clear, a modest amount of carbonation.
The taste is quite watery. The Tettnang hops are very subdued and hardly present. There isn't the robust bready midsection that I was hoping for. The Rye has that slightly harsh bitter malt flavor that is characteristic for the style. There isn't enough depth to this beer. It is too light for its own good, and really devolves into a decent lawnmower lightish summer ale. I wish there were more here, but there isn't.
★
781 characters
3.66
/5
rDev
+8%
look: 4 | smell: 3 | taste: 4 | feel: 4 | overall: 3.5
Pours clear orange with a big foamy head. Decent retention, good lacing and clarity.
I expected much more from this one. Some grapefruit rind and a soapiness in the scent. Fairly muted.
Good citric hop flavors combined with some spicy toasted malt. The rye comes thru, but is a bit hidden by the hops. Decent bready finish, with some light bitterness and some tingly elements on the tongue. Is the yeast ringwood? There is something very familiar here -- like a Geary's Pale Ale with more hop presence.
Good carbonation and medium body. Just right.
Overall, one of the better brews from these guys. Easy drinking, with just the right balance of malt and hop flavors. A bit weak, but not enough to get in a twist over. I'll revisit this one.
★
744 characters
3.66
/5
rDev
+8%
look: 4 | smell: 3 | taste: 3.5 | feel: 4 | overall: 4.5
On tap, poured into a shaker glass.
Murky chesnut body. Small bubbly head follows along.
Aroma is peppery and malty. Not sure what to expect.
Taste is pretty subtle; a balanced artisan bread flavor dominates until the rye malt eventually interrupts with a spicy zing.
Very different from other Rye Beers. Could definitely be hoppier, but overall I think this is a solid session beer.
★
387 characters
3.67
/5
rDev
+8.3%
look: 3.5 | smell: 4 | taste: 3.5 | feel: 4 | overall: 3.5
Poured from the 12 fl. oz. bottle on August 7, 2010. It is a pale yellow with a fizzy head but the overall look is murky and cloudy. Grains and sweet malts presoide over the aroma with only a slight hoppy hint in the mix. The body is in the medium range with a pleasing smoothness on the tongue. The taste also tends to be more grainy and malty than anything else. A clean hoppy ending but otherwise mostly grains and sugary sweet malts. Not bad for a warm day.
★
461 characters
3.68
/5
rDev
+8.6%
look: 4 | smell: 3.5 | taste: 3.5 | feel: 4 | overall: 4
Bottle via trade with BogleHill - thanks!
Pours a clear dark copper color with a half-finger white head. The head recedes into a wispy layer on top leaving decent lacing.
Smells of muted caramel malts with lighter pale malts. Also present are hints of earthy and slightly spicy rye and leafy hops.
Tastes similar to how it smells, although the rye is more robust. Dry caramel malt flavors kick things off and are quickly joined by moderately spicy rye flavors. Midway through the sip some bitterness kicks in with the addition of earthy hop flavors. The hops carry through to a moderately bitter ending.
Mouthfeel is good. It's got a slick thickness with moderate carbonation.
Drinkability is also good. I didn't have a problem finishing my glass and could have another.
Overall this wasn't the most flavorful beer in the world but it does a nice job of showcasing the rye. Worth a shot.
★
893 characters
3.7
/5
rDev
+9.1%
look: 3.5 | smell: 3.5 | taste: 4 | feel: 3.5 | overall: 3.5
Review from BeerAdvocate Magazine Issue #43 (Aug 2010):
Two fingers of head float on this pale golden brew. There is a hint of rye within the big hoppy twang in the nose. It's extra smooth, with a crispness that yields a whole lot of drinkability. This beer is both citric and sweet with a semi-thick resin flavor that unfolds into some hop bitterness. That bitterness does well with the rye and plays off of the malt base. A hint of ripe pears and slight alcohol are present. The hop flavor sticks to the palate way far into the semidry and spicy finish. This brew is very sessionable--a ton of flavor for an average-strength beer. Recommended.
★
647 characters

3.7
/5
rDev
+9.1%
look: 4 | smell: 4 | taste: 3.5 | feel: 3 | overall: 4
12oz bottle courtesy of jleblanc. Thanks Jeff. Best by May 2010, poured into a tulip glass 04/07/10.
A Clean orange blonde in color. Forms a sturdy white head. Lacing quickly recedes.
I'm not all that familiar with the Tettnang hops but one doesn't need the label to identify them as being from a German variety. Initially these hops remind me a lot of a German style lager but the tangy, spicy, rye notes start to peek through soon enough to remind me this beer is a little different.
Hops are again the biggest part of the story on the flavor profile. Generously bitter in an almost tea-like way. Malted rye adds a little to the aftertaste but not as much as I like. Nothing bad here, but not horribly interesting either. Carbonation might be a tad high.
This is overall a fairly tame beer. Although it doesn't leave a big impression I have to admit it's pretty easy drinking and enjoyable so I'll give a positive review. I can imagine it working well enough as a warm weather beer since one could enjoy a few bottles when they didn't want to think too much about what was in their glass. That said, there are dozens of beers that fit that role just as well so I don't think I'd seek this one out again.
★
1,211 characters
3.72
/5
rDev
+9.7%
look: 3.5 | smell: 4 | taste: 3.5 | feel: 3.5 | overall: 4
Pours a cloudy light amber. Typical head that lasts throughout the drinking. Leaves a moderate amount of lace.
Pleasant blend of hop and slightly grainy malt to the nose.
Generously hopped with a soft, dry taste. Neutral body with an above average level of carbonation. A touch of grapefruit and pine to the hop bitterness. Modest aftertaste of cream and bitterness. An easy-to-drink beer without any specialness to it.
★
421 characters
3.72
/5
rDev
+9.7%
look: 3.5 | smell: 4 | taste: 3.5 | feel: 3.5 | overall: 4
Clear, light amber with a thin white cap. The collar left some short-lived lace on the glass. Fruity aroma, juicy oranges with just a bit of grapefruit. Light caramel malt sweetness. Moderate bitterness with the same citrusy hop profile as in the aroma. Light spiciness from the rye in the finish, along with lingering caramel. Dry and crisp, light bodied with ample carbonation. Not bad at all. I would have liked more rye character, but everything hangs together nicely as it is.
★
481 characters

3.8
/5
rDev
+12.1%
look: 3.5 | smell: 3.5 | taste: 4 | feel: 3.5 | overall: 4
This was an odd one. Saw it on the shelf at Yankee Spirits in Sturbridge. It was a single bottle, all alone, three shelves down and to the right of the Wachusett six-packs. The bottle said Wachusett Breing Company, but there were no six-packs of this, and no more to be found anywhere. Fate? I got it, guessing that it would be a rye beer. It's not on their web site, and a Yahoo! search found that it was called a "California-style IPA" at a craft beer fest in early January 2009.
Produced a three finger head on the pour, that subsided to a half finger of rocky foam. Over the course of consuming it, lacing was left on the glass. The body is deep yellow and clear.
Aroma is of rye malt, pineapple hops, and is definitely sweet.
Taste is interesting. It starts out with some rye spiciness and a little bit of black pepper. As it warmed, a nice caramel and malt flavor started coming through, with a nice lightly hoppy aftertaste.
Mouthfeel is smooth and slightly oily. It coated my tongue a little. A trifle thin.
Drinkability is pretty good. I liked it, and it's one I would revisit readily.
★
1,102 characters

3.8
/5
rDev
+12.1%
look: 4 | smell: 4 | taste: 3.5 | feel: 4 | overall: 4
The beer pours a hazy gold color with a thick frothy off-white head that slowly fades to lacing. The aroma is good. It has a very mild rye scent along with pale and Munich malt aromas. It's dry with a slight rye spiciness. The taste is decent. It has a smooth, pale, Munich, and bisquit malt flavor with hints of rye in the finish. The mouthfeel is fine. It is a medium bodied beer with adequate carbonation. This is a good drinking rye beer. It's not over the top. Quite the contrary, it's very mild and complimentary.
★
519 characters

4
/5
rDev
+18%
look: 4 | smell: 4 | taste: 4 | feel: 4 | overall: 4
A friend bought me a 12 pack sampler of Wachusett beers, a nice way to be introduced to them. This beer was pretty good. Gold in color with a thick white head. It smelled just like fresh rye bread. Tasted like rye bread too, with a generous dose of hops. Very refreshing.
★
271 characters
4.17
/5
rDev
+23%
look: 3.5 | smell: 4 | taste: 4.5 | feel: 3 | overall: 4.5
This is a fantastic beer. It makes a point of difference from their core brands. A cross between their Country Ale and their IPA which marries well. I hope to see this in a bottle package sooner then later. I recall the success of the blueberry (hate it or love it), and the feed back was amazing. We could not keep the product in stock.
★
337 characters
4.3
/5
rDev
+26.8%
look: 4 | smell: 4 | taste: 4.5 | feel: 4 | overall: 4.5
On-tap 4/9/09 at Doherty's East Ave Irish Pub in Pawtucket, RI, served in a US tumbler pint glass.
A: The beer is a deep gold color, with a short off-white head that fades slowly and leaves a thick lace on the glass.
S: The aroma is of rye malts, caramel, citrus and a good amount of hops.
T: The taste is malty up front with sweet flavors of caramel & citrus. Then there's a strong hops bitterness that comes in. The malt character is hearty and creates a good balance. The after-taste is slightly hoppy and slightly sweet.
M: Smooth and very crisp, medium body, medium carbonation, finish is slightly sticky.
D: Very tasty, goes down quite easily, not too filling, mild kick, very good representation of style, this is a nice beer with a lot of substance and flavor that is worth drinking for a whole evening.
★
817 characters
Wachusett Ryde from Wachusett Brewing Company
3.39
out of
5
based on
55
ratings.