Rabbie Burns
| Black Wolf Brewery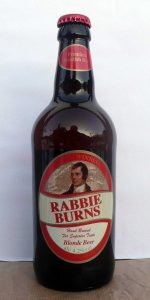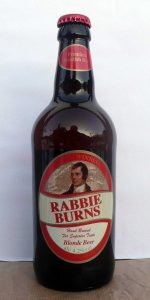 BEER INFO
Brewed by:
Black Wolf Brewery
Scotland
,
United Kingdom
blackwolfbrewery.com
Style:
English Pale Ale
Alcohol by volume (ABV):
4.20%
Availability:
Year-round
Notes / Commercial Description:
No notes at this time.
Added by EmperorBevis on 01-24-2012
HISTOGRAM
Ratings: 7 | Reviews: 5
Reviews by Olek4374:

3.68
/5
rDev
+19.1%
look: 3.75 | smell: 3.75 | taste: 3.5 | feel: 4 | overall: 3.75
Kinda bought this on a whim from Sherbrooke liquor store in Edmonton. Classy portrait of Robbie Burns on the label - this is totally my next Robbie Burns Day beer.
It pours a gentle orange colour with a head two fingers thick. The aroma is very sweet and creamy with some faint fruity aromas that are very pleasant. The taste is very clean and refreshing. The beer proclaims itself to be a blonde beer, and I feel that this is very appropriate. It is a bit darker than most other blonde ales I've had, but the taste is so much more pleasant.
My only complain with this beer is the 4.2% abv. When you're making a beer to honour the late, great, Robbie Burns, you need a bigger kick than that. My silly issue aside though, it's a really well made beer and a pleasant drink.
775 characters
More User Reviews:


3.08
/5
rDev
-0.3%
look: 3.5 | smell: 3 | taste: 3 | feel: 3.5 | overall: 3
A 500ml bottle with a BB of June 2013. Picked up last year from Aldi - I've been sitting on this for a while. Described on the label as a blonde beer. What better brew to kick of Burns night with?
Poured into a straight pint glass. A golden-amber colour with light carbonation and some floating sediment. Forms a decent head of white foam that lasts for a few minutes before subsiding. Aroma of grainy malt with hints of grass/hay, mild nuttiness, stewed hops and earthy yeast. Quite dry.
Tastes of light grainy malt with a dry finish. Notes of grass/hay, earthy yeast esters, faint caramel and stewed hops. A hint of wet cardboard or cooked grain in the background, followed by a mild bitterness upon swallowing. Mouthfeel is smooth, dry and tingly, with pleasant carbonation and decent body. Rather astringent, with an aftertaste of grass, stewed leaves and earthy yeast.
Actually, it's not as bad as I anticipated. A pale ale with hints of grain and grass - pretty standard but well crafted for what it is. Nicely balanced, even if a bit more hop aroma would be welcome. Not sure how this pays homage to Rabbie Burns, but it's an OK brew. Worth sampling, though no need to rush out and find it.
1,200 characters
3.58
/5
rDev
+15.9%
look: 4 | smell: 3.5 | taste: 3.5 | feel: 4 | overall: 3.5
500ml bottle. What, no gloating reference to English armies trounced centuries ago, this time?
This beer pours a slightly hazy pale golden hue, with two fingers of tightly foamy off-white head, which leaves some mesa bluff lace around the glass as it slowly recedes.
It smells of mildly biscuity pale malt, decent orchard fruitiness, and agreeably zippy grassy, leafy hops. The taste is lightly toasted pale biscuity malt, a waning drupe fruitiness, and waxing herbal, hay-like hops.
The bubbles are a bit peppy pretty much throughout, the body on the low side of medium, but just barely, and generally smooth. It finishes just off-dry, the bready malt and still perky noble hops not laying down, no how.
An agreeable enough EPA, nothing askew about this one - alright, enough of the pejorative slant - this is rather tasty, and more hoppy than most of its countryman's efforts. I said 'most', so save the slandering missives, folks...
939 characters
2.48
/5
rDev
-19.7%
look: 3 | smell: 2.5 | taste: 2.5 | feel: 2 | overall: 2.5
500ml bottle: best before June 2013, poured into a vase shaped 'Old Speckled Hen' badged pint glass in May 2012.
Blonde by name, blonde by nature: this is a pale orange beer, lager/pilsner like in appearance. Steady but thin white head of bubbles on top, gave off some lacing but not a huge amount.
Weak aromas of slightly smoked hops, peat maybe? The smell became more grassy as the beer warmed.
The taste was also fairly weak and the body thin, where have they hidden the 4.2% ABV? Not in the flavours that's for sure.
Refreshing and bland: glad it was cheap to buy.
572 characters

2.55
/5
rDev
-17.5%
look: 3.5 | smell: 3.5 | taste: 2 | feel: 2 | overall: 2.5
Bought as part of Aldi supermarkets 'Best of Scotland' promotion
pours a golden amber body with thick big bubbled white head which soon reduced to a flat 3/4 cloud.
Really nice aroma, real hops and floral notes, citrus and bath salts
the taste is such a disappointment very faint hops with bare malt hit the tongue and where the bitter aftertaste is expected nothing
it tastes like bitter shandy wade with fizzy mineral water rather than lemonade.
very thin mouthfeel and a bit flat too be honest
left me far colder than i serve my beer
552 characters
3
/5
rDev
-2.9%
look: 3 | smell: 3 | taste: 3 | feel: 3 | overall: 3
Rabbie Burns from Black Wolf Brewery
Beer rating:
3.09
out of
5
with
7
ratings