Home Sweet Homebrew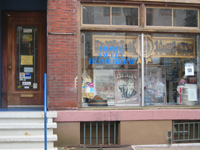 PLACE INFO
Type:
Homebrew Store
2008 Sansom St.
Philadelphia
,
Pennsylvania
, 19103
United States
(215) 569-9469 |
map
homesweethomebrew.com
Notes:
No notes at this time.
Added by Todd
Reviews: 14 | Ratings: 15
4.76
/5
rDev
+10.4%
vibe: 3.75 | quality: 4.75 | service: 5 | selection: 5
Almost everybody in the industry knows George...and with good reason. The dude knows what he is doing. Great sense of humor, always has a really cool story to tell and really knows how to help you out if your are stuck with a recipe. He has just about everything you could ever possibly need, and even though its cramped, its a clean environment and easy to find stuff so long as you know where to look.
403 characters

4.39
/5
rDev
+1.9%
vibe: 4.25 | quality: 4.25 | service: 4.75 | selection: 4.25
I first visited HSH back in 2006 as a new home brewer. I made the trek down from a Philly suburb and found the place with ease. My first impression was, "seriously??!!, this is the place I drove nearly an hour for??!!" My skepticism was shortly appeased when George kindly noticed my confusion and offered to help. I left the place with the ingredients to brew my first Scotch Ale and a smile on my face knowing I had just spoken to a man who knows his stuff!!
460 characters

4.36
/5
rDev
+1.2%
vibe: 5 | quality: 4.5 | service: 4.5 | selection: 3.75
HSH This is THE local Philly homebrew shop in the best beer drinking city in the country (and where Sam Caligione started buying grain when he first started DFH), but the store leaves much to be desired. The selection is not great and they seem to be lacking a lot of different things that I needed last time I was there speciality grains like Caramunich and pale Chocolate, a few hop varieties such as Simcoe, and a better bottle carboy handle. Little things, but that required me to purchase online anyway.
They do have a nice catalog that is hidden on their website, but the prices of everything is not listed like the prices for hops, speciality malts, and some equipment. And their prices are about 25-50% higher than most online retailers like Midwest and Morebeer. It is probably cheaper to buy a 55 lb sack of base malt from Midwest (with shipping) than to pick it up at HSH. Also, I went in there one time with an idea to make a brown ale, and asked if he could swap out some of the hops in the kit for something better and I ended up spending almost $50 for a 5 gallon batch of a Nut Brown Ale, that was dry yeast, two oz of English hops, 2 lb of specialty grain, and liquid extract!
Also, in my experience there, George and Nancy don't really open up to newcomers. George often has this attitude like you are bothering him when you ask him a question about brewing. I asked him what the difference between Star-San and Iodophor was and he is response was some people prefer one or the other, but did not say why. When I was brewing extract, one day someone came in buying 5 lb of rice hulls for a "stuck sparge" but when I asked what that was, again George gave me the blow-off. On the other hand, my significant other received good service when shopping there for a equipment last Christmas, although they did sell her on the glass "secondary" fermenter, which it practically useless since I don't secondary ferment most beers and 5 gallons is not large enough to hold normal size batches I make.
I try to come here when I need things in a pinch, but in general, I buy online. Their pricing is not competitive compared to online dealers even after shipping, and they don't have much in terms of yeast or hops (which are stored in 4 C and in little ziplock baggies--not vacuum sealed. Depending on their mood, George and Nancy can be really attentive or nonplussed by your presence and you really have to know what to ask for.
___
Update: 9/4/12
Been here many more times since the last review and some things have changed and improved. The website is greatly improved in terms of layout and information. However, the catalogue is still hard to find and prices aren't always accurate. However, the old fashioned way - picking up the phone and calling works even better
George and Nancy are much nicer after getting to know them better. If you take a little time to chat with them they will be able to help you better. Although I don't always agree with their advice, it comes from a good place.
Some things that are unchanged. The store is still in a small space so selection is pretty limited. Hops are still kept in 1 oz ziplocks, which is good for you to smell the hops before purchase but also bad because they are losing that aroma and possibly getting oxidized.
In the end, supporting your local homebrew shop is a great way to make sure this resource is there for new brewers that want to just walk in and get help to brew their first batch. The prices aren't the lowest, but the personalized advice is invaluable especially when it's coming from 2 vets with over 20 years of experience. These are great people that have meant a lot to the city of Philadelphia and the fact that they are in business for so long must mean they continue to do the right thing.
3,784 characters

4
/5
rDev
-7.2%
The LHBS for most living in Philly. Small space, but many things crammed into it, you can find most of what your looking for in the way of ingredients and basic equipment, but for variety in products and unique items, you may want to look elsewhere. Prices can be a little high compared to online retailers, since they have the walk in market cornered for the area. Also, they seem to dictate quantity and round to the nearest lbs. on most items.
The thing that sets this place apart is the knowledge and experience of the proprietors. That can not be touched by any other LHBS ive stepped foot in.
599 characters
2.1
/5
rDev
-51.3%
After seeing the reviews, I expected more from this place. Having moved into the area I needed a LHBS in case I needed something in a pinch. Sadly, the selection of ingredients is mediocre at best and you must buy them in the increments they dictate. Not sure what I'm going to do with an entire pound of crushed black patent before it goes bad. The service was ok. I listened to the guy behind the counter answer questions of obvious newbies and I swear I could hear him snickering after. Oh, and if you are looking for something, be prepared to be given directions such as "over there". This was the first LHBS I've been to where the person working did not take an interest in what you were purchasing/brewing. Oh and the cats are all over the place... Good thing we have to boil our ingredients when making beer.
815 characters

4.5
/5
rDev
+4.4%
George and Nancy are beer gurus - they've been around forever and know all the local players in the brewing scene. You want to create a clone of your favorite offering by Yards or Victory? George can do it off the top of his head. The shop is a little cramped, and when it's busy, you might have to wait a while to get their personal attention, but the selection is good (and for what they don't have, George and Nancy can suggest an excellent substitute). If you're not in a hurry, they're always happy to answer questions by email. When it's quiet, it's fun to hang around and shoot the breeze with George, who could spend his life talking beer. And it pays to be a repeat customer - the better they know you, the more likely they are to slip you the better hops or recommend the secret specialty grain that will elevate your brew from good to great. The prices are higher than online retailers, but not unreasonably so, and the personal attention is worth every penny they're charging.
988 characters
3.8
/5
rDev
-11.8%
Nice comfy place,two great owners also.I stopped in for a carboy,new auto siphon and some tubing and walked out thinking I stole from the place.Prices for most of the stuff is cheap but some of the stuff is costly.79.99 for a immersion wort chiller,fugh that! They did have a nice selection of malts and extracts.They had kegs for sale and mostly everything you need to begin and stay with brewing.Its a bit dusty though but who cares,there nice people.I will return again.
***They do not sell any type of hops without you buying a kit from them,until further notice****
571 characters
4.3
/5
rDev
-0.2%
I stumbled upon this place completely by chance while on my way to Nodding Head. Upon entering it is very apparent that this is a small 'mom & pop' type of establishment. Small and cramped but very homey and comforting. I was immediately greeted by the proprietors, a man, a woman, and at least one cat, who were very friendly and more than willing to help me with whatever I needed (maybe not the cat). Essentially I'm saying that the service was excellent. I was, however, on vacation and I was not able to actually buy any ingredients, equipment, etc. because I would have to carry it around the city all night. But my eyes were instantly drawn to a selection of new and vintage beer glasses. I was delighted to find a cool little EKU 28 snifter glass that I had to have. I immediately purchased it and the woman promptly bubble wrapped it up for me so I wouldn't break it while carrying it around all night. The selection of brewing equipment, ingredients, literature, etc. looked complete and professional. If I lived in the area I would have certainly gave it a closer examination. Also while browsing I noticed that the prices seemed very reasonable. All and all Home Sweet Homebrew seemed like a quaint little nugget of honest beer goodness right in the midst of downtown. Definitely stop by if you're interested in brewing of just in the neighborhood.
1,360 characters
4
/5
rDev
-7.2%
George and Nancy got me through my infancy of beer brewing, and I still stop in if I'm in the neighborhood. They got me set up with my first kit, answered all of my stupid questions without laughing too much, and I've bought many carboys from them since. They are especially well-stocked for the beginning brewer, and seem to have a good selection of extract.
They both have a wealth of brewing knowledge, and the story is adequate for any brewer, if a bit more expensive due to the high rent area.
I once saw George hit a smack-pack and have it spray all over himself and the store. He told me that it was the first time it had happened in 10 years. If you see him being careful with smack-packs, you can ask him why he doesn't smack them anymore.
756 characters

4.85
/5
rDev
+12.5%
I just started to homebrew and had always heard when you start and if you are near the Philly area, this is a top notch place to get started. The others reviews and the suggestions from friends could not have been more correct.
From walking in this place you can tell they have it all. Granted it is all crammed into a fairly small space, it is very well layed out and them seem to have everything that you could think of ingredients or equipment wise for beer and wine making. I went in for a few extra pieces of equipment like a newer thermometer, some Irish Moss and a few other small things and they were all very easy to find or George pointed them out for me very quickly. I spent a few minutes talking to George about a few basic brewing questions I had and he could not be more helpful and seemed honestly interest in the questions and just really into brewing which is great. He actually made me aware of some things from a cleaning and sanitizing perspective that I think I was reading wrong in all my homebrew books. What everyone says on the homebrew forum is correct, it really does help to visit your local and support them and ask them questions.
Another great plus to Home Sweet Homebrew, if you like cats they have 2 very friendly cats that greet you at the door and follow you around the store and even jump up on the counter when you are ringing out a purchase.
Since I only work a few blocks from here and I plan to continue with the homebrewing obsession, I will surely be back here for more.
1,525 characters
4.85
/5
rDev
+12.5%
What's not to love about Home Sweet Homebrew? Its location is awesome in that I live right around the corner from the shop. For those who aren't lucky enough to be so close, the store is accessible by public transportation (Bus Lines 9, 12, 17, 21 and 42 all stop nearby.) and parking can be had fairly easily.
George and Nancy are fantastic and the service is great. They will answer any questions you might have and offer suggestions about equipment, recipes and brewing techniques. They have a decent selection of everything one needs for home brewing, wine making and even soda making. If there is something you need and they don't have it, they are happy to track it down for you.
While their prices may be slightly higher that the typical mail-order homebrew shop, they are certainly on par with any "mom and pop" store. Their service and expertise more than make up for any cost differential and I am happy to spend a few extra bucks with them. I highly recommend Home Sweet Homebrew and urge you to check it out if you are in the Philly area.
1,057 characters

4.85
/5
rDev
+12.5%
Woody did a good description of the shop layout in a review above. This is the closest homebrew shop to me, and being only 2 blocks from my workplace this is a very big plus. They carry a great selection of products and equipment for brewing beer and making wine. The best part about this place is the owners. George and Nancy are both knowledgeable and very helpful in helping you make decisions, from recipe design to equipment selection and back again. They stock Wyeast liquid yeasts and various dry yeasts for your brewing pleasure and cany some great books and other things to help you along your way. This is the shop where i buy most of my equipment and ingredients and it shall remain that way. They also host the HOPS (Homebrewers of Philadelphia and Suburbs) meetings on the third Wednesdays of each month in their shop which is awesome. Go check this place out its great!
883 characters

4.65
/5
rDev
+7.9%
I can remember visiting this shop back in the late 1980's, when it was on the opposite side of the 2100 block of Sansom Street. It is now directly next to Fat Jack's ComicCrypt, making it part of a double-feature for me when I am in town. Yes, I am a (mostly) reformed fanboy, but at least shapudding is building up a nice collection of Harley Quinn.
It is run by none other than George Hummel and Nancy Rigberg, both beer luminaries in their own right (write, since they do that, also), with George the PHL beat writer for Mid-Atlantic Brewing News. They also get some assistance from their two caramel-colored cats, who have free run of the place, so if you have allergies, bear this in mind. I have known George for years and although I am not a homebrewer, he always finds time to chat and I have built up a nice stash of glassware through him.
As you enter the door, there is a rack of current and back issues of MABN along the wall. In front of this rack, and running the length of the wall to the back of the store, is a set of plywood shelves. These shelves are where George keeps the various malts, as well as the aforementioned glassware. Further back are "The Spice Corner" as well as the winemaking supplies. All of the way in the back is a small book rack and the glass counter with the register. They keep a lot of the brewing-related chemicals in the glass counter. To the right of the counter is a cooler with hops from A to Z (amarillo to zeus, a tip o' the wood to Nancy for that one) in the left side and various Wyeasts on the right side. Why Wyeast?, I asked, knowing that there are choices. The response was that they have always gotten good results from Wyeast. Fair dinkum! Along the right wall is another set of shelves, these containing Cornelius kegs, gallon jars of assorted honey, and finally, the extract kits for beer. The entire space is bisected by a waist-high set of shelves with bottle caps, corks, bottles, and miscellany.
Bottom line: I know so little about homebrewing as to be labelled an ignoramus, but if George and Nancy can point things out to me and help me to understand what I am looking at, then the experienced homebrewer should be right at home. Drop in, say hello to the cats, and have a blast.
2,254 characters
4.85
/5
rDev
+12.5%
I find this to be the single best homebrew shop in the Philadelphia area with an exceptional selection of grains, extracts, and yeast. The only problem i sometimes have is that they have such a high turnover on their inventory it is sometimes hard to walk in there and have them have the yeast you want right there. I for one find no problems with this because it means that they sell the freshest ingredients and if you call a couple days ahead they will make sure whatever you want is there within a few days. The proprietors George and Nancy are always willing to help out with a recipe and what i find to be the best part of this store will tell you when you are going wrong and wont try to sell you something that you don't really need or offer a more economical alternatives to the situation that you might offer them. Their location offers loading parking for free so you don't even need to look for a spot as long you can be quick with your selections. A first class homebrew shop all around and a must stop for any home brewer in the Philadelphia or even tri-state area.
1,081 characters
Home Sweet Homebrew in Philadelphia, PA
4.31
out of
5
based on
15
ratings.