La Corne Et La Muse
| Les Brasseurs Du Temps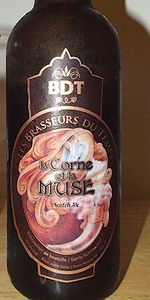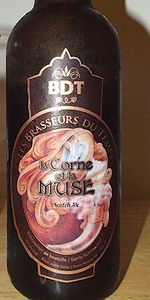 BEER INFO
Brewed by:
Les Brasseurs Du Temps
Quebec
,
Canada
brasseursdutemps.com
Style:
Scotch Ale / Wee Heavy
Alcohol by volume (ABV):
8.00%
Availability:
Year-round
Notes / Commercial Description:
No notes at this time.
Added by Phyl21ca on 07-06-2011
Ratings: 14 | Reviews: 7
Reviews by wordemupg:

4.15
/5
rDev
+16.9%
look: 4 | smell: 4 | taste: 4 | feel: 4.5 | overall: 4.5
750ml bottle poured into tulip 2/11/12 from notes, thanks unibroue4ever for sending the bottle
A dark brown with a dark ruby glow when held to the light, tan head a thumbs width thick has a few minuets of retention and leaves some random lace
S lots of soft caramel and burnt sugars, some over-ripe fruit and faint peat smoke, raisins, sugar coated nuts, smells sticky
T a little more peaty smoke but its still faint, candied fruit and more strong caramel flavors, nutty and malty, it's sweet but not over the top and I have no Idea where the 9% is hiding
M its thick, rich and sticky, zero booze impresses me in such a strong brew. Long finish and sticky lips, what I expect from the style
O the smell could use a 4.25 so a little higher here, very nice brew that fits the style better then many I've had from across the pond
Very nice blend of sweet malts and mellow smoke, great job hiding the booze, 11/4/11 bottle so its had some time to mellow and I thought it was drinking quite well
My computers in the shop so I didn't see ratings for this one beforehand, looks like I enjoyed it much more then the few others. I didn't get a bad bottle I can say that much
1,177 characters
More User Reviews:
1.67
/5
rDev
-53%
look: 3 | smell: 1 | taste: 2 | feel: 1.5 | overall: 1.5
Fresh bottle (March 2012 dated) from grand Duc.I reported the following, with no answer yet received, to the brewery 4 days ago. Heavily oxidized. The smell, opened and offered to a group of us who know something about beer including an industry brewer, was deemed tuna or feet.The bottle said roasted hazlenuts. Unapproachable. Closing my nose, you would think I would get at some taste rather I got a muddle of water and cereal. Boozy . Brown bodied.
452 characters
3.33
/5
rDev
-6.2%
look: 3.5 | smell: 3 | taste: 3.5 | feel: 3 | overall: 3.5
Bottle: Poured a dark burgundy color ale with a huge foamy head with good retention and some lacing. Aroma of caramelized sugar with solid malt notes and light offer is quite enjoyable though a bit too much alcohol is also perceptible. Taste is a nice mix between some caramelized sugar with light toffee notes and balanced sweetness though again alcohol is too omnipresent. Body is above average with good carbonation and even though alcohol esters are evident they are not overshadowing the taste profile. Good but could be even better of less alcohol ester.
560 characters
3.33
/5
rDev
-6.2%
look: 4 | smell: 3.5 | taste: 3 | feel: 3.5 | overall: 3.5
Bottled on March 12, 2012. Poured in to snifter.
A - Very dark amber, almost opaque. A thin layer of light brown head formed and quickly disappeared.
S - Lots of smoke with caramel and toffee aromas.
T - Smoke up front. Some caramel and toffee flavours and a light sweetness from the malt bill. Some warming alcohol throughout. Fairly average smoked beer but certainly not an infected bottle like the previous reviews.
M - Medium body. Moderate carbonation.
465 characters
3.75
/5
rDev
+5.6%
look: 3.75 | smell: 3.75 | taste: 3.75 | feel: 3.75 | overall: 3.75

3.3
/5
rDev
-7%
look: 4 | smell: 4 | taste: 3 | feel: 3 | overall: 3
Bottle shared by Sammy at Steve's birthday. Bottled March 5, 2012, bottle #1644. 750ml into a tulip.
Dark brown body, beige head with good retention and light lacing. Nuttynose, toasty and malty notes. A bit of oxidation (?) comes through in some carboardy flavours; odd as this bottle isn't even a couple month old. Thin and watery body, malty and toasty nut notes. Some moderate amounts of caramel, but a fair amount of something I can only relate to oxidation appears somewhat prevalent again. Medium body, somewhat dry and sweet. Was OK, but something was either going on with this bottle or batch that was a fair bit off.
628 characters


4.1
/5
rDev
+15.5%
look: 4 | smell: 4 | taste: 4.25 | feel: 4 | overall: 4
La Corne et la Muse is a dark beer that retains cranberry-toned highlights and even a thread of cashew colour over-top when viewed at certain angles. While appreciably clear and mildly flashy, it is nonetheless a heavy-looking beer befitting its 8% alcohol. Even the head and lacing are powerfully built.
This aroma is capable of conjuring more scenery of the Scottish countryside than either Robbie Burns or Macbeth. The use of peat smoked malt is evident and suggestive of sea spray as well as seaweed and other earthy, mossy vegetation. It also has an underlying smokiness.
If this sounds at all familiar to drinkers of Lagavulin, Laphroaig or Ardbeg, it should. While this dram is as smooth as those can be intense, there's certainly a superficial similarity to that classic Islay profile. And the Highlands aren't forgotten either: there's a trace of dried, sherried fruitiness as well as hard toffee.
The smoke, while subtle, holds that caramelly sweetness in balance. Taken altogether the taste has suggestions of capers, alderwood, and smoked trout to go alongside its toasted walnut, cocoa powder, and little wild red berries. It has a definitively 'winter' character suited to Quebec's cold climate.
The bottle for La Corne et la Muse should be sold wearing a kilt. Those who like single-malts will enjoy this beer's subtle combination of smoke, sweetness and peat. It may have only a fraction of the complexity of an 18 year old vintage but it also retails for a fraction of the price. It's worth every penny.
1,530 characters

4.59
/5
rDev
+29.3%
look: 4.25 | smell: 4.5 | taste: 4.75 | feel: 4.5 | overall: 4.5
Pours with a firm, dirty tan head. It has a nice nose with sweet caramel and nutty notes ... almond or hazelnut. VERY spicy malt flair on the palate....like a powerful Batman punch... KAPOW!
Wonderfully nice, dirty crisp ale palate. The finish leaves behind hints of sweetness and nut on the malty hop base. Great Muses of Malt! Get me another one, Robin!
358 characters

3.92
/5
rDev
+10.4%
look: 4 | smell: 3.75 | taste: 4 | feel: 3.75 | overall: 4
La Corne Et La Muse from Les Brasseurs Du Temps
Beer rating:
57.1%
out of
100
with
14
ratings