CO-OP Gold Premium Light Lager
| Great Western Brewing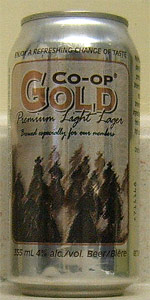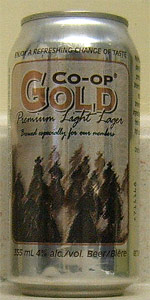 BEER INFO
Brewed by:
Great Western Brewing
Saskatchewan
,
Canada
greatwesternbrewing.com
Style:
American Light Lager
Alcohol by volume (ABV):
4.00%
Availability:
Year-round
Notes / Commercial Description:
No notes at this time.
Added by IronDjinn on 03-28-2006
HISTOGRAM
Ratings: 7 | Reviews: 5
Reviews by wordemupg:

3.1
/5
rDev
+15.7%
look: 3 | smell: 3 | taste: 3 | feel: 3 | overall: 3.5
355ml can poured into 400ml DAB glass oct29 2009
A light straw yellow, with a fast falling fingers worth of head (after an angry pour) that left no lace
S mild sweet grains , some grass and a little hops not much going on here
T again not much, nothing offensive yet nothing too brag about
M its a light beer there's nothing but carbonation and a watery feel, on par for the style
D I keep telling myself this is a light beer and therefor should have little taste, smell, and feel as the style dictates, so by this reasoning a good example of a light beer
this one is brewed by Big Rock now and not Great Western but I doubt much changed, drinkable in the same way water is drinkable, buy the regular co-op gold unless you are on a diet or some crap like that, and even then get real and enjoy alcohol at its regular 5%
I forgot too mention this beer is dirt cheap
872 characters
More User Reviews:

2.25
/5
rDev
-16%
look: 2.5 | smell: 2.5 | taste: 2 | feel: 3 | overall: 2
Oooops, picked up this light stuff by accident, got the cans of the regular stuff mixed up. But what the hell, lets review it anyways.
Pours out a pale clear yellowy straw colour, not very inspiring or appetizing, but I suppose that's why most people who DO drink light beers drink 'em straight out of the can or bottle. Still, it retains enough of a hue to be discernable, isn't totally washed out. The aroma of faint grains is all I can pick up on the nose, neutral at first, but as it slowly warms some off-odours start peeking out. The flavour is, well, bland. Bland. Slight grainy aftertaste, a bit on the sour side of bitterness. The mouthfeel is decent though, especially for a light beer, has some body to it, not overtly watery.
In the end all I can say is I did buy this by mistake, and will pay better attention the next time I grab a 6 pack of canned lager as to not have things end in tears the next time around. Yeah, won't be buying more of this stuff, but light beers hold no appeal for me either. But for those who like 'em, hey, this stuff is cheaper than Coors Light, and if you drink it straight out of the can, who can tell the difference? Are there varying degrees of blandness that are more desirable than others?
1,244 characters

2.7
/5
rDev
+0.7%
look: 2.5 | smell: 2.5 | taste: 3 | feel: 2.5 | overall: 2.5
From the can label, "You're about to discover the crisp, clean flavour of Co-op Gold. This premium light lager is naturally brewed in small batches, under the watchful eye of an expert brewmaster, using only the finest ingredients. The result is a distinctive, fresh tasting lager of consistently high quality. Brewed especially for Co-op members by the Great Western Brewing Company". An inexpesive ($5.99/6) generic store brand, only available at Co-op Liquor stores. The Light companion to Co-op Gold (and that is what it tastes like).
Pours a clear, pale yellow color. Thin cap of white foam that shrinks almost immediatly to a thin ring, and then disappears. There is a faint smell of grain and some sweetnesss. The flavor is light, slightly grainy, nothing offensive. Fits the bill for a light beer. Thin taste and mouthfeel, but not overly watery or bland. Slightly sour finish.
A good light beer to have on hand (cheap and good enough) for guests who want a 'normal' light beer. And the can keeps it from getting skunky when you are outside enjoying the sun.
Maybe the silver can will trick some Coors Light drinkers.
1,129 characters

2
/5
rDev
-25.4%
look: 2 | smell: 2 | taste: 2 | feel: 2 | overall: 2
Straw yellow appearance with bubbly head, that quickly settles down leaving no lacing. Smell consists of grain, grass and a hint of sweetness. Very light overall though.
Taste was hard to pick up, but similar to the smell. Hint of grain, grass, sweetness and malt. Overall, very generic and borderline water. Light bodied with low carbonation. Aftertaste is dry and slightly bitter.
Only reason to get this beer is if you want the cheapest light beer. Get this if you plan to shotgun it, otherwise pass. What's sad is this tastes almost identical to Bud Light.
562 characters
3.19
/5
rDev
+19%
look: 2 | smell: 3 | taste: 3 | feel: 3.5 | overall: 4
Can sent to me by request from BigBry.
Appearance: Pours a very very pale straw colour with a big foamy bone white head. Leaves some lacing on the glass. Intense carbonation activity.
Aroma: A little musty grains, some grassy, light light floral hops.
Taste: Very grainy, much better than a typical macro light lager. Musty Cereal grains, not too bad. No bitterness. Overall, pretty bland, but that's to be expected.
Mouthfeel: Somewhat soft, not as much carbonation as it appears. High drinkability.
Final Statement: I don't have much experience with light beers, but this is the best I've had... if that means anything. It's a light, refreshing, grainy beer that would be nice for a long day of drinking outdoors.
730 characters
CO-OP Gold Premium Light Lager from Great Western Brewing
Beer rating:
2.68
out of
5
with
7
ratings