Brewhouse Light
| Great Western Brewing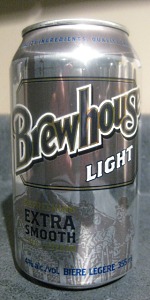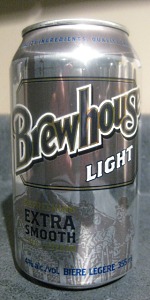 BEER INFO
Brewed by:
Great Western Brewing
Saskatchewan
,
Canada
greatwesternbrewing.com
Style:
American Adjunct Lager
Alcohol by volume (ABV):
4.00%
Availability:
Year-round
Notes / Commercial Description:
No notes at this time.
Added by wordemupg on 09-01-2009
HISTOGRAM
Ratings: 6 | Reviews: 4
Reviews by Jb1976:
More User Reviews:
2.43
/5
rDev
-19.5%
look: 2.5 | smell: 2 | taste: 2.5 | feel: 3 | overall: 2.5
355ml can - pretty similar looking to the regular Brewhouse, just with less blue, and well, of course, the 'Light' moniker.
This beer pours a clear, bright pale golden straw colour, with two fingers of puffy and weakly foamy white head, which leaves nil in the way of lace as it quickly disappears.
It smells of sweet, husky creamed corn, a hint of soaked white bread, stewed veggies, mild acetone, and very tame veritable weedy hops. The taste is weak blended pale and corn grain, acrid over-cooked vegetables, and mild grassy, slightly skunky hops.
The carbonation is on the low side, but still strangely and robustly frothy, the body quite light, weight-wise (duh) and generally quite smooth, just as advertised, natch! It finishes clean, yet with inescapable echoes of boiled green veggies and soggy white bread.
While certainly not overtly offensive, I guess I just don't understand the existence of this in respect to its 'bigger' brother, the regular Brewhouse 'Pilsener'. Though I suppose if you're drinking a case of these over the course of an evening, the 20% drop-off in ABV might then make a difference. It's just math, people.
1,146 characters
3.93
/5
rDev
+30.1%
look: 3.5 | smell: 3 | taste: 4 | feel: 4 | overall: 5
Poured a 355-ml can into a pint glass.
Appearance - pale straw yellow with a thin layer of surface bubbles with a modest ring of lace.
Smell - thin sweet malts with a slightly veggie-corn aroma.
Taste - it is what it is, a light beer. Overall a pretty clean and inoffensive taste. Little sweet adjuncts throughout. Definitely decent for its style.
Mouthfeel - very smooth, balanced brew. Not bad at all.
Drinkability - this is an absolutely excellent choice if you are very thirsty and want to drink gallons of beer. I would put this as a worthy rival to Sleeman Light which has formerly been a choice session beer of mine.
628 characters

2.6
/5
rDev
-13.9%
look: 2.5 | smell: 2.5 | taste: 2.5 | feel: 2.5 | overall: 3
Clear straw yellow appearance with bubbly head that has minimal lace. Smell is sweet, grainy with a hint of vegetables, but overall very light.
Taste has some grain and grass with a hint of sweetness, but overall it is very light and hard to detect. Light bodied with high carbonation. Aftertaste is non existent.
Overall, this beer isn't to horrible (had a bad feeling when picking it up), it is clean and refreshing with nothing inoffensive. It lacks personality, but what do you expect.
Worth a try if you want a tolerable budget light beer, otherwise it makes you want to drink regular brewhouse.
604 characters

2.65
/5
rDev
-12.3%
look: 2.5 | smell: 2.5 | taste: 2.5 | feel: 3 | overall: 3
355ml can poured into 400ml glass aug31 2009
A straw yellow with no head and no lace
S very faint hops and sweet grains, not much going on here
T again not much, a little grassy and some faint skunk
M i suppose it should be light hence the name, but its pretty plain
D noting special with this one but its drinkable
if your buying this you should consider buying normal brewhouse at least you get the extra percent of booze
443 characters

Brewhouse Light from Great Western Brewing
Beer rating:
3.02
out of
5
with
6
ratings