Great Western Gold
| Great Western Brewing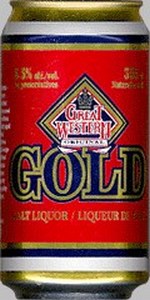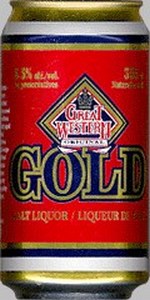 BEER INFO
Brewed by:
Great Western Brewing
Saskatchewan
,
Canada
greatwesternbrewing.com
Style:
American Adjunct Lager
Alcohol by volume (ABV):
6.50%
Availability:
Year-round
Notes / Commercial Description:
No notes at this time.
Added by BeerAdvocate on 08-07-2002
HISTOGRAM
Ratings: 7 | Reviews: 4
Reviews by Shadman:

2.18
/5
rDev
+23.9%
look: 3 | smell: 2.5 | taste: 2 | feel: 2 | overall: 2
My can looks to be redesigned with it being labelled Gold Strong and 6.3% Abv, but let's assume it's the same stuff, just repackaged.
Acts like a cheap macro in the head looks impressive, but lasts as long as an ice cube on a Regina sidewalk in July. Leaves a decent ring and lacing though. Maybe a bit darker than your average clear amber yellow AAL.
Coarse grains, a hint of hops and loads of other stuff.
Very rough is the only polite way to describe it. The sweetness could be from barley malt or corn...ok it's corn. Boozy and thin in the middle before sweet, tin, and an antiseptic dryness-metallicness kill the taste buds for good.
Goes from fizzy to flat in about 10 seconds flat.
I hate to slam beer and I know some of our less fortunate beer drinking brethern do not have the choices some of us do...but fellas...you can do much better in the buck-a-beer dept than this.
885 characters
More User Reviews:
2.03
/5
rDev
+15.3%
look: 2.5 | smell: 2 | taste: 2 | feel: 2 | overall: 2
This is the 3rd and final brew in my series of cheap beers throughout an evening! Save the strongest for last!
A- Pours a darker golden color and is of course very clear. The head is initially thick and snow white but quickly fizzles into a half layer of thin bubbles on top. There is some sticky lacing that clings to the side of the glass. The carbonation doesn't look to be super fizzy, as the bubbles move slower they aren't as plentiful as I thought they would be.
S- The main aroma is cheap grain, sweet adjuncty malts...mainly of boiled corn and some boozy smells.
T- This has a dominant sticky sweetness, again mainly of boiled corn and not much else. After this, there is a metallic like alcohol flavor that just lingers on the palate. There is no hop bitterness and just leaves, for lack of a better term, a sticky syrupy like flavor on the palate.
M- Thin, watery, and I have to agree, somewhat flat on the palate. It leaves me thinking too hard about how good this really isn't.
D- I bought a 6 pack of this and it's too bad....this is gonna be tough to finish. After one of these I've had enough I think...it's too boozy for my liking and too sweet, which is normally ok if it's balanced out, but this isn't. Good if you just want to get hammered quickly and suffer a bad headache the next morning IMO. I'll pass on future purchases.
1,351 characters
1.5
/5
rDev
-14.8%
look: 2 | smell: 1.25 | taste: 1.5 | feel: 1.75 | overall: 1.5
1.72
/5
rDev
-2.3%
look: 3 | smell: 1 | taste: 2 | feel: 2 | overall: 1.5
12 oz. can. I gave smell a 1.0 because you really shouldn't be able to strongly smell the contents of the can before opening it. At 6.5% ABV, you can definitely taste the alcohol, plus kind of a bready taste. It doesn't go down very well, and not recommended unless you're a big malt liquor fan, or want to save $2 Canadian a six-pack. I paid $8.45 Canadian for six of these, next time I should've remembered to have an extra toonie on me.
439 characters
1.88
/5
rDev
+6.8%
look: 2 | smell: 1.5 | taste: 2 | feel: 2 | overall: 2
This beer should really be in the Malt Liquor category. Pours a very pale yellow with a fizzy head that just dissipates into thin air immediately. Smells like corn, and more corn. Adjuncts rule the day, along with a cloying sweetness and alcohol. All that corn to push the abv to 6.5 I guess.... Taste is exactly the same, lots of cloying sweetness and after drinking just one you smell like a hobo, or the Sherbrook Hotel vendor lobby... Fizzy and overcarbonated as expected, really only suitable for a beer bong or shotgunning.
529 characters
Great Western Gold from Great Western Brewing
Beer rating:
1.76
out of
5
with
7
ratings