Great Western Gold Strong
| Great Western Brewing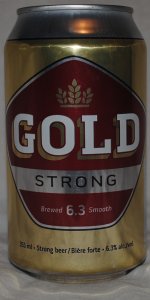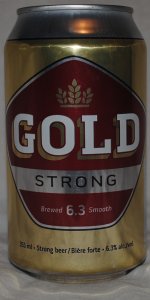 BEER INFO
Brewed by:
Great Western Brewing
Saskatchewan
,
Canada
greatwesternbrewing.com
Style:
American Malt Liquor
Alcohol by volume (ABV):
6.30%
Availability:
Year-round
Notes / Commercial Description:
No notes at this time.
Added by woodychandler on 04-07-2011
HISTOGRAM
Ratings: 5 | Reviews: 4
Reviews by CrazyMike:

2
/5
rDev
-15.3%
look: 2 | smell: 2 | taste: 2 | feel: 2 | overall: 2
Dark pale yellow appearance with lots of bubbly head that quickly settles down leaving no lacing. Smell consists of grain, malt and lots of sweetness, comes off cheap and stale though.
Taste is similar to the smell, corn, stale malt, lots of sweetness and grain. Also picked up a heavy booze taste and a metallic hint to it, lots of hangover potential. Medium bodied with low carbonation. Aftertaste has a lingering sweet, booze taste to it.
Overall, this is definitely not good; but it malt liquor terms, it's not revolting. The taste is fairly light which makes it hard to pick up if you're chugging. It also lacks a cough syrup taste. Still if you're looking for cheap beer or a malt liquor, pass this one.
715 characters
More User Reviews:
2.02
/5
rDev
-14.4%
look: 3.5 | smell: 1.5 | taste: 2 | feel: 2.5 | overall: 2
355ml can, Superstore Liquor special, i.e. that little wire shelf of crap-tastic singles (you know, their house-brand and such) by the cash registers.
This beer pours a perfectly clear, medium golden yellow colour, with two fingers of puffy, tightly foamy, and perhaps even a tad creamy off-white head, which leaves a bit of streaky sea foam lace around the glass as it steadily settles.
It smells of skunky herbs and melting plastic, over a sweet corn-bred malt. The taste is every seedy hookup joint I've every set foot in, where the decent rock music background only hides tears and shitty beers. More specifically, we're talking sweet, corn-fed malt-liquor wannabe malt, a subdued, but not inoffensive vegetal skank, awash in simmering cheap alcohol.
The bubbles are there, and agreeable enough in their coy temerity, the body medium weight, with that sugary nature that dabbles in outright cloyingness, even though its parents warned it otherwise. It finishes less sweet, and more on the weedy, boozy side, just for shits and giggles.
Sorry, Woody Allen/Raymond Chandler, but this ain't no Euro Strong Lager. Strong and Lager-ish? Sure. Euro? Well that is quite debatable, since there are American (style - I don't mean to denigrate the good ol' USA) malt likkas out there with lower ABVs, so why doesn't this future headache of mine qualify as such?
1,361 characters

2.63
/5
rDev
+11.4%
look: 4 | smell: 1 | taste: 3 | feel: 3.5 | overall: 3
CANned beer from CANada in support of The CANQuest (TM)! Thanks, BigBry, for yet another hook-up.
From the CAN: "Strong Beer/Biere forte". I may not have the style right, but I am pretty certain of my guess.
The Crack revealed a no-craft CAN filled nearly to the brim and ready for CANsumption. The Glug resulted in a fizzy, foamy finger of bone-white head with low retention. Color was a deep golden-yellow with NE-quality clarity that would have made King Midas envious and Croesus desirous of a sip. Nose was very reminiscent of the interior of Minhas' plastics factory that doubles as a brewery and a front for the Cybermen. Gag! Mouthfeel was medium-to-full with a sweetish candy-like taste in the mouth that spells high gravity lager. It was more pleasant than the nose led me to expect. Finish was likewise tending towards sweet, but be warned, this is the kind of beer that will leech the water out of you and create a blinding hangover on the following day. It was not unpleasant, but just like Brylcreem, a little dab'll probably do you.
1,054 characters

3.22
/5
rDev
+36.4%
look: 2.75 | smell: 3.25 | taste: 3.25 | feel: 3.25 | overall: 3.25

1.91
/5
rDev
-19.1%
look: 3 | smell: 2 | taste: 1.5 | feel: 2.5 | overall: 2
355ml can poured into 16oz pint glass.
A - Solid three finger head, slightly off-white. Slightly darker than urine in color. Head thins to a soapy film.
S - Musty grains, burnt plastic, band-aids, urine and adjunct.
T - Incredibly stale, almost bitter. Not even a bit of corn or cereal sweetness. At least the booze are sort of kept at bay. Metallic tinny character appears as well. Dank phenolic alcohol flavor, rotten, bacterial. Not good.
M - Medium body, prickly carbonation.
D - Pairs well with reheated Chicken McNuggets.
533 characters
Great Western Gold Strong from Great Western Brewing
Beer rating:
2.36
out of
5
with
5
ratings