Great Western Premium Lager
| Great Western Brewing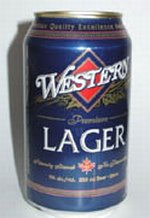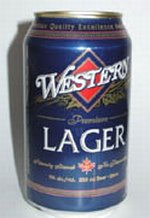 BEER INFO
Brewed by:
Great Western Brewing
Saskatchewan
,
Canada
greatwesternbrewing.com
Style:
American Adjunct Lager
Alcohol by volume (ABV):
5.00%
Availability:
Year-round
Notes / Commercial Description:
No notes at this time.
Added by BeerAdvocate on 12-10-2003
HISTOGRAM
Ratings: 12 | Reviews: 5
Reviews by IronDjinn:

3.63
/5
rDev
+16.7%
look: 4 | smell: 3.5 | taste: 3.5 | feel: 3.5 | overall: 4
Well I'll be damned, this has got to be the best mass-produced Canadian adjunct lager I've yet to try. Never thought I'd ever be so impressed to utter those words either.
Poured from a 355 ml can, part of a 6-pack. Clear golden body, a 3-finger foamy white head that had decent retention until I started sipping from the glass. It recedes to a substantial ring with a wafer thin cap of foam resting on the surface of the beer. Even a small amount of lacing. The aroma is crisp, slightly sweet, slightly grainy, even a mild touch of hops. The flavour is pretty balanced, not too sweet, more of dry grains, with a mild hop finish. A refreshing lager indeed. The mouthfeel is decent for a lager as well, substantial on the palate, partly thanks to the carbonation, but no caustic burn from misuse of adjuncts or from scathing preservatives or chemicals. Not watered down at all. I'm really surprised by this stuff, and quite impressed. This then would now become my default canned lager whenever the mood strikes, a fine lawnmower or barbeque beer. I'd even use it as a stepping stone to ween people off of the big name macros, and then eventually onto craft lagers.
1,166 characters
More User Reviews:
3.6
/5
rDev
+15.8%
look: 3 | smell: 3 | taste: 4 | feel: 3 | overall: 4
being that this beer is brewed right in town its good to support their quality products. most of great west's premium beers are excellent and their premium lager is no exception.
it starts with the bottle, which has an attractive close to home label on it, but a label isn't beer, so i'll get onto that!
Bottle poured into glass.
1. the appearance is a very nice light golden yellow that pours a 2 finger head that disipates quickly with moderate lacing. by comparison to other mass produced lagers, it scores great in my books.
2. the smell is clean, bit grainy but very clean, nothing offensive here.
3. great taste, isn't near as thin as the other mass-produced lagers. though still thin for my tastes, again comparing it to other beers like it, Great West Premium Lager scores very well. like its smell, this beer has a clean taste that has no offensive aftertastes and doesn't cause intense belching that can come from some others... there is a very slight hop taste to an overal grain taste.
4. mouthfeel is decent for a lager, i'm used to drinking ales and stouts so it feels like there's not much there. had a bud beside it to 'compare' and the mouthfeel is a bit better than bud, but still thin for my liking.
5. quite good, prior to sampling i was shoveling snow which made it all the more enticing. because it's a very 'clean' beer in my books it goes down easy and is enjoyable.
in my mind this is a great local beer and is a good 'stepping stone' beer for getting people off of the huge macros. so far its been able to replace Bud in my dad's fridge.
1,579 characters
3.47
/5
rDev
+11.6%
look: 3 | smell: 3.5 | taste: 3.5 | feel: 3.5 | overall: 3.5
355ml can. My thanks to the lovely Sara, a generous Sherbrooke shopper, who shared her Saskatchewan bounty with yours truly.
This beer pours a crystal clear, very pale golden colour, with two fingers of thinly foamy white head, which leaves a low berm of lace around the circumference of the glass as it steadily recedes.
It smells of sweet, sugary grain, betwixt a shallow skankiness, which belies a musty orchard fruitiness, and slight earthy hoppiness. The taste is sweet, fruity malt - a bit of musky apple mush, some ethereal pear notes - all barely moderated by the soft earthy hop followup.
The bubbles are rather subdued, the body an aspiring medium weight (no way!), and equally smooth (shiiiit!). It finishes fairly sweet, the sugary malt still large and in charge, though not quite cloying as the perfunctory hops hold their ground well enough.
Well, not the best of starts, but everything more or less evens out as things move forward - a prominent graininess removes this from the style's more ignominious ilk, even if the overall sweetness would limit me to no more than a couple or so.
1,104 characters
3.68
/5
rDev
+18.3%
look: 4 | smell: 3.5 | taste: 3.5 | feel: 4 | overall: 4
355ml can poured in a dimpled mug.
Nice clear, gold colour with several carbonation streams. Huge,white foamy 1 inch head at the pour. Head settles down to a thin cap. Thin sheets of lacing.
Aroma is mostly grainy with a light sweetness in the background. Surprisingly for a macro lager, no real adjunct aroma.
Smooth grains throughout with a light sweetness popping in just before and just after the carbonation rush. Finish is mild grains. Mild aftertaste is a little grainy.
Light bodied and moderately carbonated, but with a smoother, more pleasing mouthfeel than most macro lagers. Again, it doesn't display the regular adjunct qualities.
One of the best (if not thee best) Canadian macro lagers I've had. I'm almost tempted to guess that this is all-malt since there really isn't any evidence of adjuncts. My only real complaint is with all Great Western products: You can only get bottles in 12 and 18 packs. If you just want a sixer, you've gotta buy cans and I prefer bottles to cans.
1,008 characters

3.2
/5
rDev
+2.9%
look: 3 | smell: 3 | taste: 3.5 | feel: 3 | overall: 3
Bottle:
Pours a straw colored lager in the flute with a rocky white cap that has modest retention but laces the glass.
Aroma is grainy ( not bready), husks, cidery and a waft of fusil in the nose.
2 dimentional Canadian lager....decent grains and light hop balance ( lightly lemon-like) give a malt-cider effect, fast clean finish with some biscuit tastes....no after taste.
Probably a decent all malt lager but over filtered leaving the bottled version with just a ghost of lager character.
All malt lager, inoffensive but over processed (filtered)
564 characters

Great Western Premium Lager from Great Western Brewing
Beer rating:
3.11
out of
5
with
12
ratings