Geist Bock
| Golden Valley Brewery and Pub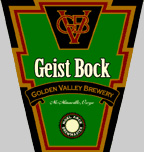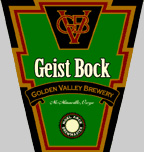 BEER INFO
Brewed by:
Golden Valley Brewery and Pub
Oregon
,
United States
goldenvalleybrewery.com
Style:
Bock
Alcohol by volume (ABV):
6.10%
Availability:
Year-round
Notes / Commercial Description:
No notes at this time.
Added by stirgy on 08-07-2002
HISTOGRAM
Ratings: 13 | Reviews: 12
3.95
/5
rDev
+4.5%
look: 3.5 | smell: 3.5 | taste: 4 | feel: 4 | overall: 4.5
A rough pour brings up a short but creamy white head over a hazy orange-marmalade body. The head drops shortly to a thin collar and whispy surface foam and leaves little lace. Its nose is somewhat limited, but clean and fresh with a touch of mildly toasty sweet malt. Oddly enough for a bock, it has a light/medium body; but it's accentuated by a soft and restrained carbonation due to natural bottle conditioning. And although it's not what's normally expected (and might not benefit other bocks), the soft carbonation works quite well for the level of malt that's present. It's quite smooth and lightly creamy across the palate! The flavor displays a delicate malt that's mildly toasty and lightly sweet with a touch of honey and some subtle fruitiness. It's well-balanced and quite drinkable; but much lighter than expected for a bock. Still, very nice and probably worth trying.
882 characters
3.88
/5
rDev
+2.6%
look: 4 | smell: 3.5 | taste: 4 | feel: 4 | overall: 4
Bright coppery orange with all sizes and speeds of bubbles ascending to the lightly toasted marshmallow head. Meandering strands of sudsy lace decorate the glass and appear as if they'll stay a while. I don't really know what a 'ghost bock' should look like, but this one appears to fill the bill with style.
The nose is mildly bock-like. Only trouble is, it's too mild for me to appreciate much nuance. It's lightly toasted malty (more than pale, less than caramel) with what smells like English hops more than German ones. Earthy and orange fruity aromas don't make me think of Deutschland.
Geist Bock is tasty stuff. Given the whole 'ghost bock' thing and the fact that this substyle is brewed to be a lighter version of a standard bock, I worried about boldness of flavor. I needn't have. It isn't a barnburner, but it smolders a bit.
As is common for the style, malt and hops are present in roughly equal proportions, both flavor-wise and sweet vs. bitter-wise. As in the nose, I'm still getting that lightly earthy fruitiness of Brit hops. I would say that a particularly fruity strain of ale yeast was used, except that this is a lager. In any case, the flavor profile is supremely balanced and is some kind of enjoyable.
If the body of a geist bock is supposed to be on the light side as well, then I don't see why I should mark it down for being just that. This is one of those light-medium beers that, due to their airy silkiness, feel better in the mouth than they seemingly have a right to.
Geist Bock is the Casper the Friendly Ghost of the bock family. Unlike most other styles (in my opinion), this style is amenable to a lighter than normal variation. Along with their Chehalem Mountain IPA, Geist Bock is one of the better Golden Valley Brewery beers.
1,784 characters

3.8
/5
rDev
+0.5%
look: 4 | smell: 4 | taste: 3.5 | feel: 4 | overall: 4
Pours a five finger off-white head that fades to a ring leaving some lace. Cloudy amber color. Good carbonation and medium bodied. Apple/malty nose. Starts sweet, apple cider flavor, some burnt apple at finish. Very smooth, easy to drink. $1.40 for a 12oz bottle from Liquid Solutions Tigard, Or.
296 characters

4
/5
rDev
+5.8%
look: 4 | smell: 4 | taste: 4 | feel: 4 | overall: 4
"A true lager" according to the label. Well the aroma on this is quite exquisite if you are a fan of nicelly done malts..nice stuff. The beer also has good looks, chesnut brown with a small off white head..nice lacing. again i liked the taste of the malts very full and not to sweet..creamy at the front of the tongue than it gets dry at the end..I like this..aids consumption!! Overall a nice lager beer indeed ..not sure if its a real bock..it tastedike some Kellerbiers I have had..but worth a try.Tasty session type brew.
525 characters
2.8
/5
rDev
-25.9%
look: 2.5 | smell: 2.5 | taste: 3 | feel: 2.5 | overall: 3
First impression: tastes like pencil shavings.
At 6.1% ABV and 1.064 OG, this is Golden Valley's most potent, high gravity beer outside of the winter season. It is characterized by a dry, peppery flavor against a backdrop of grassy malts and yeast.
On the whole I found the Geist Bock to be lacking. What is it lacking? Vitality, carbonation, head, lace, and aroma for a start. The taste is not entirely bad, though the beer as a whole is deficient, perhaps tired. Its malty taste and peppery bite were simply insufficient to inspire any exuberance on my behalf.
573 characters
3.88
/5
rDev
+2.6%
look: 4 | smell: 3.5 | taste: 4 | feel: 4 | overall: 4
Medium gold color. Small head. Aroma is malty and sweet. A medium to full-bodied lager style bock beer. Malty and somewhat hoppy. Good flavor, slightly sweet malts. Very smooth taste. Mouthfeel is full and round. Finish is clean and smooth. Aftertaste is malty
260 characters
3.28
/5
rDev
-13.2%
look: 3.5 | smell: 3 | taste: 3.5 | feel: 3.5 | overall: 3
Pours a bright, rich golden color topped by about an inch of creamy white head that subsides to nothing rather quickly. Aroma of moderately sweet pale malt and a touch of fruity hops, with a whisper of low-quality adjunct lingering in the background. Palate is well-balanced up front, the pale malt blending nicely with the mild hop profile. A decent amount of malty sweetness emerges mid-palate, lending an almost cream soda-like taste. Finish is somewhat biscuity. An interesting style, although a bit too sweet to drink in large quantities or on a daily basis.
563 characters

4.22
/5
rDev
+11.6%
look: 3.5 | smell: 4 | taste: 4.5 | feel: 4.5 | overall: 4
Sweet alcohol nose. hazy unfiltered copper look. Sweet malt taste with a touch of chocolate. Not alot of retention, but there is a persistant fine lace on the glass. The brew is very "true" to the style guidelines. The finish is one of warm coco notes. I enjoyed this brew very much. A great night capper (watch the 6.1% abv).
Cheers to mattmaples for the sample.
374 characters

3.65
/5
rDev
-3.4%
look: 4 | smell: 4 | taste: 3.5 | feel: 3.5 | overall: 3.5
Poured from a 12 oz. bottle into a clear pint glass. Single purchased for $1.59. No bottling dating.
A-Pours a medium amber with almost a one finger head that dissipates quickly leaving virtually no lace.
S-Aroma yields a pleasant blend of fruity hops and malt sweetness.
T-Fruity essences dominate the palate and were reminiscent of Belgian ale. Taste mellowed as it warmed.
M-Was fine until it became flat as it warmed.
D-I was not especially impressed and although I might not refuse this if offered it, I won't be seeking it again.
540 characters
4.07
/5
rDev
+7.7%
look: 3.5 | smell: 4 | taste: 4 | feel: 4 | overall: 4.5
Rough pour resulted in a short and dense white head which seemed to materalize as quickly as a person waking up at 4am to get to work on the Monday after Super Sunday.
Color coperish and translucent.
Nice aroma...good 'power' flavor. Lets you know you're drinking a decent beer.
Unlike some of the other GV beers, this one seems worth enough to get the entire six pack.
378 characters
4.3
/5
rDev
+13.8%
look: 4 | smell: 4 | taste: 4.5 | feel: 4 | overall: 4.5
Pours a slight hazy golden orange with caramel undertones and an off whitish head
sweet malt dominates the aroma with slight fruity undertones and rich caramel and even some floral notes.
the light, sweet malt is the first flavor followed by more caramel notes and slight fruit similar to a dark hefeweisse so faint figs or raisins
light and balanced but not too sweet or heavy compared to other bock beers
very nice and smooth, a very different style than most bocks produced today it has a lot more going on in it than most and is very refreshing on a hot day.
566 characters
3.62
/5
rDev
-4.2%
look: 3 | smell: 3.5 | taste: 3.5 | feel: 4 | overall: 4
Amberish-yellow with a thin white head, the aroma is fruity -- almost like apricot. The substantial mouthfeel carries bitterness that doesn't bite with floral/fruity highlights. It was enjoyable, but didn't quite satisfy in the flavor department. An easy drinking brew, but nothing that I would put in the 'must try' category.
328 characters
Geist Bock from Golden Valley Brewery and Pub
Beer rating:
3.78
out of
5
with
13
ratings