Tannen Bomb
| Golden Valley Brewery and Pub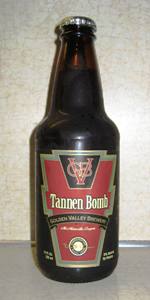 BEER INFO
Brewed by:
Golden Valley Brewery and Pub
Oregon
,
United States
goldenvalleybrewery.com
Style:
Winter Warmer
Alcohol by volume (ABV):
8.00%
Availability:
Winter
Notes / Commercial Description:
No notes at this time.
Added by sinistersteve on 10-08-2002
Reviews: 38 | Ratings: 44
4.75
/5
rDev
+22.7%
look: 4.5 | smell: 4.5 | taste: 5 | feel: 5 | overall: 4.5
This is one of those beers that I had a long time ago and remember being REALLY good and had wanted to try again. Unfortunately, it's pretty hard to find outside the Portland-area. Thankfully, I know of a store that is almost sure to always have em...but that's a secret! :)
4-month old, 22 oz. bottle:
The Tannen Bomb has a nice, thick, latte-esque, mocha-colored head which results in pretty thick lacing. This is obviously heavily malted, as the label says. The beer itself is a dark, deep copper color--sorta like an IPA.
The smell is very nice but is actually kind of difficult to describe. It is incredibly sweet and reminiscent of candy strawberry or cherry. There is even a little cotton candy. I also felt like I detected a little bourbon and caramel. No hops. No yeast.
The taste, like the smell, is very sweet and is reminiscent of a strawberry or cherry cream soda. There is some mild hoppyness but it is mostly malty and sweet like candy. This is an awesome brew! It is very drinkable and pleasant. It says it is a "Winter Warmer" yet is without any chocolate or harsh hop flavors which are usually present in warmers. Maybe this is half warmer, half barley wine?
The only downside to this, I think, would be its sweetness. It certainly makes for a good nightcap or a dessert, but didn't go well with the snack of potato chips I had about half way through drinking the 22oz. I was hungry but couldn't really think of anything I had that would go well with the beer so I just had to take a break and keep eating before drinking any more. This might go well with cherry or apple pie, or with any fruit in general, but you may find it more enjoyable on its own.
★
1,675 characters

3.95
/5
rDev
+2.1%
look: 4 | smell: 4 | taste: 4 | feel: 3.5 | overall: 4
Hazy carmel amber color with light tan head. Not much of a head or lacings.
Smell is sweet and malty. Mouthfeel is slick and alchoholic, not much carbonation. Taste is malty sweet with carmel then goes down kind of bitter with a strong lingering aftertaste.
Not a bad winterwarmer but definately a slow sipper. Seems to smooth out a bit as it warms.
★
355 characters
3.35
/5
rDev
-13.4%
look: 4 | smell: 4 | taste: 3 | feel: 3.5 | overall: 3
Dense brown in color with some fizziness, but not much of a head. Pretty nice aroma with toffee and caramel and some fruit, maybe even a little cinnamon. The sweetness in the flavor is a little overwhelming. Stonger fruit notes come out as it warms. Medium bodied, for some reason I thought it was going to be more full bodied than this. I think I'd have to be in the mood for this one since the sweetness was so strong. Not an everyday beer.
★
442 characters
4.28
/5
rDev
+10.6%
look: 4.5 | smell: 4 | taste: 4.5 | feel: 4.5 | overall: 4
Nice deep dark amber color. Head started off thin, then exploded to about a finger think, then died down again, but a little sticks around to lace the glass. Strong malt aroma which forewarns you of the massive malt flavor. A decent holiday beer and worth a try, but I don't think it's one of the better ones out there.
★
319 characters
3.97
/5
rDev
+2.6%
look: 3.5 | smell: 4 | taste: 4 | feel: 4 | overall: 4
In pouring this beer, I noticed that the head was smaller and shorter than a typical session ale, which I thought was nice in this style, but the color of the beer reminded me of something closer to a strong IPA than to a winter warmer. I was confused when I noticed all the cloudy/chunky funk at and near the bottom of the glass. Only after about an hour after drinking did I realize that this was the "tannen" part of the "Tannen Bomb". Still, it reminded me of some spoiled beer that I occasionally buy at Grocery Outlet.
The taste was nice. Strong and lingering hop character, but well matched with the sweet and round malt. After the first big swig and between the second, I noticed the slow creep of the warmth up my throat.
Very smooth for as high an ABV. A nice drinker.
★
784 characters
4.02
/5
rDev
+3.9%
look: 4 | smell: 4.5 | taste: 4 | feel: 4 | overall: 3.5
Dark coppery/auburn, with a nice tan head that lasts not quite long enough, this is one of my favorite holiday offerings. A very hoppy flavor that isn't bitter at all, only the 8% alcohol reduces the drinkability score. Interestingly, it has a strong malty smell that seems to compliment the hoppy taste when you drink it. Love the name, too. Highly recommended.
★
362 characters
3.42
/5
rDev
-11.6%
look: 2.5 | smell: 3 | taste: 3.5 | feel: 3.5 | overall: 4
poured out relatively vigorously yet no head formed and the beer appeared a little lifeless. hazy amber in color, while caramel malt and prunes predominated the nose. flavor is much the same, with a slight bit of funky, yeasty notes detected. really, kinda boring... but mouthfeel is this beers best quality; creamy with ample carbonation. i don't know what the hell "winter warmer" means in terms of style, but this is essentially a strong red ale... nothing special. i could drink a few of these if i wanted to, but it's just so much an underwhelming experience that i wouldn't (wan't to).
ok, so i'm editing my review a few minutes later and as the beer has warmed it has also become a little more flavorful. and i'm not so sure it's a strong red ale anymore but it is didtinctively English... something like an English strong ale.
★
837 characters
4.35
/5
rDev
+12.4%
look: 4 | smell: 4 | taste: 4.5 | feel: 4.5 | overall: 4.5
Dark reddish orange in color (slightly hazy) with an off-white head that dissipated slowly and left some lacing on the glass. Aroma of sweet and caramel malts with some light floral hops. Flavor is very similar to taste, with the addition of vanilla and alcohol. Although this is a malt heavy brew, it's very well balanced. Body is medium, it's lightly carbonated, and has a creamy mouth feel. The taste of alcohol is noticeable, but it provides a very nice warming feeling in the finish. Very drinkable despite the higher alcohol content.
★
539 characters
3
/5
rDev
-22.5%
look: 3 | smell: 3 | taste: 3 | feel: 3 | overall: 3
This was a bottle of the 2004 version of Tannen Bomb. I live about 2.5 hours from McMinnville and drop in often. I remember this being better on tap.
The beer poured light brown with a off white creamy head. It had good lacing but the head dropped pretty quick.
The nose was a caramel. It was rather light. It was a thin ligt bodied mouthfeel. The flavor was moderately sweet and slightly malty. There was a moderate bitterness and a bit of acholol bit. I remember earlier versions being more of a warmer with more alcohol and more malt. This years version is not holding up as well as prior years. The early 2000's editions could age over a year and were rich and thick. Hopefully next years will return to the full winter warmer this used to be.
★
753 characters
4.67
/5
rDev
+20.7%
look: 4 | smell: 4.5 | taste: 5 | feel: 4.5 | overall: 4.5
What a pleasant surprise!!! Poured a rich mahogany with an off color two finger head of foam. Didn't notice the lacing for my anxiousness to go directly to taste. Did not disappoint. Sweet cherries and chocolate- not unlike the candy from Cella's. Silky mouthfeel and a memorable aftertaste that provoked past events of my youth. Perfect carbonation. Truly a fine brewed rendition of comfortable stress relieving sex. I will give these folk another chance...an IPA from GVB that I sampled last month sucked.
★
507 characters

3.15
/5
rDev
-18.6%
look: 3 | smell: 3 | taste: 3.5 | feel: 2.5 | overall: 3
Every year now I pick up a couple of these because I kinda of like this beer. It never really lets me down. However this is the only beer from Golden Valley Brewery I like. The brewery is near by and I should go for a visit.
A: Pours a nice clear reddish color with a good sized frothy white head and good lacing down the glass
S: Smell is sweet and malty also some caramel scents in there
T: Caramel and toffee sweetness up front followed by a grassy/herbal hop presence
M: Medium bodied beer finished a little dry
O: Maybe not as good as last years concoction. But I'm a fan.
★
579 characters
3.72
/5
rDev
-3.9%
look: 4 | smell: 4.5 | taste: 3.5 | feel: 4 | overall: 3
12 oz. bottle from Cost Plus "Winter Brews" mix pack.
Appearance: Clear red, almost amber in color. Firm head with decent lacing
Smell: Rich toasty malt aroma, hints of plum and raisin.
Taste: Firm bitterness to match the copious alcohol. Slightly warming. Rich dark malt flavor with some hoppiness.
Mouthfeel: Well carbonated with a big body reminiscent of a barleywine.
Drinkability: Overall a solid effort, seems more like a barleywine than a winter warmer (or are these not mutually exclusive categories?). A bit heavy and very fresh, I think this beer would really shine with some aging.
★
599 characters
3.9
/5
rDev
+0.8%
look: 4 | smell: 4 | taste: 4 | feel: 4 | overall: 3.5
A
Thin head off tap yielded minimal, buy solid lacing. Caramel hazy orange in color.
S
Complex toasty malts and some fruity hop nose
T tastes like it smells sweet front end, toasty offer caramel and a bitter obviously chinook induced finish. I noted a alight
Astringent alcohol burn that I did not like.
M
Okay, a little thinner than it should be. Smooth and light on palate, bit letting it's "winter warmer" label influence my review. It's bit hefty in the mouth.
D
Meh. Decent beer, but overall small bang for the
Buck. Alcohol comes through in the taste
Solid beer I may try again but alcohol shines through and it's astringency turns me off.
★
651 characters
Tannen Bomb from Golden Valley Brewery and Pub
3.87
out of
5
based on
44
ratings.