Golden Valley Brewery and Pub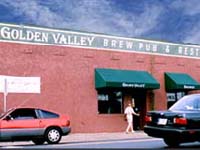 PLACE INFO
Type:
Brewery, Bar, Eatery
980 East 4th Street
McMinnville
,
Oregon
, 97128
United States
(503) 472-2739 |
map
goldenvalleybrewery.com
Notes:
No notes at this time.
Added by frank4sail
Ratings: 14 | Reviews: 12
Reviews by beercollector:
4.22
/5
rDev
+12.2%
vibe: 4.5 | quality: 4 | service: 4 | selection: 4.5 | food: 4.5
This is one of my favorite places. I get there about once a month on my drives from Astoria to Salem. The staff generally seats you quickly.
The beers vary... but the seasonals are always interesting. Their IPA is a good summer beer. And their winter seasonal Tannen Bomb is a malty favorite. Their signature Red Thistle ale is a very good session beer. And their IPA is good on a hot summer day.
The food is good. I like the Brewers Pork Sandwich. It is much like a German bier gardens sandwich and comes with a german style potato salad.
All in all it is a great place to meet folks.
594 characters
More User Reviews:
3.68
/5
rDev
-2.1%
vibe: 3.5 | quality: 3.5 | service: 3.5 | selection: 4 | food: 4

3.5
/5
rDev
-6.9%
vibe: 3.5 | quality: 3.5 | service: 3.5 | selection: 3.5
This was stop #13 for my wife and I on a 21-day pub-crawl from Michigan to N. CA and OR. We stopped here on a Friday mid-afternoon to try their beers, but ended up having a snack as a go-along. This was an unplanned stop during our 21-day pub-crawl, but we saw a billboard as we were driving toward Portland so we decided to check out this place.
The brewery is located in a stand-alone building in the commercial district of town. The interior is more like a restaurant that serves beer than having a resemblance to a brewpub except for the bar area, which was nicely appointed with a wooden bar and back-bar. We sat at the bar and ordered the complete 10-glass sampler (all of their available beers), plus we selected an appetizer as a go-along. (Everything on the food menu looked good, but we did not rate the Food into this review since we had only an appetizer.)
All but one of the beers was brewed to style, or earned a rating slightly higher, and the one that we felt was way too light-flavored (the Third Street Wheat) was rated at C minus. The Geist Bock was the beer that we felt was the best of the bunch, and we rated it at a B level.
For an unplanned stop, this brewery visit turned out okay. It was not the most exciting brewery that we visited on our trip, but it's worthy of a re-visit if we're ever in the area again.
1,342 characters

3.88
/5
rDev
+3.2%
vibe: 4 | quality: 4.25 | service: 3.5 | selection: 3.75
Golden Valley seems to always fly a bit under the radar when one thinks of the better breweries in Oregon, but especially those out in central Oregon. Still, the place has been here for quite some time now; I remember visiting years ago when I lived in Sacto and this place was both a brewery and winery (back in the mid to late 80's).
The brewpub has the look of a place that has been around a while, and has long since lost that "shiny and new" look. As you walk in the back entrance from the parking lot, the dining area is quite sizeable, but then with a handsome (lots of dark wood) bar area straight back, which is where we perched. On this particular day, there were 10 or 11 beers on tap. I got the Atlas Elevator dopple, while a friend ordered the Geist Bock. Both beers were well made and considerably above average, in terms of domestic lagers.
Service was OK. Our bartender was pleasant and prompt, though it was hard to tell how much he knew about the beers here. He didn't volunteer any information about the beer line-up, but was good about checking on any food requests we might have (we were just stopping by for a beer before heading for dinner in Carlton) and beer orders. For some reason, he also thought he needed to tell us about the upcoming Silver Oak wine dinner at the Ruths Chris in Portland (which made me think that perhaps he's more into wine than beer - certainly understandable in this part of the world).
We didn't try the food, but the menu looked pretty interesting and impressive. Prices were OK. I think my 12 ounce schooner of dopplebock was in the $3.75 to $4 range.
The GV Red Thistle is the only beer from GV that I see at various beer bars in the area, so I tend to forget that these guys are even around. However, I'm happy to say that the beer is every bit as good here as it was back inthe 80's (maybe even better), and hopefully it won't be another 10 or 15 years before I stop by here again.
1,945 characters

3.44
/5
rDev
-8.5%
vibe: 3.5 | quality: 3.5 | service: 3.25 | selection: 3.5 | food: 3.5
Visited twice in the off-season (between Christmas and New Year's). Service was good and beer / food hit the spot, but that could be after a day of hiking in the cold damp weather, a nice warm brew pub was a Good Place To Be.
A lot of the wineries were closed - the wimps - but this place was a great find.
308 characters
3.05
/5
rDev
-18.9%
vibe: 3.5 | quality: 3 | service: 3 | selection: 3 | food: 3
This place is pretty much all around average. The room is average with a lot of TVs. Our service was average since they were funny about helping us get a table that would accommodate our group. Beers were average since they were brewed pretty much to style but nothing exciting or memorable. Food was serviceable. They clearly cater to the "lets go to a brewery to watch the game" crowd, not the craft beer crowd. And for that, they deliver a nice experience. If you want to check a game and have a non-offensive pale ale, here ya go.
534 characters
4.13
/5
rDev
+9.8%
vibe: 4 | quality: 4 | service: 4 | selection: 4.5 | food: 4
Good equidistance between Bend and the coast. We stopped here on our last roadtrip/vacation. Faily upscale atmosphere inside, with lots of open space, polished wood, etc, but still has a good pub feel. Easy to get to/find downtown McMinnville. All around this area are vinyards, and we made a couple stops on the way into town before deciding on this place for lunch. I love a good cab or pinot as much as beer, just to get that out there.
THe sampler is the way to go. It comes on a long 3-foot plank (a curved wine barrel board), ten brews to choose from. They were out of one, and the waitress came back towards the end of our meal and asked which of them we liked most and got us a second sample (we chose the IPA) to fill out the 10slots on the board. Yay! No short-changing here!
Food was superb, so was the beer. We just went with burgers, but i got the one with havarti cheese, avocado, mushrooms, pesto, and other goodies.
Outdoor seating was our choice, and we loved it! Nice shade from umbrellas and overhanging vines. A real comfortable meal and good service.
1,075 characters
4.08
/5
rDev
+8.5%
vibe: 3.5 | quality: 4 | service: 4 | selection: 4.5
Nice place, big interior, lots of nice woodwork. Everything is pretty clean and the serving staff was nice. I ordered a sampler of the beers, clam strips and onion rings. I'll have to come back and get more of the food next time. The beer was great! Of the 10 sampled, I really liked 5. The Black Panther Imperial Stout was a slice of fried gold. Good place to sit down with the family or pull up a stool at the bar and talk with the locals. I'll definately stop by again next time I'm in McMinnville!
501 characters
3.75
/5
rDev
-0.3%
vibe: 5 | quality: 4 | service: 3 | selection: 4 | food: 3
stopped in many times, local to Mac
atmosphere - the place usually has a good mix of people, blue collar town along with wine snobs.
quality - good beer overrated food.
service - average, need improvement if I am being honest.
selection - ok selection of beers, they need more changes, they have had the same beers for years.
food - pretty average, they claim great steaks, but have never been blown away, good effort though, I would recommend trying this place.
all in all I do like golden valley, good quality beer, just make sure you really study the menu and order something good.
590 characters
3.29
/5
rDev
-12.5%
vibe: 4 | quality: 3.5 | service: 2 | selection: 4
Look, I get it, okay? If I'm going to make everyone put up with my brewpub hopping nonsense, then you can all agree that it's reasonable that I should have to put up with a few hours of your want of visiting vineyards. I'm feigning perfectly okay with it, no really, it's cool. It's just harder to pair up wines with all the beef jerky I scored at that store, is all. It was only for a few hours anyway; then we were beering again (hooray). A little town called McMinnville, in the opposite direction of back to Portland holds Oregon's smallest brewery run by someone else's Baker. Seriously, we caught the husband and wife show and it was all so strangely familiar, real nice folks, real nice all malt lagers. And it affords you the easy one-two, as there's a brewpub just down and around the bend, hey, maybe we can stop in for a quick sampler...
A long "L" shaped solid mahogany bar seating 10 sits to the rear of this large open room. The massive wood barback unit holds a large center mirror and shelves of booze, with smaller panel mirrors to each side with shelves of booze below. Large pillars pieces and roses on fencing stained glass panels above shelves displaying their bottled house beers on one side, wines on the other side, and shelved glassware across the center of barback. 2 towers of 5 taps behind each end of the bar and an infrequently used handpump up front. Walls painted green and gold, over wood slat lowers, tall panel windows with blinds along the side wall, wide wood plank floors, ceiling fans, drop lamps in a row and mounted above the booths. Brewery banners hanging and a raised flatscreen in the corner. 5 booths along the wall and 20 or so tables throughout, some pushed together to seat larger groups. Beyond the bar, a back room with 20 tables & booths, a piano and TV. The side dining room holds 15 tables & booths, with views of the brewroom through panel windows, and gives you access to the hidden outdoor patio, where lie a dozen tables under umbrellas. All in all, there's a lot of space for seating, for which they're seemingly overstaffed for at this hour of the day. Lots of waitstaff people here, all ignoring us (Do you not see this blue pen?)
The sampler gives you all the house beers. There are normally 10 beers here, but we found only 8 on so we doubled up, selections written on a blackboard: names, OG's, IBU's, ABV's, and availability. The 10 tap sampler was served on a wine barrel stave, which we deemed the coolest sample tray ever. The Red Hill Pils was hoppy, floral; the Grand Island Golden, clean, with a light maltiness; the American Pale Ale, a nice hop bite; the Chehalem Mountain IPA, Centennial & Cascade, okay; the Red Thistle Ale had a nice malt profile; the Angus Spring Organic Brown Ale, chocolatey, and good malt; the French Prarie Blanche, coriander, it was pretty good; the Muddy Valley Stout, licorice and burnt malts. I thought the Brown Ale & Stout were the best of the lot. Our invisibility cloud lifted as it came time to pay the tab, and deal the late day darkening drive back to Portland. If you're out this way, do the one-two.
3,113 characters
3.8
/5
rDev
+1.1%
vibe: 3.5 | quality: 3.5 | service: 4 | selection: 4 | food: 4
On my first visit to Golden Valley I didn't actually eat or drink. Just poked my head through the door to check things out. It was a weekday lunch hour and lots of ruddy-cheeked businessmen were sitting in wooden booths feasting on huge omnivorous meals. Not the usual place I drain a pint. But I'd be back.
My next visit saw me prepared with a clean shirt and an open mind. I sat at a table near the bar and looked up at a most pleasant sight. A chalked menu listed ten house beers complete with vital statistics for every one – ABV, IBU, OG and their off-sale availability. I immediately felt at home.
Beside me tall windows faced into the brewery where tanks riveted of copper and bright brass stood in a spacious room. The adjacent dining room was warm and regal and opened to a banquet room and an outdoor patio. Behind the bar I found a smoky back room full of pool and video and interesting people. The back room is grunge compatible.
Golden Valley's back bar is dense Honduran mahogany salvaged from a Portland hotel of 1920's vintage – a classic beauty. They usually serve seven regular and three seasonal beers and at any given time half are available in six-packs or bombers to go. Their beer engine lay dormant during my late summer visit but was ready to be activated for the forthcoming Oktoberfest. I don't recall any guest taps, but there's really little need for them. If you like wine, Golden Valley offers a selection from their own vineyards.
The restaurant is full service and the food is quite good though it can be a bit pricy. ($9.25 for nachos? And guacamole is $2.50 extra? Things weren't like this during the Clinton administration.)
Golden Valley has several beers worth seeking, notably their Muddy Valley Oatmeal Stout – a masterful beer fit for kings. The place perhaps feels a bit stiff, but I was made to feel welcome. In fact, I sat down next to a woman who told me she used to work there. She claims she was fired for singing happy birthday. Sure enough, a half hour later there was a birthday celebration and everyone sang. Everyone except the serving staff.
2,126 characters
3.88
/5
rDev
+3.2%
vibe: 3.5 | quality: 4 | service: 4 | selection: 3.5 | food: 4.5
Had lunch here on a monday afternoon, so it was hard to give a fair assesment of the atmosphere, but it certainly wasn't uncomfortable in anyway.
Clean place with restraunt seating and bar seating. Outdoor patio for those wonderful sunny afternoons us Oregonians get in the summer, and a billiard room in the back.
Large menu selection and the food was oustanding. I personaly had the cheddar pepper-bacon burger w/ fries. Decent portion for the money.
GV offered all of their "all-season" beers on tap and also offers their seasonals on tap also. There were 2 guest taps offered also.
I'd recommend this place for a visit. Although they offer brewery tours, you need to reserve a time and in some cases they may give a tour on demand.
747 characters
3.75
/5
rDev
-0.3%
vibe: 3.5 | quality: 3.5 | service: 4 | selection: 4 | food: 3.5
Golden Valley Brewery and Pub sits just down the road from Hotel Oregon and the new Trask Brewery and Pub. The interior is more resturaunt-like than pubby, but is comfortable and warm none-the-less, with very nice woodwork being found at the bar and in the boothes. A decent outdoor seating area was also available. About 10 of their beers where available on tap, including 2-3 seasonals. Service was attentive, friendly, and knowledgable about the beer. Some of the food seemed just a bit overpriced, but was reasonably good. 3 oz. tastes cost $.65 each, when we thought we were getting complimentary brewery tastes. A good place to stop if heading through Mcminnville..just be sure to check out Hotel Oregon too.
714 characters
Golden Valley Brewery and Pub in McMinnville, OR
3.63
out of
5
based on
219
ratings.