Pilsner 37
| Orlison Brewing Co.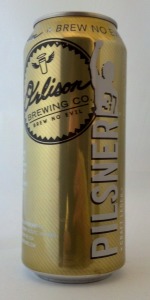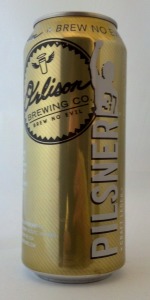 BEER INFO
Brewed by:
Orlison Brewing Co.
Washington
,
United States
orlisonbrewing.com
Style:
American Double / Imperial Pilsner
Alcohol by volume (ABV):
6.60%
Availability:
Year-round
Notes / Commercial Description:
No notes at this time.
Added by woemad on 05-06-2014
HISTOGRAM
Ratings: 10 | Reviews: 5
Reviews by woemad:

3.86
/5
rDev
+2.9%
look: 4.25 | smell: 3.75 | taste: 3.75 | feel: 4 | overall: 4
This is a beer brewed in honor of Steve Gleason, a local football hero who is now battling ALS. Here's the boilerplate from the Orlison web site:
"Pilsner 37 is Orlison Brewing Co.'s modern take on an Old World pilsner. This unique, perfectly balanced hybrid beer is brewed with dry roasted specialty malts to create a complex pilsner taste, while late-added citrusy hops round the flavor off in true Northwestern style."
"Orlison is proudly donating a portion of the sales from Pilsner 37 to Team Gleason, a charity dedicated to providing live[sic]-improving technology and services to those afflicted with ALS."
Pint consumed at Andy's, a bar in Spokane about 4 blocks from where I live, for $4.35.
This was a golden colored beer, with a decent sized white head that hung around for a bit and left nice lace on the sides of the glass.
The aroma is of a slightly hoppy pilsener, with piney and grassy notes at the fore.
The hop flavor noted in the aroma is well-balanced with a maltiness that is of a similar amplitude. It drinks like a well-made pilsener should, with little hint of the relatively high alcohol content.
The body is a little bit big for a pilsener, but not to a distracting degree. The mouthfeel and finish is spot-on.
A nice beer to drink that sends money to a worthy cause. I've been hearing about this beer for many months and have finally come across it. Although there's a billboard along Highway 2 in Airway Heights featuring this beer in a can (in New Orleans Saints colors), I've yet to see it in a can. One of these days I will stop off at the brewery after work and see if I can find out if this will ever be canned, or if they plan to continue to brew it.
1,693 characters
More User Reviews:
3.28
/5
rDev
-12.5%
look: 3 | smell: 3 | taste: 3.25 | feel: 3.25 | overall: 3.75

3.93
/5
rDev
+4.8%
look: 3.75 | smell: 3.75 | taste: 4 | feel: 4 | overall: 4
Poured into a Dogfish Head pint glass. Pours a light to medium golden amber with a two finger white head with good retention and lots of lacing. Aroma of biscuit malt and light grassy hops. Interesting flavor of sweet biscuit malt, lemon citrus with a very refreshing, malty citrus hops finish with residual citrus and grassy hop bitterness. Medium bodied with a good mouth feel. A nice example of an imperial pilsner, the light sweetness, lemon and malt all are very well integrated. This tasted good from start to finish. Richer and more flavorful than a regular pilsner with great malt support for the nice citrus hop flavors. I liked this quite a bit. Found on a road trip, apparently available only locally in Eastern Washington. Glad I ran across it.
756 characters

4.04
/5
rDev
+7.7%
look: 4.25 | smell: 4 | taste: 4 | feel: 4.25 | overall: 4
Tantalizing aroma of flowery hops with a citrus note. Beautiful pour with a golden yellow brew topped with piles of foam in the Troubadour tulip.
Man, is this ever good! Big and flavorful, nicely beery with a substantial body. The long bitter and resiny aftertaste seems like something unusual, but maybe it's business as usual in the mega-Pilsner category.
Somehow this seems stronger than the listed ABV. Interesting and complex beer that is just plain big. From the 16 oz can purchased at The Market in Anacortes.
518 characters

3.1
/5
rDev
-17.3%
look: 4.25 | smell: 3 | taste: 3 | feel: 2.75 | overall: 3.25
3.55
/5
rDev
-5.3%
look: 3.75 | smell: 3.75 | taste: 3.5 | feel: 3.25 | overall: 3.5


4.46
/5
rDev
+18.9%
look: 4.75 | smell: 4.25 | taste: 4.5 | feel: 4.5 | overall: 4.5
A: Wonderful Golden color with a pillowy head of foam. Lacing for days.
N:Bready grassy aroma.
Taste: Wow, this beer is a knockout. Great malty backbone intertwined with some grassy elements . There is a hint of citrus.
M: Wonderful flavor and nice dry finish
O: This is a great beer. Orlison has a homerun here. The fact that it raises money for a great cause is a bonus. If you are in their distribution footprint I advise you t pick up a case.
461 characters
3.6
/5
rDev
-4%
look: 3.5 | smell: 3.5 | taste: 3.5 | feel: 4 | overall: 3.75
an interesting beer here, almost certainly the fullest bodied pilsener i have ever had. i dont know if i would call it imperial though at this abv, under 7%, but the grain body and character certainly seems imperial. its unique for such a light grain in color and flavor and texture to be used so aggressively that its enormous. i mean, this is colossal in body and has a real grit to it. cool in a light grain, where the flavor is still real light, more german than czech, but honestly more american than either, with a decent hop finish to balance all the grain, but doesnt seem noble region at all, more bitter less grassy. carbonation is awesome, lightening the beer, its for sure a beer drinkers pils. creamy feeling even still, and full flavored. surprising when you expect a normal pils, but a good surprise. i liked this pretty well.
841 characters
3.67
/5
rDev
-2.1%
look: 4 | smell: 3.75 | taste: 3.5 | feel: 3.75 | overall: 3.75
Pilsner 37 from Orlison Brewing Co.
Beer rating:
3.75
out of
5
with
10
ratings