E & O Tap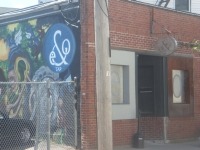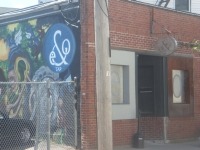 PLACE INFO
Type:
Bar
289 Knight St
Providence
,
Rhode Island
, 02909-1132
United States
(401) 454-4827 |
map
eotap.com
Notes:
No notes at this time.
Added by aaudette on 05-24-2009
Ratings: 7 | Reviews: 7
Reviews by Jwale73:

3.7
/5
rDev
-3.6%
vibe: 4 | quality: 3.5 | service: 4 | selection: 3.5
Had heard a few good things about this place and met up with a fellow BA who wanted to meet up for a drink and suggested E&O. I have to say that I hit it early after work on a Friday, so there were only about 10 patrons in the bar (definitely regulars) and two bartenders. E&O is not a big place by any means, but it's comfortable. L-shaped wooden bar has about 15 seats and there's a couple tables here and there. Rockabilly was playing in the background and they had a basketball game playing on one tv and a Richard Pryor stand-up dvd projected by an LCD projector onto a screen on another wall. Taplist was primarily American craft and reasonably priced at around $5-$6 per draft. Offerings included Harpoon 100 Barrel ESB, Abita Turbodog, Abita Restoration, Cuvee des Jacobins Rouge, Harpoon IPA, Left Hand Milk Stout on Nitro, BBC Shabadoo, Old Speckled Hen, Guinness, Olde Burnside Penny Weiz, a house Berlinner-Weisse with syrup, a Marzen, Kapuziner and one or two others that elude me. Previous posters have commented on service being an issue, but I didn't have that experience. Servers were attentive, prompt and friendly. E&O is a dank, grungy, neighborhood bar, but it is laid back and a decent place to pull a pint. Are there better beer bars in RI - sure, but E&O has a little somethin', somethin' in my opinion. I would definitely hit it again in the future.
1,374 characters
More User Reviews:
4.61
/5
rDev
+20.1%
vibe: 4.25 | quality: 4.5 | service: 5 | selection: 4.5
Went on a Saturday night after reading a review. If you like a local dive feel, but cap it off with great beer , this is your palce. Bartenders very attentive,good music. Mike the owner was having a free crawfish boil for the customers on the outside back patio. Talking to him, he says he'll do things like this quite often. Seats were available at the bar and tables lining the back wall with a couple big screen tv's. Would definitely go back, it is a though as a another reviewer said a younger crowd,although on this night there was a good mix age wise.
558 characters
3.8
/5
rDev
-1%
vibe: 3.5 | quality: 4 | service: 4.5 | selection: 3
I went to this bar after reading the reviews here. The atmosphere was as described, very local vibe & not very beer geeky at all. I stopped in on a Saturday night to watch the Stanley Cup (BOS/VAN), decided to cheer on with some actual locals.
I have to say I felt a little out of place but eventually started conversation with a few people. Both bartenders were extremely awesome, both chatted beer with me & had great, nice personalities.
I had some Magic Hat Odd Notion that I hadn't seen or heard of before. Enjoyed it greatly, unfortunately I had three or four and the keg blew. I went onto have UFO; none of the other beers were interesting to me personally although I'm sure you could find something you like. As noted, the lines must be well taken care because the beers tasted great.
The bathroom was a little dingy, as previous reviewers has said, but that never bothers me, and there are definitely worse bathrooms out there-
Being from NJ/NY, the price was inexpensive.
I would definitely visit again if I ever go back to RI. I would recommend this bar if you like a bit of dive and enjoy good beer. Undoubtedly, go here if you're on the younger side and can handle the music & people being loud.
1,215 characters

3.93
/5
rDev
+2.3%
vibe: 4.5 | quality: 4 | service: 4 | selection: 3.5
The atmosphere scores on this place will likely vary by a wide margin, but this is the kind of dive bar I enjoy. Walked in on a Saturday night (5/29) and they were showing The Big Lebowski on the projection screen, so immediate positive points in my book. It's kind of a grungy place filled with hipster types (a lot of tattoos, piercings, facial hair, and dyed hair), but I didn't feel out of place. Had a decent selection of beers on tap, all marked on a chalkboard with prices. Maybe 12+ taps, beers that I remember were Abita Purple Haze, Harpoon Single Hop ESB, I think Weheinstephaner, and my personal choice for the evening, Ithaca Flower Power. Flower Power tasted extremely fresh and was delicious. Bathroom was a bit rough (though I'm told the ladies room is much nicer) with ICP drawings on the wall, but it was functional. Once Lebowski finished, the Lakers game was put on the overhead. It was a pretty relaxed vibe and the bartender was attentive, but not overly friendly, but that's to be expected as we sat at a table rather than at the bar and the bar itself was filled with locals/regulars. If I lived in Providence, this would likely be my preferred hangout. We tried to go to Julians first, but there was no place to sit and the inside was incredibly hot and muggy. I'm glad we chose the E&O, I'll definitely try to make it back next time I'm in Provy.
1,372 characters

4.28
/5
rDev
+11.5%
vibe: 4 | quality: 4 | service: 5 | selection: 4
after reading the other reviews of the e & o, i feel it neccessary to state that i always feel when you review a place that you need to review it in the context of what it is. example: a self proclaimed beer bar should be held to much higher standards then a regular straight up bar and a restaurant shouldnt be compared to a bar, etc etc.
the e and o is a fun, loud and sometimes surprisingly innovative (with its crawfish boils, soccer brunches, free hot dog days or whatever) neighborhood bar,
if i didn't know anything about the place and i walked in i might expect to be luchy to find sam adams on tap, but when you saddle up to the bar and you see one or two belgians and the rest are all american crafts, its kinda a home run in my mind.
e & o is not a place i can get to often but when i do, its certainly a relaxing spot to hang, play shuffle board or watch holy mountain on the big screen.
every time i go there, the owner mike shakes my hand and i get great service from his folks behind the bar.
i always have a great time and i send folks there frequently. i suggest you give it a try, and i bet if you get mike kelly on a roll of telling you how it is you wont be able to stop laughing.
1,207 characters

4.14
/5
rDev
+7.8%
vibe: 4 | quality: 4 | service: 4 | selection: 4.5
It is a rough bar, not a biker bar, more one for weird locals. The bathrooms are dirty though the main area is spotless (cleanest concrete i've ever seen), the music is loud and seems to usually be thrash or grindcore, but they have unique list of draft beers and almost only whiskey for spirits. Infrequently visited by RISD/Brown students as they find it too much of a walk from campus, as such the patrons seem primarily to be local 20/30-somethings and crazy older folk. It is a local bar, with locals. I wish they still had free pool though.
546 characters
2.41
/5
rDev
-37.2%
vibe: 2.5 | quality: 3.5 | service: 1 | selection: 2.5
If you are looking for loads of RISD hipsters, incredibly loud music, and bad service then this is the place for you. If you aren't a regular, and if you aren't wearing the latest hipster rags, then don't expect the bartenders to pay you much attention. Even when they do, they never know much about the beer on tap. The regulars will give you a dead eyed hipster stare and won't talk to you and if you go at night the music is so loud conversation is impossible anyway. A couple in interesting draft selections are always there but if that is what you are looking for there are much better options to be found in the area.
623 characters
E & O Tap in Providence, RI
Place rating:
-
out of
100
with
7
ratings