Black Creek Canada 150
| Black Creek Historic Brewery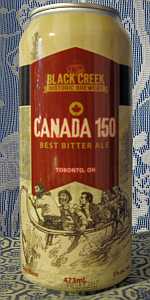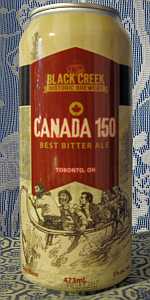 BEER INFO
Brewed by:
Black Creek Historic Brewery
Ontario
,
Canada
blackcreekbrewery.ca
Style:
English Bitter
Alcohol by volume (ABV):
5.00%
Availability:
Year-round
Notes / Commercial Description:
No notes at this time.
Added by mrcasual on 05-25-2017
HISTOGRAM
Ratings: 12 | Reviews: 6
Reviews by CAMRAhardliner:

3.88
/5
rDev
+3.7%
look: 3.75 | smell: 3.75 | taste: 4 | feel: 4 | overall: 3.75
Pours deep mahogany with ruby glints. The Bubbly tan head is short lived but musters up a lot of lace patches. Chocolate malts and cookie dough mix with leafy English hops in the nose. Chewy, chocolatey, doughy, bready malts dominate in the taste. Earthy, leafy English hops (Fuggles?) provide good balance and a light bitterness. The mouthfeel is medium bodied with a sparse cask-like carbonation. Doughy malts and light bitterness in the short finish.
A great malt-centric Bitter. Worth a try for anyone into session beers or English ales.
549 characters
More User Reviews:

3.93
/5
rDev
+5.1%
look: 4 | smell: 3.5 | taste: 4 | feel: 4 | overall: 4.25
Tallboy can from the LCBO; dated July 28 2017 and served slightly chilled.
Pours a dark, clear copper-chestnut colour with crimson highlights, featuring two fingers of spongy, light beige-tinted head that gradually erodes over the next ten minutes or so. A thin cap and collar of creamy-looking foam are the primary remnants, though a good swath of lace has also been splattered against the glass. Looks good to me, but as for the aroma, nothing really leaps out - there's some leafy, grassy hop notes in there, strewn amidst butterscotch toffee sweetness, as well as minor hints of prune and toasted nuts.
A fine bitter ale, and a fairly traditional example of one. Lightly toasted malts evoke flavours of bread and nuts, with light caramel/toffee sweetness remaining steadily present throughout the sip. Suggestions of plummy dark fruit become apparent by mid-sip, with leafy, grassy, distinctly European hops imparting an earthy bitterness to the finish, which also includes a note of minerality. On the lighter side of medium-bodied, with gentle carbonation that weakly nudges the surfaces of the palate, resulting in a soft, very smooth texture.
Final Grade: 3.93, a worthy B+. Black Creek's Canada 150 Best Bitter Ale may be (not-so-subtly) taking a free ride on this year's wave of Canadian patriotism, but rest assured it's more than a throwaway gimmick - it's actually a pretty darn good bitter in its own right. This brewer hasn't been very prolific as of late, with their Apricot Ale being the only other 'new' Black Creek product I can recall spotting at the LCBO within the last two years - but this bitter is a good reminder as to why I still have some lingering nostalgia for this outfit: their ability to produce faithful, quality interpretations of traditional British ale styles. Anyone with a penchant for sessionable English-style pub ales can consider this a safe pick-up.
1,896 characters

4.07
/5
rDev
+8.8%
look: 3.5 | smell: 4 | taste: 4.25 | feel: 4 | overall: 4
Review from notes. 473ml can served fairly cold into a pint glass. Purchased for about $3.15 CDN per can.
Appearance- a clear brown coloured brew. Small and thin half finger of tan head sits on top. Vey modest retention.
Smell - leafy and herbal. Dark fruit and molasses, especially as it warms. Very aromatic.
Taste- some bitterness, hints of molasses and licorice. Dark fruits throughout and I found that plums are most prominent. Light yet a sticky toffee flavor mixed in for good measure.
Mouthfeel - smooth and medium bodied. Carbonation is medium low but overall texture is spot on.
Overall - a very tasty and enjoyable bitter. Will have to pick up some additional cans while in stock.
Update July 24, 2017. I have picked up additional cans and enjoyed this at all temperatures, cold, cool, room temperature, it always tastes good, but is optimal around 12 degrees. Also on a side note, this beer helped spawn a trip overseas, which I'm looking forward to in the near future.
987 characters
3.69
/5
rDev
-1.3%
look: 3.5 | smell: 3.25 | taste: 4 | feel: 4 | overall: 3.5
Amber filtered with almost no visible carbonation, and topped with 7 fingers of beige head.
Smells of malts, plastic, and hints of toffee.
Tastes of toffee, caramel and black tea.
Light body with little carbonation.
Drinking by the still frozen Lake Muskoka, April 7th, 2018. Decent flavour for the style.
310 characters
3.77
/5
rDev
+0.8%
look: 4 | smell: 3.75 | taste: 3.75 | feel: 3.75 | overall: 3.75

3.62
/5
rDev
-3.2%
look: 3.75 | smell: 3.5 | taste: 3.75 | feel: 3.5 | overall: 3.5

3.75
/5
rDev
+0.3%
look: 3.75 | smell: 3.75 | taste: 3.75 | feel: 3.75 | overall: 3.75
Pours dark amber with some reddish hints. The head, foamy at first, reduces to a thinnish creamy head that leaves moderate lacing. Aromas of bread, yeast and light notes of dried fruit. Taste: nuts, dried raisins, toast, and a moderate bitterness throughout the length of this beer. Made by a brewery focused on historic processes to celebrate the 150th anniversary of Canadian Confederation, this is a fitting if not equally memorabke offering.
445 characters

3.77
/5
rDev
+0.8%
look: 4 | smell: 3.75 | taste: 3.75 | feel: 3.75 | overall: 3.75
3.25
/5
rDev
-13.1%
look: 3.25 | smell: 3.25 | taste: 3.25 | feel: 3.25 | overall: 3.25
3.69
/5
rDev
-1.3%
look: 3.75 | smell: 3.5 | taste: 3.75 | feel: 3.75 | overall: 3.75
4.28
/5
rDev
+14.4%
look: 4.5 | smell: 4.5 | taste: 4.25 | feel: 4.25 | overall: 4
Absolute malt bomb. Only discernible hop presence is the dank mouthfeel on the finish. Really really nice if malt is your thang.
128 characters

3.16
/5
rDev
-15.5%
look: 3 | smell: 3.25 | taste: 3.25 | feel: 3 | overall: 3
Simple stuff. Malty and bitter. Some caramel in tbe nose alongside the malt and a hint of grain. Thin bodied, a hint of metal. Lingering bitter finish. Headless, laceless, the colour of strong tea. I usually enjoy stuff out of Black Creek, but this one just strikes me as a bit subpar for them.
294 characters
Black Creek Canada 150 from Black Creek Historic Brewery
Beer rating:
3.74
out of
5
with
12
ratings