Dismiss Notice
Beer Fest II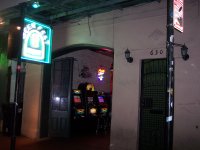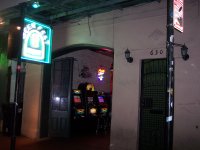 PLACE INFO
Type:
Bar, Beer-to-go
630 Bourbon St
New Orleans
,
Louisiana
, 70130-2108
United States
(504) 525-3010
// CLOSED //
Notes:
No notes at this time.
Added by TeeCee on 05-27-2009
PLACE STATS
Reviews:

8

Ratings:

pDev:

19.71%
HISTOGRAM
Ratings: 9 | Reviews: 8
Reviews by deanhead:

2.6
/5
rDev
-23.5%
vibe: 2 | quality: 3 | service: 2 | selection: 3
I found myself strolling down Bourbon street with several friends. They were enjoying some frozen Hurricane drink thingy out of Styrofoam cups and not wanting to feel left out, I popped into Beerfest in hopes of finding an cold beer to go.
Walking into this place was like walking into the basement of a fraternity house party. No sooner then I crossed the threshold into the bar, my feet were immediately sticking to the floor. The place was smokier than a fire in a hops warehouse.
The tap selection was mediocre at best. While they did have almost fifty taps on the wall, I'd say almost half were BMC offerings, and the other rest were a smattering of okay offerings. The only beer that really caught my fancy was the Pilsner Urquell. I opted for an imperial pint in a plastic to-go cup. Twenty ounces of straw colored bliss! Then it hit me....Ten bucks for a beer. Where am I Fenway?
While my friends got to enjoy their 8.00 high octane frozen drinks, i got ripped off for a 20 oz beer. Sheesh!
I would recommend going to a bottle shop or supermarket and getting a to-go cup over this tourist trap any day. I'm not one to suggest avoiding a place, but between the vibe, the sticky floor, and the beer prices, I'd say pass on this place. Your'e not missing anything.
1,274 characters
More User Reviews:
3.48
/5
rDev
+2.4%
vibe: 2 | quality: 4 | service: 3 | selection: 4
This is basically my same review for Beer Fest I with a few changes, but before you even bother with that, read the reviews prior to mine for more detail.
#1 point to be made is... yes, they offer "2 for 1" beers at $10.50 - that's $5.25 a beer, served in a plastic "to-go" cup.
You cannot get glass, and you cannot get a different beer than you originally ordered (although I guess that really depends on the bartender, the time of day, and so on). Remember that you can stop in, have a beer, and then take your refill with you!!!! (Hopefully on the way to d.b.a., or even Turtle Bay - or maybe even Cooter Brown's out in the Black Pearl district).
That said, it's a good selection, and they're probably correct that it is indeed the largest selection in New Orleans, but for BeerAdvocates most of us have already seen it, and almost all of the local stuff can be found elsewhere (we know where to find it). I was happy to find some decent domestics, but the imports were fairly basic. Freshness worried me, thinking that maybe only the mainstream stuff sold, but I didn't find that. In fact, almost half of their taps were kicked as they'd turned them during the French Quarter festival (not to worry, there's always a festival going on!).
I stopped in early ~ noon-ish on a Monday and it was dead ~ but my wife and I had a "restorative" pint, and then took the second one with us to find a grocery store that supposedly had "the best Po' Boys" (that turned out to be questionable at best).
As for appearance and atmosphere, most of Bourbon Street is really just made up of dirty little "hole in the wall" kind of places and it doesn't take long to find that out. They'd just finished cleaning up when we'd arrived, and it still looked dirty - it's the kind of dirt that you just can't wipe away. But it's the people that make the party. Stop in during the day and it looks like crap, but come back at night when it's full and it looks a lot better. Having visited both Beer Fest's I'd say that number "I" is the cleaner and nicer of the two. In the end though, it doesn't really matter.
2,096 characters
3.48
/5
rDev
+2.4%
vibe: 3.5 | quality: 3 | service: 3.5 | selection: 4
I was down in New Orleans last week and after checking in at our hotel, we made it a priority to stop at Pat O'Brien's for lunch and Hurricanes. After finishing at Pat O'Brien's we strolled down Bourbon Street. Taking in the sights and sounds, we decided to make a pit stop at Beer Fest II for a couple of beers.
We stopped by on a Wednesday afternoon, so the place was fairly empty. That is a good thing in my book, as I can only imagine how crowded and raucous the vibe gets as the night progresses.
As with most of the bars in the area, this place is down & dirty (in a good way), dingy and raw. With a nod to the debauchery vibe that epitomizes Bourbon Street, you'll notice countless bras hanging from the ceiling. There a few video poker machines for your enjoyment as well. I also noticed some random NFL team banners (Chiefs, Bills, Bengals, Broncos, etc.)
There is a huge wooden bar to the right when you enter that showcases an extensive amount of taps. Highlights included Abita (Turbo Dog, Jackamo IPA), SNPA, Stone Arrogant Bastard, NOLA Brewery Blonde, Covington Strawberry Ale, Hopitolus and many more. Beers are served in plastic cups, obviously not ideal, but that is a nice pay off for the ability to walk around the streets with a craft beer in hand.
I've read other BA reviews that complain about the pricing and I was aware of this concern going in, but I don't get it. I think I paid $21 for a round of two 20 oz craft beers, but remember this place offers 2 for 1. So, it's about $5 for a 20 oz craft beer really a "rip off"? I think not. Man, I love the NOLA 2 for 1 philosphy.
This place is what it is. Don't go in with huge expectations, it's dive bar on Bourbon Street that offers some craft beers.
I miss New Orleans already.
1,761 characters

2
/5
rDev
-41.2%
vibe: 2 | quality: 2 | service: 1 | selection: 3
BEWARE!!! do not go here. there is a fair selection of decent craft beer, however all at the same place....$10.50 per pint!! every single beer there, even the Abita brews are $10.50!! the entire point of this bar is to deceive tourists in to ordering drinks and then giving you a large check. Even if you have the money, the beers aren't THAT great and the atmosphere is loud and hectic.
Atmosphere: small, dark, gross...its bourbon street..
Quality/Selection: has a decent selection of local craft beers.
Service: very rude and deceiving
AVOID!!!
551 characters
2.95
/5
rDev
-13.2%
vibe: 1.5 | quality: 3 | service: 3.5 | selection: 3
Saw the sign the other night and stopped in. They have an L shaped back bar where all the tap faucets are mounted. I looked at them all (about 40) and found 2 or 3 that I hadn't tried: a couple of Lazy Magnolias and an Abita. Beer was served in a large (20 oz) plastic cup and was pricey. They had a couple other folks coming and going and oddly, some of them were there for the gelato stand inside the door. Above the taps were loads of cheezy, gimmicky plastic beer drinking contraptions in wild colors. Dirty ashtrays on the bartop. Bartender was a pleasant enough fellow. Don't plan on returning.
600 characters
2.64
/5
rDev
-22.4%
vibe: 2.5 | quality: 2.5 | service: 2.5 | selection: 3
Beerfest I and II are strictly for tourists. It is my recommendation that you stay away from these places. The beer is overpriced and truly doesn't represent at all the great availability we have here in New Orleans. They have 50 taps but you'd be lucky to see 25 actually pouring. I'd be interested to see if the lines ever get cleaned. The fact that you are on Bourbon Street means you'll be paying out the ass for beer that isn't worth it. Stay away tourists! If you want good beer this is not the place to go!
513 characters

3.95
/5
rDev
+16.2%
vibe: 2.5 | quality: 4 | service: 4.5 | selection: 4
Just as their sister location was on the left side of the street, they were on the right. Layout had both taps and bottles on right side with an auxiliary bar left. I liked their pressed tin ceiling. Laminated blonde wood bar, left wall was exposed brick with several games, a CD jukebox and a cigarette machine. Katie, our server, was kind enough to give me some stickers for my notebook. Of the two, I would probably hit the other one but they are in close proximity to each other so it becomes a moot point.
510 characters
3.94
/5
rDev
+15.9%
vibe: 3.5 | quality: 4 | service: 4 | selection: 4
There are two Beer Fest's on Bourbon: this one and another in the 400 block. Google Maps calls them Beer Fest I and Beer Fest II. I have only been to Beer Fest II in the 600 block of Bourbon. I asked and this one was listed.
I found this place during the French Quarter Fest this year. I was surprised to find a place with a good beer selection on Bourbon Street.
The beer selection is very varied as previously mentioned (see reviews of the other Beer Fest), with no pattern. I recall that the may have had Optimator (my favorite beer style), but it was out. They had Maudite on tap and it was not out. I had it, even though my instict was that it probably didn't sell well and was probably old. The beer was fine, though.
The place was dead as it was Saturday in the middle of the day (and then again Sunday in the middle of the day). It felt like a typical Bourbon Street bar: dark, open, bland. They had Bonerama playing on the PA system and the bartender knew who they were. That's points all around. I have no idea how the place may be at night. I do know that next time I get stuck going to Bourbon Street, there are two places I can go to get good beer: Beer Fest I and II.
1,184 characters
Beer Fest II in New Orleans, LA
Place rating:
3.4
out of
5
with
9
ratings