Fireside
| Greene King / Morland Brewery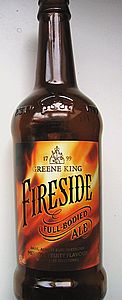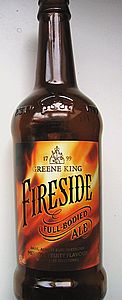 BEER INFO
Brewed by:
Greene King / Morland Brewery
England
,
United Kingdom
greenekingbeers.co.uk
Style:
Winter Warmer
Alcohol by volume (ABV):
4.50%
Availability:
Fall
Notes / Commercial Description:
No notes at this time.
Added by wl0307 on 10-21-2005
HISTOGRAM
Ratings: 11 | Reviews: 7
Reviews by gulden:

More User Reviews:
3.43
/5
rDev
-3.7%
look: 4 | smell: 3.5 | taste: 3.5 | feel: 2.5 | overall: 3.5
My bottled review of this beer (Nov 2008) reads a lot differently to this: with one or two trends common!
Hand pulled pint in some random pub (The Anchor), Cambridge, England.
'Late hopped for a mellow fruity flavour' according to the brewery: let's see if I agree.
Dark Chestnut brown/red with a cream coloured crown of foam; looked OK.
Malts in the aroma, roasted ones, add some candied fruit and nuts for good measure.
The flavours also on the malty side, again with some hints of dried fruits and nuts: on the sweeter side more than dry or citrusy in taste.
The body was thinner than it looked, no true depth at all considering the brewery claim it is a 'Winter Warmer'.
Nothing wrong with it, a dark coloured bitter with a pleasant enough blend of ingredients, easy to drink and inoffensive: however I couldn't find any evidence of that 'Late hopped for a mellow fruity flavour' stuff.
As an overview: just another Greene King beer to flood the market with, most likely made from a regular base brew and tinkered with.
1,047 characters
3.75
/5
rDev
+5.3%
look: 4.5 | smell: 4.5 | taste: 3.5 | feel: 4 | overall: 3
This "sipping" ale as stated on the pump clip, poured a stunning deep and clear ruby. A nice tan head left very nice sheets of bubbly lacing, Citrusy aroma a bit of a surprise but nice. Taste was dominated by a sharp hop finish that i wasn't sure I liked all that much until my meal seemed to alleviate it. This is a good food beer. Liqorice notes were evident, not as smooth as most cask offerins but really an O.K. beer. As I said it's better when paired with food.
467 characters
3.2
/5
rDev
-10.1%
look: 3.5 | smell: 3.5 | taste: 3 | feel: 3.5 | overall: 3
500ml bottle from Sainsburys...
Poured a light reddy brown colour... Slightly off white head poured thick and foamy then faded quite quickly to light ring. Faint carbonation bubbles drift to surface... no lacing at all...
Aroma - Lightly toasted bready malts, spicy fruits (oranges, figs, apples), light smokey notes, woody, nutty sweetness, peppery, salty, some red wine vinegar notes, fruit cake traces, spicy hops...
Taste – Faint toasty malts, watery / washed out fruits (oranges, some figs), light woodiness, decent peppery hop bitterness, some rum traces, some malt loaf notes... Nothing really comes to the fore - pretty bland...
M&D - Pretty smooth... light / medium bodied... fairly drinkable but a bit too boring to be enjoyable...
Overall - A very average beer - typical Greene King brew. Probably could have been something pretty good with a bit more work... just about worth a try though...
919 characters
2.72
/5
rDev
-23.6%
look: 3 | smell: 3.5 | taste: 2.5 | feel: 3 | overall: 2
Appearance: dark copper, great clarity, tannish suds that bubble vigorously and dissipate to almost nothing
Aroma: somewhat soapy hoppiness, toffee, cocoa
Flavor: mild malt sweetness with a slightly tart edge, hint of citrus (orange perhaps?), finishes dryish with a lingering acidity
Mouthfeel: medium body, light carbonation, slightly minerally
Other comments: Maybe it's just my mood, but this beer is quite boring. Now, GK is not really known for exciting beer, but they do make one of my top ten favorite British ales: Olde Suffolk Strong Ale.
560 characters
4.03
/5
rDev
+13.2%
look: 4.5 | smell: 4 | taste: 4 | feel: 4 | overall: 4
The colour is deep amber; the beige foam forms a compact firm finger thick head with a small crater.
A citric fruity bitterness dominates the smell. There are also notes of dry metallic bitter hops and caramel-sweet malt. Nice and balanced.
The taste got notes of citric fruits, dry bitterness. A large semi-sweet full-bodied body passes into a flavour of strong wine with sweet lemons. The aftertaste got a fresh bitter taste with notes of burned malts and caramel.
The carbonation is stronger than I had expected, but the small bubbles prevent the beer from being too heavy. A really nice winter warmer, this one!
626 characters
3.71
/5
rDev
+4.2%
look: 4 | smell: 3 | taste: 4 | feel: 3.5 | overall: 4
Served in a half-pint glass.
A: Red-brown, clear, creamy head. It looks like autumn.
S: Some hops, some citrus.
T: Creamy, sweet, and delicious. Smooth, a bit washy, but with some nutty malts. Hops make a brief appearance right at the end. The aftertaste is slightly tart.
M: Round, a bit drying, and a little sourish.
D: Definitely drinkable. Smooth, light, and pleasant.
377 characters

4.07
/5
rDev
+14.3%
look: 4 | smell: 4.5 | taste: 4 | feel: 3.5 | overall: 4
Seems to be a new beer by the ever-expanding regional brewery, Greene King. It comes in a 500ml brown bottle, with a BB date of 20/06/06.
A: served in a goblet it pours a dark amber hue, with a reddish hint against light. Nice gentle carbonation, while the initially thick beer head settles rather fast to just a thin carpet of foams.
S: wow... if I'm not mistaken, it smells almost like an aromatic Belgian pale ale with a touch of Witbier?! with that special citrus/lemony+spicy+aromatic yeasty, floating aroma of lightly candyish malty overtone decorated with perfumy, flowery hop aroma... It's behond my ability to be more specific about the exciting nose, but it's really exotically fruity for an English beer for sure. After swirling, the beer's dancing elements reminiscent of Belgian ales softens and a more traditional English hop aroma, like Goldings, with its richer citrus+strongly-scented floral hop edge struggles through from underneath. Overall, the aroma is very nice, like a hybrid of Belgian pale ales and English malty ale.
T: on the palate, any suspecion of it trying to replicate Belgian pale ale is dispelled, for it tastes like a quality English beer for sure--a mouthful of biscuity malts upfront, chewy and firmly grainy, combined with a smooth floral and lightly sour-sweet citrus (more orange than lemon now) hoppyness creeping through and leaving a slightly spicy (coriander-seed like) bitterness attached to the deep end of the tongue, bearing a Greene King's special, slightly spicy yeast trademark as evinced vividly in their Abbot Ale. A nice tangerine-accentuated, even remotely marmalade-like, fruity and malty finish, with lingering moderate bitterness and a slightly tangy touch.
M&D: a bit sharp initially in each sip, given the abundant yet invisible carbonation, but it turns softer and smoother as the flavour gradually develops, though it does become a bit thin in the very end. Overall a medium-bodied and flavoursome ale, this is IMO one of the rare, better offers from the Greene King for quite a while.
2,054 characters
Fireside from Greene King / Morland Brewery
Beer rating:
3.56
out of
5
with
11
ratings