Old Crafty Hen
| Greene King / Morland Brewery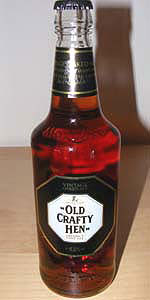 BEER INFO
Brewed by:
Greene King / Morland Brewery
United Kingdom (England)
greenekingbeers.co.uk
Style:
English Strong Ale
Alcohol by volume (ABV):
6.50%
Availability:
Year-round
Notes / Commercial Description:
A strong fine ale combines the malty taste with a smooth raisin finish.
Challenger provides a key herbal dry hop character, First Gold and Goldings give some citrus fruit and crystal malt provides warming toffee in the main beer of this blended ale. The use of some old 5X 12% ale adds dried fruit and raisin and produces a complex flavoured and richly satisfying ale. The tradition of brewing a Strong Suffolk Ale and maturing in Oak Vats is one that unlike other UK brewers, GK have continued - the practice is mentioned in 1810 in connection with GK.
Added by GreenCard on 10-17-2008
Reviews: 83 | Ratings: 259
4.13
/5
rDev
+9%
look: 4 | smell: 3.5 | taste: 4.5 | feel: 4.5 | overall: 4
16 oz bottle poured into a pint glass
A - copper body with no little carbonation present. nice fluffy off white head two fingers thick. very good retention and ok lacing.
S - toffee caramel sweet malts and raisins.
T - caramel and sweet malts and raisins most present here. nice oak flavor as well. theres a pretty decent grassy hop bitterness to it (more than I expected at least). really tasty stuff.
M - moderate carbonation. unbelievably smooth with a good dry finish nice astringency and nice feel of alcohol on the tongue and throat, its subtle but its there.
O - very good brew so glad its finally made its way state side.
★
634 characters
4
/5
rDev
+5.5%
look: 4 | smell: 4 | taste: 4 | feel: 4 | overall: 4
Coming in a 500ml transparent glass bottle, not bottle-conditioned; BB 08/2011, served cool in Gulden Draak's tulip-shaped glass. Note: this ale is "brewed with a blend of the famous Old 5X, which is aged using [Greene King's] vintage oak vat maturing method".
A: pours a bright tawny to reddish copper hue, coming with a fast retreating fluffy beige head and rather mild carbonation.
S: the smell is lightly sweet, mixed of crystal malts, melted Demerara sugar, sweet oakiness imparted by the oak-ageing process and a light, pleasant touch of buttery diacetyl. A swirl and a closer sniff bring to mind white plum jam, semi-banana estery fruitiness, banana oil and deeply sweet honey-ish notes (along the lines of an English Barley Wine, in fact). All in all this is very different than the old Strong Suffolk Vintage (bottle-conditioned) which seems to have disappeared from the UK market (?) – this one shows much more straight-forward sweet fruitiness and much less lactic-oaky complexities, while the sweet oakiness seems to be more pronounced.
T: the lightly effervescent swallow of nice semi-sour fruitiness (marinated yellow plums, sultana, and orange jam mainly) mixed with an old/stale-ish, faintly salty feel of aged ale is underlined by the delicately oaky flavour, gristy brown malts, and a chewy & faintly spicy palate (from both hops and ageing, I believe), leading towards a pleasantly dry & bitter, somewhat herbal yet also burned-vegetable like finish, where aroma of bitter herb powder lingers subtly along with lightly toffee-ish maltiness.
M&O: the mouthfeel is mellow and smooth, the body is medium-plus and the flavour is decent though not really complex enough. I think this blend is not bad at all – I'm wondering what it might be like if bottle-conditioned…?
★
1,800 characters
2.95
/5
rDev
-22.2%
look: 4 | smell: 4 | taste: 2.5 | feel: 2.5 | overall: 2.5
500 mL clear bottle poured into a pint glass.
A: clear brown beer with a thick-ish head and plenty of lacing
S: sour, mushroom/earthy, and fermented
T: alcoholic with a sweet aftertaste
M: first sip or two is actually numbing to the tongue, has a syrupy thickness to the feel/body
D: not bad, but not great either. The higher 6.5 (for English ales) makes it less appealing in some ways, BUT that is characteristic of the style.
I've only tried two old ales at this point (Old Peculiar and this one) and I definitely prefer OP over OCH.
★
541 characters
2.93
/5
rDev
-22.7%
look: 4.5 | smell: 4 | taste: 2.5 | feel: 2 | overall: 2.5
What a rip-off almost 3 quid for a pint sized bottle in Sainers. But it looks very good, promising almost:
A - A beautiful ruby to dark fawn colour - this must be great
S - Smells lovely also - fruit notes, hops, some malt and spiciness
T - Now it starts to disappoint it s not hideous but just a bit bland with a confused taste of a bit of everything
M - Too stale and manages to be dry also
D - I would not recommend this beer and probably not drink it again myself unless in dire need. Stick to Old Speckled Hen for a tastier AND mor affordable experience
★
563 characters
3.85
/5
rDev
+1.6%
look: 3.5 | smell: 3.5 | taste: 4 | feel: 4 | overall: 4
500ml bottle bought from Sainsburys..
Poured a deep coppery amber colour. Slightly off white head poured big and fizzy then faded very quickly to almost nothing - maybe just a light ring around the edge... barely any carbonation bubbles... very light lacing lines...
Aroma - Strong sweet caramel / toffee maltiness mixed with decent woody and oaky notes, marmalade, toasted bread, quite nutty, strong marzipan, stewed fruits (figs, pears, some overripe banana), banoffee pie, brown lemonade, quite grainy...
Taste - Good balance of oakiness mixed with toffee and caramel - much better than the aroma indicated... lots of toasted bread, butterscotch, dried fruits (raisins, dates), rum, again some orange marmalade, earthy, light grassy hops...
M&D - Smooth and fairly creamy with a little sharpness coming through... medium / full bodied... very quaffable for a 6.5% brew...
Overall - A pretty good example of an old ale and also of barrel aging done fairly well... a decent GK brew - who would have thought it...
★
1,018 characters
4.05
/5
rDev
+6.9%
look: 4 | smell: 4 | taste: 4 | feel: 4.5 | overall: 4
Poured from a 500ml bottle into two white wine glasses. Thanks to Heidi & Tom Morris for the hook-up! Thanks to HeatherAnn for the assist!
BBE OCT 09
A: Pours a clear, dark orange-brown with just a tiny bit of off-white head and, sadly, no lace. Lazily carbonated.
S: Aromas of toasty malt, white grape/raisin, and hops. Vaguely woody, as well.
T: Toasted malt, white pepper, buttery oak, toffee, raisin, earthy hops, and a pinch of mint.
M: Dry and prickly with just the right amount of stickiness from the oak and hops. Finish is tangy and coating.
D: Very enjoyable and an excellent surprise just brought back from England!
★
632 characters
4.47
/5
rDev
+17.9%
look: 4 | smell: 4.5 | taste: 4.5 | feel: 4.5 | overall: 4.5
It is a sunny yet cold Sunday afternoon in Shropshire and I want a decent pint before my Sunday Lunch. I have choosen this beer from my stash.
The clear 500ml bottle was poured into my 'La Chouffe' tulip glass three times (to catch the aromas and force a good head out of the beer). It had almost a year left of its life, so was fairly fresh when reviewed.
The beer poured a deep rich amber and on each occasion had a well formed off-white foaming head. On each pour the head fell away to a thinner covering and some laceing on the glass.
Oak aged beers always remind me of coal fires and childhood Christmas's, the aromas in this one followed the same trend. A warm and comforting smell, a 'Sod the Credit Crunch', 'Balls to the Recession' type of richness only the well off can have. This is a boardroom of the rich beer.
The taste also brings back memories of sitting round the fire and warmth. A deep malty richness and depth of the body give this beer a really good glow and feel.
The 6.5% is well hidden within the brew and even though it is a mix of two beers (Old Speckled Hen and Old 5X), the blender has got it just about perfect. This is the best GK beer I've ever had.
One small note, 'Old 5X' isn't sold, it is a 12% Oak aged (3 years) brew that is blended into other GK beers.
★
1,296 characters
3.85
/5
rDev
+1.6%
look: 3.5 | smell: 3.5 | taste: 4 | feel: 4 | overall: 4
Appearance: orange brown/ruby, great clarity, thin layer of off-white froth that flattens to a spittle-y layer
Aroma: orange marmalade, Victoria sponge cake, oak, herbally hops
Flavor: medium malt sweetness with a pronounced rum-raisin note; hints of oak, orange marmalade, and pear; finishes semisweet with an oaky bitterness at the back of the tongue
Mouthfeel: medium body, pert carbonation, warming
Other comments: This is their Speckled Hen ale mixed with their 5X Old Ale (aged in oak vats) which is the same beer they blend with to make their scrumptious Suffolk Olde Ale. This makes 2 beers that GK do well!
★
627 characters
Old Crafty Hen from Greene King / Morland Brewery
3.79
out of
5
based on
259
ratings.