The WeekEnd Brewer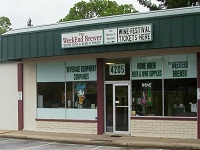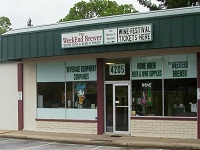 PLACE INFO
Type:
Homebrew
4205 W Hundred Rd
Chester
,
Virginia
, 23831-1734
United States
(804) 796-9760
// CLOSED //
Notes:
No notes at this time.
Added by Todd
PLACE STATS
Reviews:

13

Ratings:

pDev:

11.93%
HISTOGRAM
Ratings: 13 | Reviews: 13
Reviews by nandemo1:
4.47
/5
rDev
+6.7%
vibe: 3 | quality: 5 | service: 5 | selection: 4
Nice little home brew shop that has pretty much everything you need when you're starting out. I have purchased odds and ends here, a wort chiller, some flasks, etc, but have not purchased ingredients. It seems like they have a lot of stuff, definitely a few different dry and liquid yeast strains in the fridge.
Staff is knowledgeable about brewing and will spend time with you answering questions. I'll be in there again next time I'm looking for something.
Only issues I have are that they are out of the way and they don't have evening or Sunday hours. It's about a 45 minute ride from the Far West End of Richmond to the store in Chester.
644 characters
More User Reviews:

4.07
/5
rDev
-2.9%
vibe: 4 | quality: 4 | service: 4.25 | selection: 4
Very, very nice folks here. They take their time with everyone that asks anything of them yet somehow don't make people wait around either. Selection is also pretty good.
170 characters

4.2
/5
rDev
+0.2%
vibe: 3.75 | quality: 4.5 | service: 4.25 | selection: 4
It's a hole in the wall place down in Chester, but they have a great selection and Bob and his wife are both extremely knowledgeable and wanting to help. They have been around for years and set the bar very high for any other homebrew places opening in the greater Richmond area.
279 characters

3.08
/5
rDev
-26.5%
vibe: 2.5 | quality: 3 | service: 2.5 | selection: 4
Three strikes and you're out...
I moved to town a while back and was of course looking for a new homebrew store.. They are a little more expensive, with a bit weaker selection than my old LHBS. But the pricing does seem to be in line with other suppliers in the area... They have marginally better selection that the other home brew store in town, but they are lacking in customer service.
The first time I went in I was expecting a self serve grain selection.. not so.. And that just bugs me.. I'm sure the owners are nice, and wouldn't be doing anything sneaky, but how do I know that for sure... They take a list, and go in the backroom and come out with a bag of grain.. Did they sub one of my malts for a cheaper one? Did they measure out the increments I wanted? I dunno, but with self serve grain I know my grain bill is right, and if not it's my own damn fault.
Second time I went in I was looking for some hardware for my CO2 system.. they had them in stock, but when I asked to see the parts the response I got was: they are pretty standard, and I am sure they will work- I wanted to see them.. hold them.. make sure they fit my existing pieces.. all I got was gruffness.
The final time I went in I was just in the neighborhood and wanted to see if anything had changed.. I was going to pick up something basic and when I went to check out they hit me with a minimum amount for using a credit card. I understand that the credit card companies charge merchants for accepting credit cards but it is still a huge inconvenience when the majority of the world is moving to a digital monetary system.
They may have a better selection, but the customer service has been bad each time I have gone it, this last time was the icing on the cake.. they were worried about loosing a few bucks, and instead lost a customer.
1,828 characters

4.48
/5
rDev
+6.9%
vibe: 4.5 | quality: 4 | service: 5 | selection: 4.5
Great store, helpful employees(employees? its just the owners!), good selection, good prices.
This is a Mom and Pop operation. I love them for it. Take the time to ask questions, they'll help you out to the best of their ability. Be patient, though, during certain hours, they can be very busy, so wait your turn.
Malt and hop selection are very good. Seem to get in new hop varieties every year. Hops are stored in tupperware once the pound bags are opened in closed refrigerator.
Prices are hard to beat, even when compared to online.
Gotta love the nitro-purged LME if you're not all-grain.
Good selection of white labs and all of the standard dry yeasts.
I miss these guys. The Midwest meets Southern additude you get there is something that I can relate to, as a Southerner who spent his 20s in the Midwest.
823 characters
4.94
/5
rDev
+17.9%
vibe: 4.5 | quality: 5 | service: 5 | selection: 5
I've only been brewing for a short time but really look forward to my road-trips to Chester (about 30 miles from where I live). Wife bought my deluxe kit from there and so far the kits I've brewed have been exceptional. I'm getting consistently great beer.
Bob, the owner, is very helpful and friendly.
They have a great selection of kits and ingredients for beer and wine making. If you're in the area and you brew anything, you NEED to stop in and say hello.
They have equipment and kits from the basic stuff all the way up through small business level toys.
563 characters
4.3
/5
rDev
+2.6%
vibe: 4 | quality: 4.5 | service: 4 | selection: 4.5
I've been brewing for about 6 months now, and started coming here about 4 months back. I only twice had the need to order from online stores since. They have Breiss DME and huge tanks of LME, almost any grain you'd ever need, the core White Labs and dry yeasts, kits, equipment, hops, etc etc. I've been able to make consistently good beers with their products.
Pluses:
-Good selection
-Great prices. They consistently beat online stores, even before shipping.
Minuses:
-No Wyeast
-Grain & hop selection is not *quite* as ubiquitous as online stores
-yeast prices are a tad high, but balanced by grain, DME, and hop prices
Overall not perfect but a damn good store for 99% of homebrewing needs.
699 characters

5
/5
rDev
+19.3%
This has been my LHBS for 5+ years. On my first visit, I walked in the store not knowing what I wanted. I told Bob I liked 60 min DFH, he found the clone recipe and filled it.
They have:
-DME
-LME (which is kept fresh w/ nitrogen)
-Kits
-whole hops and pellets
-dry and liquid yeast
They have all sorts of equipment. Including kegging equipment. You can't ask a question that Bob can't answer.
With shipping factored-in, his prices are at least as good as online options.
His website (www.weekendhomebrewer.com), like his store, is charmingly rustic but efficient. Much like an old hardware store that manages to carry at least one of everything.
If you can drive there, do it.
684 characters

4.5
/5
rDev
+7.4%
I'm down in Richmond for school for a few weeks and while I'm away from the home brewery I had to keep occupied by something, so I stopped in to see what the Weekend Brewer had to offer. Wow! What a busy place. When I got there owner and his wife were both assisting someone, and while I shopped the phone was ringing off the hook. After I finished browsing, they were freed up and I had a few questions to ask that were answered immediately. This guy knows what he's talking about. They had everything I needed/wanted. Even a Czech yeast I thought was pretty rare! Wanna buy some hop plants? They got that too. Well rounded and knowledgeable store. Prices are right too. I paid about the same as I would from my online stores, only I didn't have to pay shipping. Will definitely stop in when I'm in the area next to pick up whatever odds and ends I need. Great Homebrew Shop! Only complaint I could possibly have is that I had to wait my turn. Which was really only 5 min.
973 characters
4.65
/5
rDev
+11%
Whether you are a veteran home brewer or a rank beginner, this is the place for you to go if you live in the Richmond-Petersburg area. Excellent stock of malts, hops, yeasts, bottles, accessories, books, labels, equipment, about anything you could want. The service is exceptional. Bob wants you to enjoy home brewing. He is patient and helpful. He starts beginners out with kits, but he has the necessities to handle the most esoteric recipes. Prices seem reasonable. I have never had a bad experience here. Highly recommended.
528 characters
4.3
/5
rDev
+2.6%
I have been dealing with the Weekend Brewer for about two years now. Bob and his wife are very friendly and helpful. When I first started to patronize their store they both made me feel welcomed, like we knew each other for a while. They both answered all of my questions and were willing to provide me with information and advice. The first time I walked into their store and asked for information about brewing my own beer Bob's eyes lit up like a child about to open a gift. He started sharing with me his past experiences about when he was a brewer and why he opened his own home brew store. He explained the different types of yeast's and how they affect the flavor of the finished product. He was, and still is, a wealth of knowledge ready, willing, and able to share it. He started me with kits and I slowly moved up to more elaborate recipes. I now experiment with my own receipes hoping to find a winner and I think I have with a coffee stout, it's excellent. Bob offers a begginers class to which I sent a couple of colleagues, who are now advid home brewers themselves also tapping into Bob's wealth of knowledge. He has quite an assortment of supplies on hand at the store for home brewers and home wine makers which I do as well. I made an excellent Pinot Noir and Lambrusco mix, I call it Pinot Noirbrusco and it is delicious. I utilize the Weekend Brewer for most of my home brewing needs. I have shopped at other stores as well only to find out that they tap into Bob's knowledge and go to him for advice.
I was able to purchase the grains, malt, yeast, priming sugar, bottles as well as all other accessories needed to home brew from the Weekend Brewer. Deffinitely a one stop shop. My next project is to start kegging, botteling is getting tiresome and time consumming. The Weekend Brewer sells kegging supplies as well.
I first visited the Weekend Brewer not knowing what to expect or do. I now experiment with my own recipes and owe it all to Bob.
1,973 characters
4.45
/5
rDev
+6.2%
I shop for all of my homebrewing ingredients at the weekend brewer. I could walk about 3 block from my house and get some stuff, but that location is expensive and has a terrible selection. I drive about 20 minutes to get here, and love it everytime. Bob is a great guy, and although slightly eccentric, he is invaluble in helping to perfect a recipe, or to give you tips on brewing and additions.
They have never been out of stock, or not carry something that I need. Everything I've ever wanted has been there. The only problem with the store, is that sometimes it is TOO well stocked, and every time I go there, I end up spending $20 on pariphanelia that I don't "need", but I end up getting anyways. Thier prices are good, but you see so much other stuff that you end up buying, I usually end up spending about $75 per batch of beer, due to the other stuff I buy.
All in all, it's the best homebrew store I've ever been to, and they will continue to get my business for years to come.
995 characters

4.65
/5
rDev
+11%
This is my local homebrew shop. I know of no other that compares to The Weekend Brewer. They have helped me put together every recipe that I throw their way. They also provide great equipement to get the job done right. The Weekend Brewer is a mom and pop shop that delivers the right kind of care and attention required to make outstanding brews. Being a dedicated part of the local beer community, the folks at The Weekend Brewer are quite active and participate regularly in the the local homebrew club (http://www.jrhomebrewers.org). Anyone within driving distance and is interested in homebrewing needs to visit Bob and Jean at The Weekend Brewer.
652 characters
The WeekEnd Brewer in Chester, VA
Place rating:
4.19
out of
5
with
13
ratings