Pumpkin Patch Ale
| Eddyline Restaurant & Brewery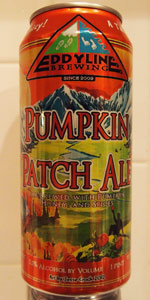 BEER INFO
Brewed by:
Eddyline Restaurant & Brewery
Colorado
,
United States
eddylinepub.com
Style:
Pumpkin Ale
Alcohol by volume (ABV):
5.50%
Availability:
Fall
Notes / Commercial Description:
Brewed with pumpkin, honey and spices.
Added by Todd on 09-08-2013
Reviews: 8 | Ratings: 27
2.58
/5
rDev
-26.7%
look: 4 | smell: 3.5 | taste: 2 | feel: 3 | overall: 2
16 oz can. Pours hazy orange amber with a medium creamy off white head that quickly goes to a thin film that leaves a little lacing.
The aroma is sweet pumpkin pie with a lot of spices - cinnamon, allspice, nutmeg, etc.
The flavor is sweet vegetal pumpkin with very strong perfumey pumpkin spices. The mouthfeel is medium bodied with smooth carbonation.
Overall, too much sweetness and spice.
397 characters
4.09
/5
rDev
+16.2%
look: 3.5 | smell: 3.75 | taste: 4.25 | feel: 4.25 | overall: 4.25
This season I am on a mission to find the best readily available pumpkin beer. This is the winner so far, and for me, second only to Bristol Brewing Company's Venetucci Pumpkin Ale. My search is far from over, but out of the first of the season this comes out on top.
Pours cloudy and almost truly orange, with an overall darker hue. Little head.
Smells of light heather, honey, and something like the distant whiff of pumpkin pie. Light on the nose, but pleasing.
The flavor is where this beer shines: Like unfurlling a good hand of cards, this flavor evolves over the course of time it is on the palate and after. Sweet honeyed pie filling hits first, but the sweetness is (thankfully) kept in check by a more central pumpkin pie spiciness, followed by a pie crust like crackery malt. Something like orange marmalade pops up in there as well. All these flavors come back together for a reunion in the aftertaste, as they really play quite well together. Very well done.
The mouthfeel is light and smooth, with just right carbonation.
Conclusion: Well done, and as a lighter pumpkin beer this is very good. If one is in the mood for a brooding pumpkin beer full of spice and malt, this is not it. This is for bright fall afternoons. Well done Eddyline.
1,261 characters

2.73
/5
rDev
-22.4%
look: 3 | smell: 2.5 | taste: 2.75 | feel: 3 | overall: 2.75
Murky amber/orange color with poor head retention. There's just a few wisps of tan head. Heavily spiced aroma with nutmeg, cinnamon, and pumpkin pie spice. The spices are so powerful it is a bit off putting. The flavor is very muddled with spices with pumpkin pie spice, cinnamon, and nutmeg in full force. Over spiced at first and cloyingly sweet on the back of the palate. The mouth is sticky and chewy.
411 characters

3.49
/5
rDev
-0.9%
look: 3.75 | smell: 3.5 | taste: 3.5 | feel: 3.75 | overall: 3.25
Colorful orange brew with a coarse head in the New Belgium snifter. Quite sudsy in the mouth after each pour. This seems more full-bodied than the alcohol content would indicate, but maybe that's what sugar does for you.
This stuff is really sweet. The honey gives it a Mexican candy taste. But the pumpkin is quite flavorful. Ginger is prominent along with a bold slash of spices, but it seems to go well with the sweetness. Truly odd aroma, again candy-like, but there is a suggestion of pumpkin preserved in alcohol.
This is pretty sippable if you've nursing the pint, but it's really more of a beer pie. This is faint praise, but it's one of the better pumpkin brews I've choked down over the years. From the 12 oz can purchased at Mayfair Liquors in Denver.
765 characters

2.92
/5
rDev
-17%
look: 3 | smell: 2.75 | taste: 3 | feel: 2.75 | overall: 3
5.5% ABV confirmed. 500ml orange aluminum can acquired at a local Colorado bottle shop and served into an Odell stem-tulip in me friend's gaff in high altitude Fort Collins, Colorado. Reviewed live. Expectations are average given the brewery. Reviewed as a pumpkin beer.
Served cold - straight from the fridge. Side-poured with standard vigor as no carbonation issues are anticipated.
A: No bubble show forms as it's poured.
Pours a 2.5 finger wide head of white colour. Decent creaminess and thickness. No lacing clings to the sides of the glass as the head recedes. Head retention is above average - about 3-4 minutes.
Body colour is an orange-amber of average vibrance. Translucent but nontransparent. No yeast particles/sediment is visible.
Overall, it's a pretty standard appearance for a pumpkin brew.
Sm: Pumpkin gourd, nutmeg, ginger, bready malts, and caramel. A simple aroma of above average strength. I wish there was a bit more going on.
T: Pumpkin gourd, clove, nutmeg, ginger, bready malts, caramel, and floral hop character. Fairly balanced, if a bit simple. Doesn't really have any subtlety, nuance, or intricacy. I do like it in a general sense, but it's far from unique or special. Average depth, duration, and intensity of flavour.
Mf: Smooth and wet. Too thick and heavy on the palate. Overcarbonated. Okay presence on the palate. Doesn't suit the flavour profile all that well. Execution is largely unimpressive.
Not oily, astringent, gushed, hot, or boozy.
Dr: Downable but ultimately pretty boring. I like that it brings the pumpkin (so many pumpkin beers don't), but it's far from remarkable. I wouldn't buy it again, but I'm glad I got to try it once. I wouldn't recommend it to friends. Not a great brew by any stretch.
C
1,758 characters

3.96
/5
rDev
+12.5%
look: 3.75 | smell: 4 | taste: 4 | feel: 3.75 | overall: 4
Poured into a balloon glass.
The beer is a deep cinnamon orange color. A tan colored head recedes to a bubbly film. Foamy spots of lacing stay on the glass.
Aroma is very spicy with ginger andng cinnamon coming our the most. A very real pumpkin aroma lies underneath.
Taste is even more spiced. Honey sweetness is immediate, followed by ginger and cinnamon. There is a vinegar sourness in the finish.
The mouthfeel is silky and smooth.
Overall, I really like this pumpkin ale. It's quite a bit sweeter than most and I like the use of honey.
545 characters

3.86
/5
rDev
+9.7%
look: 3.75 | smell: 4 | taste: 3.75 | feel: 4.25 | overall: 3.75
Bought from Morgan's Liquor in Denver, CO
A&S: Very fizzy humongous (2+ fingers) off-white head, which leaves a spider-web-like network on the glass. Head is retain in a thin layer which is usually not the case when the initial head from the pour is so extreme (except for a few cases in particular styles/types). Transparent orange-red colored beer. Fairly powerful aroma with elements of mint, honey, and spices (allspice and cinnamon), but not much pumpkin. Although the lack of pumpkin is upsetting the other parts of the smell and powerful and pleasant.
T&M: Similar to the aroma not whole lot of pumpkin flavor. Upfront lots of sweetness from the honey and the finish is smooth (probably also from the honey) with a bit of a spicy bite. The body is medium and the carbonation is on the low side of medium. Crisp and refreshing and not too overpowering.
Overall: a very drinkable and overall enjoyable pumpkin beers. "Better then the average" I feel is fitting not only for this beer, but also the brewery in general. I haven't had any beer from them that are mind-blowing or particularly unique, but they have all been solid worth while purchases at a reasonable price.
1,180 characters
4.17
/5
rDev
+18.5%
look: 4.25 | smell: 4 | taste: 4.25 | feel: 4 | overall: 4.25
ive said this before, but this is the best pumpkin brew of the year so far, really its this one. brewed with honey, which really adds a lot to it. bright orange in color, magically clear, and with a white whipped cream head that rises above the rim and stays that way. smells amazing too, just like butternut squash, not so much pumpkin, because its sweeter, but its fleshy and vegetative before its spiced, which is rare and appreciated. spice is subtle, some cinnamon and allspice, but its way back, accentuating only, letting the pumpkin and honey, as well as rich copper malt do the work. its balanced and brilliant, not too sweet, clean in the finish, super refreshing, expertly done, fall beer like it should be. well carbonated, fuller bodied, superior drinkability, not overly alcoholic so I can drink a lot of this. 4 pack of pint cans is heaven. thanks to eddyline for this gem, they really seem to be stepping up!
924 characters
Pumpkin Patch Ale from Eddyline Restaurant & Brewery
3.52
out of
5
based on
27
ratings.