Phoenix Beer
| Phoenix Beverages Group
BA SCORE
73
okay
14
Reviews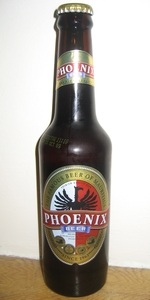 BEER INFO
Brewed by:
Phoenix Beverages Group
Mauritius
|
website
Style:
American Pale Lager
Alcohol by volume (ABV):
5.00%
Availability:
Year-round
Notes / Commercial Description:
No notes at this time.
Added by BlackHaddock on 06-13-2009
Reviews: 14 | Ratings: 26
3.38
/5
rDev
+23.4%
look: 3.5 | smell: 3 | taste: 3.5 | feel: 3.5 | overall: 3.5
Brown 330ml bottle obtained from 'Beers of Europe' which id near Kings Lynn in England.
Poured into a stemmed pilsner glass, it looked the part. Clear, bright golden lager colour with a good white head that hung around for a while before turning into a wispy covering and collar. There was some lacing as the beer was consummed.
Very little in the way of aroma, some grassy notes but not a lot of anything (like most lagers/pilsners).
The taste was different to your normal lagers, this was woody, earthy and interesting.
It was dry and refreshing, had a hidden depth of character and suprised me in its complexity.
One of the best lagers I've had since I started reviewing on this site. Glad I made the effort to try it, highly recommended.
★
747 characters
1.53
/5
rDev
-44.2%
look: 2 | smell: 1.5 | taste: 1.25 | feel: 2 | overall: 1.75
Bottle from Maruhn. Another country tick. Sour tasting beer, with funky aroma. Smells like wet cardboard. Tastes hints at vinegar...not very good at all.
★
153 characters

2.68
/5
rDev
-2.2%
look: 3.25 | smell: 2.75 | taste: 2.5 | feel: 3.25 | overall: 2.5
330ml can poured into pint glass 19/3/14
A clear golden liquid, streams of bubbles popping up from everywhere, finger of loose soapy foam lasts a few sips leaving zero lace
S corn syrup, honey, sour apple, faint hay, some dry cereal, not as bad as I thought it would be but plenty of room for improvement
T what I smell but with a big metallic thing going on, lots of tin can, it smelled better and that's not saying a whole lot
M thin but well carbonated, aftertaste is some sweet grains and cardboard
O at least its not skunked, could be a whole lot worse I suppose but far from good
It's another country tic for me but that's about it, if nothing else was around I could drink it on a hot beach if I had to
★
718 characters
1.78
/5
rDev
-35%
look: 2 | smell: 1.5 | taste: 1.5 | feel: 2 | overall: 2.5
Pours crystal clear gold with a small, sudsy short-lived head.
Nose shows loads of rice, some alcohol and a little grainy malt.
Similar flavours but a bit more bready malt shows. Finishes with a mild metallic bitterness.
Very water body, carbonation is too high.
★
262 characters
2.33
/5
rDev
-15%
look: 2.5 | smell: 2 | taste: 2.5 | feel: 2 | overall: 2.5
This brew pours a golden see through yellow hue with average carbonation that leaves behind a one finger head and little lacing,the smell is typically macro with hints of grains and sweet perfumey hops,it has a light bodied well carbonated lacklustre mouthfeel and the taste is basically the same with tastes of grains,pale malts and perfumey hops and the finish is just like a lager with no bitterness and overall this is very much a macro drop or at least tastes like it and reminds me of Mauritius as bintang does bali but thats about it.
★
541 characters
1.91
/5
rDev
-30.3%
look: 2.5 | smell: 1.5 | taste: 2 | feel: 2 | overall: 2
A: Pours a light golden color with a small head that fades to no real lacing.
S: Aroma is musty with grain, some hops and hint of sweetness.
T: Taste of some caramel sweetness and grain. Has a tacky bitterness and a sticky finish.
F: Light body, has some rough edges and sort of a gritty texture.Pretty bland.
O: Another not discript lager in an ocean of beer.
★
364 characters

2.23
/5
rDev
-18.6%
look: 3 | smell: 2.5 | taste: 2 | feel: 2.5 | overall: 2
A - One finger of soapy white head caps the clear pale gold body. Lace rings follow.
S - Usual adjunct lager corn smell, although this time it reminds me on bbq'ed corn on the cob.
T - Corn, some grainy malt, faint floral hops. Very bland.
M - Crisp and sessionable, highly carbonated.
O - Just another macro rubbish lager.
★
327 characters

2.73
/5
rDev
-0.4%
look: 2.75 | smell: 2.75 | taste: 2.5 | feel: 3.5 | overall: 2.75
Format: a standard brown 330mL bottle with a decent macro label.
Appearance: a fairly light yellow colour with moderate chunky lager carbonation visible with a thin fluffy white head.
Aroma: pretty standard American Adjunct corn and grain. Tastes like a standard cheap macro lager.
Taste: more of the standard macro grain and cereals - not very special but okay in warm weather.
Aftertaste: drops away very quickly other than those cheap grains.
Mouth feel: lighter in feel with a decent amount of carbonation - quite refreshing. A pity about the boring taste.
Overall: not a brilliant lager beer - certainly nothing special. It is reasonably priced at AU$45 a case, but there are better and slightly more interesting lagers at that range.
★
745 characters
3.92
/5
rDev
+43.1%
look: 3.5 | smell: 4 | taste: 3.5 | feel: 4.5 | overall: 4.5
Appearance - 3.5
Pours a finger of white head over a light gold body that has a little chill haze. Leaves some sticky lace.
Smell - 4.0
Very clean and delicate with a lovely pale malt aroma that makes me think Munich Helles, rather than American Pale Lager. Bready, doughy, dusty pale malt upfront with just a suggestion of grassy, herbal hops in the background.
Taste - 3.5
Not quite as delightfully German as the aroma, but up there. Slightly sweet malt that reminds of the crust of freshly baked white bread. Very clean, with just a little herbal hop character in the finish.
Mouthfeel - 4.5
Light bodied with moderate carbonation and very fine bead, perfect for the style and not as bloating as many pale lagers.
Drinkability - 4.5
Would work as a lawnmower beer and as something so sit back and enjoy. I could drink this by the stein!
OVERALL - 3.8
Pretty damn good, a real surprise beer for me. This was given to me by a friend and now I am interested to know the price because I could see this becoming a regular summer beer for me. Phoenix Beer would give many a German lager a run for its money!
★
1,109 characters
3.73
/5
rDev
+36.1%
look: 4 | smell: 3.5 | taste: 4 | feel: 3.5 | overall: 3.5
The thing that attracted me to this particular beer was that it was from Mauritius.
It is a beer that is a little bit above the ordinary having a cleaness about the taste and appearance.
It is dry and appropriately bitter thus making for a beer made for hot weather
★
265 characters
2.65
/5
rDev
-3.3%
look: 2.5 | smell: 2.5 | taste: 3 | feel: 2 | overall: 2.5
Poured from a 33cl bottle into a lager glass.
A - Solid finger of head. Very clear golden colour lager augmented by a few carbonation bubbles.
S - Wheat, grass and plenty of hops!
T - Light & malty a first. Not much body. Golden wheat flavours with a malt kicker.
M - Touch of bitterness but pretty weak generally on the palate.
O - Wake pale lager. Minimal flavours across the board.. pretty disappointing.
★
414 characters
3.43
/5
rDev
+25.2%
look: 3.5 | smell: 3 | taste: 3.5 | feel: 3 | overall: 4
appearence is deep yellow with reasonably receding head.
Smell is strange, kind of reminiscant of ethiopian food, not bad, just average in a different way.
Taste, very smooth, not much to it, though nothing offensive.
Mouthfeel is pretty average, not amazing.
Drinkability, well if i want a cheap lager to get smashed on, i'll keep this one in mind as it is the cheapest in australia and it is enjoyable.
★
404 characters
2.85
/5
rDev
+4%
look: 2.5 | smell: 2.5 | taste: 3 | feel: 3 | overall: 3
Ah, another entrant in my vague African lager tour. Looks like a normal lager, pretty fizzy, normal head. It's like emerging markets all design the same hot weather beer with small variations.
Phoenix has a nice beery, hoppy, front of the mouth taste. Decently full, and turns a bit bitter in the aftertaste. Line many others in the same line, it's a beer suited for the beach and sunny weather. Refreshing, but more full of taste -- in a good way.
★
450 characters
3.31
/5
rDev
+20.8%
look: 3.5 | smell: 2.5 | taste: 3.5 | feel: 3 | overall: 4
Bought a 6 Pack of this from Dan Murphys for ~$14.99
Lovely crackle as it pours into the glass
Pours nice amber colour
Head slowly receding to around 1 inch
low to moderate carbonation
Low bitterness, very refreshing, floral hops, crisp
Decent lacing
This beer seems to be everywhere in Australia, I wonder who decided that they were going to import it here! But whoever it was, I thank you.
★
397 characters
Phoenix Beer from Phoenix Beverages Group
73
out of
100
based on
14
ratings.