Wegmans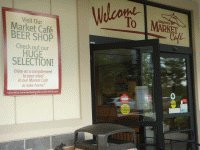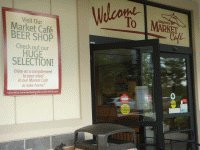 PLACE INFO
Type:
Eatery, Beer-to-go
1405 Main St
Warrington
,
Pennsylvania
, 18976-2492
United States
(215) 918-3900 |
map
wegmans.com
Notes:
None provided.
PLACE STATS
Reviews:

9

Ratings:

pDev:

7.8%
HISTOGRAM
View: Place Reviews
Ratings: 13 | Reviews: 9
Reviews by zoso1967:
3.55
/5
rDev
-1.1%
Updated 10-6-10
The beer section is set in a gated off sort of area where the hot bar is located and has expanded since it was initially installed. Maybe 10-12 store shelf sections of warm stuff, and a fairly long open air cooler of cold stuff that comes around a corner.
The newest addition is a very small mix a six section. I have to say, this would probably be the saddest mix and match section I had ever seen, if not for the fact that the mixed packs are only 10.99! Even with the fairly paltry selection, this is a great deal, and nice if you want to get a variety of seasonals, or standbys like 60 Minute.
They have a pretty good mix of US craft beer, and a tidy selection of European stuff. They also have way too much space dedicated to BMC and malternative beverages, but that is not a huge surprise.
The most exciting part of the beer area is always the seasonal section. I have found some surprising beers in that area from time to time, but overall this store is not going to get in anything too crazy. This section also had a great selection of gift boxes during the x-mas season.
I gave quality a bit of a hit because I have at times gotten beer here that is old, and I purchased a light struck bottle of Saison Dupont. The next time I was there it looked like they had gotten rid of the other bottles (probably also light struck) but the new bottles where right back in the same spot.
Service is the low point here, because the people that work the registers have no idea what anything is. They will look in the little back stock room for you though, if it looks like something they stock has been emptied out on the shelf.
All in all this place does not blow me away, but it is a great place to pick up a sixer or bomber of craft beer at a reasonable price.
1,783 characters
More User Reviews:

3.65
/5
rDev
+1.7%
vibe: 3.5 | quality: 3.75 | service: 3.5 | selection: 3.75

3.79
/5
rDev
+5.6%
vibe: 3.5 | quality: 3.75 | service: 4 | selection: 3.75

3.54
/5
rDev
-1.4%
vibe: 3.5 | quality: 3 | service: 3.75 | selection: 4
Update (10.28.13) : I changed the quality as many times I am finding beers that are well past the best buy date.
The Warrington Wegmans just added the beer section this week. I was there as soon as they were setting it up. The selection appears to be at least 500 types of beers. 750ml bottles, 4 packs, 6 packs and a small amount of 1/2 cases. All (PA) local favorites can be found here. Tons of Domestic beers and import beers as well...the macros/ciders/wine coolers are limited to one little back row. The rest is craft heaven.
As far as price goes, I have been buying cases for the last 3 years but I believe the prices are some what reasonable.
17.99 for 1/2 case of Erie Brewing Variety
8.99 for a 4 pack of Weyerbacher Double Simcoe IPA.
Add that together and that's $27 before tax...that is not bad for nearly 3/4 of a case of great variety.
I don't pay much attention to service when the layout is done well...and it's done well in my opinion.
I am so freaking pumped that I can travel three minutes and I now have this great selection at my disposal...hell yeah.
1,078 characters
3
/5
rDev
-16.4%
vibe: 3 | quality: 3 | service: 3 | selection: 3
I've been here a few times since they opened about 2-3 years ago. There is a huge supermarket full of good food depending on how you look at it. There is also a section devoted to beer and that's where I shop.
Going in the doors, the beer section is to the left. Basically, there is a few shelves devoted to beer both craft and mass produced stuff about 50/50. Also the same selections can be found in the cooler section shelving craft next to BMC. A singles selection as well of alot of old beer.
Some nice craft offerings of some normal local beer surrounded by alot of yearly brewed beers. A selection of imports that is Rodenbach Grand Cru, the three Chimays and some other regular imports and few Germans.
Six packs and singles and out of date bombers of stone Ruination. I walked in when 10 day old Nugget Nectar was brought out o I guess it's all about timing. Either way, this is a spot to go to and grab some regular beer for a party with some craft heads attending, nothing to out there. A very safe selection of beer.
1,031 characters
3.59
/5
rDev 0%
vibe: 4 | quality: 4 | service: 2.5 | selection: 4
This was my first visit to a Wegmans store. I've heard good things but was still suprised to see so many good beers. Easily better than any store in my hometown of Lancaster (at least until The Fridge opens). What impressed me the most is the way they kinda tucked most of the BMC stuff in the corner. Prices were very reasonable, especially the $12 mix six. Obviously, there is nothing by way of customer service. Didn't try any of the food but everthing looked decent. If there was one closer, I would be a regular.
517 characters
3.35
/5
rDev
-6.7%
I'm loving the beer sales in PA grocery stores. At last! Wegmans has a pretty good selection of craft and international beers, but nothing out of the ordinary, and have never been asked if I needed help...I just assume that nobody there would be very knowledgeable. All of the beers are pretty well known (perhaps with the exception of some locals/regionals) Prices are good. on par with any PA low priced bottle shops.
I don't like the wegman's website for beer...they have a list, which is a big plus, but no indication if they actually have in stock at this store, and no prices listed.
590 characters

3.7
/5
rDev
+3.1%
The first Wegman's in our area to add beer, this place grows less impressive as other grocery stores add beer to their lineup.
Very good selection of locals of both high (Victory, Troegs) and dubious (Lancaster) quality, mostly in mixed cases. Some good regional and national selections as well, with a few from Allagash, Green Flash and Ommegang and others. A decent Belgian selection, heavy on St. Bernardus and some good English and German beers.
The place mainly suffers from a lack of depth and a minimal choice of seasonal specialties or rarities, as well as limited rotation of brands. The brands above are all high quality, and in a pinch I could grab a beer or two I'd be happy to have. But this is not a destination place. Very few selections seem to change from month to month. Prices are quite competitive, though.
HV
832 characters
3.35
/5
rDev
-6.7%
With this Wegmans and the Collegeville Wegmens virtually the same distance from my house. There is no reason for me to go the Warrington store for beer. Its' about half the size of collegeville with a lot smaller selection.
You can get all your local favorites and a decent amount of Belgians and German beers. They don't have as many single bottles here as they do at the Collegeville store. It's still nice to be able to buy beer at a grocery store in PA. The whole thing is still new to me. The good thing about Wegmans is their prices are always a few dollars less then any other six pack type shop in the area.
Nothing mindblowing here but a nice overall selection at good prices.
685 characters
3.4
/5
rDev
-5.3%
Been to the Wegman's in Warrington several times since they've added beer to their cafe...
They've got a decent selection. Pretty much all the locals, plus the big regional guys, Stone, Bear Republic, Bell's, etc. Good import selection as well. It's nice to see St. Bernardus and Ayinger Celebrator easily available in their respective single or 4 packs... especially in PA.
Price is definitely a plus here as well. Very reasonable, destroys the other bottle shops that exist in PA in this regard.
Downsides:
1. Employees generally know nothing about what they are selling. So you are on your own.
2. Freshness - I'm very wary of buying IPAs, especially those brewers that don't date their stuff (I hate that!). There seems to be some old beers here - on 7/24/09 I saw some 60 minute IPA on the shelves with a 1/09 bottling date. Buyer beware.
3. Nothing earth shattering as far as selection goes... meaning no new releases or limited release beers. That being said, they probably have the best overall beer selection in Bucks County.
Glad this place is around, let's hope the PLCB gets its act together and repeals the case laws so everyone is on equal footing...
1,172 characters
4.25
/5
rDev
+18.4%
FINALLY. It's not a change in the PA liquor laws, but a wonderful loophole allowing the Wegman's Cafe to sell carryout beer. My girlfriend says I was a kid in a candystore the first time we went here.
The U.S. Craft brew selection is very impressive, with Founders, Bells, Stone, etc. Almost everything I had hoped for was here. Prices are reasonable for what you get, with an average of 10 bucks for a sixer.
The Belgian selection seems good, but it's not my forte so I can't say.
Very, very excited to have this in my neighborhood, even if my grocery budget did just jump 25 dollars a week.
597 characters
Wegmans in Warrington, PA
Place rating:
3.59
out of
5
with
13
ratings