Northeast Taproom, The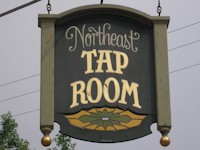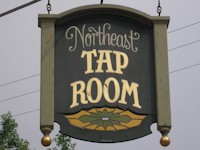 Bar, Eatery
1101 North 12th Street
Reading
,
Pennsylvania
, 19604
United States
(610) 685-0102 |
map
netaproom.com
Notes:
Reviews by TheLongBeachBum:
TheLongBeachBum from California
4.7
/5
rDev
+10.6%
vibe: 5 | quality: 4.5 | service: 5 | selection: 4.5
Stop #2 on a recent tour of Reading, not the English namesake but the "other one" in PA. After an earlier stop at the Ugly Oyster we literally headed NE to find this BA listed establishment. The Northeast Taproom was actually Numero Uno on my BA search of Reading, PA when I pulled up BeerFly & sorted by overall Rating, 4.63 nonetheless! With this in mind, I must confess that as we drove the one way streets nearby, I was sure that something must be wrong as we cruised past, both Erica & I stared at a dull pale gray wooden exterior that looked more like a ramshackle neighborhood corner hovel than a bar. A sticker on the door was partially unreadable to me but I could tell with the deathly silence in the Car that both Erica & I had that sinking feeling quickly followed by a terrible thought that the place could be closed, surely not, especially after an hours drive. With some low temperature precipitation falling obliquely onto the side streets we managed to park nearby at the top of Robeson Street. Walking down the hill we soon noticed a woman, with cardboard coffee cup in hand enter the side door, a rise in heartbeat followed, maybe we could rescue something from this bitterly cold February beer hunt.
Right off the bat & with no offense, when I walked it in here it looked like an Iraqi prison. A shite-bombed interior, peanut shell laden floors, cold & in complete darkness it expressed utter dereliction & chaos. Two hesitant BA voices asked politely in unison if the place was "open", what we really meant to ask was "did you get robbed & trashed last night, erm are you still in business?" The woman we saw earlier was a little late arriving to open up it seems. A middle aged gent was somehow already here though (left over from the night before maybe?), he was sat comfortably at the end of the bar drinking his bottle of some BMC Lite variant.
As we cautiously entered here…..it became apparent that the Friday Night bar staff had failed to clean up. The woman we saw (I'm so mad that I forgot her name cuz she was very cool!!) soon had the bar tidied of empty glasses, bottles & other crap. The electronic fixtures were turned on, plus some interior lights too & soon a semblance of a "bar like Pubbyness" returned. I relaxed a little as indeed did Erica; we perused the fascinating eclectic interior. A juxta-posed mish-mash of completely unrelated items somehow sit comfortably amidst a collection of local artwork, both sculptures & paintings, lots of knick-knack bric-a-brac behind the bar including pictures of Elvis & a 60's Tom Jones plus beer bottles, cans, beer signs, etc. The bar runs against the back wall to your right as you enter the side door. A second room rises up to the right, looks like a student hangout, lots of old 70's style vinyl furniture, old sofa's & one of those idiot proof electronic dart boards. The shitters are amazing, neither had a sink, which is outside in the bar, weird stuff, peopel watch you wash your hands.
The Bar is a simple two-tone wooden affair, a pale wood surface finished with dark wood edging which runs along the complete length, broken only by some snazzy colored ceramic tiles sunk into its surface where the sunken tap handles are – you have to stretch over the bar to clearly see the entire tap handles. To the left of the 10 or so taps is a lone Beer Engine. The beer range here is very good; I was utterly floored so see such a range in a local corner bar. No BMC on tap, but lots of local, micro & even some Belgian beers on tap; a couple of brews from Victory & Lancaster, others from Lagunitas, Corsendonk, Troegs & more. A horizontal split level cooler with sliding glass doors in front of the bar displays a great range of around 30 or 40 bottled 12's & 22's too. Ask for the drafts because the tap handles didn't always match the chalkboard, the cask Legacy Noreaster was sublime!!
Food is Shelled Peanuts, they are good though. Service was excellent, friendly & very funny. The local clientele were top-drawer too, we were strangers but made to feel like locals. Prices are extremely reasonable, we had a lot of beer & the tab was less than $20, plus one of the locals bought Erica & I a beer before we left – how cool is that!
I'm not really sure why you would be in Reading, PA, but if you are, this place is a *serious must* for the hardy BeerFly that enjoys a change of pace & doesn't mind a bit of real life with their craft beer. A very unique but real bar, the sort that warms my heart when I come across them, a true local's bar with a very funky interior & shit loads of character! Utterly fantastic, I dearly loved this place & I really did not want to leave but the snow was starting to settle.
5000 characters is not enough to describe this place!
Come see for yourself- Old School
Highly Recommended
Thanks to Erica for the snow laden ride out here, but it was fun right? I never mentioned the bet about the old bottle of Boon Kriek that you lost either! ;-)
Last Visit: Saturday 11th February, 2006.
Feb 18, 2006
More User Reviews:
mcslain from Pennsylvania
2.69
/5
rDev
-36.7%
vibe: 4 | quality: 2.5 | service: 2 | selection: 3
The Northeast Taproom is an old neighborhood bar in Reading. Back in its hey day when Pete C owned the place, this was a tremendous bar. Unfortunately though, this place has gone down hill a bit over the years. Notice that none of the other reviews, which are all good, are more recent than 2009. On the inside, this place still has a nice vibe and funky decor. This is the saving grace of the Taproom. Also, the locals that frequent the bar are good people for the most part. And another plus it is a Phillies bar - although don't expect a lot of big TVs like you would at a sports pub. Most importantly, beer-wise the taps rotate slowly and are average for a craft beer bar. A few decent beers at all times, but very rarely great beers. I've also had some stale beer poured here on occasion. Canal St and Liberty Taproom (both in Reading) have consistently better tap lists. Take out is priced well, but rarely stocked and selection is limited. They do fill growlers which is a plus.
Oct 17, 2011
Deuceman from Pennsylvania
4.86
/5
rDev
+14.4%
vibe: 5 | quality: 5 | service: 4.5 | selection: 5
This place is a real gem. No wine and no liquor, just great beer and great people. The only food served is pizza, brought in daily and heated in a counter top oven, and chips. The Taproom is frequented by a loyal group of regulars who stop by to shoot the shit and drink great beer. The atmosphere is what I would term relaxed and eclectic. They are also BIG fans of the Phillies, with lots of Philly memorabilia in the bar. If you live in or near Reading, Pa. you owe it to yourself to stop in. Visit their website www.netaproom.com for directions and an up-to-date listing of what's on tap.
Dec 31, 2009
gottajiboo2 from Pennsylvania
4.2
/5
rDev
-1.2%
vibe: 4.5 | quality: 4 | service: 4.5 | selection: 4
I love this place! Every time I'm in Reading (once or twice a month) I stop by for a couple of beers. It's in a slightly seedy part of town, but the place is so cool, I can look past that.
They usually have 6 or 7 micros on tap and a fair selection of bottles in the fridge. Price is very good and every beer on tap used to be 3.50 or so. The last couple of times I went in the price had risen on a few beers that probably cost them a bit more. They often have an interesting band playing, and I love the small local corner bar feel. The servers are really great and always friendly. I recommend checking this place out if you are cruising around the streets and alleys of east Reading.
cheers
Jan 12, 2008
ffejherb from Pennsylvania
3.95
/5
rDev
-7.1%
vibe: 4.5 | quality: 4 | service: 4 | selection: 4 | food: 3
Visited with my wife on 12/8/07 at around 5:30pm.
I visited this place once or twice several years ago when I lived in the Reading area, but it was well before my beer drinking days. The NE Tap Room isn't in the best section of Reading, but I've been in worse. Once inside, though, this place just oozes character. The atmosphere is very retro with a 50's style bar with about nine stools. Furnishings are very eclectic - everything from stained glass windows to mosaic tile artwork on the wall to retro furniture. The only minor setback is that the bar is smoker friendly, and being a very small place, it can get quite smokey with only two or three partons smoking cigarettes.
I was quite pleased with the selection. They have 12 taps and one cask, but nothing was on the cask during our visit. The bartender said they were waiting for a cask of Hopdevil, but it hadn't been delivered yet. Bummer! Otherwise, their line-up is heavy on the craft beer with a few imports and PBR to round things out. On tap during our visit was Magic Hat #9, Yards Pale Ale, Victory Hop Wallop, Sierra Nevada Celebration, Sly Fox Rt. 113 IPA, Anchor Xmas, Bellhaven, Stella, Whitbread Ale and a few others. Decent bottle selection with about 40 different varieties, including Brooklyn, Victory, Harpoon, Yards, and Flying Fish, as well as some bombers and lambics.
Service was very good, although there were only three other regulars there, plus Fonzie the dog! I love me a beer bar with a friendly dog. They don't have much in the way of food, other than sicilian pizza and bags of snacks.
Overall, this is an extremely cool, laid back place with an awesome retro vibe that is conducive to kicking back and drinking a few beers. Seems like a great place for regulars... hey, if I lived close to this place, I'd be in there a few nights a week. I could do without the smoking, but otherwise this place is a true gem.
Dec 09, 2007

BertSugar from Indiana
4
/5
rDev
-5.9%
vibe: 4 | quality: 4 | service: 4.5 | selection: 3.5
This place is in a hard to find part of a hard to find city. Irregular hours kept me from enjoying it more than once in my brief stay in the area (business). Sorry to say that I probably won't be in this neck of the woods again any time soon. That's too bad because this is the exact place I was looking for.
A very tiny and gritty urban corner tap room with cool art all over the walls. Inlaid tiles provide some texural relief to the walls, which are otherwise covered with black velvet Elvi and other cool stuff. Lots of old Pabst stuff including the "beer drinker's creed", which is as follows:
"I believe in Pabst Blue Ribbon - an ambrosia of mankind whose unique and wonderful character comes from nature's goodness; pure sparkling water; rich grains of the field gently flavored with the buds of hops. I therefore believe it is my duty to myself to love it, to respect it, and to enjoy it against all other beers." Holy crap...can you believe that?!
My FFF Dreadnaught tee shirt sparked some interesting conversations at the bar (hey Alan). There were some interesting Victory beers on tap and pump. Also, it was cool to see Bell's Kalamazoo Stout on tap in Pa.
This is most definitely worth a stop to linger.
Feb 14, 2007
slander from New York
4.5
/5
rDev
+5.9%
vibe: 4.5 | quality: 4.5 | service: 4.5 | selection: 4.5
Day 83.
I'm amazed that they still show up on Saturdays to stand out front the gate and picket. Daybreak, and just a few hours in at work, but I'm tired now, and nobody wants to trudge to Camden for the craft brewer's guild festival, and I don't feel like going down by myself, so I think I'm going to head west with my sister and cousin to see the Alpacas. Stopped at the scary store on the way out of town and wanted to grab a drink, but as Lauren had indicated, "They lick everything there", so I left parched. If only there were somewhere on the way back where a man could get a drink. Anywhere, I don't know, a good bar or a taproom of sorts...
Drove aimlessly around Reading until I gained some bearing and felt east. Is the front door functional, does anybody know? No matter, entered through the side door into the bar, a handful of people about the room. A 10 seat "L'ish" shaped bar with a light panel top and dark lip runs the back wall. The marble tiled bar back holds glassware below shelving with books, a beer boot, pictures, bric-a-brac, figurines, toys, and a row of beers, bottles and cans, some they carry, some they don't. Some rare and unusual, not for sale, just ornamental (Anchor Old Foghorn '96, Dixie White Moose, Rogue XS Smoke Ale, Sam Adams Old Fezziweg bomber), and a few larger ancient bottles displayed just to taunt you (a Kriek Boon 750ml, and old De Rocs, Chimay & Corsendonk Noel magums).
Taking the room in some, 3 raised bar tables sit adjacent, tracklighting, drop cone spots over the bar and a mounted blacklight. Little light from the windows looking out on N. 12th with stained glass panels above, and the corner door that we know now does not open. A Guinness bike suspended from the ceiling, a corner juke box, a giant paper mache bird (I think it's a bird), a TV mounted above, and a crazy, crazy mosaic tile & mirror wall. The shoebox angled mens bathroom also done up with intricate tilework a la Grey Lodge, with the sink sitting outside it in the bar area (Did you wash your hands? 'cause everyone knows whether you did or didn't, they were there sharing the experience with you. Or not). A whole lotta Elvis going on here; drawings, photos, pics, figurines, etc. Elvis stuff. Otherwise, beer placards, signs and prints here and there.
12 taps on a single tower and a handpump pouring Legacy Hedonism. A good collection of micros (DogFishHead 60, Victory Lager & Prima Pils, Yards Philly Pale Ale, Magic Hat #9, Anchor Porter, Avery Hog Heaven, Sly Fox Rte 113 IPA & O'Reilly's Stout which was being poured off a Guinness spicket) and imports (Stella, Fullers ESB, Warsteiner Dunkel). And a good bunch of bottles (Rogue, Stone, DogFishHead, North Coast, Victory, Yards, Sierra Nevada, Anchor, Cooperstown, Mad River, Ommegang, Lancaster, Weyerbacher, and a handful of imports) in the glass front fridge in the corner.
Bartender was pleasant and knowledgeable. He gave us samples, showed us his prized Westy 12, and poured pints of Avery Hog Heaven.
The raised back gaming room is more carnivale. Murals, paintings and other artwork for sale. Stuffed animals, drumsticks, bocce balls, random trophies, a leather couch & easy chair. Retro games, something called "Ice Cold Beer" (Taito, 1983), and a "Dr. Dude" pinball machine, plus a folded up pingpong table and electronic darts.
Peanuts on the bar for all to share (so please wash your goddamn hands, we'll know if you didn't). It's odd being encouraged to dump the peanut shells on the floor (it's like intentional littering), but the floor is knee deep with them, or at least has some scattered about.
Good comfortable place in Reading, PA, and hey, they fill growlers here.
Jul 25, 2006

blitheringidiot from Pennsylvania
4.34
/5
rDev
+2.1%
vibe: 4.5 | quality: 4 | service: 4.5 | selection: 4.5
What if Brooklyn's Spuyten Duyvil had a tryst with the Elvis tribute movie, Bubba Ho-Tep? The NorthEast Taproom would be its spawn.
Walking from the Brass Lantern [aka Brass Scrod] two blocks South to the NETR is a breeze. Nearly blinded by the spotlights that blast amongst the little rowhomes made me wonder if I was lost or not.
The corner stairs rise to a sign that declares "Use side door." OK. To the right I enter and see what appears to me like a high school chum's basement who's Mom is out for the night and he has a bar. NorthEast Tap Room is a buddy's treehouse with a veritable sign hanging on the treetrunk that says "No girls allowed in the treehouse!" As I walk in, a golden retriever greets me with bowls on the floor. All 10 ripped open vinyl seats at the bar were ocupied by local dudes friendly with Jake, the main "pipe tender" who runs the joint with authority like a ringmaster calling out comments and a keen eyeball on drink status. "I'll have a short Stone and I'm outta here" I hear from a guy who wants a 10 oz. Stone IPA.
Tap selection was all craft and no crap. We're talking:
Anchor Old Foghorn [Yes! Barleywine!]
Yards IPA [8% ABV Hello!]
Magic Crap # 9 [I'm not perfect either]
Fuller's [eh!]
Vic'ry [Saint Victorious]
Rogue Schwarzbier [?]
and a half-filled cold box take-out unlit that held:
Rogue, Anchor Liberty, Piraat, Beamish, Legacy Hedonism, Leffe, and others unlit in the darkness.
***NO FOOD!***
Cheap brew $3!!! Vic'ry pint!!! Mind the peanuts on the floor and the Elvis memorabilia. Backbar holds beercans from 1950 and things that only your Grandma would describe. A Pee-Wee herman bike hangs on the wall, too. Basically, NETR is a dungeon of squalor and a den of sordid inequity. This is the basement in Animal House but with extra filth. I haven't even mentioned that the mens room is a tiled motif toilet under the stairs with a sink in the commons bar area adorned with a mossaic mirror that all the guys wash their hands. Isn't the Mexican revolution over? Didn't Santa Anna lose? Above the door on the way out the word "T-A-P" is spelled out with tap handles, COOL!
By the way, did I mention that I totally am enamored with this joint???!!!
Last call: A must hit! Could you bring your Mother here? Unless your Mother is duct taped to a dolly like Hannibal Lecter, not a chance. This is as dick-in-the-dirt as they come. This is locals only, addicted, beer bar, gutter hugging junkie! *Hit refresh!* Go here and go to Church to repent, you SINNER! You're dirty!
GBA!
Mar 10, 2006

erica from California
4.7
/5
rDev
+10.6%
vibe: 5 | quality: 4.5 | service: 5 | selection: 4.5
Oh my goodness this is a place not to miss! TheLongBeachBum and I spent a day in Reading, and this was our 2nd before heading home in the snowstorm. It is on a corner of a divey looking neighborhood and doesn't look like much from outside, just a small sign sticking out from the building, no sign of life in the one window. Mr. Bum thought it was closed down, and I thought maybe it's one of those bars that don't open until 4 or so. Not so. We hesitantly walked through the door- the place seemed to appear closed down, no lights on, peanut shells all over, dirty glasses and ashtrays all over the bar, but there was a man sitting at the end of the bar near the window, and a shaggy poodle came to greet us. Then a woman came out from nowhere and said she's a little late in opening, but yes, they're open, last night's bartender just didn't clean up.
To describe this place one might have to write more than allowed here, but basically... To your immediate right when you walk in the door is a sink, with dog food and water bowls underneath, the bar is to the right rear, and straight ahead are a few old tables with old stools. Along the wall with the window is a cooler with lots of good beer bottles in it. The wall with the sink is mosaic tiled, very artsy, and the men's toilet is along that wall too. The other walls had local artists' work and several Elvis paintings. Again, peanut shells on the floor, which the bartender decided to leave there until the end of the night (efficiency!), but she did quickly clean up the glasses and ashes off the bar, then turn on some lights. There was a very casual, homey feel to this place. The bar had about 10 taps (no macros) behind some ceramic tiles and a handpump with a froghead on it. Lots of old bottles and cans, and other dusty junk, are on shelves behind the bar, with different glassware too. Sitting at the bar, there are steps to your right that lead to a room with old couches and chairs, and pinball machines, and I swear I saw a mouse run across the floor. Also the ladies' toilet is back there. I say toilet because that sink by the front door is the sink for the 'bathrooms'. Inside the toilet room is lit with dim green light and tiled ala The Grey Lodge.
Super service, the bartender (whose name I can't remember unfortunately) was super friendly and pretty knowledgable about the beers and the handpump, and the rest of the 10 or so people who wandered in while we were there all seemed to know each other but didn't treat us like outsiders. One of the customers even bought us a beer. Too nice! The only 'food' were bowls of peanuts on the bar. (seeing the mouse, I wouldn't want to eat other food if they had it) At the end of our visit, when I was getting too nervous about the falling snow and being over an hour away from home, we got the bill and paid $14 plus tip. Insanely cheap, considering we had 5 or 6 beers including Corsendonk, SN Celebration, and a cask beer. Wow.
Incredible service, atmosphere and beer selection, I highly recommend The Northeast Taproom if you want to travel to Reading. And I would also recommend going out of your way to go here, at least once.
Feb 23, 2006
jakester from Pennsylvania
4.13
/5
rDev
-2.8%
vibe: 5 | quality: 4 | service: 4 | selection: 4
The place has changed a little since Jake bought it from Pete, but it still has a good beer selection on tap, and good stuff in bottles.
The ratty old bear is gone, and now we have Elvis shit all over the place. A sign on the men's room says "Graceland of the North". And speaking of the men's room, yes it's tiny, yes there are all sorts of different tiles on the walls, graffitti, and the sink is still outside the lav.
There are other new decorations, like a designer mirror, and the back room has vinyl furniture and retro games, like before. The place is fairly clean, but usually pretty smoky. We were there on a Friday night, and everybody seemed to know each other. There were alot of hoppy beers that night. And, the beer prices are still $3 for a pint! Can't beat that with a stick. For atmosphere alone, this place is worth the visit.
Oh, eat before you go, there's really no food to speak of; but there is enough character to sate anyone's appetite.
Aug 29, 2005
Dave from Rhode Island
4.58
/5
rDev
+7.8%
vibe: 4 | quality: 4.5 | service: 5 | selection: 4.5
This is a small little place that has a great atmosphere.
After hearing recommendations from the BA's in the Mid-Atlantic area, on where to get some delicious brews in Reading, they said The Northeast Taproom is where its at. Well they were right...
This place is great, The beer selection was rather surprising, with 13 or so taps and a pretty extensive bottle collection...On tap included- DFH 60 min, Arrogant Bastard, Spaten, Troegs. And all of this is not to bad when they charged only $3.00 a pint...You can't go wrong..
Now for the atmosphere...This place was awesome...Great beer and Great people...Everyone seems to know everybody, they really made you feel at home. I also get a kick out of peanut shells on the floor, and a airplane size bathroom...it adds character... All in all if you are in and around the Reading, PA..area you have to stop by this place.. I know I hope to be back.. Good Times had by all..
Oct 04, 2004
MsRogueRed from Colorado
4.35
/5
rDev
+2.4%
vibe: 3.5 | quality: 4 | service: 5 | selection: 4.5
Great, small bar with plenty of character.
We ambled in on a Saturday on a beer bar tour of Reading. We were the first customers of the day and the owner was really friendly and helpful with beer selection.
Selection was better than average. Foodwise-you'd better eat somewhere else because if I recall, I think the food consisted of TV dinners they heat up in a toaster oven type thing.
The atmosphere is good or bad, depending on what you're expecting. Its very small and the bathroom leaves a bit to be desired, but the nice service and selection make up for it.
I wouldn't make a special trip, but if I were in the area, I'd return.
May 22, 2004
Northeast Taproom, The in Reading, PA
Place rating:
4.25
out of
5
with
12
ratings