Druid's Keep, The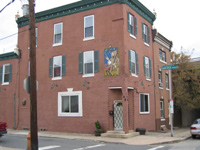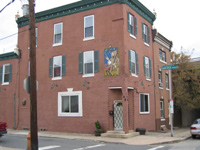 Bar
149 Brown Street
Philadelphia
,
Pennsylvania
, 19123
United States
(215) 413-0455 |
map
Notes:
Reviews by DarkerTheBetter:

3.94
/5
rDev
+2.6%
vibe: 3.5 | quality: 4 | service: 4 | selection: 4
This was the last stop for the night. I had seasoned guides with me this time, as my previous attempt to locate The Druid's Keep resulted in failure. The first time, I headed south on Hancock street as I left the Standard Tap. The neighborhood wasn't the most inviting and it's really close to the interstate, so I wasn't feeling the most comfortable. I had to abort that mission. On my seconded guided attempt, we headed east across Brown and that time I saw what I was looking for. The only thing that lets you know that this exists is the mural painted above the front door that I apparently missed as I heades south, perpendicular to it. I'll be sure to get a photo of this up soon so other's do not suffer the same fate that I did.
Once inside, I was surprised at how dark it was. Everything seemed really low key and subdued; even the patrons. The bar stood on the far wall and it seemed cramped and claustrophobic due to low cabinets that hung from above the bar and a few small pillars that seemed to support them. The taps were there too, but nothing too fancy. Darkly painted pressed tin ceiling and various dark woods added to the dark calmness. There was a foosball table there too, but no one seemed to be in the mood to play it. We headed to the cooler and grabbed some Victory beers and then moved on to the back room for some pool. This room was much lighter with blue walls and more colorful beer decorations. The windows, or what used to be windows, here were bricked over, so this carried some of the gloom from the bar area. This room had just enough space for a pool table, a few tall tables and chairs, a little room for a dart board and a dark, foreboding stairway heading up. You could also get outside from this room to an enclosed seating area outside.
As I mentioned, the taps weren't that plentiful or exotic. A Yards, a Yuengling, a Magic Hat and a few other not-so-crappy beers were on with about 8 taps overall, but there were no real jaw-droppers. If this doesn't impress you, worry not, the beer cooler will. There were some nice beers available here that really lets you know someone here cares about getting good beer to the customer.
The service wasn't anything amazing as we only had one round, a game of pool and then we left, but things went fair enough.
In hindsight, I liked the calm of this bar. It's just far enough out of the way and quite enough to let you relax and forget your worries. If you're ever at Standard Tap and feel a little overwhelmed, come on down to The Druid and get away from noise.
2,571 characters
More User Reviews:

3.7
/5
rDev
-3.6%
vibe: 4 | quality: 3.5 | service: 4.5 | selection: 3
Dropped in over the weekend to have a few beers with some friends.
The draw for The Druid's Keep has always been the atmosphere and service, and I was once again impressed by both.
Our beer was served fast and properly and the bartender was personable, funny and never condescending.
Although this joint resides in Northern Liberties, it wasn't packed to the gills and everyone inside seemed to be having a pretty good time. It was even easy to get a few songs spun on the jukebox.
As for selection, it may not be the best in the city, but it does the trick. I had a Stegmaier Porter, Troegs Mad Elf (which was only $5 a goblet) and O'Hara's Celebration Stout. The local brews (Victory, Troegs, Stoudts, Sly Fox) are always well stocked here and some foreign faces (Unibroue, Youngs) can be expected as well.
They even have a billiards room, which is pretty spacious and inobtrusive. The outdoor area is also pretty sweet in the summer months.
The only real downside to this spot is the absolute lack of food. It's hard not to get hungry after a few hours of drinking and sometimes a can of Pringles isn't gonna cut it. All it would take is a fryer and some buffalo wings and this place would be top notch.
1,213 characters
3.69
/5
rDev
-3.9%
vibe: 3 | quality: 3 | service: 4.5 | selection: 4
My pool team plays here sometimes
its in NoLibs
right off 2nd street
You would have never guessed it was there if you didnt know about it
the owner, Al is very nice
they have a good amount of taps, mostly domestic but some Belgiums
a good amout of bottles including victory, allagash, unibroue , Sam Smiths, etc
the beer is pretty cheap and they seem to keep up to date on the seasonals
they have a pool table which (cough cough) needs to be refelted...
and around back there is a big inclosed yard in which people smoke
a cool spot with pretty easy parking, if you dont wanna deal with the crowds or people of Standard Tap, abbaye, north third or north bowl.. this is a good place to check out, and its cheaper than all of those places too
751 characters
4.08
/5
rDev
+6.3%
vibe: 3.5 | quality: 4 | service: 4.5 | selection: 4
Blink and you'll miss it- this place has all the markings of a typical Philly rowhome with the exception of a sign painted on a wall above the door. It's a simple walk away from other Northern Liberties favorites like the Abbaye and 700 Club, but this one is not as glamorous inside. However, it has its loyal locals like any other bar, and a few die-hard beer fans who go to check this little-known gem out. Inside, you'll notice a barromm and in the back, a pool room. Upstairs is not typically used, I was told, except when people throw parties. The owner showed me out back to the "kitchen": a grill on a nice patio with a Philly-style lawn beside it- but look up...to the scenic highway that towers above it. Still, the owner was very nice to let us know this space could be at our disposal. This leads me to the service, which was very good. As a newbie here, I was treated no differently from the regulars. The staff engaged me in converstaion, talked of good beer, and of folks involved in the Philly beer scene. I don't think I could have had as good a time without such nice folks working there.
At first, I deemed that the beer there was decent, but nothing to travel miles for. But then then I noticed the bottle selection. I ended up with Russian River Damnation, and it was fantastic. The drafts were a nice selection of locals and Magic Hat-esque brews, but I was in the mood for something special. They do take-out, from what I witnessed, and it looks like you can mix and match six packs.
This place is a rare find. Go here with friends, leave the family at home, and just hang out. Maybe you'll snag the pool table from the regulars (If so, be assured the staff will give you change for a dollar without an attitude.) At any rate, this is the kind of place you wish was at the corner of your street.
1,820 characters
4
/5
rDev
+4.2%
vibe: 4 | quality: 4 | service: 4 | selection: 4
Last stop on the Philly Octoberfest hop. The Atlantic City event? AC officially became out of the question about 2 bars ago. Nice thought and all but it just ain't happening...
It's located in the Northern Liberties in a big old house on the corner, one block this way and one block that way from Standard Tap. The front room has a 12 stool hardwood bar, with a nicely framed mirrored bar back, tastefully trimmed pressed tin ceiling, low lights and ceiling fans. TV's in the corners and Phil's golf game. The room beyond it has blue walls, a handful of tables, beer signs and mirrors, darts and a blue felt pool table. It's a blue room. A doorway to the rear takes you outside where lies a handful of tables in an enclosed yard.
5 taps. Brewer's Art "Ozzy", Victory Octoberfest, Arrogant Bastard, Sam Adams Octoberfest and Guinness. There's also a few dozen bottles, a nice selection with a good representation from local and regional breweries (Stoudts, Troegs, Victory, Lancaster, Yards, Weyerbacher, DogFishHead, Flying Fish). Service was pleasant and attentative, the place clean, neat, and dog friendly. A nice comfortable place to take in a few...
1,157 characters
4
/5
rDev
+4.2%
vibe: 4 | quality: 4 | service: 4 | selection: 4
Corner house in the Northern Liberties section of Philadelphia that was converted into a bar. Small, dark, and smokey, it kind of has a 'locals only' vibe to it. It's not that anybody is rude, it's just a place where everybody knows each other. Six beers on tap (including Chimay) that are usually something pretty interesting (besides that one Bud handle). Bottle selection is around 40 with some good Belgian and West Coast brews along with lots of local products. It's off the beaten track, but it's right around the corner from the venerable Standard Tap, so if you're in the area seek it out!
602 characters
Druid's Keep, The in Philadelphia, PA
Place rating:
3.84
out of
5
with
7
ratings